A few months ago I started to redecorate my kid's bathroom. Along with updating some of the decor and framing my bathroom mirror, I also wanted to make it more functional for my kids and solve a few issues we've been having.
Issue #1: Towels all over the floor.
My kids are still small, and they have a hard time hanging their towels on a towel rack. Because of this, I am constantly finding 1 or 2 towels on the floor each night before bed.
Issue #2: No one claiming the towels on the floor.
Because all my towels are white, when I would find a towel on the floor, I had no idea who it belonged to. And no one would ever claim it, so more times than not it was ME who was stuck hanging them up.
Issue #3: More color needed in the bathroom.
I want something bright and colorful, but I didn't want this bathroom to look like a bag of Skittles threw up all over the walls.
I came up with a fun project that solved all 3 of these issues- take a look at what I made:
Here is how I did it:
I took down the silver towel rack and replaced it with Command Strips Silver Designer Hooks. The hooks are mounted low enough on the wall so my kids can reach them.
I bought each of my kids their own colored towel. Now there is no way my kids can put the blame on their siblings when I see a towel on the floor. And to make hanging the towels even easier, I sewed a small ribbon loop to the top center of their towels. They hang perfectly without any hassle!
Walmart's craft section has wood letters for 98 cents and plaques or $1.98 – super affordable! I bought a plaque for each of my kids + their initials and got to work on a cute towel rack.
I had my 9 year old help me paint each plaque in a different solid color, coordinating with the colors of my kid's new towels.
Once dry, I added a fun pattern to each of the plaques that turned out so cute! To do this, just choose a similar color to the base color and stamp the paint cap over the entire surface. So simple, but I love the dimension this pattern gives.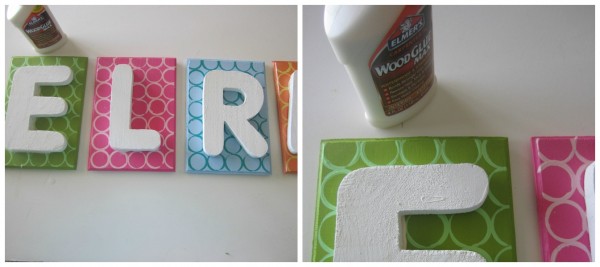 Lastly, I took some wood glue and glued each of the white initials onto the plaques.
When the letters were dry, I hung the initial plaques (with Command Strips!) above the towel hooks and called it good!
There really isn't any excuse for me to find towels on the floor anymore, right?