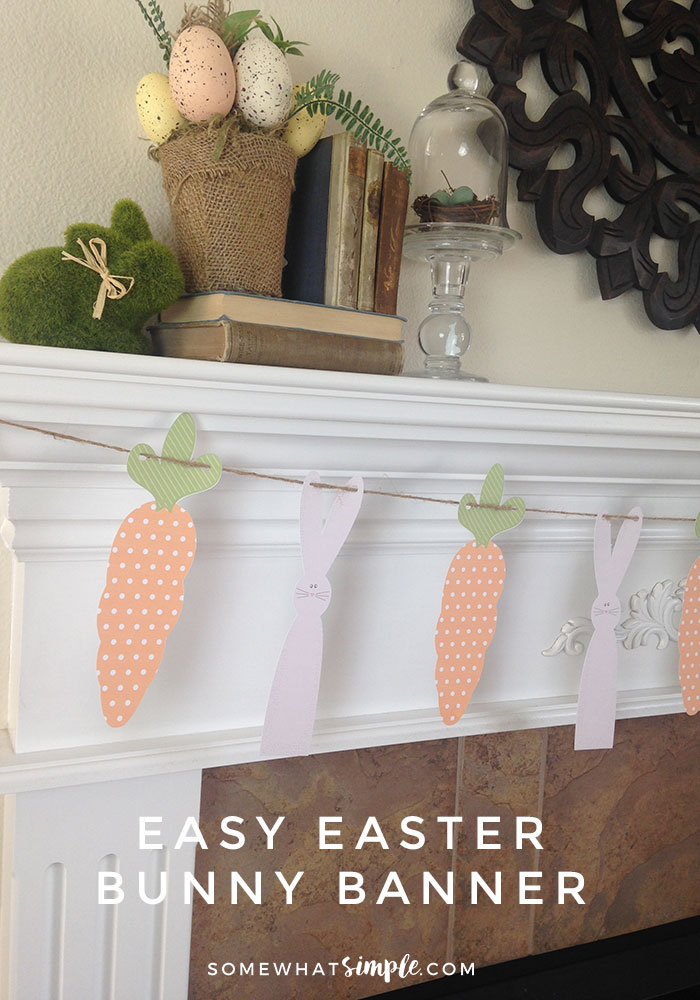 Decorate for Easter with this Easy Easter Bunny Banner that you can complete in 30 minutes or less. It's so easy you could whip one up for a friend too!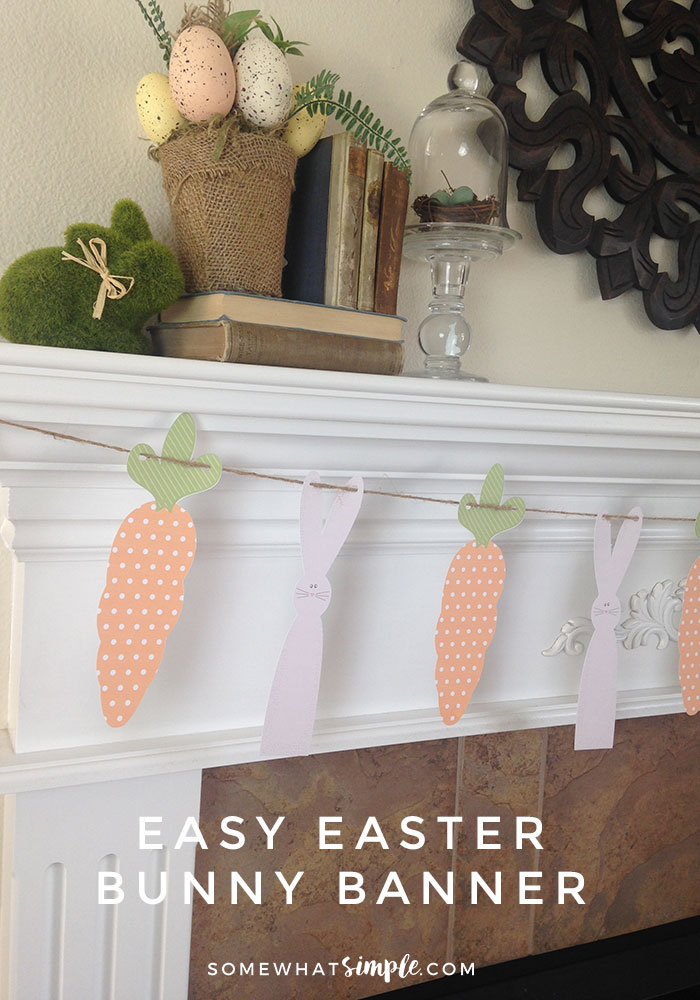 It seems like holidays hit us in quick succession February through April. I love celebrating and decorating, but life is busy and it seems like I'm always in a rush. Because of that, I've tried to simplify without sacrificing the fun, so I try to focus holiday decor in a few focal points of our home so we still feel festive but cut down on the time and effort put into decorating and taking down. For me (who still has a few Christmas & New Years decorations sitting in the corner of the laundry room waiting to be put away still) this is a total win! This easy Easter Bunny Banner packs in all the handmade goodness in 30 minutes or less.
Easy Easter Bunny Banner
SUPPLIES
Easy Easter Bunny Banner digital files
white cardstock
color printer
die-cut machine or a trusty pair of scissors
twine or ribbon
tape
DIRECTIONS
the regular 'ole scissor method –
Download and print the Easy Easter Bunny Banner digital file. (For a standard size fireplace mantle I printed 5 copies of the file.)
Grab your scissors and start cutting.
Tape your cut pieces onto a piece of twine and you're ready to hang your banner.
the electronic die-cutting method –
If you're new to using an electronic-die cutting machine, you can follow a step-by-step picture tutorial and find out favorite tricks for perfect cut lines here.
Download and print the Easy Easter Bunny Banner digital file.
Open the black and white cut file in the die-cutting machine software. Use the trace feature to create cut lines, then move the cut file off to the side.
Open the digital bunny banner file; copy and paste into the document that has your cut lines. Size your bunny banner file to match the cut file lines. (The cut file provides a white edge around the images to help your banner pieces pop.)
Select the cut lines image. Object>Arrange>Bring to Front.
Add printer registration marks for your machine.
Send to color printer.
Place printed banner pieces on cutting mat; load cutting mat into your die-cutting machine and cut.
Measure the length of the area you're hanging your Easter Bunny Banner with twine. Cut and tie a loop on both ends.
Tape bunny and carrot pieces onto twine starting from the middle and working out to get even spacing.
TIPS & IDEAS
You can make this banner as simple or complex as you like:
Tie ribbons, raffia, tulle or pastel colored pipe cleaners (curl the ends on a pencil) in between the paper pieces.
Cut a simple pennant flag to add to the mix out of a patterned paper.
Want to spell out Easter or other Easter words? Purchase large stickers or cut them with your die-cutting machine, and adhere them to a pennant flag or simply tape the letters to the twine.
Use a glue stick to cover the green portion of each carrot and then add some of the crinkle paper Easter basket filler to give your banner dimension.
Click here to download the Easy Easter Bunny Banner Files
Here are a few more posts you might enjoy: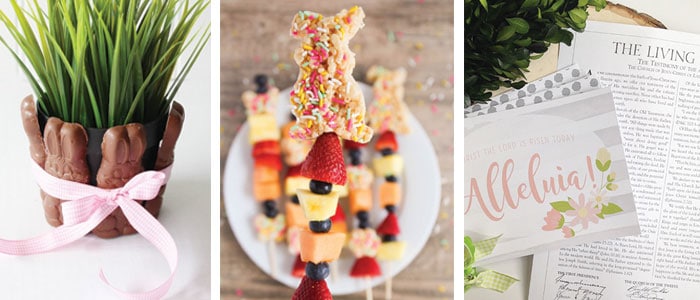 Easy Easter Centerpiece // Rice Krispies Easter Kebabs // The Living Christ Study Guide -FREE
ABOUT THE AUTHOR: Marissa is a graphic designer and creator of an ever-growing stash of printables available over at Prickly Pear Design Co. where she creates what makes her happy and talks design, LDS ideas, and branding/marketing or bloggers and small business. Come join the fun!