Amy from Mod Podge Rocks is here today sharing a tutorial for a sweet bud vase made from items you can find at the dollar store- they are the perfect mod podge gifts- so simple and very affordable!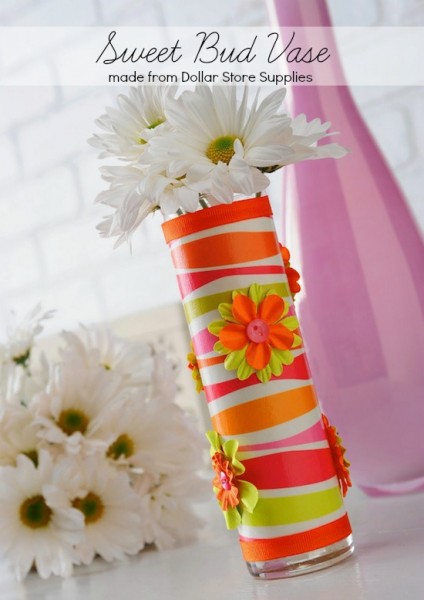 This is Amy from Mod Podge Rocks – so pleased to be here at Somewhat Simple! Stephanie was kind enough to blog swap with me today. As her blog name indicates, Stephanie keeps it simple with her crafting – which I think is awesome because I've always said that some of the best crafting projects are the simplest. If you are one of her regular readers, you already know how talented she is. If you are a MPR reader, then poke around and enjoy. It's totally worth it.
I present to you the above bud vase, and here's why I made it – I really wanted a bud vase. The colors are bright, but that's how I roll. I also want to mention that this project was very inexpensive, and it doesn't even use any paint. If you are a beginning crafter, this is a great starter project. If you are more experienced, whip it up in about 15 seconds. Either way, let me know what you think.
Supplies & Tools
Mod Podge® Gloss
Glass Bud Vase (mine was from the $1 store)
Scrapbook Paper
Ribbon
Prima paper flowers – a handful of coordinating
Buttons – about 5
Flat Paint Brush
Pencil
Craft Glue
Craft Knife and Mat
Ruler
Note: Before you work with glass for decoupage, make sure that you wash it thoroughly to remove hand smudges and oil.
Directions: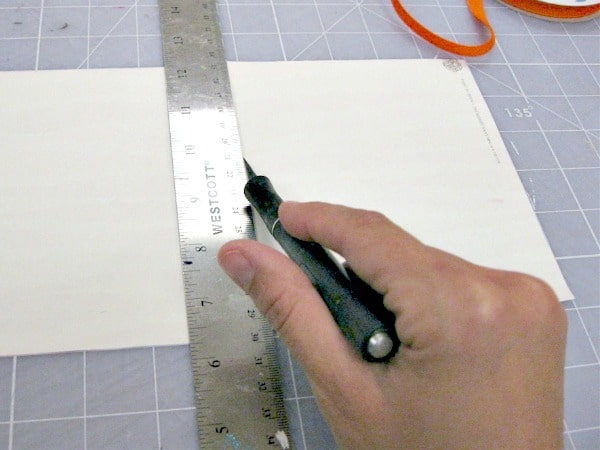 The first thing you are going to do is trim the paper. Yes – you are jumping right in! My vase is about 8 inches, and I wanted to have a border on the top and bottom. So I trimmed a 7 inch strip of scrapbook paper.
Now you have a strip of scrapbook paper that fits the vase vertically, but the paper is too long horizontally. You only need about 1/4″ to 1/2″ of overlap where the paper meets. What I did is roll the vase in the paper and mark where I was going to cut it.
This is where the party finally gets started! Grab your Mod Podge and start smearing it all over the backside of your paper with the paint brush. You are going to put down a medium-thin layer, and don't be afraid to get the corners well. You want the paper to adhere.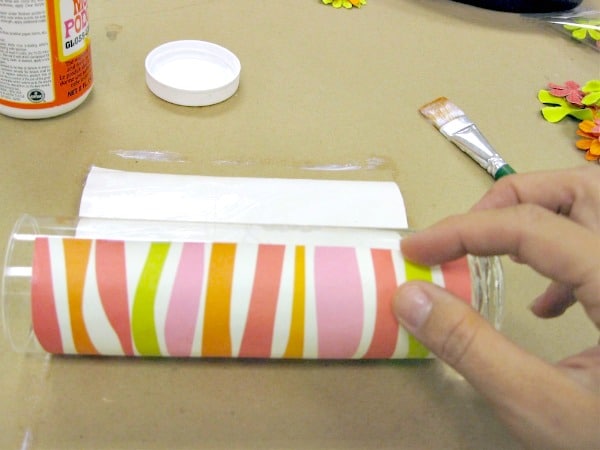 Now that your paper is covered in Mod Podge, the easiest way to get the paper onto the vase is to set it down on there and roll it. If you need to add more Mod Podge as you roll in areas that you missed, that would be okay. Roll carefully at the end so the paper meets just right, and make sure you are rolling tightly to avoid wrinkles.
Once the paper is on, start smoothing with your fingers. If Mod Podge comes out the top or bottom, it's okay. Just wipe it away with your fingers or a paint brush. Wipe it on your husband or children. Kidding! Allow to dry for 15 – 20 minutes.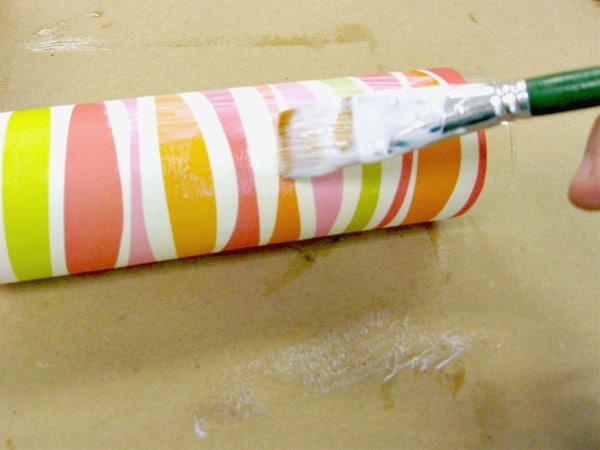 Coat the entire outside of the paper with Mod Podge. Just go up to the edge of the paper, and maybe a little over onto the glass – we are going to cover with ribbon anyway. Let dry for 15 – 20 minutes and do another coat. Let dry.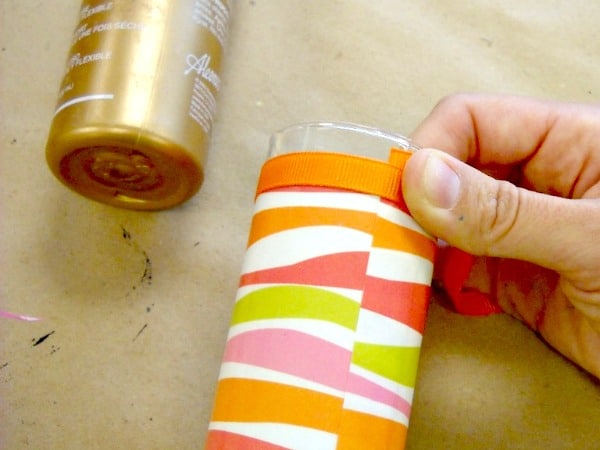 Time to accent with ribbon. Grab the ribbon and wrap around the top of the vase. Make sure that you have a 1/4″ to 1/2″ extra like you did with the paper. Cut the ribbon. Cut another piece of the same length for the bottom. Glue on the ribbon. Place a thin bead of craft glue around the top, then press the ribbon down. Seam the ribbon where you did the paper. Smooth with your fingers and wipe away any excess glue. Repeat for the bottom.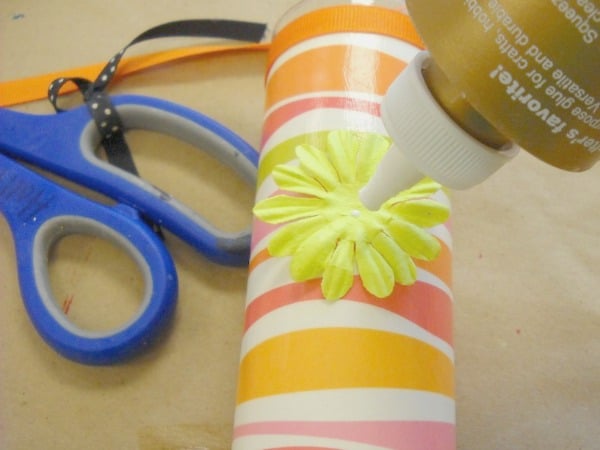 You are at the finish. Grab the flowers and start gluing them down. I layered the flowers and worked my way around the vase. I have five layered flowers because my vase is small. When I was done gluing the flowers down, I glued buttons in the middle. Did I mention that I'm obsessed with buttons?
Let your project dry overnight before putting flowers into it. I think it would make a great gift!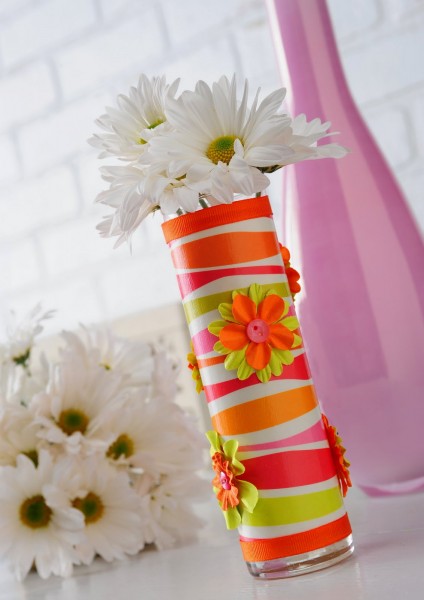 Before I leave, I'd like to thank Stephanie and her readers from the bottom of my Mod Podge jar for having me. Come visit me any time at Mod Podge Rocks for decoupage projects and advice. I'd love to have you! Have a great weekend!
This project originally published on Somewhat Simple in September 2009