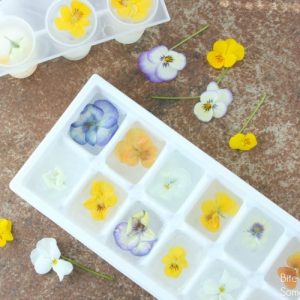 These beautiful Edible Flower Ice Cubes are a unique way to impress your guests at Spring dinner party, baby shower or book club!
Keyword:
frozen foods, ice cream, spring
Fill each cavity in an ice cube tray half way with water or soda.  Place a flower in the water and freeze for 4-6 hours.

Remove ice cube tray from freezer and fill the rest of the way with water or soda (whatever you used to fill the first half).  Return to freezer for another 4-6 hours.

Remove from freezer when ready to use.

Enjoy your beautiful ice filled with edible flowers!
*Your water doesn't have to be boiled and cooled, but it seems to help make the water more clear as it freezes (boiling helps remove air from the water, which is supposedly what causes the cloudiness as the water freezes).  
Nutrition Facts
Edible Flower Ice Cubes
Amount Per Serving
Calories 5
* Percent Daily Values are based on a 2000 calorie diet.