With summer approaching, this Fun In The Sun Baby Shower Gift would be perfect for that soon-to-be mom!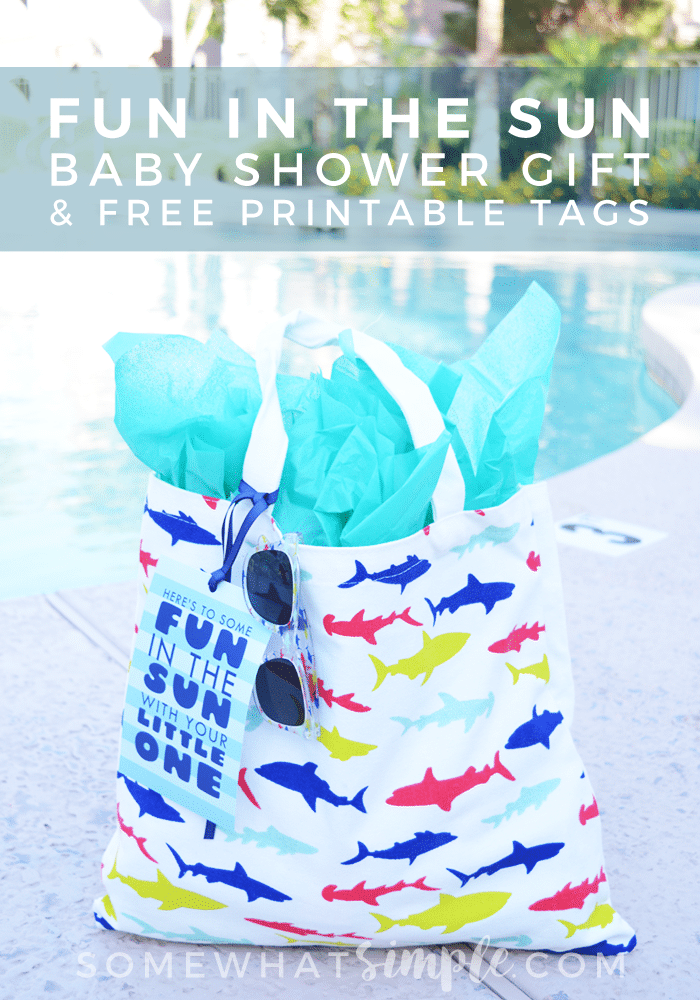 I love a good 'themed' present.  And a little water/beach themed baby shower gift is so much fun to put together – the possibilities of what you could put in it are almost endless! Download one of the free Fun In The Sun Baby Shower Gift printable tags below (each one has different colored lettering) and get started!
Blue Font   //   Orange Font   //   Pink Font   //   Red Font   //   White Font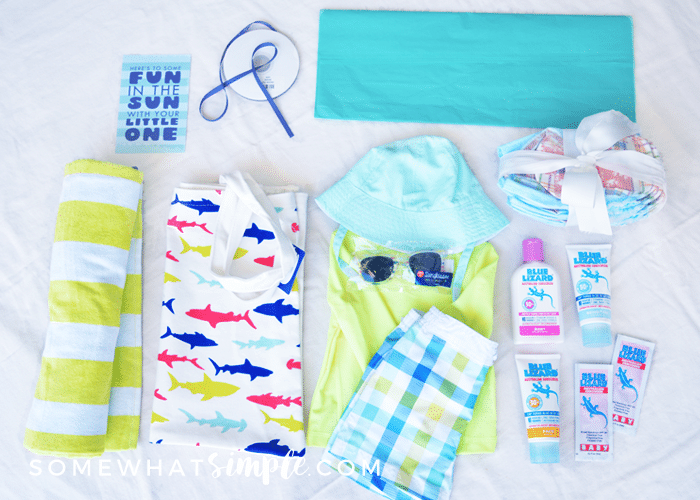 Fun in the Sun Baby Shower Gift
For our gift we grabbed the items above, however, here's a list of things you could include:
Canvas or beach tote
Beach or bath towel
Swimsuit
Hat
Sunglasses or goggles
Swimming diapers
Sandals or swim shoes
Pool toys
Inflatable arm floaties or ring
Sand toys (shovel, bucket, etc.)
Sunscreen.
Sunscreen is probably the most important thing you could put in your gift bag. As someone who has dealt with skin cancer, I am a HUGE believer in the importance of covering up and wearing sunscreen.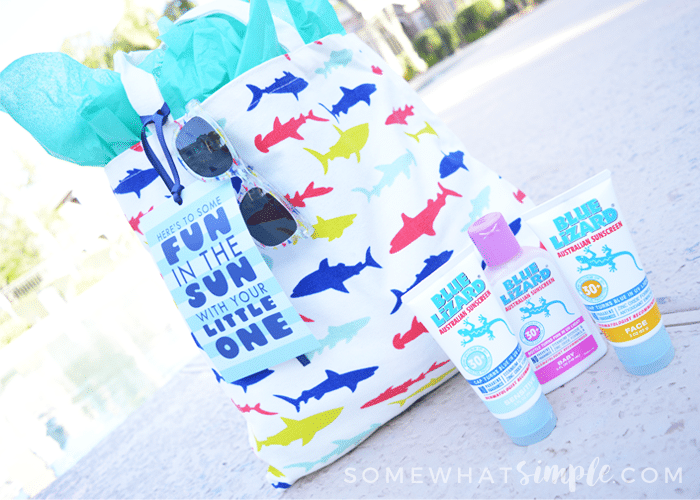 I'm also the newest fan of Blue Lizard Sunscreen.  As someone who has sensitive skin, I've loved using it on a daily basis. And you guys. It doesn't have that sunscreen smell!! I can't even begin to tell you how much I love this stuff! And you wanna know what else is cool? The bottles change color to let you know when harmful UV rays are present. Their patented BPA-free Smart Bottle™ changes color from white to pink for Baby formula, and the caps turn blue on the tubes, when exposed to UV light. As you can see, I'm in the shade, and the colors are still changing: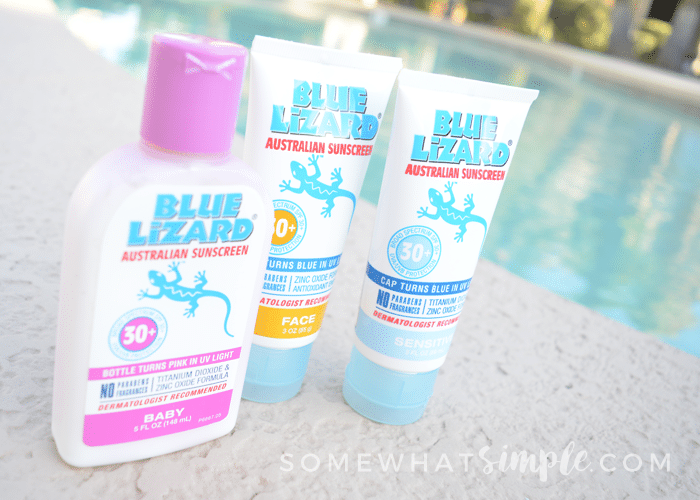 Blue Lizard® was originally created in Australia, where sunscreen standards are the strictest in the world. Blue Lizard is now made in the U.S., in Johnson City, Tennessee by Crown Laboratories with the highest quality ingredients, and is doctor, dermatologist, and pharmacist recommended. And they've been so generous to give Somewhat Simple's readers 20% OFF orders of $35 or more! Just enter the code:
P20SIMPLE at www.bluelizard.net
 (Expires 12/31/16)
This code is perfect for all those Fun In The Sun Baby Shower Gifts you'll be making. 😉
You also need to check out their sunscreen in the gallon sizes, which is perfect for sports teams and families who enjoy being outdoors and on the go year round. 
This post was sponsored by Blue Lizard Sunscreen. All opinions and text are my own.