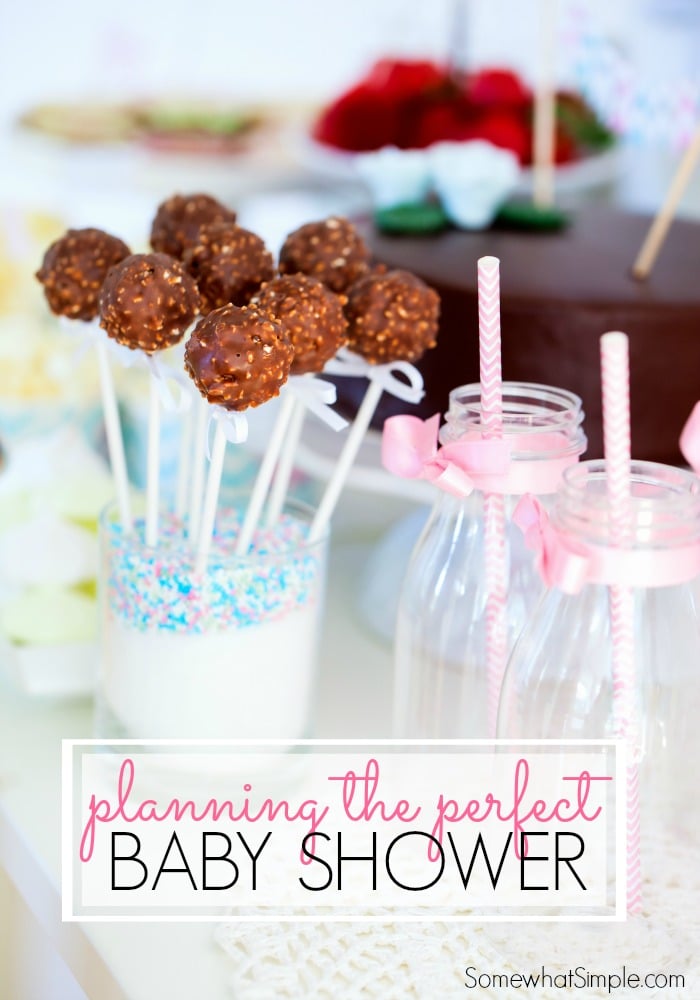 An outdoor baby shower can be such a fun and memorable event for the mother-to-be. Whether you're hosting the baby shower at a park, in your backyard or any other outdoor venue, these planning ideas and tips will help you make the event perfect!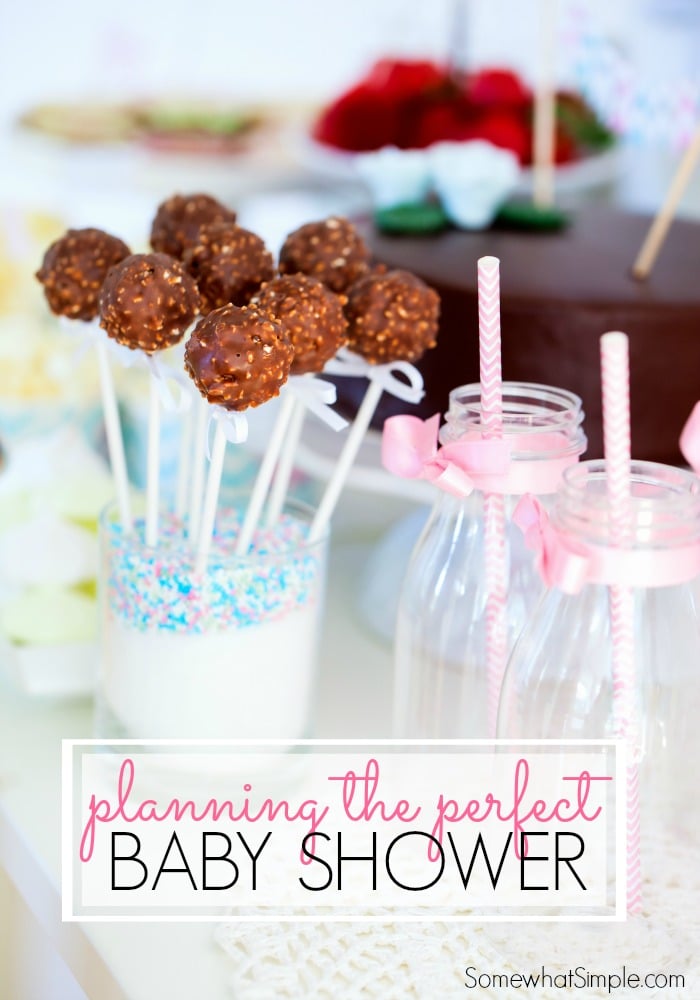 We're excited to announce that we've partnered together to bring you tips and advice on the newest premium baby care items like new Huggies Little Snugglers Plus and Huggies Little Movers Plus Diapers available at Costco. Stay tuned throughout the summer for more posts about our experiences using these great products in our daily summer adventures. And of course we'll make sure you're aware of some awesome deals to help you stock up and save!
Hosting An Outdoor Baby Shower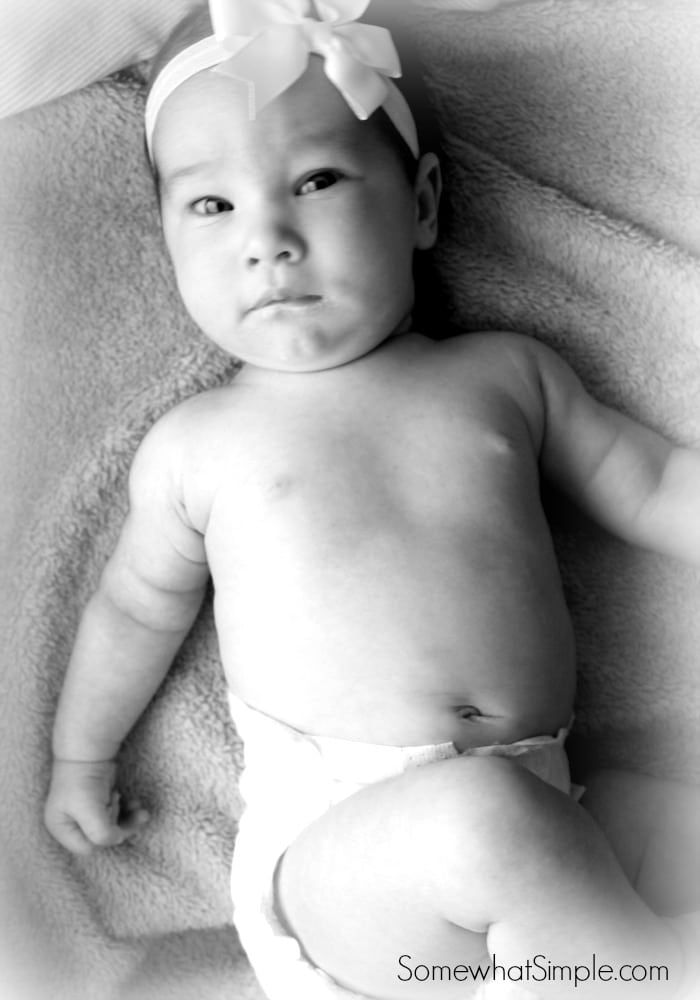 Two months ago, I had my 5th baby – a little girl we named Malana. She is a teeny little thing who loves to sleep all day and play all night! Yesterday my sister came to visit and snapped some great pictures of her while she was awake and happy as can be!
The arrival of every baby needs to be celebrated, so in honor of my sweet little Malana, I wanted to share some outdoor baby shower planning tips to ensure your baby celebrations go off without a hitch!
How To Plan An Outdoor Baby Shower
1. Decide on a Theme
This is the very first step because it will determine the rest of the baby shower plans! Go elegant or casual, jungle or honeybee, choose simple coordinating colors… really the options are endless!
One of my favorite themes to use, (especially for someone who isn't having her first baby and has all the gear they need), is a Diaper Shower. Every mom needs diapers!!! Make a quick run to Costco for all the food and while you're there, grab a couple boxes of new Huggies Little Snugglers Plus Diapers.
You can use these diapers to decorate for the shower, make diaper cakes for centerpieces, drape clothes lines across the yard with diapers and onesies hanging by clothes pins etc. The guests can bring diapers as gifts, and you can even send the guest of honor home with all the diapers you used for decor.
Here is a list of 16 baby shower themes with printables HERE.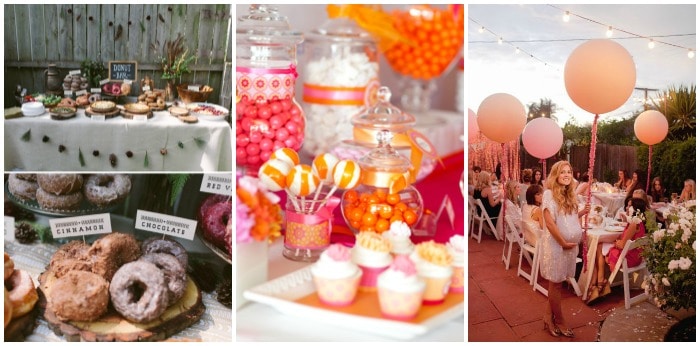 Camping (with a donut bar!) via Katie Day Photography // Hot Pink & Orange via Project Nursery // Elegant Outdoor via My Sweet and Saucy
2. Baby Shower Invitation Ideas
Now that you have your theme, it's time to send out the invites! Design your own, purchase them on Etsy, or find some free ideas on Pinterest! We wrote a whole post with 10 of our favorites HERE.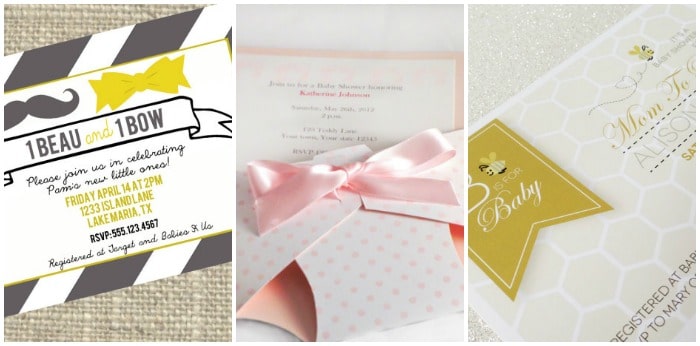 Twin Shower Invite from Grey Skies Blue // Diaper Baby Shower Invitations from A Paper Paradise on Etsy // Mom to Bee from MKKM Designs on Etsy
3. Outdoor Decoration Ideas
The best part about having an outdoor baby shower is the fact that you get to take advantage of the natural beauty all around you and keep everything else very simple! Big balloons, white lights and lanterns are always festive, or a bright, colorful centerpiece can really set the stage for a fun celebration!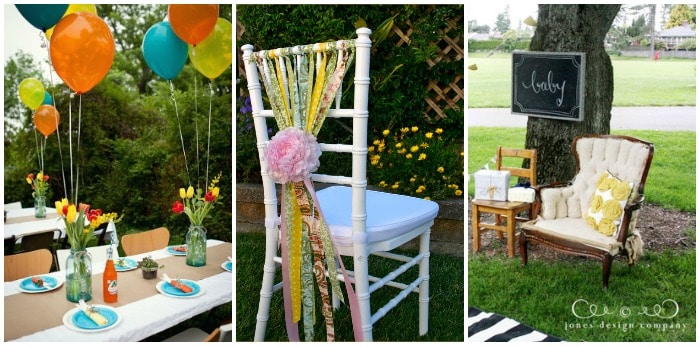 Balloon & Flower Centerpieces via The Sweet Occasion // Ribbon on Chairs via HWTM // Picnic in the Park via Jones Design Company
4. Baby Shower Gift Ideas
Now that the big items are out of the way, you can focus on what you're going to get the mom-to-be. If you're at a loss of what to get, stick to items on the registry and remember DIAPERS and WIPES are always appreciated! Huggies has brand new Diapers and Wipes at Costco that are designed to give babies positively premium baby care. I really appreciated Huggies Little Snugglers Plus Diapers and Huggies Natural Care Plus Wipes gifts from Costco for Malana, they were a lifesaver!
Besides the fact that Huggies Little Snugglers Plus Diapers are the most absorbent diapers for day and night protection, they are also super soft and flexible! They have a GentleAbsorb Liner with tiny pillows for a cushiony layer of protection between your baby's skin and the mess. The pocketed waistband helps keep in the runny mess, AND the wetness indicator changes color whenever Malana needs a new diaper – so no guessing on when she needs a diaper change!
I also asked for Huggies Natural Care Plus Wipes so I could start stockpiling, and I am so glad I did. They are new at Costco and are thicker and more durable for life's messes. The wipes from my baby shower lasted me and Malana SO LONG!
For any pregnant ladies out there reading this – Huggies Little Snugglers Plus and Huggies Natural Care Plus Wipes, brand new at Costco, are a must-have for any new baby! Make sure to point your shower guests to Costco for diapers and wipes so they know how helpful they would be!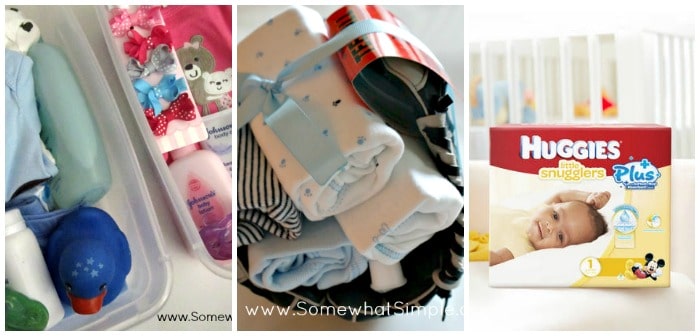 Twins Baby Shower Gift // Baby Boy Glove Gift // Huggies Little Snugglers Plus
5. Outdoor Baby Shower Food Ideas
You can get as creative as you'd like with the food you plan to prepare, but if you're doing all the work yourself, I'd suggest keeping it really simple. You don't want to be slaving in the kitchen making food as the guests are arriving! Choose something you can put together ahead of time. Remember, presentation is everything! Even some simple fruits and finger foods can look fancy if you have them in a beautiful display! Here are some ideas we think are perfect for baby showers: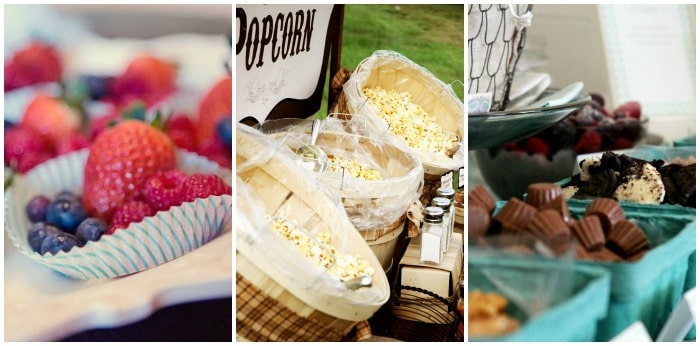 Fresh Fruit in Cupcake Liners via Sara Westbrook // Rustic Popcorn Bar via Pen N' Paper Flowers // Pudding Bar via Somewhat Simple
6. Baby Shower Game Ideas
I think opening presents and chatting with friends is the best entertainment at a shower, however shower games can be a lot of fun too! I'd suggest not planning more than 2 or 3 games, and the more prizes you have, the happier your guests will be.
Guess the Baby Game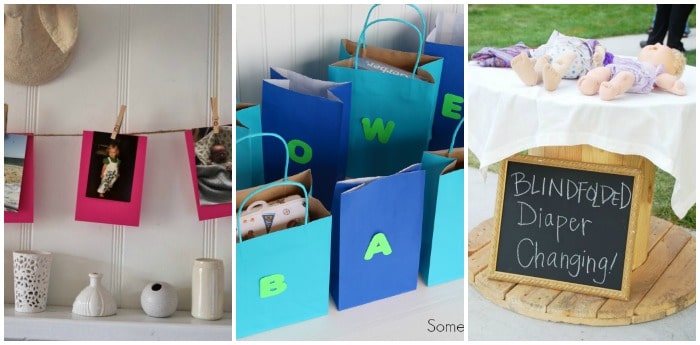 via Apres Fete // What's in the Bag // Blindfolded Diaper Change via Apothecakery
So there you have it! Are you ready to party!?!?!?
PRODUCT LINKS MENTIONED IN THIS POST:
Huggies Little Snugglers Plus Diapers // Huggies Little Movers Plus Diapers // Natural Care Wipes Plus
This is a sponsored post for Huggies® written by me. All opinions are my own. Thanks for supporting our sponsors so we can continue to provide creative content to Somewhat Simple.