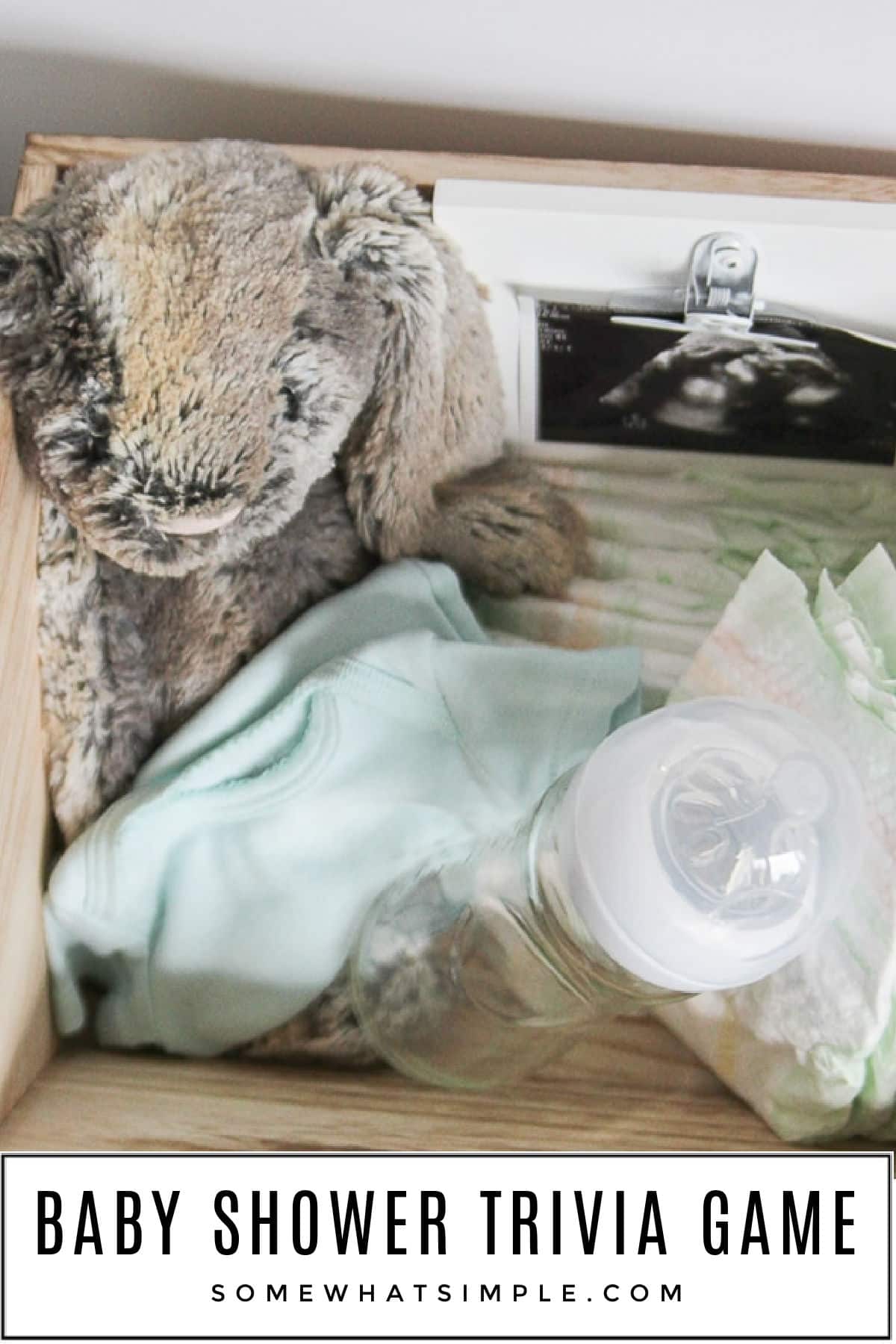 Test your knowledge about pregnancy, labor, and babies in this baby shower trivia game! It's a great way to entertain guests at your next baby shower!
Here are a few more baby shower ideas we think you'll enjoy – Raindrop Baby Shower Printables, Baby Shower Gift Wrapping, Pacifier Candy Cupcake Toppers, How to Make a Diaper Cake, and "What's In The Bag" Baby Shower Game.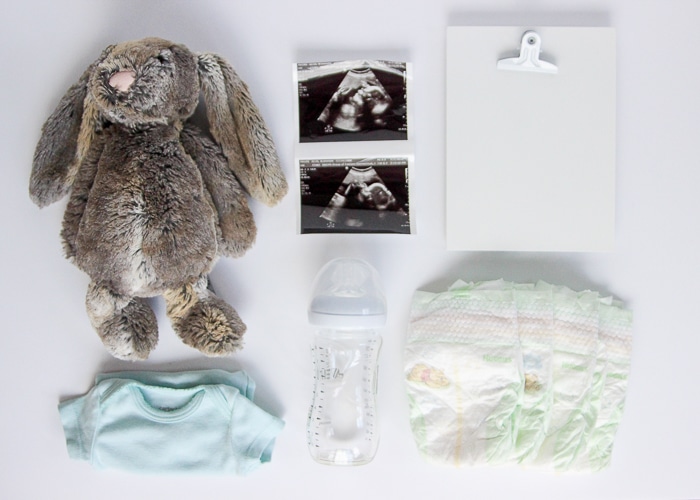 Baby Shower Game
When hosting a baby shower, games are always a quick and fun way to break the ice. As the hostess, I like to choose games that are simple and require little to no explanation. This baby shower trivia game is one of my favorites!
This game is about as simple as they come. Each trivia question corresponds to an item in the gift basket. The mom-to-be gets to keep all the fun items at the end of the shower, so this is not only a simple game, but it also makes a great gift too!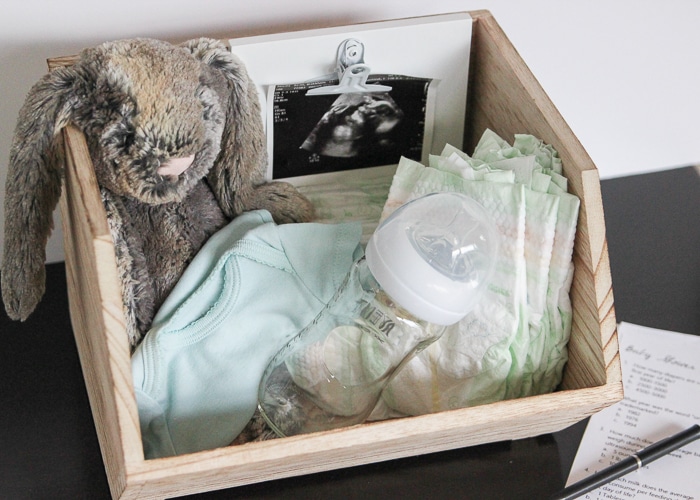 Baby Shower Trivia Game
SUPPLIES –
basket
diapers
a bottle
a stuffed animal
onesies
an ultrasound photo in a frame.
trivia sheet printable – 1 for each party guest (linked below)
pens or pencils
prize for the winner – a candy bar, lotion, candle, etc.
DIRECTIONS –
Arrange all the items in a basket. Print off the baby shower trivia questions.
Decide when you'd like to play this game and hand one printable to each guest. They will also need a pen or pencil. This game is a great way to keep guests entertained as everyone arrives or it is fun to play as a group during the shower.
Give everyone a chance to answer the questions, then go over the answers as a group.
The person with the most correct answers is the winner! Reward them with a prize or special party favor!
… it doesn't get any easier than that!
Trivia Quiz Printable
Enter your name and email address in the form below for immediate access to this printable.
Baby Trivia Questions
We included the first 5 questions on our printable, but If you're looking for more baby shower questions or interesting facts about pregnancy and newborns, here are a few you can add to your baby trivia game-
How many diapers are used in the first year of life? 2500-3000
What year was the word "onesie" trademarked? 1982
How much does the average baby weigh during the 20-week ultrasound? 10 ounces
How much milk does the average baby consume per feeding during its first day of life? 1 teaspoon per feeding
What is the name of a baby rabbit? Kit
What percentage of babies are born on their exact due date? About 5%
How long is the average pregnancy? 280 days or 40 weeks
What is the baby's first sense to fully develop in utero? sense of touch
What is the average birth weight? 7.5lbs
What is the weight of the heaviest baby at birth? 22lbs 8oz (Italy in 1955)
How long is an umbilical cord at birth? About 22 inches long
MORE BABY IDEAS –