This Baby Shower Trivia Game is in partnership with Huggies. Keep reading to hear all about why we LOVE this brand + grab our free printable trivia game to use at the next baby shower you help plan!
When hosting a baby shower, games are always a quick and easy way to break the ice. As the hostess, I like to choose games that are simple and require little to no explanation. This baby shower trivia game is one of my favorites!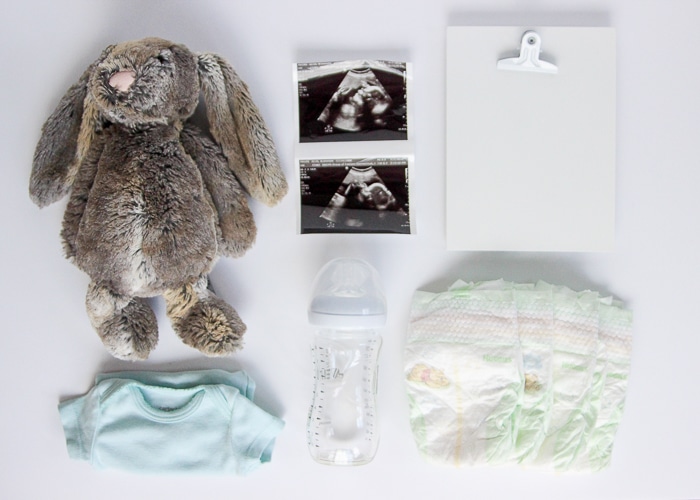 This game is about as simple as they come. Each trivia question corresponds to an item in the gift basket. The mom-to-be gets to keep all the fun items at the end of the shower, so this is not only a simple game, it also makes a great gift too!
I started filling the basket with some of my favorite go-to baby items. First diapers!
Did you know a baby can go through 2500-3000 diapers in the first year of life? We personally love Huggies Little Snugglers Diapers. They are super soft and they are inspired by hugs to keep baby's skin clean and healthy. I love the wetness indicator to tell me exactly when my baby needs a diaper change, plus the new and improved pocketed waistband helps keep the mess where it belongs! Huggies Little Snugglers Diapers are hypoallergenic and fragrance-free, and the new soft cover helps keep your baby comfortable and lets their skin breathe!
In addition to the diapers, I also include common baby items in the basket – a bottle, a stuffed animal, some onesies etc. To personalize the game, I like to add an ultrasound photo from baby's 20 week check up.
Here is how to set up and play: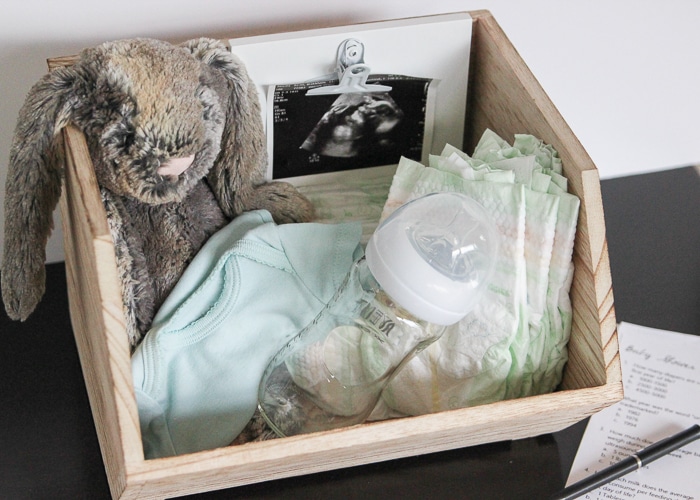 Baby Shower Trivia Game
MATERIALS NEEDED:
basket
diapers
baby items – bottle, onesies, stuffed animal, etc.
free printable – 1 for each party guest (link to download below)
pens or pencils
prize for the winner – a candy bar, lotion, candle, etc.
DIRECTIONS:
Arrange all the items in a basket. Print off the baby shower trivia questions.
Decide on when you'd like to play this game and hand one printable to each guest. They will also need a pen or pencil. This game is a great way to keep guests entertained as everyone arrives or it is fun played as a group during the shower.
Give everyone a chance to answer the questions, then go over the answers as a group.
The person with the most answers correct is the winner! Reward them with a prize or special party favor!
… it doesn't get any easier than that!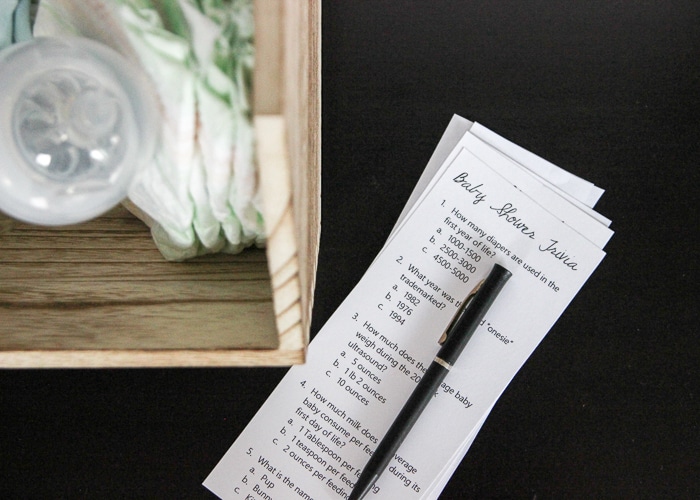 Huggies® believes deeply in the Power of Hugs. The simple, loving act is proven to support babies' emotional and physiological well-being. Huggies® diapers and wipes are inspired by a parent's hug, – to nurture baby with care, cradle baby in comfort and surround baby in protection. Make sure you embrace baby's bottom with Huggies® Little Snugglers Diapers to deliver our best skin care to help keep baby's skin clean and healthy. Learn more at Huggies.com. #HuggiesCouncil
This post is sponsored by Huggies. All opinions and ideas expressed here are 100% our own. Thanks for supporting our sponsors so we can continue to provide creative content to Somewhat Simple.