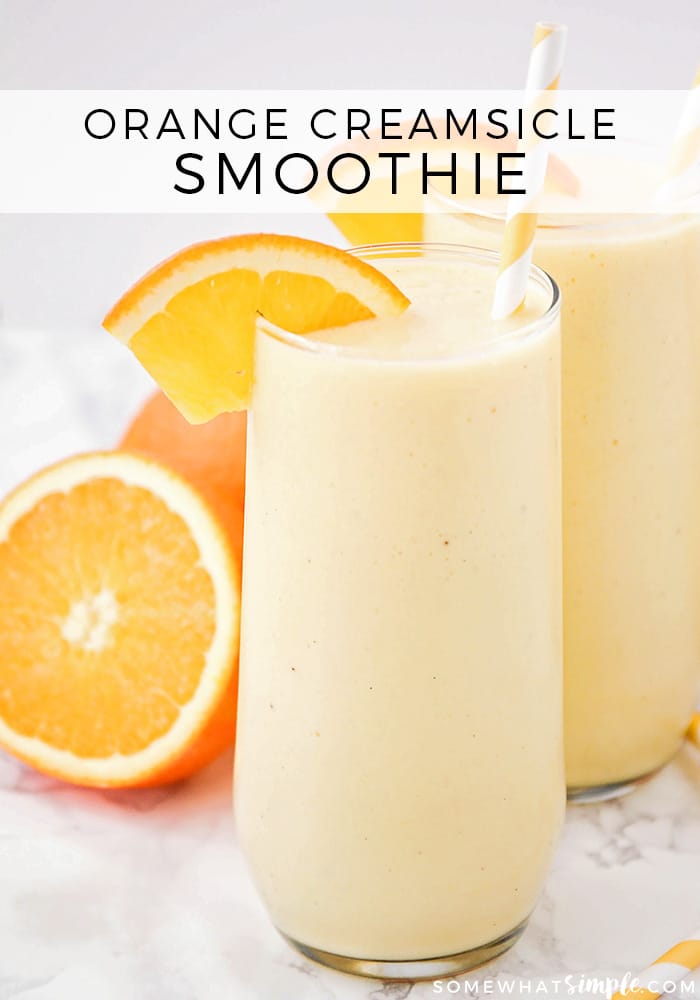 This sweet and refreshing orange creamsicle smoothie is perfect for an easy breakfast or afternoon snack! Filled with fruit and yogurt, it's a healthy and flavorful way to enjoy your favorite frozen creamsicle drink!
I love the flavor of oranges in frozen drinks and other delicious recipes. Some of my other favorite recipes that feature a hint of orange flavor is this Strawberry Orange Fruit Salad, Cranberry Orange Sweet Bread and Orange Chicken rice bowl recipe.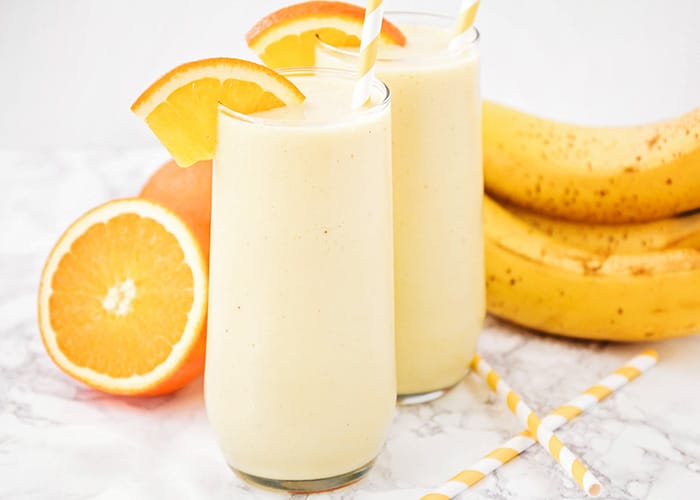 Orange Creamsicle Drink
One of my goals for the new year is to encourage my kids to eat healthier food. They're actually pretty good at eating fruits and vegetables when they are offered, but when we're running late in the mornings, it's easy to just hand them frozen waffles or granola bars for breakfast.
I had a realization recently that it takes less than a minute to blend a smoothie for them, and it's the perfect way to pack in some nutrients right at the beginning of the day. My six year old (who always has to be coaxed to eat in the morning) will drink her smoothie up in just a few minutes with a smile.
My kids have always loved orange creamsicles, so I thought it would be fun to try a new smoothie with the flavor that they love. This orange creamsicle smoothie is thick and creamy and delicious, with minimal added sugar (depending on the type of yogurt you use) and a good sized serving of fruit. It's the perfect way to start the day!
Tips For Making Creamsicle Smoothies
I have to say that I am very picky about bananas when I'm eating them plain, and I would never ever consent to eating a spotty banana. As far as smoothies go, though, they are perfect! They're a lot sweeter than the just slightly green bananas I usually prefer and they blend great and make the smoothie extra creamy. Even if you, like me, loathe spotty bananas, definitely give them a try in an orange creamsicle smoothie!
If you want it to taste a little more like an authentic creamsicle, you could add some honey or sugar to sweeten things up, but since I was making it for my kids, I left it as it was. It's still nice and sweet without the added sugar. This is definitely one of our favorites that we will be making again and again!
How To Make A Creamsicle Smoothie
What I love about this creamsicle drink recipe is just how easy it is to make. Simply grab all of the ingredients for this recipe and mix them in a blender until smooth. I like my drinks creamy smoothie but one of my kids like to have little chunks of fruit in theirs. If you prefer little chunks in your drink, I recommend blending the ingredients in 10-15 second intervals until you reach the desired consistency.
More Easy Smoothie Recipes
Orange Creamsical Smoothie Recipe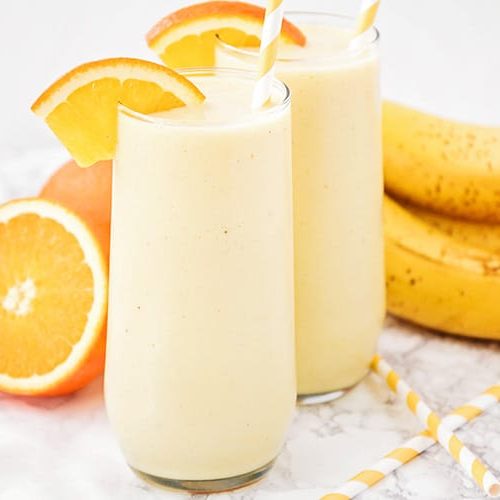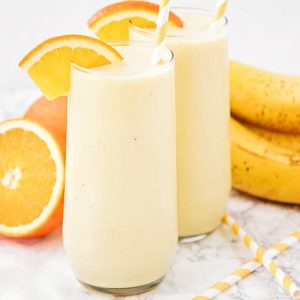 Orange Creamsicle Smoothie
This Sweet And Refreshing Orange Creamsicle Smoothie Is Perfect For An Easy Breakfast Or Afternoon Snack! A Healthy Version Of Your Favorite Orange Creamsicle Drink - It Is So Flavorful, And Totally Delicious!
Ingredients
1

cup

orange juice

1

frozen banana

1

cup

frozen mango chunks

1/2

cup

vanilla yogurt

1/2

teaspoon

vanilla
Instructions
Add all ingredients to a blender, and blend until smooth. Serve immediately.
Nutrition Facts
Orange Creamsicle Smoothie
Amount Per Serving
Calories 340
* Percent Daily Values are based on a 2000 calorie diet.