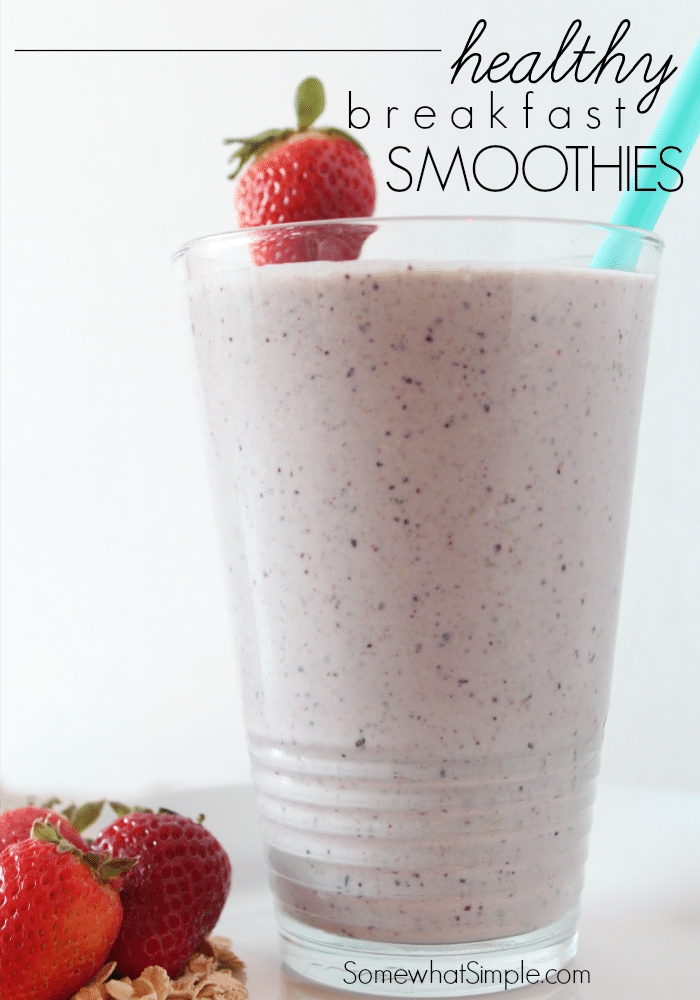 Earlier this year, my husband and I decided it was time to eat better and exercise more regularly. One of the changes we made to our diet was what we ate for breakfast each day. I will be honest, I am not a breakfast eater. I rarely wake up hungry and nothing usually sounds good to me that early in the day. Also, mornings in my house can be pure craziness and I simply don't have time to cook or prep anything hearty or extravagant.
I decided to research various breakfast ideas that are both easy and healthy and after plenty attempts at several smoothie recipes, I finally adapted one that we LOVE! This breakfast smoothie is tasty, healthy, easy and filling!!
You can use various ingredients according to your taste preferences or whatever you happen to have on hand. The best part is, you do all the prep work ahead of time making smoothie packets that sit in the freezer until you are ready to use them! I will spend 30 minutes one afternoon prepping the ingredients and I'll have an entire month's worth of meals ready to grab and toss in the blender. Breakfast just got so much easier folks- let me show you how!!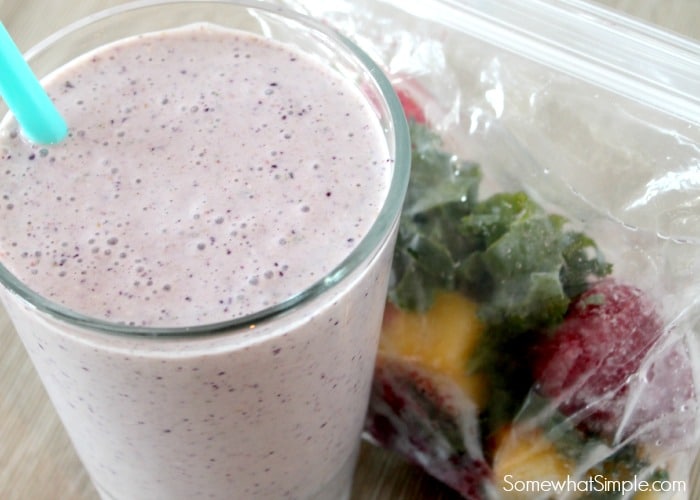 Easy Breakfast Smoothies
Serves 2
INGREDIENTS:
1 tbsp nuts (I use unsalted sunflower seeds or almonds)
1 tbsp Chia seeds
1/2 cup oatmeal*
1 heaping cup of frozen fruit (use a variety so you aren't drinking the same flavor all month!)
1 handful of fresh spinach or kale
1 cup of yogurt (I use Greek vanilla)
1/2- 1 cup of juice
Protein Powder (optional)
*The oatmeal is going to make the texture of this smoothie a lot thicker than the sort of smoothie you purchase from a juice bar. But oatmeal is what makes this smoothie so filling so you aren't hungry an hour after you drink this.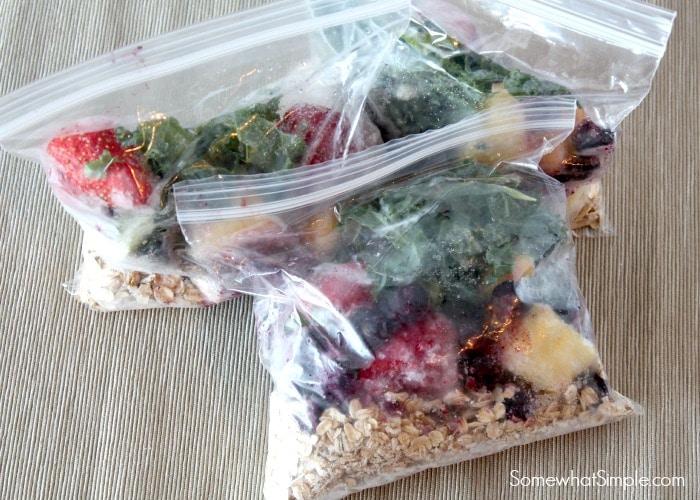 PACKET PREPARATION:
Clear off a big space on your counter and get ready for an assembly line!
Grab a bunch of ziploc sandwich baggies and line them up in rows on the counter. Open them up just enough so that it is convenient for you to add the ingredients to each bag.
Add the first 5 ingredients to each baggie, then zip close while making sure extra air doesn't get inside.
Place in the freezer for a few hours until everything is completely frozen.
Grab a few gallon-size ziplock bags and place the individual smoothie packets inside to help as an extra barrier from freezer burn. This step isn't necessary if you are only making enough packets for a week or two.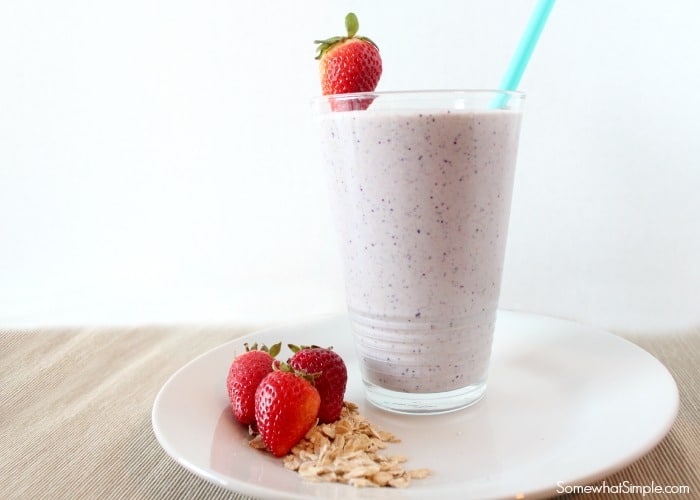 SMOOTHIE DIRECTIONS:
Grab a smoothie packet from the fridge and empty all the ingredients into your blender. (Feel free to recycle these baggies and use them for next month's smoothies by giving them a good rinse!)
Add 1 cup of yogurt to the blender and 1/2 cup of juice. (The amount of juice will depend on how thick you want your smoothie to be. Add more as you blend it if you need to.) Add Protein Powder, if you prefer.
Mix well until you get the desired consistency.
Pour into two cups, grab a couple straws and enjoy!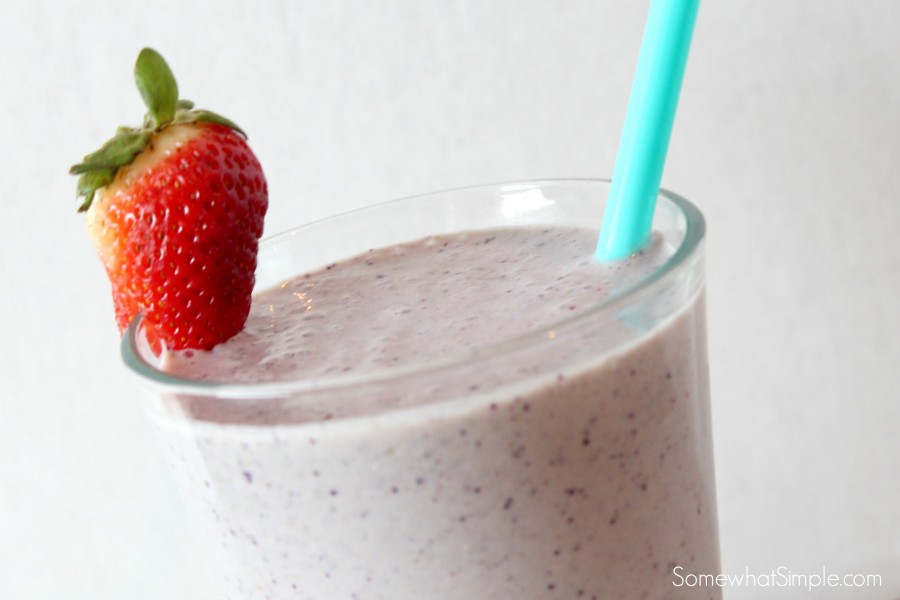 Here is a 4×6 recipe card if you'd like to print it out: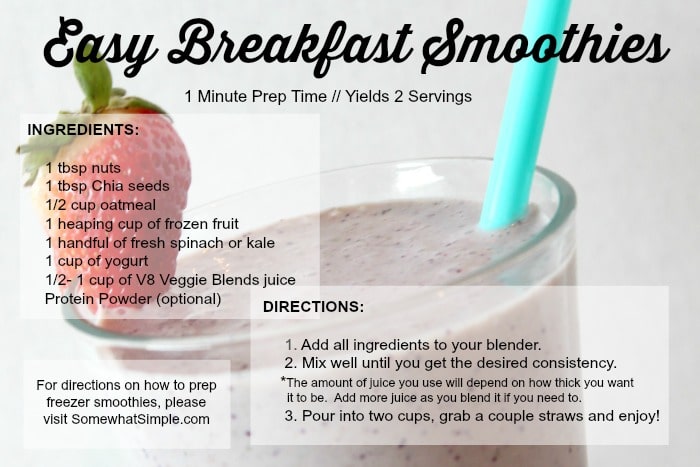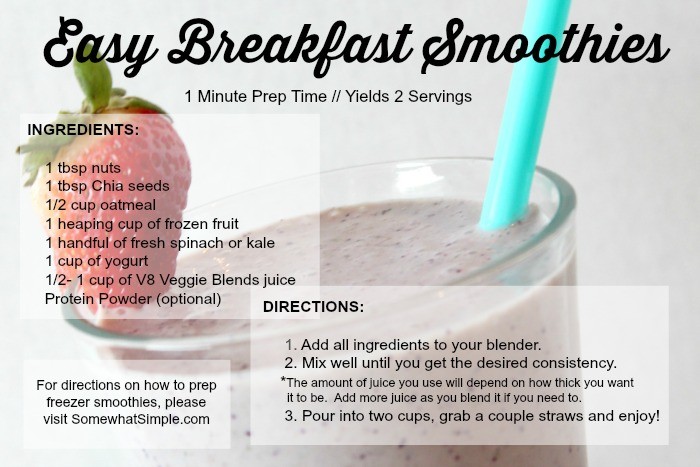 (Right-click and save to your computer then print from home or at your favorite print shop.)
These smoothies are so easy and so convenient and they are such a great way to get your vitamins, minerals and fiber!