Crisp and sweet French Toast Bites rolled in apple spice sugar and dunked in apple pie sauce! The perfect Fall treat!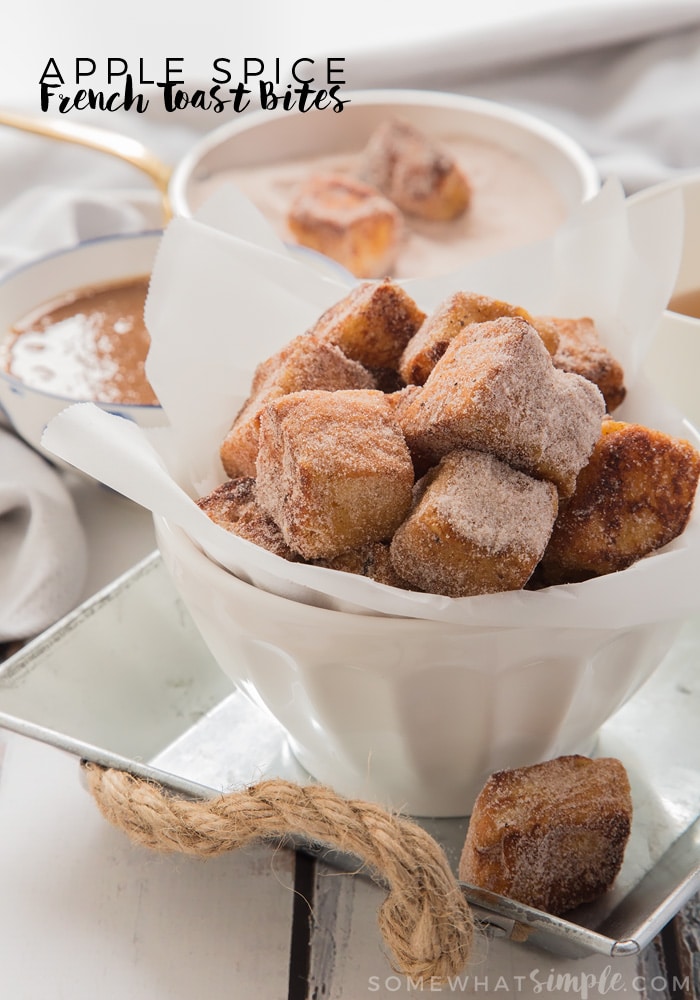 Am I the only one who likes my food deconstructed sometimes? For today's recipe, I decided to deconstruct an apple pie and turn it into an appropriate breakfast food. Because who doesn't love dessert for breakfast?!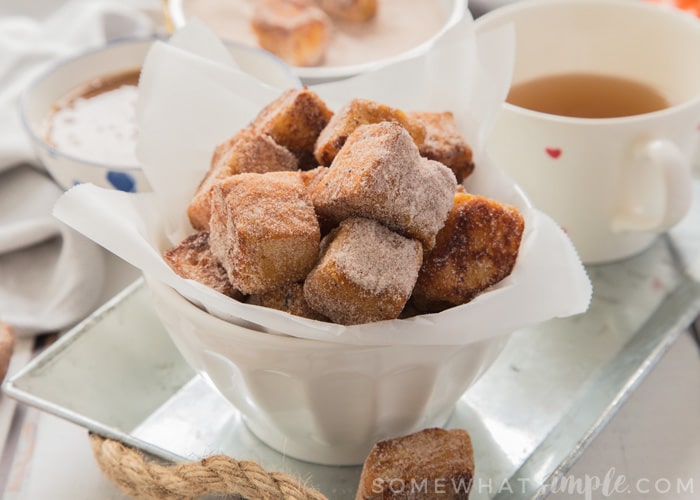 This is one seriously easy dish to prepare, and it can feed a crowd… if you feel like sharing! Simply dunk the bread cubes in an eggy mixture, fry them, place on a paper towel, then roll them in the apple spice/ sugar mixture.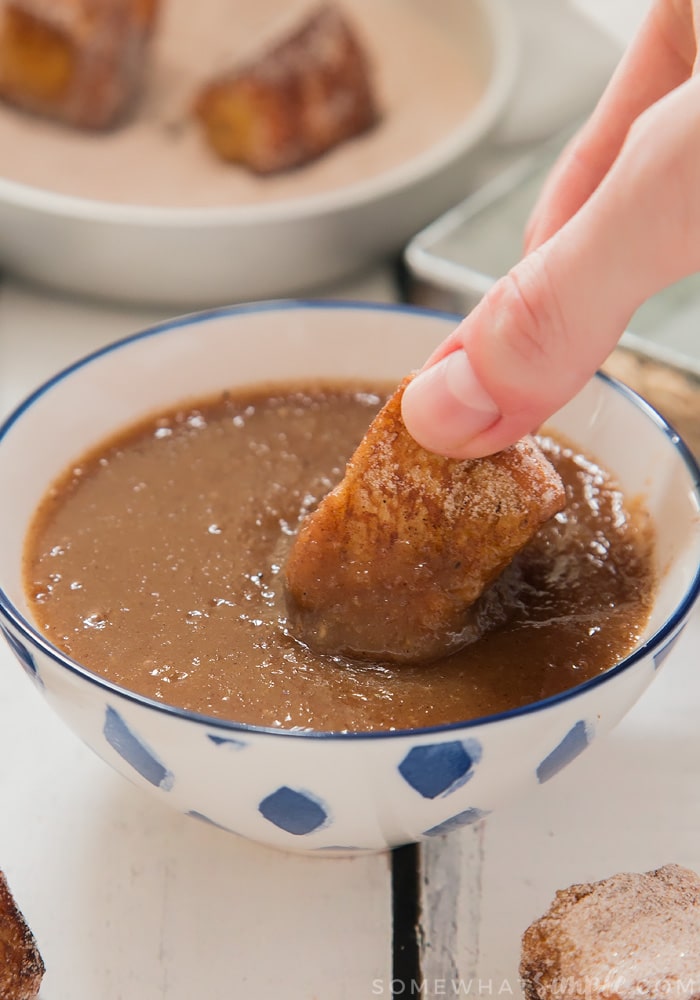 The dipping sauce is completely optional, but I would highly advise you give it a try! (It's good enough to eat by the spoonful!)
APPLE SPICE FRENCH TOAST BITES
INGREDIENTS:
for the French Toast Bites –
4 cups (150g) 1 inch cubes of day old bread
2 large eggs, lightly beaten
1/3 cup (80ml) milk
1/2tsp vanilla extract
1tbsp sugar
1-3tbsp butter
for the Apple Spice sugar coating –
1/2 cup (100g) white sugar
1/2tsp ground cinnamon
1/4tsp ground nutmeg
1/4 tsp ground cardamom
1/4 tsp ground allspice
for the Apple Pie dipping sauce –
1 medium sized apple, peeled, cored and grated
1/2tsp ground cinnamon
1/4tsp ground nutmeg
3tbsp light brown sugar
Pinch of salt
2tbsp cornstarch
2/3 cup (160ml) water
DIRECTIONS:
Make the French Toast Bites first:
Place eggs, milk, vanilla extract and sugar into a shallow bowl and beat lightly until combined.
Place 1/2 tbsp of butter into a medium sized skillet and place on a medium heat.
While the pan is heating up, dunk 8-10 of your bread cubes into the milk/egg mixture. Make sure you get all sides, but make sure it's a quick dunk and you don't leave it in there for ages as the bread will go soggy.
Once the pan is hot, place the bread cubes into the pan and fry until golden, 20-30 seconds per side.
Place a couple of sheets of kitchen towels on a large plate and transfer the cooked French Toast bites to the plate to cool.
Repeat this process, doing 8-10 bread cubes at a time until you have exhausted your supplies. As you remove batches, place another 1/2 tbsp of butter into the pan to heat. Be careful not to brown the butter, if you think the pan is getting too hot, turn the heat down.
Leave the French toast bites to cool for around 10-15 minutes.
Make the sugar coating next:
Place white sugar and spices into a shallow bowl and mix gently until well combined and there are no lumps of spices. Leave to one side.
Make the Apple Pie dipping sauce:
Place the grated apple, spices, brown sugar, salt and cornstarch into a medium sized saucepan and stir until the apples are coated in the dry mixture.
Add in the water and place over a low-medium heat.
Bring to a boil and then turn down to simmer for 5-10 minutes, until the mixture is thickened and the apple is tender.
Leave to cool for 5-10 minutes, and then either using a hand blender or mini food processor, blitz the dipping sauce until smooth.
To serve:
Roll each French toast bite in the apple spice sugar coating and then serve with the dip. Enjoy!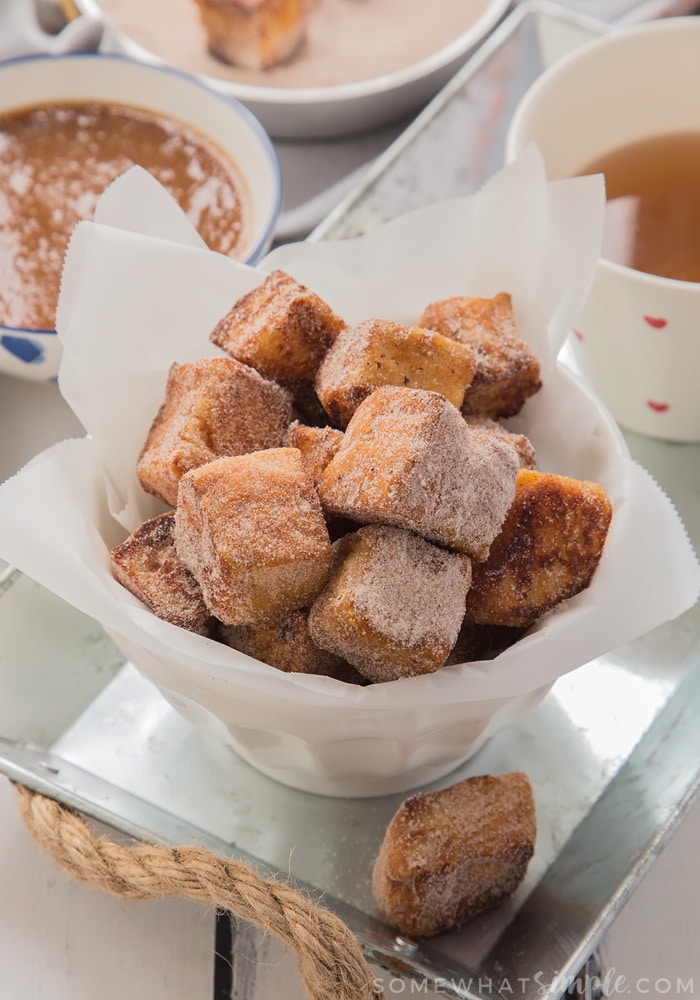 Apple Spice French Toast Bites are best enjoyed on the same day.
. . . . .
Here are some of our other favorite french toast recipes: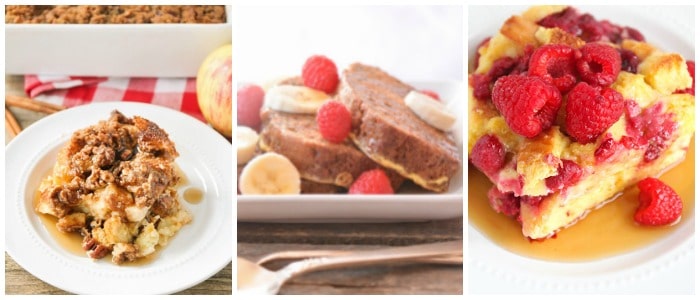 Apple Cinnamon French Toast Bake || Zucchini Bread French Toast || Baked Raspberry French Toast