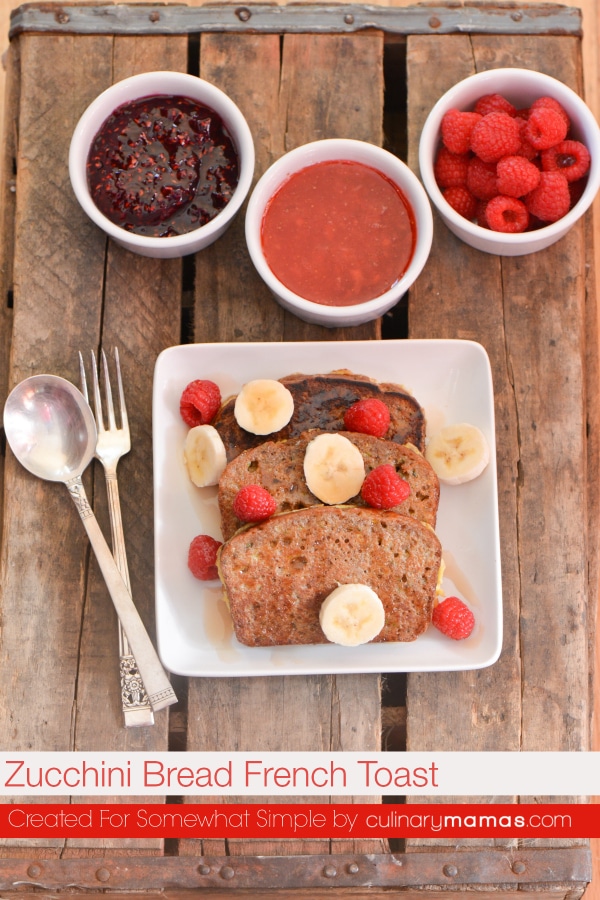 I already have more zucchini than I am going to eat this summer, so I am always looking for delicious ways to use it. This zucchini bread french toast is so flavorful and delicious! My family greeted the breakfast with applause, so I know it was a win in my culinary world.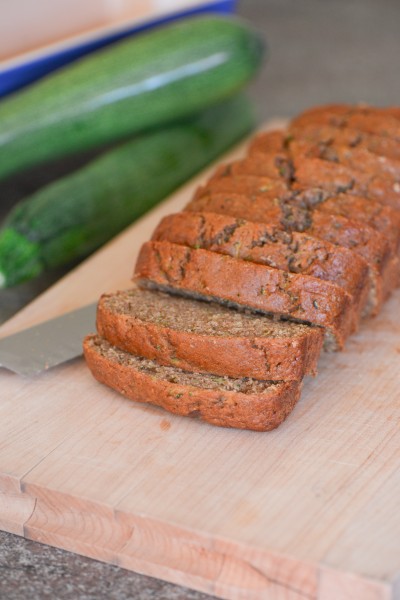 This is the recipe I adapted for the zucchini bread over at Food.com, but feel free to use your favorite. I actually cheated a bit and made the zucchini bread healthier, so it wasn't too sweet when my kids poured on the syrup  and my husband spooned on the whipped cream. This is a single recipe, so double or triple according to your needs.
ZUCCHINI BREAD INGREDIENTS:
1 1/2 cups zucchini
1/2 cup oil (I used coconut)
1/2 cup brown sugar
2 eggs
1 teaspoon vanilla
1 1/2 cups whole wheat flour
1/2 teaspoon baking soda
1/2 teaspoon baking powder
1/2 teaspoon salt
1 teaspoon cinnamon
1/4 teaspoon nutmeg
ZUCCHINI BREAD DIRECTIONS:
In a medium bowl, stir the flour, soda, powder, salt cinnamon and nutmeg together.
In a separate bowl beat the oil and brown sugar until combined.
Add the eggs and stir after each addition.
Stir in the zucchini.
Add the dry mixture to the wet mixture and stir until just combined.
Pour into a large loaf pan and bake at 350 degrees for 45 minutes- one hour, or until a toothpick inserted comes out clean.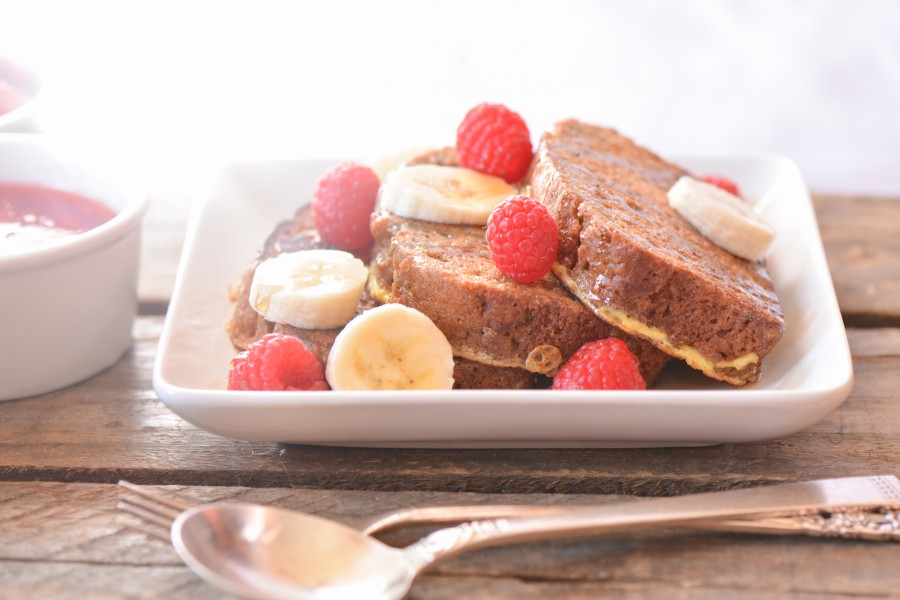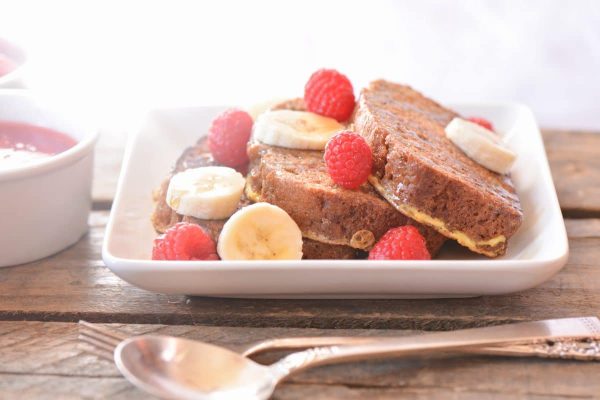 ZUCCHINI BREAD FRENCH TOAST INGREDIENTS:
zucchini bread loaf
8 eggs
1 cup whole milk
1 teaspoon vanilla
2 tablespoons butter
ZUCCHINI BREAD FRENCH TOAST DIRECTIONS:

Let the zucchini bread cool completely. I think it works best to wait at least a day after the bread has been cooked before making the french toast. Slice the bread into about 1/2 inch slices.
In a shallow bowl beat the eggs, then add the whole milk and vanilla and stir until combined.
I like cooking my french toast on an electric griddle heated to 325 degrees, but a pan on a stove over medium heat works fine too.
Grease the pan with about one tablespoon of butter, then dip the zucchini bread slices one at a time into the egg mixture.
Place the bread slices on the griddle and cook until the bottom is brown, then flip and cook until the other side is brown.
Serve with syrup, jam, fruit, cream.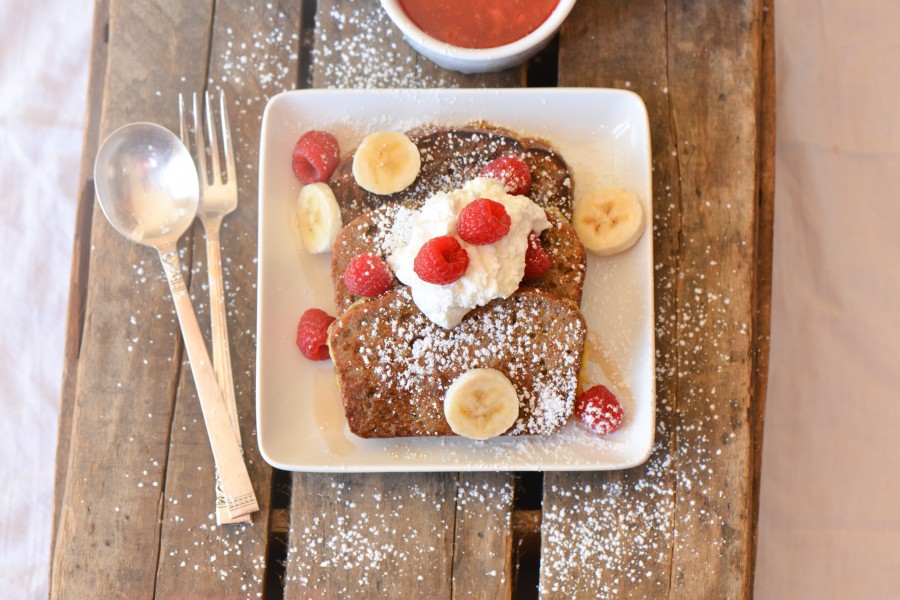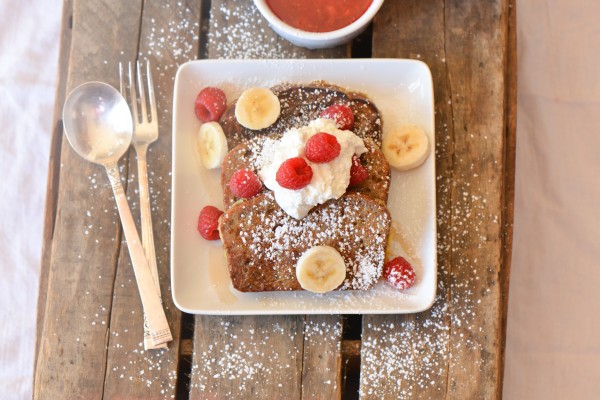 Tell me that doesn't look amazing!!!
 . . . . .
Still too much zucchini at your house? Try these recipes:
Zucchini chocolate chip after school cookie ||  Indian inspired chicken skewers  ||  Chicken Pesto Quinoa