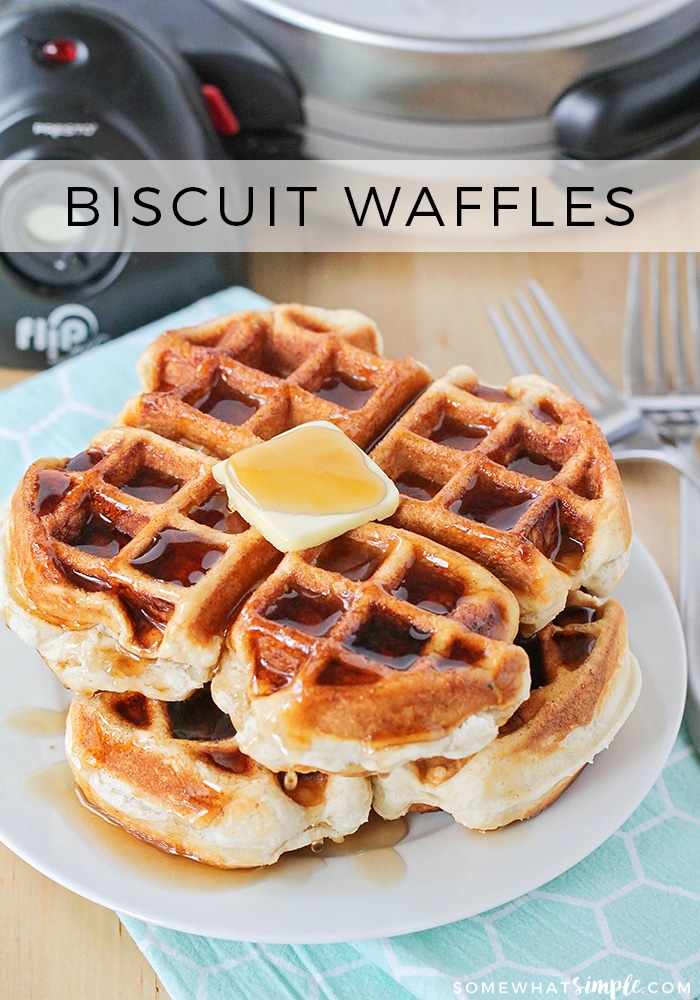 Biscuit waffles are a shortcut way to enjoy a classic breakfast using biscuit dough. They're fast and easy to make because you don't need to whip up a batch of waffle mix first.
These biscuit waffles are perfect when they're topped with Homemade Syrup, a side of Bacon and a tall glass of orange juice.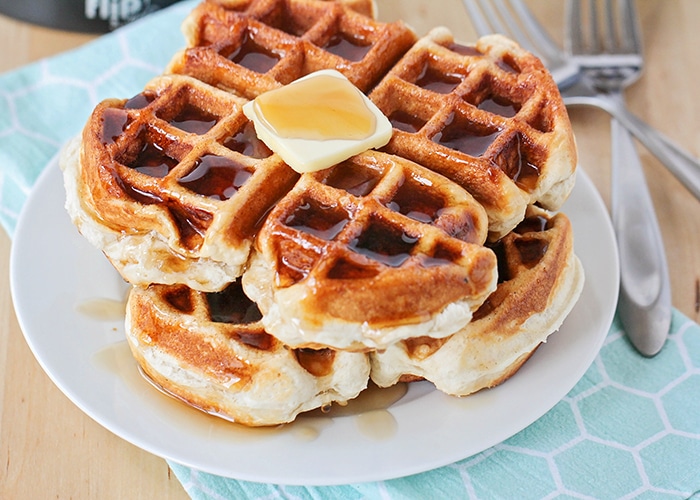 Making Waffles Without Waffle Mix
Making waffles with refrigerated biscuit dough is a simple twist on one of my favorite classic breakfast recipes! Not only are they easy to make, they are also easy to clean up after. There's no measuring, mixing, our pouring messy batter. And no batter spilling over the sides of your waffle iron either!
These waffles aren't super sweet, and they do taste a lot like biscuits even when you drown them in Homemade Buttermilk Syrup, like I always do! But my kids LOVED helping me make these, they were easier to make than our favorite homemade waffle recipe, and cheaper than buying frozen waffles. (Which means we can totally chalk this up as a successful meal!)
My family has tried several variations to this method, but our favorite way to enjoy these waffles simply involves refrigerated biscuit dough with a sprinkle of cinnamon and sugar and that's it!

How To Make Biscuit Waffles
This recipe really is super easy to make and is ready in just a few easy steps.
Prep – Preheat your waffle maker and give it a shot of cookie spray before each batch. Then separate the biscuit dough into 8 pieces.
Sprinkle – I like my biscuit waffles to be sweet, so I sprinkle some cinnamon and sugar over the biscuit dough before cooking them.
Cook – Place the biscuit dough on the waffle maker and then cook until they're a nice golden brown color.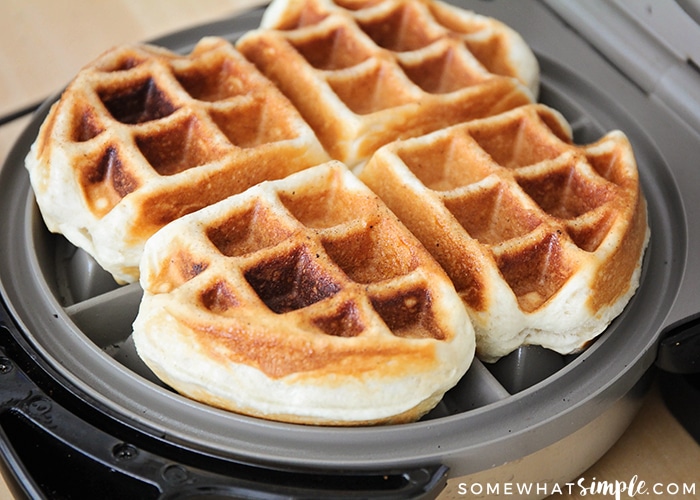 Recipe Variations & Tip
Savory – If you prefer a more savory flavor, top your biscuit waffles with a delicious gravy. It's a delicious twist on the southern breakfast of biscuits and gravy.
Breakfast Sandwich – To mix things up a little, sometimes I'll use these waffles to make a hearty breakfast sandwich with eggs and sausage or bacon.
Go Faster – We have a family of 7, so anytime we make waffles I like to use a double waffle maker. When you have a bunch of hungry mouths to feed, time is of the essence.:)
More Easy Waffle Recipes
Waffle Biscuits Recipe
Servings:
8
Biscuit waffles
If You've Never Made Waffle Biscuits Before, You Are In For A Simple Treat! Here Is How To Make Waffles Without Waffle Mix.
Ingredients
16.3

oz

refrigerated biscuits

1/4

cup

cinnamon sugar mixture
Instructions
Preheat your waffle iron and spray it with non-stick cooking spray.

Separate dough into 8 biscuits and sprinkle the raw dough with cinnamon and sugar.

Place biscuits on waffle maker then close and cook until golden.

Serve immediately with toppings as desired.
Nutrition
Serving:
1
biscuit waffle
·
Calories:
235
kcal
·
Carbohydrates:
34
g
·
Protein:
4
g
·
Fat:
10
g
·
Saturated Fat:
1
g
·
Cholesterol:
1
mg
·
Sodium:
544
mg
·
Potassium:
129
mg
·
Fiber:
1
g
·
Sugar:
8
g
·
Calcium:
28
mg
·
Iron:
2
mg
Other Notes