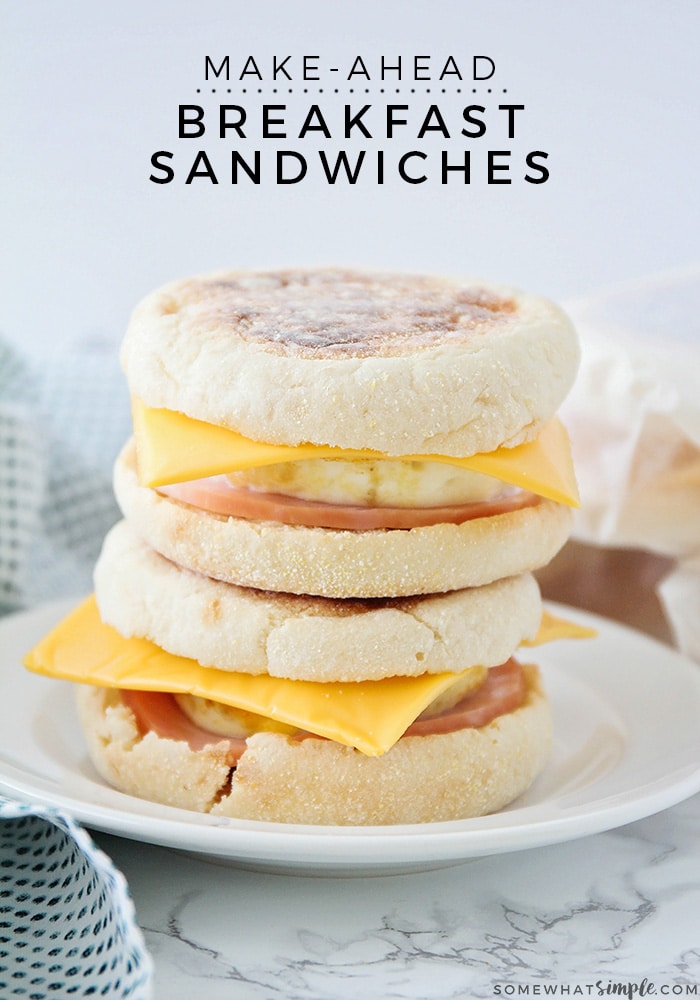 These delicious and filling make ahead breakfast sandwiches are the perfect way to save time on a busy morning! Made with an English muffin, eggs, meat and cheese, these sandwiches can be cooked once, and then you can enjoy them all week!
These sandwiches are super east to make and my family just loves them. Some of my other favorite breakfast recipes are these amazing Pumpkin Pancakes, Breakfast Casserole and Belgian Waffles!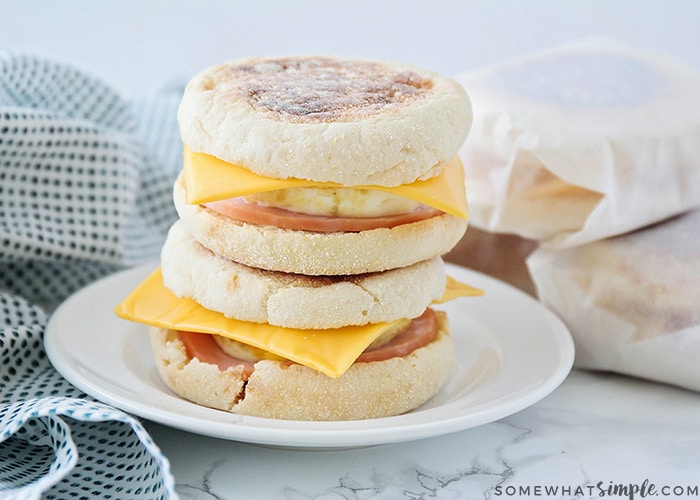 Best Make Ahead Breakfast Sandwiches
Now that the kids are heading back to school, it's time to get back into our morning routine! I have to confess, I'm not really looking forward to it this year. We've had such a laid back, relaxed summer, and the thought of getting up early and getting everyone ready to go is making me exhausted in advance.
This year, everyone in my family has a different schedule, with my oldest in middle school, my youngest in elementary school, and my husband working odd hours as a nurse. I've never been good at cooking hot breakfasts in the mornings, but that's where these make ahead breakfast sandwiches come in handy.
I can cook a big batch of homemade breakfast sandwiches at the beginning of the week, and everyone can grab one from the fridge or freezer whenever they're ready to eat. It's a simple and easy way to make sure everyone gets something delicious for breakfast, even when I don't feel like cooking.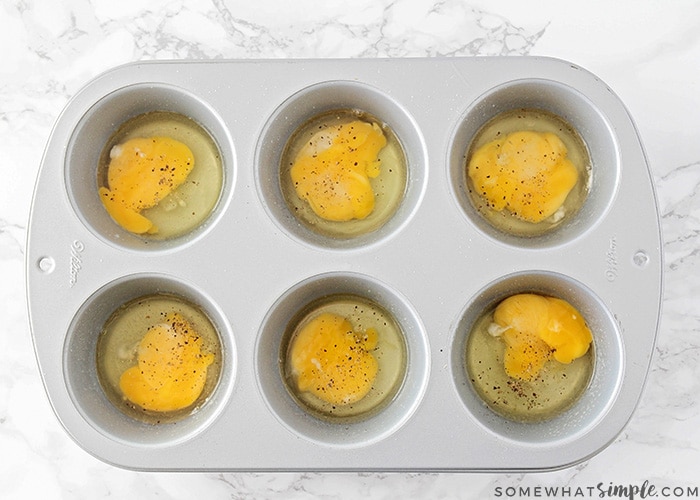 How To Prepare Make Ahead Breakfast Sandwiches
I've experimented quite a bit with these make ahead breakfast sandwiches, and I think this combination is my very favorite! Everyone in my family loves them, too. The are a lot of copycat recipes for a popular fast food breakfast sandwich, but these taste even better because they're homemade!
Preparation – Preheat the oven to 350 degrees F
Use a jumbo muffin tin that contains 6 ramekins.
Spray the tin with cooking spray to keep the eggs from sticking.
Cooking – Crack an egg into each ramekin of the tin
Bake the eggs for 15 – 20 minutes until the egg whites have set and the yolks only move slightly when shaken
Remove the eggs from the oven and allow them to cool slightly
Assembly – Place the slices of cheese, Canadian bacon, cheese and egg on top of an English muffin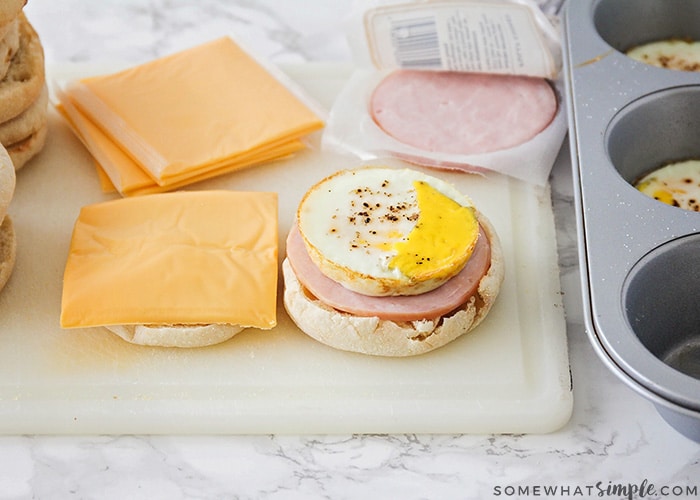 Recipe Variations
The great thing about these delicious breakfast sandwiches is that they can be easily modified to fit everyone's preferences. Here are a few variations to this recipe that we also love:
Bread – A bagel or a homemade biscuit also work great
Protein – Breakfast sausage, bacon or using just egg whites are other great options
Toppings – If you're not a fan of American cheese, you can substitute it for any other cheese you enjoy. I have also been known to add slices of avocado, Salsa or slices of tomato to my breakfast sandwich as well.
Breakfast Sandwich Tips
Baking the eggs in a jumbo muffin tin makes it easy to cook them all at once.
I've found that breaking the yolks before baking them helps the eggs cook more evenly. In general, I like a runny yolk, but with these sandwiches I've found that if I don't break the yolks first, the whites don't cook as evenly, and the bottoms get overcooked before the tops are set.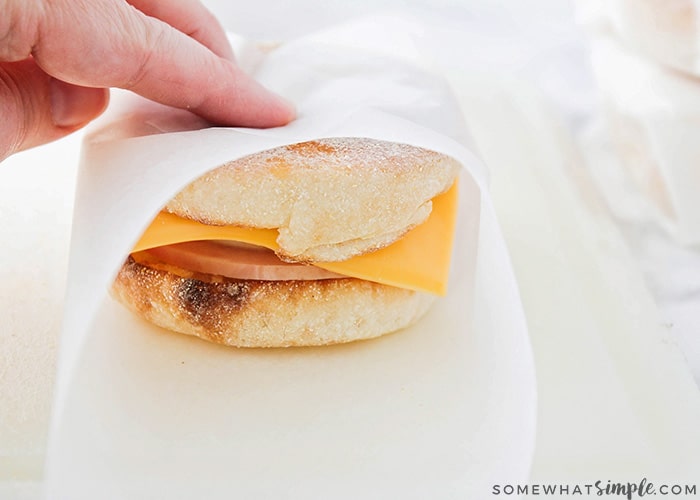 Storage And Reheating
Storage – Once all of the sandwiches are assembled, I like to wrap them in parchment paper for storage. The parchment paper helps to protect them from freezer burn, and makes it easy to take sandwiches on the go. Place them in the refrigerator or freezer until you're ready to eat them. They can be kept in the fridge for 5 – 7 days or about two months in the freezer.
Reheating – When you're ready to eat one of the breakfast sandwiches, microwave them until they're warm. For a refrigerated sandwich, 30 seconds in my microwave works great, or 1 minute for a frozen sandwich. I leave the parchment paper wrapper on while I heat them, and it helps maintain the moisture level, so they are neither dry nor soggy. If you're not storing them in parchment, I would suggest wrapping them with a paper towel before microwaving, to prevent sogginess.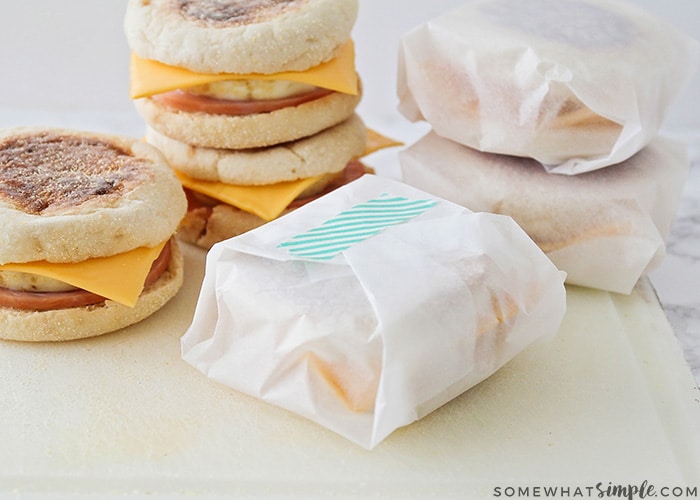 Breakfast Recipes That Can Be Made Ahead Of Time
Make Ahead Breakfast Sandwich Recipe
These make ahead breakfast sandwiches are so delicious, and easy to make, too! They're a favorite with both kids and adults. If you're looking for a simple way to make your morning routine a little easier, then definitely give these make ahead sandwiches a try!
Make Ahead Breakfast Sandwiches
These delicious and filling make ahead breakfast sandwiches are the perfect way to save time on a busy morning! Cook once, and enjoy them all week!
Ingredients
6

large eggs

salt and pepper to taste

6

english muffins

,

split and toasted

6

slices

of cheese

6

slices

of canadian bacon
Instructions
Preheat the oven to 350. Spray a jumbo muffin tin (or six individual ramekins) with cooking spray. Crack an egg into each well of the muffin tin. Break the yolk gently with a fork, then sprinkle with salt and pepper.

Bake 15-20 minutes, or until the whites are set and the eggs only jiggle slightly when shaken. Remove from oven and let cool slightly.

To assemble the sandwiches, layer canadian bacon, egg, and a slice of cheese on an english muffin. Wrap in parchment paper and seal with tape. Refrigerate or freeze until ready to use.

When ready to eat, heat in the microwave for 30 seconds for a refrigerated sandwich, or 1 minute for a frozen sandwich. Remove parchment paper and enjoy.
Nutrition
Other Notes