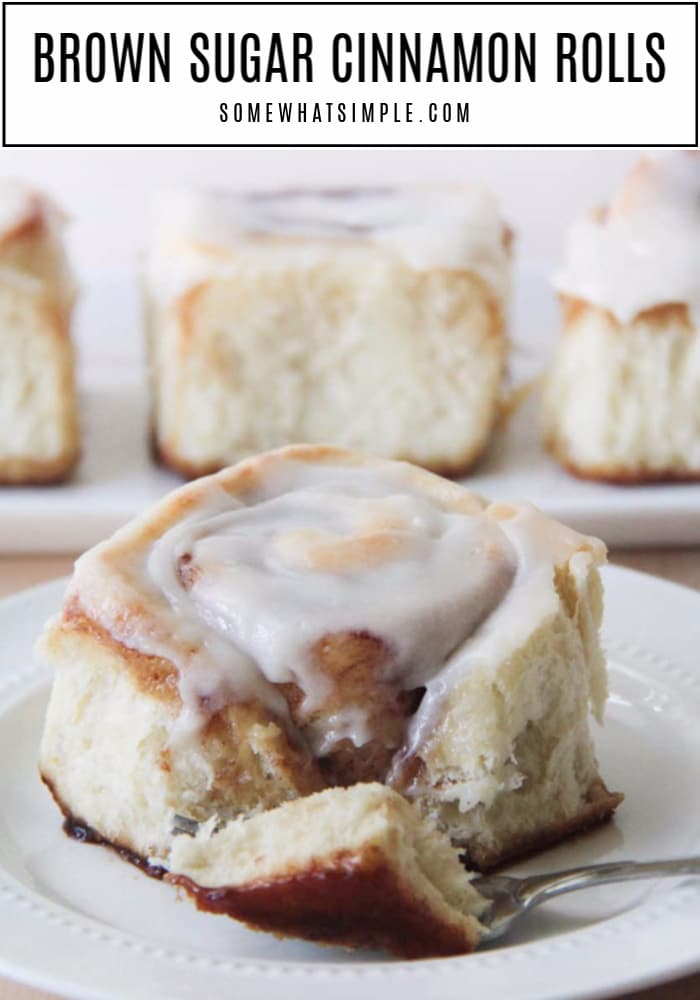 These brown sugar cinnamon rolls are soft and warm and dripping with delicious cream cheese glaze!
Looking for more cinnamon roll recipes? Here are a few of our favorites – Easy Cinnabon Copycat, Funfetti Cinnamon Rolls, and Cinnamon Roll Pancakes.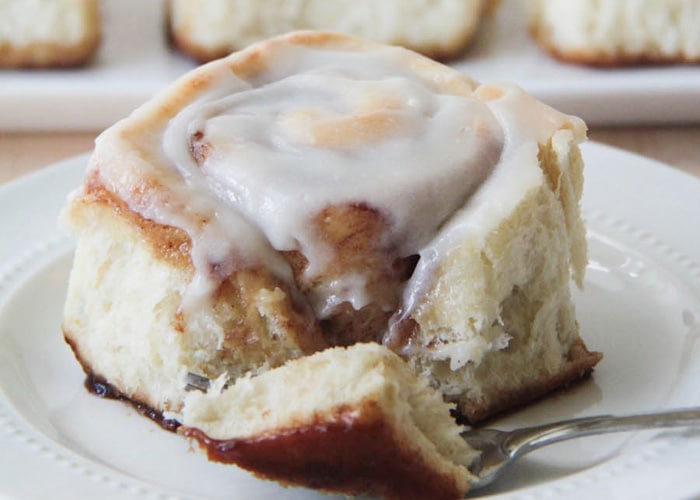 Easy Breakfast Idea
I will confess that cinnamon rolls have been kind of tricky for me in the past. I've tried what seems like a million different recipes and haven't been successful. I was thrilled when I stumbled across this recipe and it worked for me the very first time! And not only were they easy to make, it also made some of the most delicious cinnamon rolls I've ever tasted!
Now that I can make them, my kids are begging for these all the time! Unfortunately, my waistline couldn't handle me making these as often as they're requested, so I just make them on special occasions. If you've ever been intimidated to try making them, throw those thoughts out the window. This recipe is so easy, you'll be able to make them on your first try just like I did.
How To Make Cinnamon Rolls
Make The Dough – Combine the butter and buttermilk into a measuring cup and set it aside. Using a stand mixer, or a large mixing bowl, add in the sugar, flour, yeast and salt and combine. Turn the mixer on low speed and then slowly add in the buttermilk mixture and the eggs. Continue to mix until the dough forms.
Knead – Knead the dough until it becomes smooth and has an elastic texture.
Rise Up – Cover the dough and allow it to rise for about 2 hours or until it has doubled in size. After it has risen, punch the dough down and form it into a 12″ x 16″ rectangle.
Add Filling – Take half of the butter and brush it over the top of the dough but leave a 1/2″ border with no butter. Sprinkle the cinnamon and sugar mixture over the dough. Then gently push the mixture into the dough with your hands.
Roll & Cut – Roll the dough into a tight log. Be sure to place the seam side down to keep it from unraveling. Cut the log into 12 equal slices and place them into a parchment paper lined baking pan.
Rise Again – Cover the cinnamon rolls and let them rise again for another 60-90 minutes or until they double in size.
Add Some Heat – Preheat the oven to 350 degrees F and then bake the rolls for 20-25 minutes or until they are a golden-brown and cooked throughout. Allow them to cool a little before frosting them.
Frost Them – Whisk together the ingredients for the cream cheese frosting and then spread it over the top of the cinnamon rolls.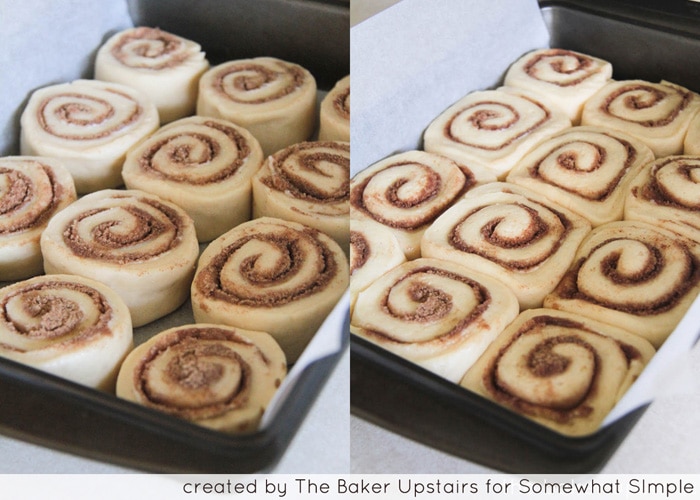 Recipe Tips
Check The Yeast – Check the expiration date of the yeast before using it. Expired yeast is one of the most common reasons why your rolls won't rise.
Butter Temp – Make sure your butter is at room temperature before using it. This will help it mix properly in the dough. Just pull it out of the fridge about an hour before you're ready to start making them.
Cover Them – Keep the cinnamon rolls covered until you're ready to serve them. This will keep them from drying out. You can leave them out on the counter overnight, if by some miracle there are any left, and eat them the next day.
More Sweet Breakfast Recipes
In our house, a good cinnamon roll can turn even the worst day around, and put a smile on the saddest little face. They are pretty much the ultimate comfort food. You have got to try these delicious cinnamon rolls for yourself – they are delicious! Let us know if you make these cinnamon rolls by leaving us a comment below, or by tagging us on social media!
Cinnamon Rolls Recipe
These brown sugar cinnamon rolls are soft and warm and dripping with delicious cream cheese glaze!
Ingredients
for the rolls:
3/4

cup

buttermilk

,

warm (or milk + a splash of vinegar)

6

tablespoons

butter

,

melted and cooled

3

large eggs

4 1/4

cups

flour

1/4

cup

sugar

2 1/4

teaspoons

instant yeast

1 1/4

teaspoons

salt
for the filling:
1/2

cup

butter

,

room temperature

1

cup

brown sugar

2

teaspoons

cinnamon
for the glaze:
1 1/2

cups

powdered sugar

2

ounces

cream cheese

,

softened

3

tablespoons

milk

1/2

teaspoon

vanilla
Instructions
Combine the buttermilk and butter in a measuring cup.

In a large bowl or the bowl of a stand mixer, combine the flour, sugar, yeast, and salt. With the mixer on low speed, add the buttermilk mixture and eggs, and mix until the dough comes together.

Knead until smooth and elastic. If the dough is too stick add more flour, 1 tablespoon at a time, until the dough pulls away from the sides of the bowl and is slightly sticky to the touch.

Cover and let rise 2 - 2 1/2 hours, or until doubled in size.

When the dough has risen, grease or line with parchment paper a 9 x 13 baking dish.

Punch the dough down and press it into a 12 x 16 inch rectangle.

Brush the 1/2 cup butter over the dough, leaving a 1/2 inch border on all sides. Sprinkle the brown sugar and cinnamon over the dough, pushing the sugar mixture gently into the dough with your hands.

Roll the dough into a tight log, seam side down. Cut the dough into twelve even sized rolls using a serrated knife.

Place cut side down in prepared baking dish.

Cover and let rise 1 - 1 1/2 hours, until doubled.

While the dough is rising, preheat the oven to 350 degrees. Bake the rolls for 22-25 minutes, until lightly golden and cooked through. Remove and let cool for a few minutes.

Whisk together the powdered sugar, cream cheese, milk, and vanilla, and drizzle it over the warm rolls. Enjoy!
Nutrition
Other Notes