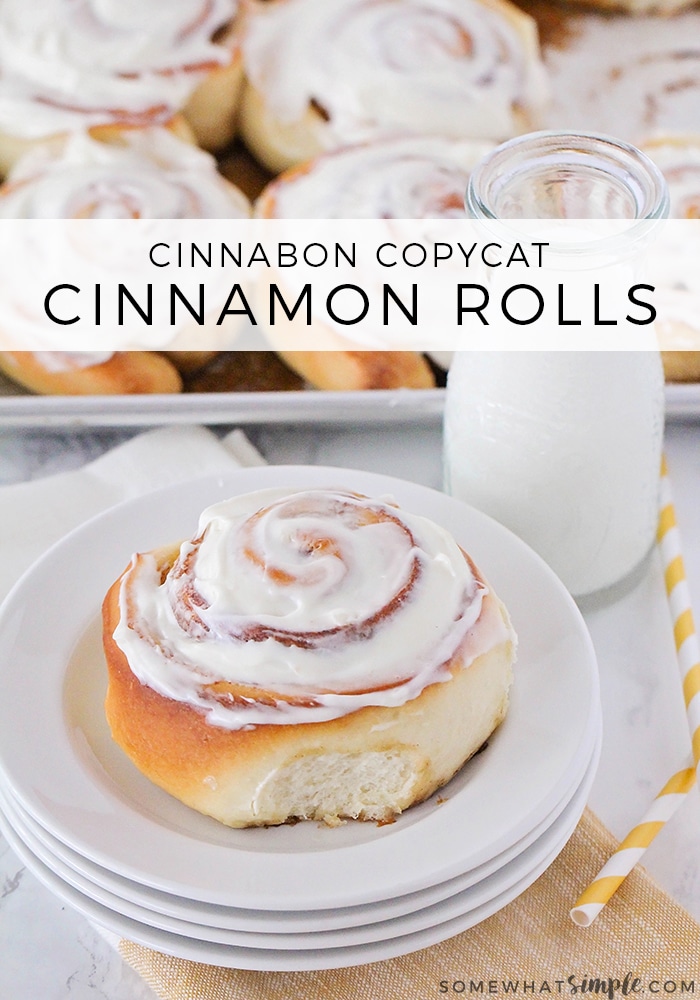 These homemade cinnamon rolls are soft, fluffy and topped with the most amazing cream cheese frosting you'll ever taste. This easy cinnamon roll recipe is impossible to mess up so they'll turn out perfectly every time!

Cinnamon rolls are one of my family's favorite things to eat for breakfast. A few of our other favorite recipes are my grandma's famous Homemade Pancakes, Omelet Breakfast Casserole and these delicious Chocolate Chip Waffles.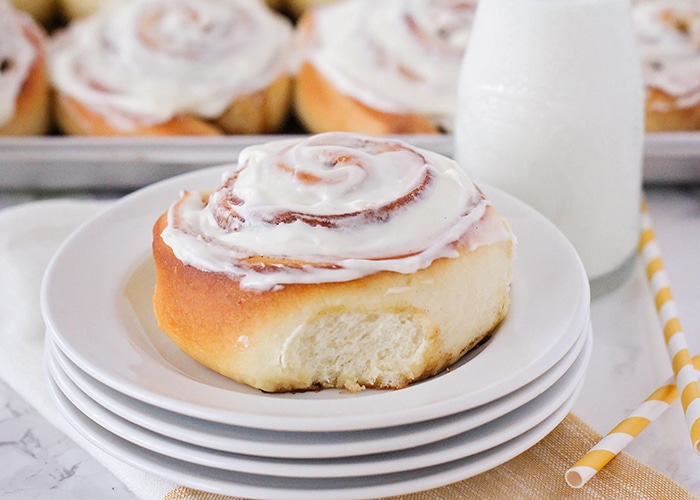 Easy Cinnamon Rolls
My mother-in-law gave me this recipe for homemade cinnamon rolls and it has quickly become a family favorite. I use to think making cinnamon rolls was so complicated and I would spend hours on them, only to find out at the very end that I screwed it up and they're no longer edible. I promise you, this recipe is so easy, it's impossible to mess up and they always turn out fluffy and delicious!
For reals.
If you've read this blog for a while, you know that I do not claim to be a baker by any means. In fact, any recipe that calls for yeast is not my friend. (So much pressure and exact measurements!) But I've been making these homemade cinnamon rolls since 2011 and they turn out perfect every.single.time. Let me assure you that if I can make them, so can you!
Tell me how bad you'd like to bite into one of these?!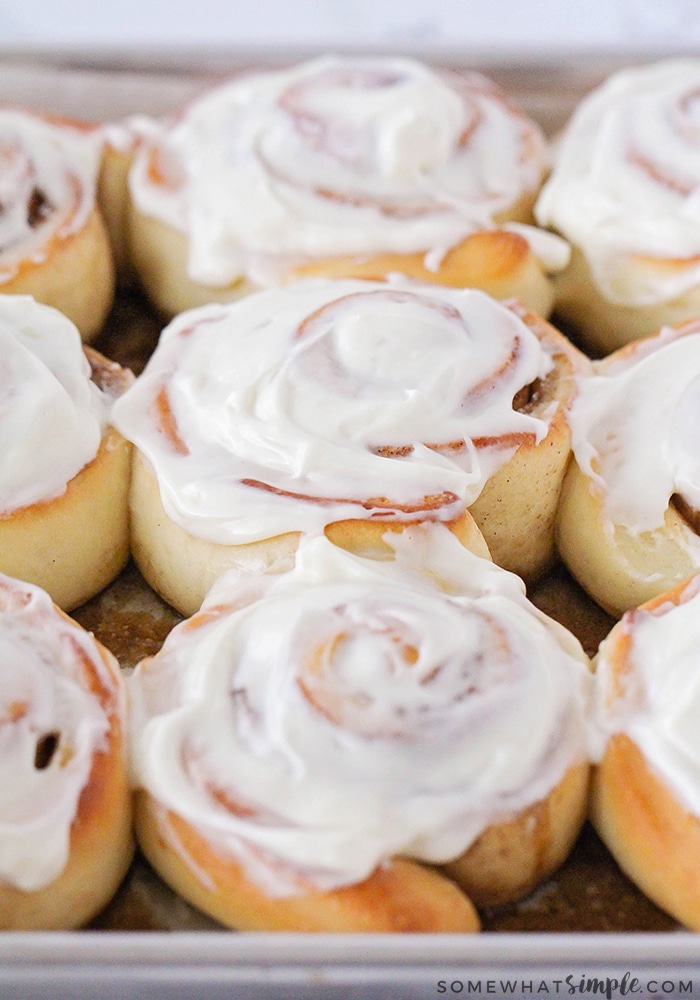 Tip For Making Cinnamon Rolls
My mother in-law showed me just how easy these were, but there was one problem – you are supposed to use a bread machine and I didn't own one. And you know me and breads…. baking them just doesn't happen, so the thought of spending money on something I would rarely use just didn't seem worth it. And then I saw her make these again and again and I wanted my cinnamon rolls to be this easy and taste this delicious!
So here is my advice to you-
Even if you only use a bread machine to make these homemade cinnamon rolls a few times a year, you need to get a bread machine. Right now. HERE is one on Amazon that is similar to the one I have. I'll wait for you to grab it.
More Easy Cinnamon Roll Recipes
How to Make Homemade Cinnamon Rolls
The dough for these cinnamon rolls is simple. You toss everything into your bread machine and hit "start" for the dough cycle. I put in all the ingredients in whatever order I want and I honestly don't think the sequence matters. There is no waiting for the yeast to bubble or double in size, there is no kneading… there is really no hassle and no way to mess this up!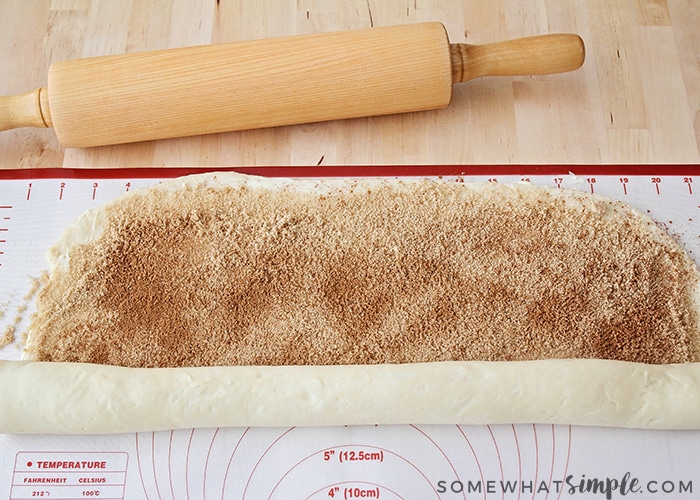 Once the cycle finishes (mine takes 90 minutes) you pull it out and let it sit on a lightly floured surface. Cover with a towel and let it sit for 10 minutes before rolling it out. When the dough is ready, roll it out into roughly a 16″ x 21″ rectangle. Then spread the 1/3 cup of melted butter over the dough.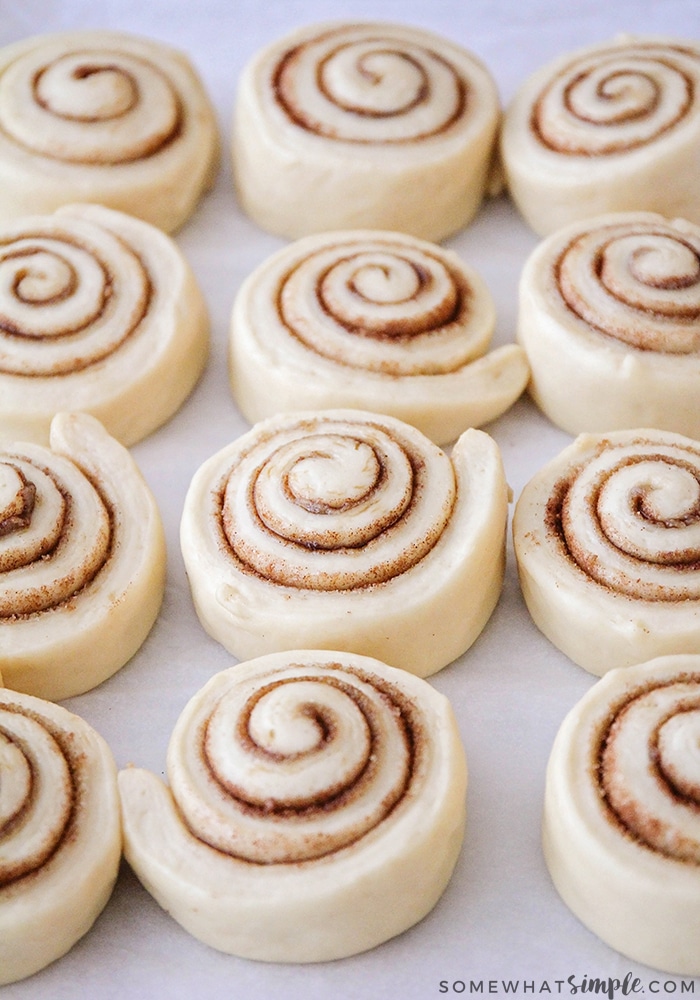 Cinnamon Roll Filling
To make the delicious filling, simply combine the cinnamon and sugar in a small mixing bowl. When the dough is ready and the butter has been spread over the rolled out dough, top the dough with a delicious cinnamon and sugar combination. Then roll up the dough and slice them into 1-inch rolls. You'll let them rise for 30 minutes before baking them, and the wait is seriously the hardest part of the entire process!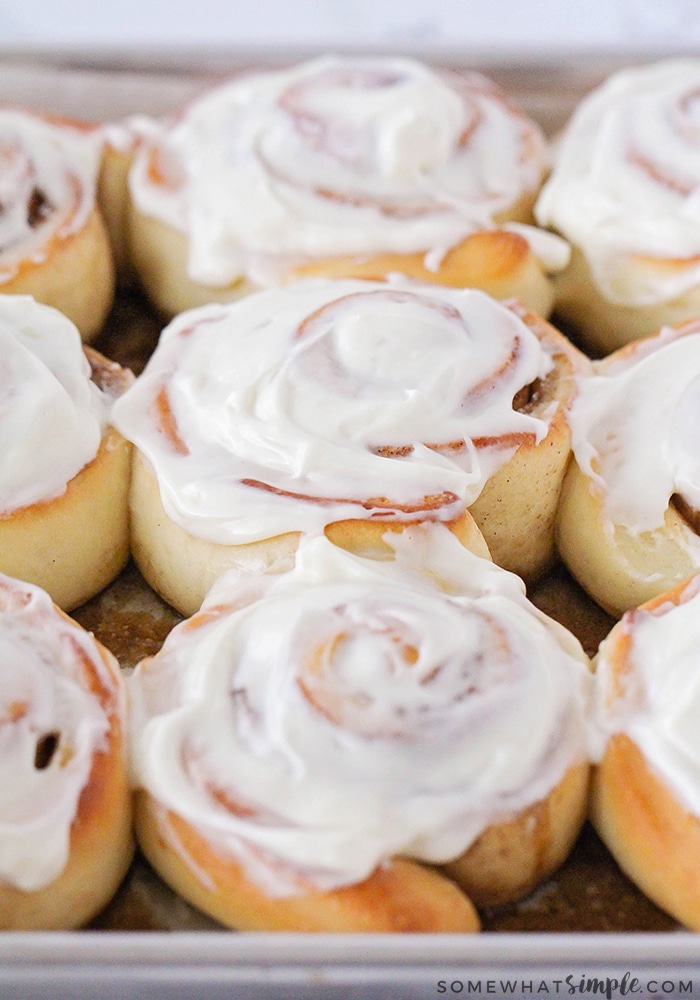 Cinnamon Roll Icing
Can we talk for a minute about this delicious cinnamon roll icing? I can eat this with a spoon. It is the perfect amount of sugar and cream cheese with a taste of vanilla the is literally perfection. I like to put the icing on while the cinnamon rolls are still warm so the frosting seeps down into every piece of the roll. Man, I literally love this stuff!
To make the icing, combine the cream cheese, butter, powdered sugar, vanilla extract and salt into a large mixing bowl. Using a hand mixer, beat the ingredients together until you've reached the desired consistency. Spread the icing over the warm cinnamon rolls before serving.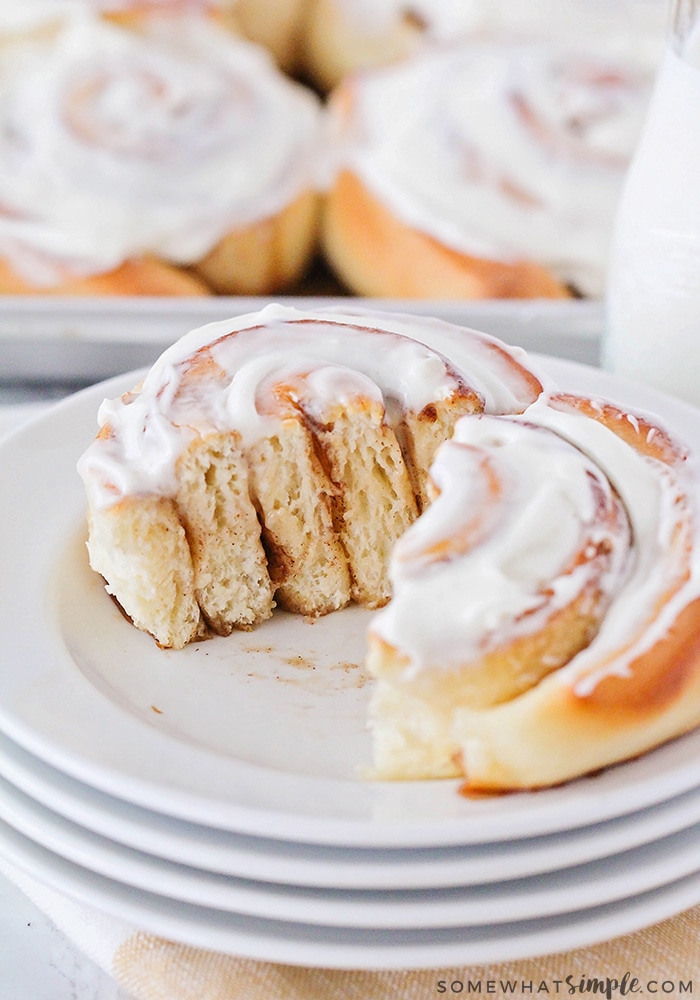 Best Cinnamon Roll Recipe
This recipe is seriously so easy! Give it a shot and I promise you will never use another recipe again. Leave us a comment below and let us know how they turned out and if you made any delicious variations.
The BEST Cinnamon Roll Recipe
This Cinnamon Roll Recipe is about to change the way you make cinnamon rolls forever! Soft, fluffy and super EASY - they are seriously the best homemade cinnamon rolls in the world!
Ingredients
For the Dough
1

cup

warm milk

2

eggs

,

room temperature

1/3

cup

margarine

,

melted

4 1/2

cups

bread flour

1

teaspoon

salt

1/2

cup

white sugar

2 1/2

teaspoons

bread machine yeast
For the Filling
1

cup

brown sugar

,

packed

2 1/2

tablespoons

ground cinnamon

1/3

cup

butter

,

softened
For the Frosting
1

8 ounce package cream cheese, softened

1/4

cup

butter

,

softened

1 1/2

cups

powdered sugar

1/2

teaspoon

vanilla extract

1/8

teaspoon

salt
Instructions
Place the dough ingredients into the pan of the bread machine. (I usually just put them in the order that they appear on the list above, but if I am waiting for eggs to warm up a bit or if I am still melting butter, I just add them however I feel like it.)

Select dough cycle & press START.

When your dough cycle is done (mine takes about 90 minutes) pull the dough out and place it on a lightly floured surface. Cover with a towel and let it sit for 10 minutes.

Meanwhile, combine brown sugar and cinnamon for the filling in a small bowl.

Roll the dough into a 16x21-inch rectangle. Spread 1/3 cup butter on top and sprinkle evenly with sugar/cinnamon mixture.

Roll up dough and cut into 1 inch rolls.

Place the cinnamon rolls in a lightly greased 9x13 inch baking pan. Cover with plastic wrap and let them rise for about 30 minutes or until nearly doubled.

Meanwhile, preheat oven to 400 degrees F (200 degrees C).

Bake the cinnamon rolls in a preheated oven until golden brown, about 15 minutes.

While rolls are baking, beat together cream cheese, 1/4 cup butter, powdered sugar, vanilla extract and salt.

Spread frosting onto warm cinnamon rolls before serving.
Nutrition
Other Notes
ENJOY!!!!