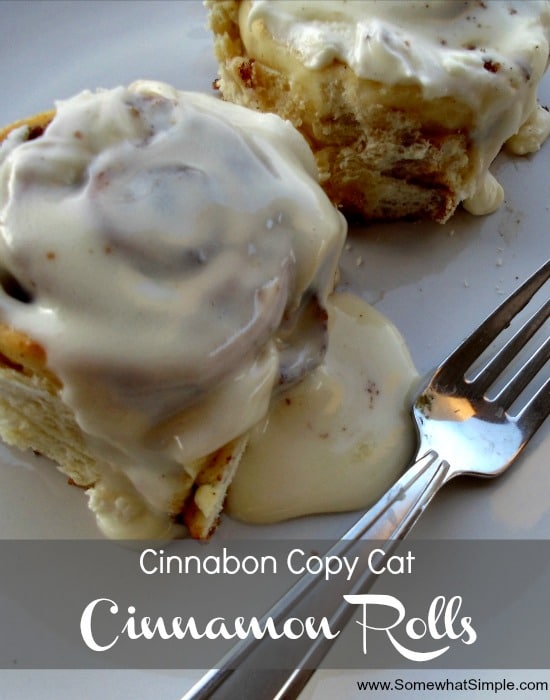 My family has cinnamon rolls every Christmas morning- it is definitely one of my favorite traditions. I love baking them on Christmas Eve with my kids… and indulging on 1 before bed! My mother in-law found a recipe for Cinnabon Copycat Cinnamon Rolls that has become a family favorite recipe- it is the only cinnamon roll recipe I use now a days because it is easy, delicious and you cannot mess it up. For reals. If you've read this blog you know I do not claim to be a baker by any means. Any recipe that calls for yeast is not my friend. But I've made these cinnamon rolls a dozen times and they turn out perfect every.single.time. Let me assure you that if I can make them, so can you!
Tell me how bad you'd like to bite into one of these?!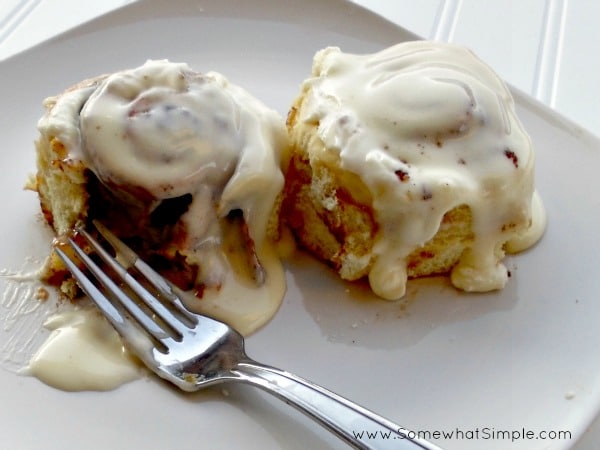 My mother in-law showed me just how easy these were, but there was one problem- you are supposed to use a bread machine and I didn't own one. And you know me and breads…. baking them just doesn't happen, so the thought of spending money on something I would rarely use just didn't seem worth it. And then I saw her make these again and again and I wanted my cinnamon rolls to be this easy and taste that delicious. So here is my advice to you- even if you only use a bread machine to make these cinnamon rolls a few times a year, you need to get a bread machine. Right now. HERE is one on Amazon for less than $70 with free shipping. I'll wait for you to grab it……
INGREDIENTS
For the Dough
1 cup

warm milk (I put mine in the microwave for 33 seconds)

2

eggs, room temperature (I put mine in the microwave for 22 seconds)

1/3 cup

margarine, melted

4 1/2 cups

flour

1 teaspoon

salt

1/2 cup

white sugar

2 1/2 teaspoons

bread machine yeast
For the Filling
1 cup

brown sugar, packed

2 1/2 tablespoons

ground cinnamon

1/3 cup

butter, softened
1 (3 ounce) package

cream cheese, softened

1/4 cup

butter, softened

1 1/2 cups

powdered sugar

1/2 teaspoon

vanilla extract

1/8 teaspoon

salt
Place ingredients in the pan of the bread machine. (I usually just put them in the order that they appear on the list above, but if I am waiting for eggs to warm up a bit or if I am still melting butter, I just add them however I feel like it. Again, never messed this up- this dough is not picky!)

Select dough cycle & p

ress Start.

When your bread machine is done (mine takes about 90 minutes) pull the dough out and place it on a lightly floured surface. Cover with a towel and let it sit for 10 minutes.Meanwhile, combine brown sugar and cinnamon for the filling in a small bowl.

Roll dough into a 16×21-inch rectangle.

Spread 1/3 cup butter on top and sprinkle evenly with sugar/cinnamon mixture.

Roll up dough and cut into 1 inch rolls. The original recipe says you get 12 rolls, I always get about 15, but the ends are not as plump and pretty as the center rolls.

Place rolls in a lightly greased 9×13 inch baking pan. Cover with plastic wrap and let rise for about 30 minutes or until nearly doubled.

Meanwhile, preheat oven to 400 degrees F (200 degrees C).


Bake rolls in preheated oven until golden brown, about 15 minutes.

While rolls are baking, beat together cream cheese, 1/4 cup butter, powdered sugar, vanilla extract and salt.

Spread frosting on warm rolls before serving.
ENJOY!!!!