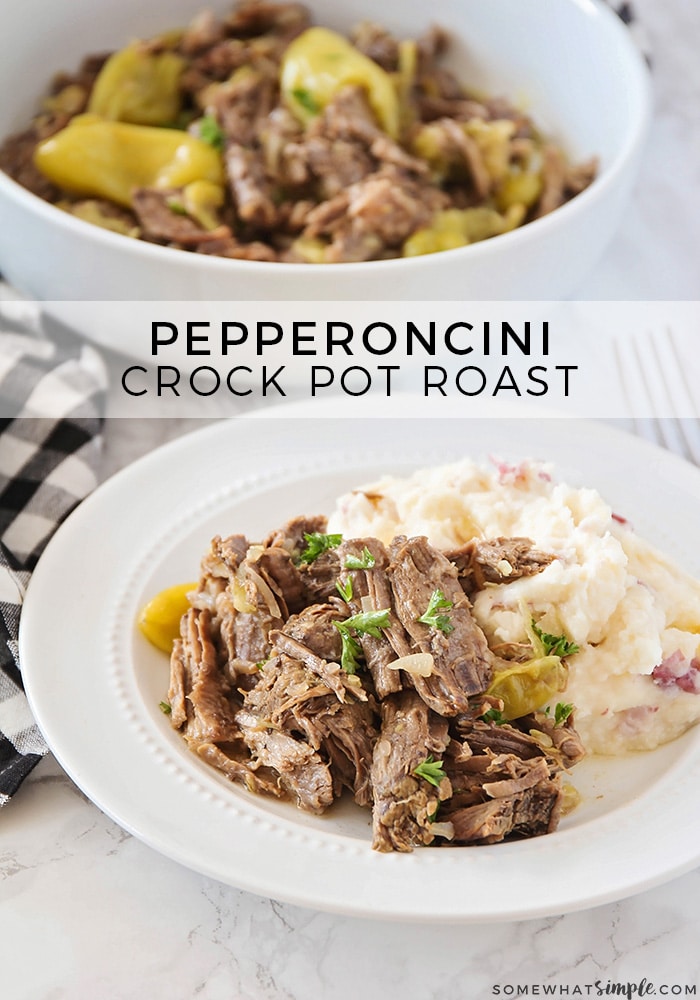 Tender beef drenched in a delicious blend of zesty flavors, this slow cooker pepperoncini pot roast recipe has become one of my family's very favorite Sunday dinners!
I absolutely love using my crock pot to make my family dinner. We do a baked potato bar for and cook our potatoes in a crock pot, and we love this crock pot meatballs recipe too. But hands down the MOST LOVED crock pot recipe in my home is THIS Mississippi pot roast!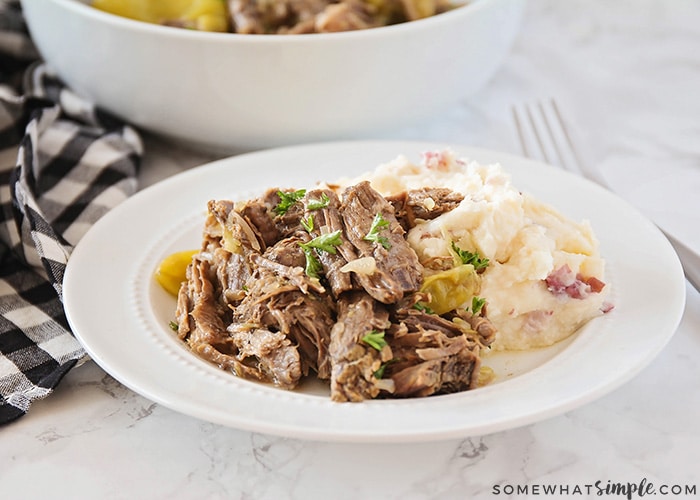 Mississippi Pot Roast
I grew up having a pot roast for dinner every Sunday. My parents would put the roast in the crock pot before bed on Saturday night and we'd wake up the next morning to the delicious smell of pot roast in the air! It was the perfect meal to feed a family after church because it was done and waiting for you to set the table and eat as soon as you were ready!
Even as an adult, my husband and I would take our kids to grandma and grandpa's house after church and we would eat what my oldest son named "church meat." I loved their pot roast recipe SO much and I thought nothing would ever take its place.
But then, something even better came along. My sister in law introduced me to this pepperoncini pot roast, AKA Mississippi pot roast, that was AH-MAZING, and the way I was about to make "church meat" was forever changed. Also, you only need 3 ingredients + water for this meal, so it not only tastes great, it is EASY to make too!!!
If you're thinking, "I don't like pepperoncini peppers!" or "I don't like spicy things!" let me assure you that it's not spicy. I don't like spicy things either and neither do my kids, but we all LOVE the flavor of this meat! It isn't spicy, it's just FULL of flavor. The meat literally falls apart into a moist, stringy delicious mess on your plate. My mouth is literally watering while I type this!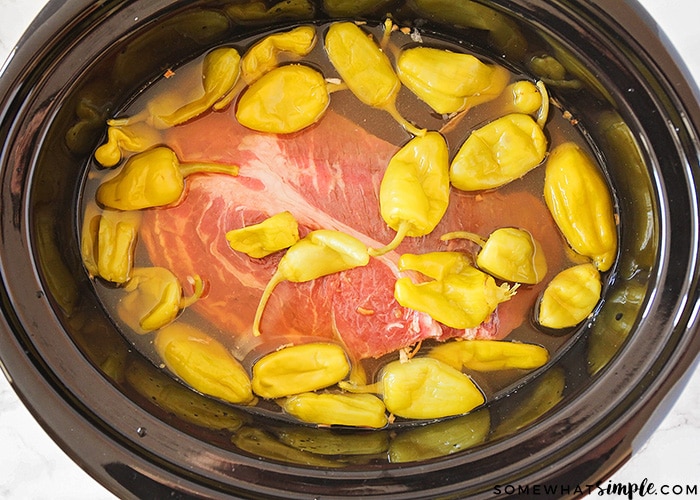 How To Make A Pepperoncini Roast In The Crock Pot
Meat – First, place the thawed cut of meat into the crock pot.
Season It – Next, sprinkle the packet of onion soup mix over the meat.
Peppers – Then, empty the entire jar of pepperoncinis, along with the juice in the jar, over the meat.
Fill It Up – Finally, fill the empty jar with water and pour the water into the crock pot. You'll want to continue filling the crock pot with water until the meat is fully submerged.
Extra Veggies – You can add some potatoes and carrots around the meat too. You'll just need to add more water so the vegetables are covered too.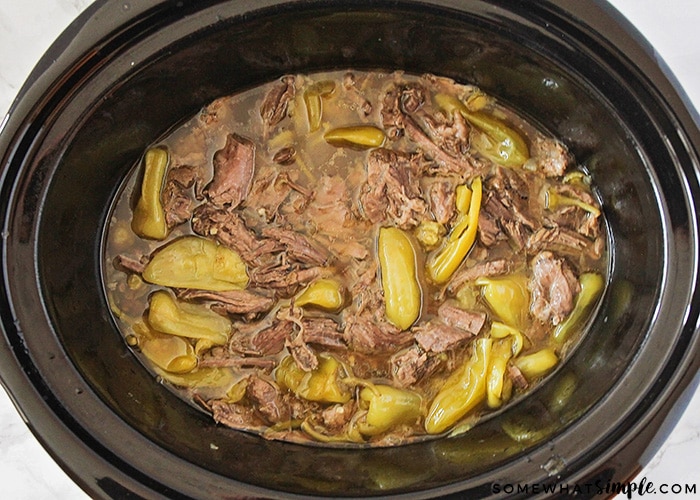 Cook It – You'll want to cook the Mississippi roast on the low setting for about 6-8 hours. The longer you can let it cook, the better.
Serving Options – You can serve the pepperoncini roast as the main dish alongside some roasted vegetables and bowl of mashed potatoes. You can also shred the pot roast with 2 forks and serve some meat on dinner rolls for a delicious sandwich variation!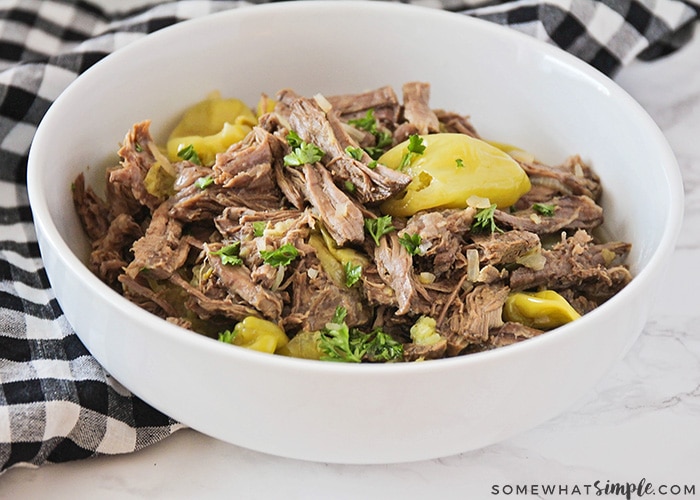 Recipe Tips
Best Cut Of Meat – My favorite cut of beef to use in this recipe is a chuck roast. Tougher cuts of meat are the best for pot roasts. If a chuck roast isn't on sale, a brisket or a round roast are another great option.
Keep It Covered – The key to this recipe, and most recipes in the crock pot, is to keep the meat covered in liquid the entire time you cook it. This will make it so that the meat doesn't dry out and it breaks up the meat so it falls apart easily. The liquid we are going to use for this recipe is the juice from the pepperoncini jar and some water.
Other Easy Dinner Ideas Recipes
More Simple Crock Pot Recipes
It doesn't matter if you call it a Mississippi pot roast or a pepperoncini roast, this meal is phenomenal! Leave us a comment below and let us know what you thought.
Pepperoncini Pot Roast Recipe
Tender beef drenched in a delicious blend of zesty flavors, this slow cooker Pot Roast recipe with Pepperoncini's has become one of my family's very favorite Sunday dinners!
Ingredients
5

lbs

beef roast

,

 any cut works great!

1

pack

onion soup mix

16

ounce

whole pepperoncini peppers

water

,

enough to cover the meat
Instructions
Place beef in your crock pot.

Pour onion soup mix over the roast.

Pour entire jar of pepperoncini peppers and the juice over the roast.

Fill the pepperoncini jar with water and pour over the roast until the meat is completely covered.

Mix with a spoon until season packet is evenly dispersed.

Cook on high for 4-6 hours or on low 8 hours - overnight.

30 minutes before you plan to serve this roast, pull it out of the crock pot and shred the meat with 2 forks.

Return the meat to the crock pot and let it sit in the juices until you are ready to serve.
Nutrition
Serving:
1
serving
·
Calories:
432
kcal
·
Carbohydrates:
5
g
·
Protein:
45
g
·
Fat:
26
g
·
Saturated Fat:
11
g
·
Cholesterol:
156
mg
·
Sodium:
511
mg
·
Potassium:
898
mg
·
Fiber:
2
g
·
Sugar:
1
g
·
Vitamin A:
184
IU
·
Vitamin C:
38
mg
·
Calcium:
51
mg
·
Iron:
5
mg
Other Notes
ENJOY!