Chicken Fettuccine Casserole is an easy family dinner that tastes delicious!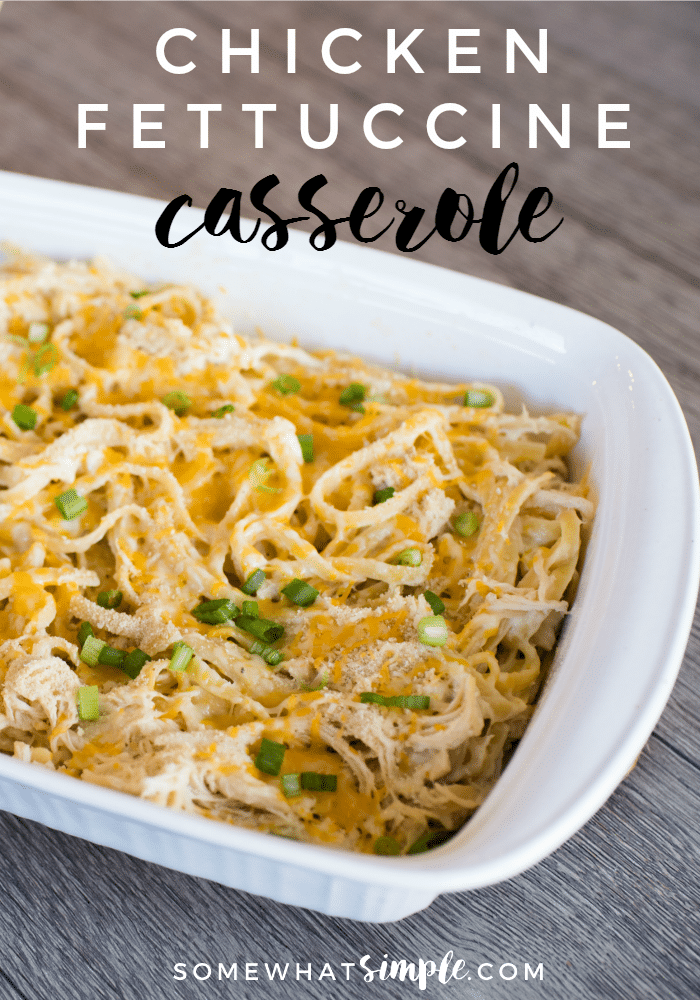 This Chicken Fettuccine Casserole is a delicious twist on a casserole my mom used to make for us when I was younger. Not only does it taste good, but it is also very simple to make. My kids LOVE it, which is also a huge bonus!
Here is how to make it:
CHICKEN FETTUCCINE CASSEROLE
INGREDIENTS: 
1- 16oz package fettuccine noodles
1- 10.5 oz can of cream of chicken soup
1cup of sour cream
2 cups of cooked, shredded chicken breast*
salt & pepper, to taste
2 tbsp. Italian bread crumbs
1/2 cup shredded cheddar cheese
dried parsley flakes or fresh green onions, optional
*You can sub the cooked chicken breasts for 1 can of chicken breasts, drained and shredded
DIRECTIONS:
Preheat oven to 350. Spray a 13×9 inch casserole pan with non-stick cooking spray.
Boil the fettuccine noodles according to package directions. Drain and return to the same pot.
Add chicken, cream of chicken soup and sour cream to pot. Mix well with noodles.
Add salt and pepper to taste. Mix well.
Spread the noodles evenly into the prepared casserole pan.
Sprinkle with bread crumbs, then cheese.
Put the casserole pan into the oven and let it cook for 5-10 minutes or until the cheese is melted.
VARIATIONS:
Use any pasta you have on hand- macaroni noodles are one of my favorite variations!
Use canned tuna instead of chicken. (This would then be called my moms Tuna Casserole!)
Add some vegetables to the mixture- broccoli, peas etc. This will add color and nutrition, but be sure to cook it longer, especially if you are using frozen vegetables.
Serve with a salad and a dinner roll and you're good to go!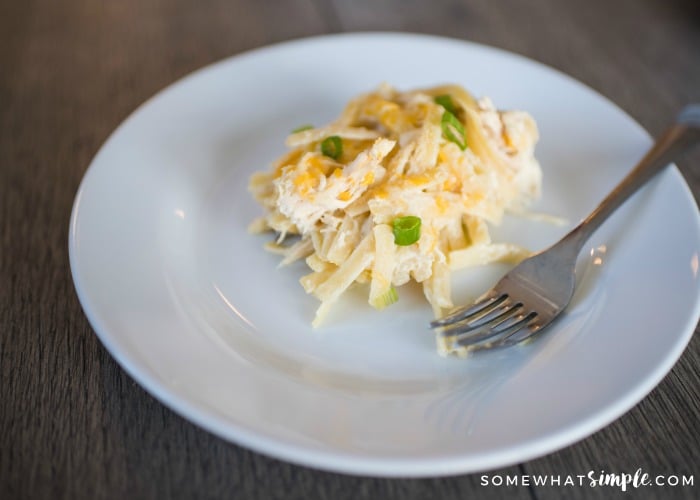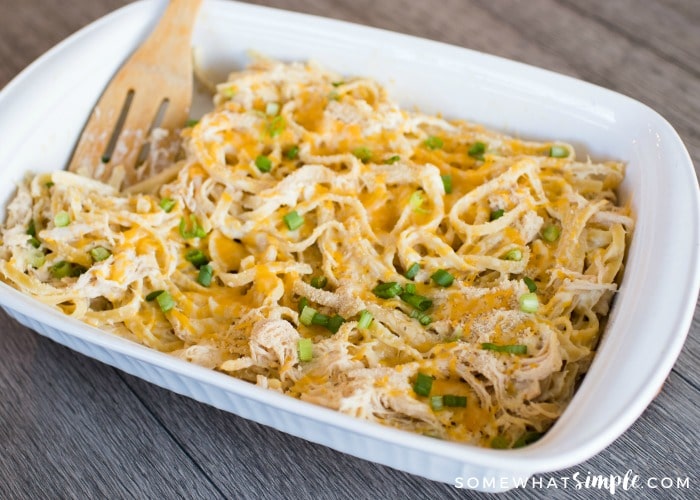 This post originally published on Somewhat Simple in October 2009. 
For more easy dinner recipes, check out some of our favorites below: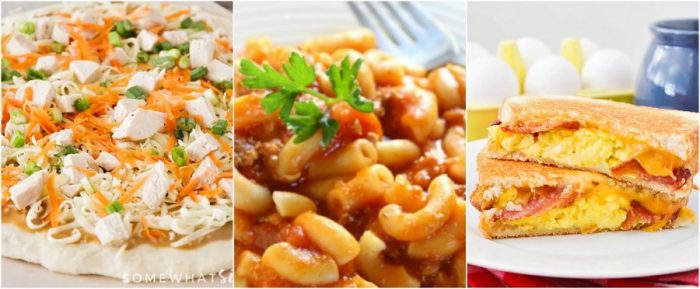 Thai Chicken Pizza | Chili Macaroni | Bacon and Egg Grilled Cheese