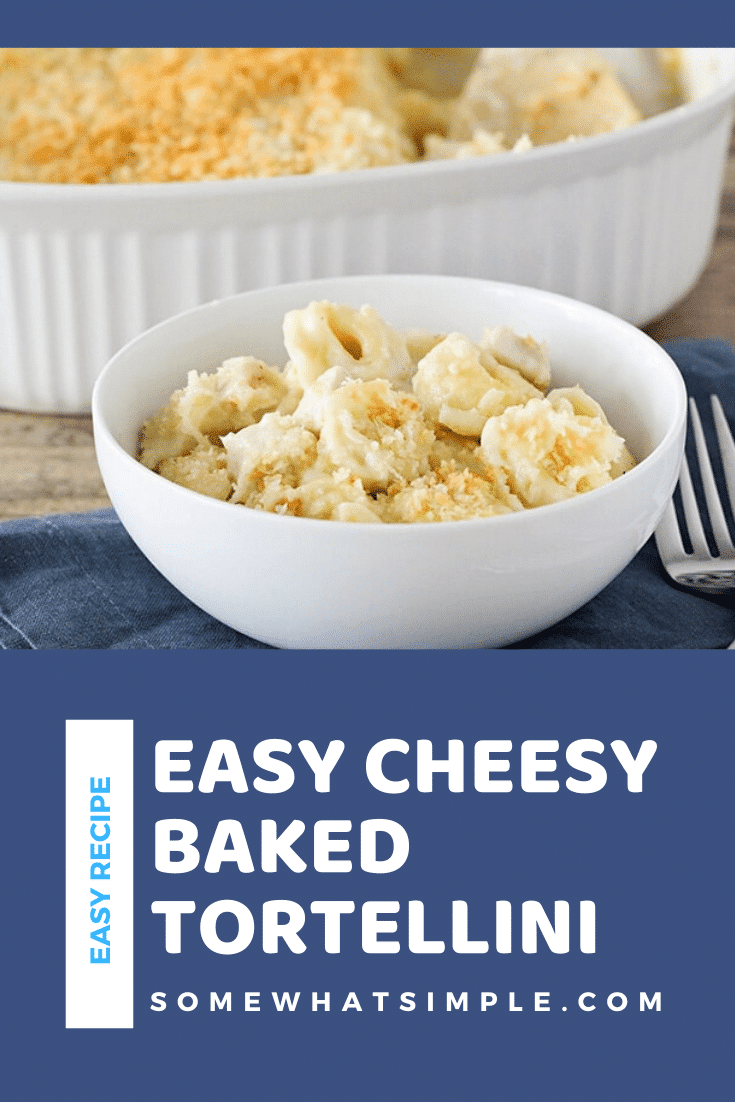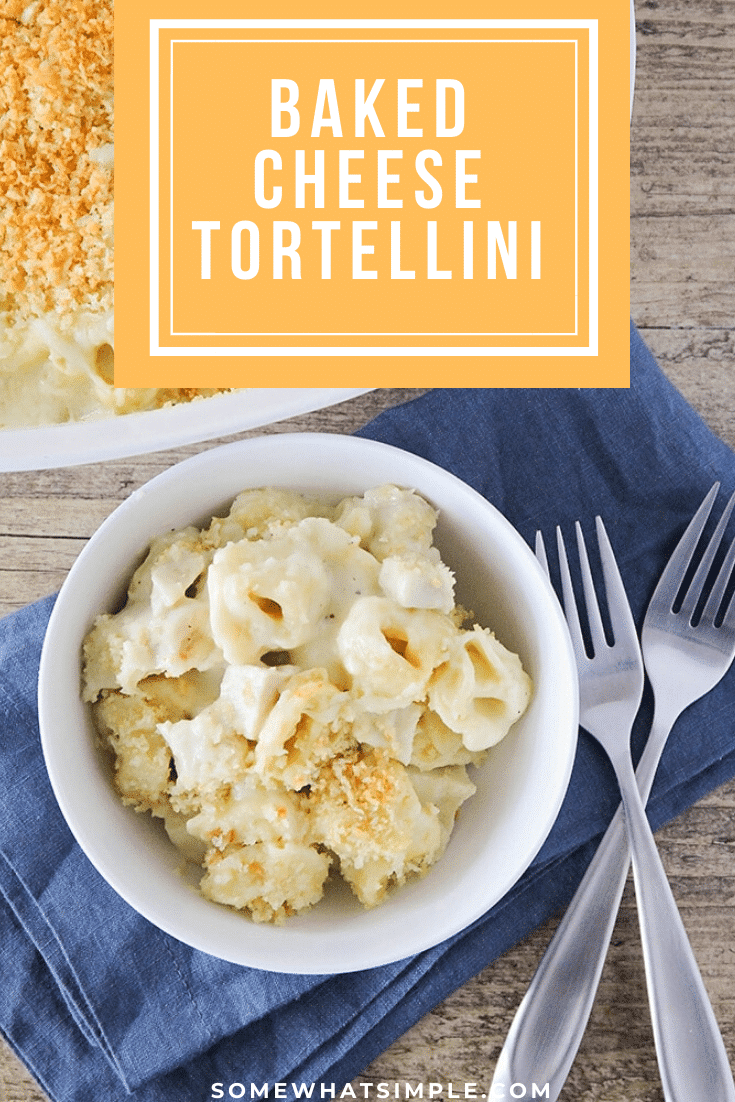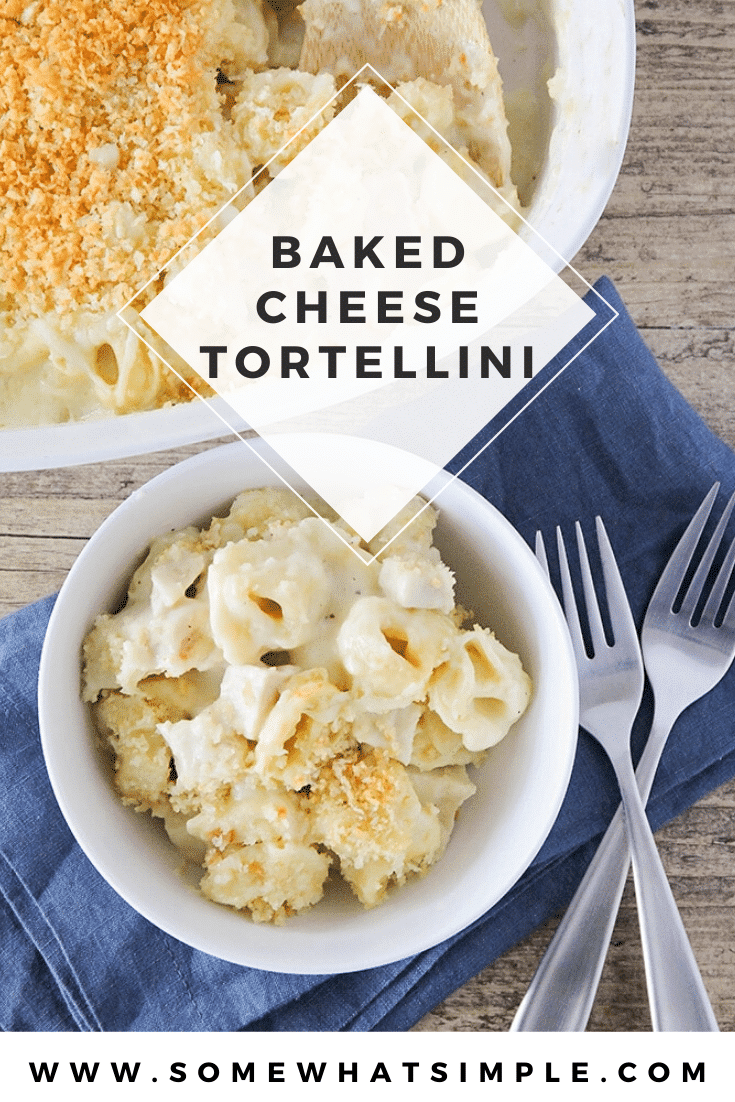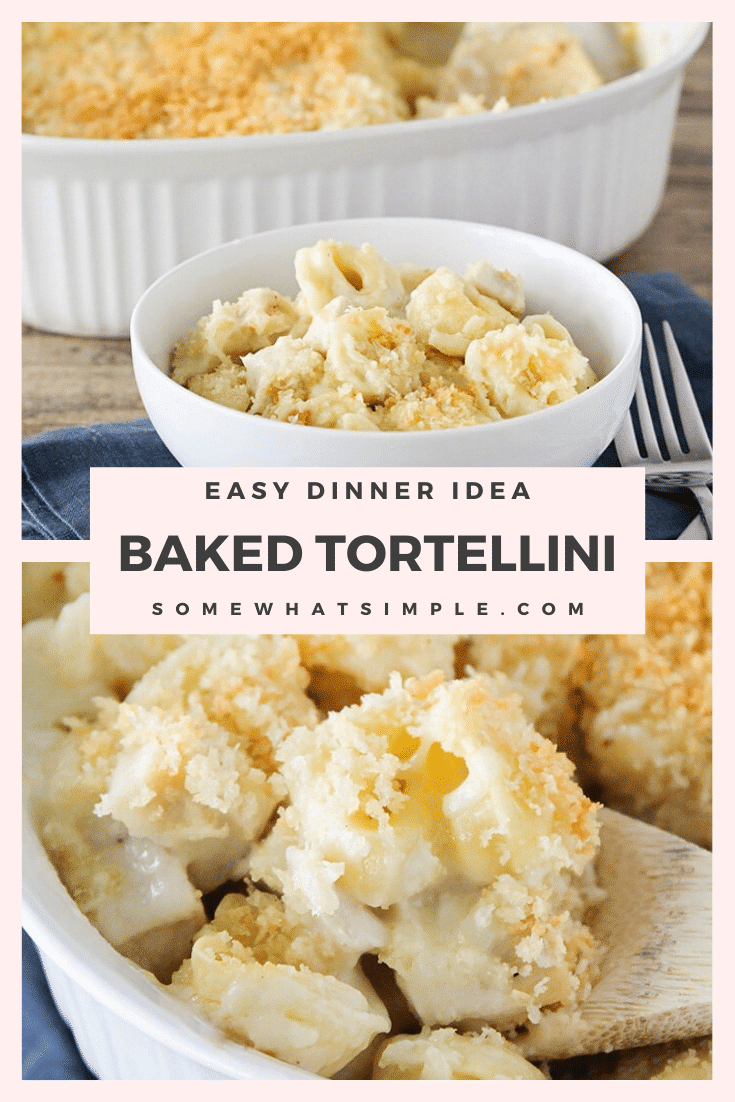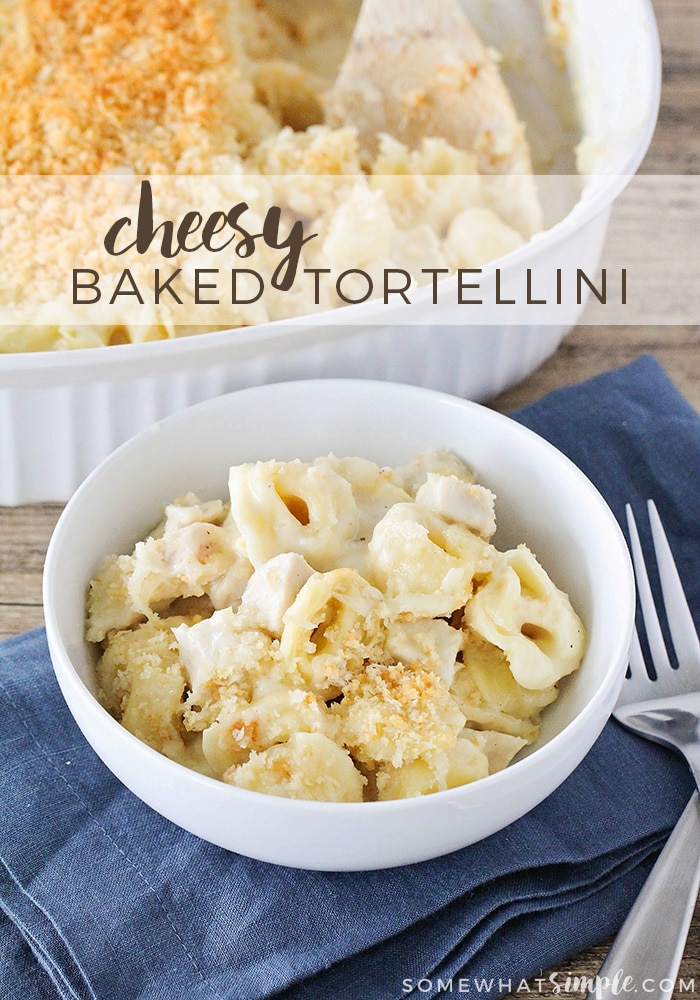 Baked cheese tortellini is a delicious dinner that's incredibly easy to make. This recipe is made with tender tortellini, tossed in a homemade cheese sauce and topped with tasty bread crumbs.
This tortellini recipe definitely gets two thumbs up from my family. Some of their favorite pasta dishes are these Chicken Broccoli Pasta, Pasta Bar and Crock Pot Cheesy Spaghetti recipes.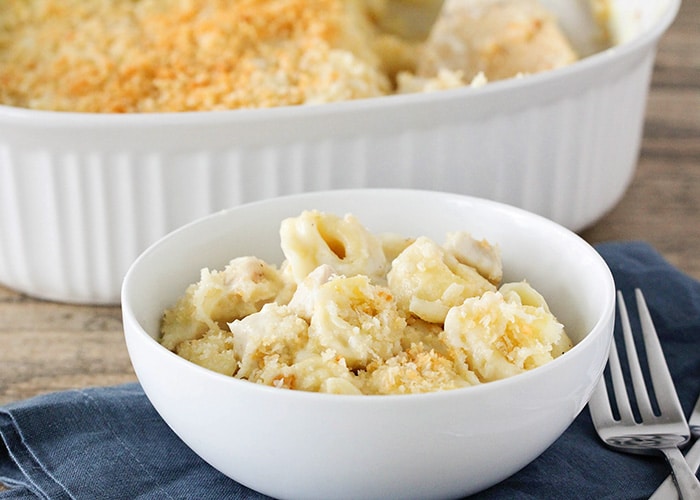 Easy Cheesy Baked Tortellini
To tell you the truth, this baked cheese tortellini recipe happened pretty much by accident. A few years ago, my sister-in-law had just given birth to my adorable baby nephew, and I volunteered to bring the new little family dinner. That night, I came home from work in a rush, trying frantically to think of something, anything, to bring to them, and found pretty slim pickings in my fridge and freezer.
I managed to rummage up a package of frozen tortellini and some leftover cooked chicken, whipped up a quick white cheese sauce, and threw it in the oven. I didn't have time to even sneak a spoonful of the finished product to see if it was edible.
When I dropped the cheese tortellini bake off at my brother and sister-in-law's house, I was praying silently that it was palatable. A few hours later, I got a text from my brother begging for the recipe. My sister-in-law had liked it so much that she wanted him to make it for her again the next night! 🙂 I gave them the recipe (and an extra batch of this cheesy goodness to go in their freezer), and since then, it has been my go-to meal for bringing to new moms!
It's simple and quick to put together, and the creamy cheese sauce is to die for! I love that you get extra cheese from the tortellini, too. There's no such thing as too much cheese, right? It's hearty and filling, and pretty much guaranteed to please even the pickiest of eaters. This easy baked cheese tortellini casserole is comfort food at its best!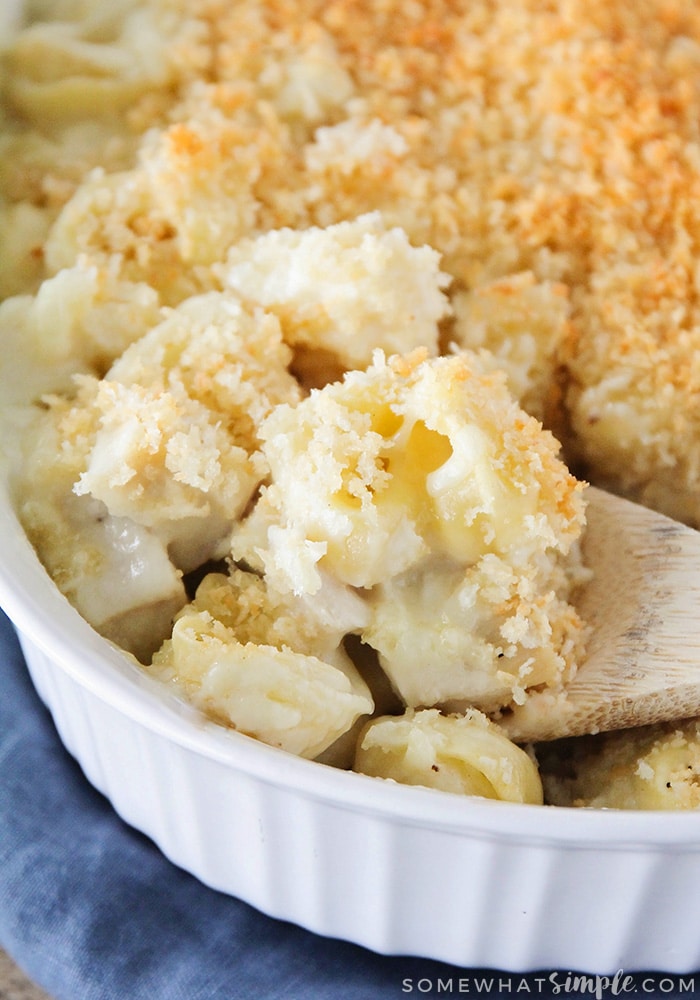 How To Make Baked Cheese Tortellini
Prep – Start by preheating your oven to 350 degrees F. You'll also want to give your baking dish a shot of cooking spray.
Tortellini – While you're prepping the sauce, cook the tortellini according to the directions on the package. Pro Tip: If you want to save yourself a headache use one of these one of these spill stoppers while boiling the pasta to keep it from boiling over.
Roux – Melt your butter in a large skillet and then whisk in the flour. Let it cook for about 3 minutes or until it turns golden brown and starts to bubble.
Sauce – When the roux is ready, slowly whisk in the chicken broth. Be sure to stir it constantly to prevent lumps from forming in the sauce. Allow the sauce to thicken slightly and then slowly whisk the milk in a little at a time. Bring the mixture nearly to a simmer and let the sauce thicken. Then stir in some salt and pepper to taste.
Easy Cheesy – Remove the skillet from the stove and then stir in the sharp cheddar cheese and Dijon mustard. Stir it in until the cheese has melted.
Bake To The Heat – Put the skillet back on the stove and stir in the cooked chicken and cooked tortellini. Leave it on the stove until it is heated throughout.
Transfer & Topping – Pour everything into your baking dish. Then in a small bowl, combine the melted butter with both types of bread crumbs and the Parmesan cheese to make the topping. Finally, sprinkle the mixture evenly over the top of the tortellini.
Bake – Cook the tortellini for about 20-25 minutes. The bread crumbs should be golden brown and the sauce bubbling.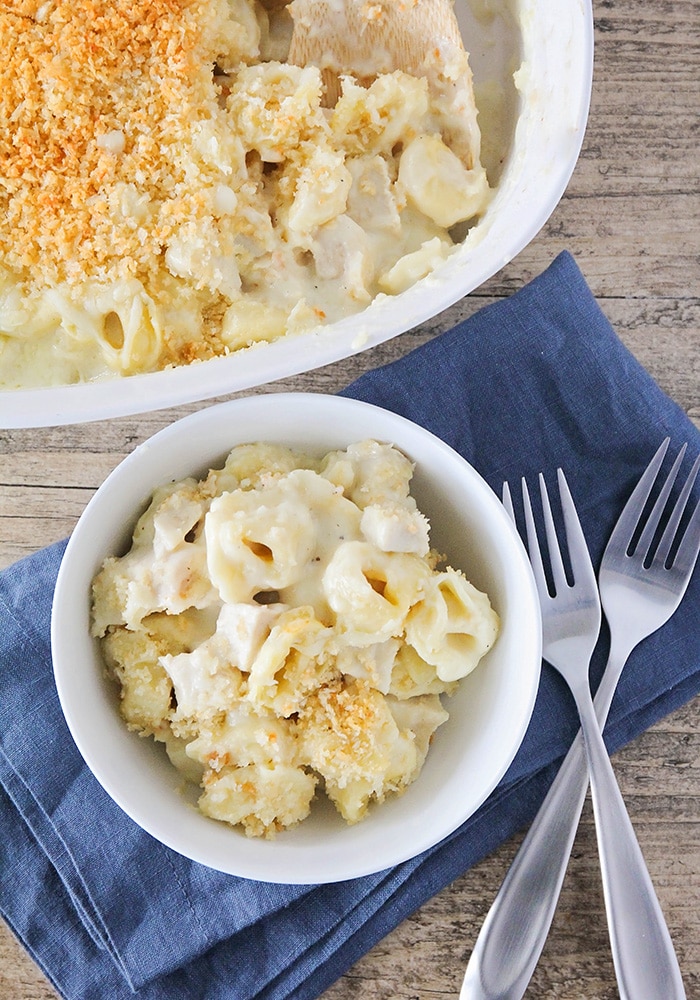 Make It A Freezer Meal
Prep – Another thing I love about this baked cheese tortellini recipe is that it's also easy to freeze. I like to triple the recipe and freeze it in disposable baking pans.
Separate – I make it all just the same, but save the bread crumbs in a separate baggie in the freezer so they don't get soggy.
Heating – When I'm ready to bake it, I sprinkle the bread crumbs on top and stick it in the oven, covered, for about sixty minutes. Then bake it for another 20-30 minutes uncovered. I've made this baked cheesy tortellini recipe countless times, and have always had rave reviews!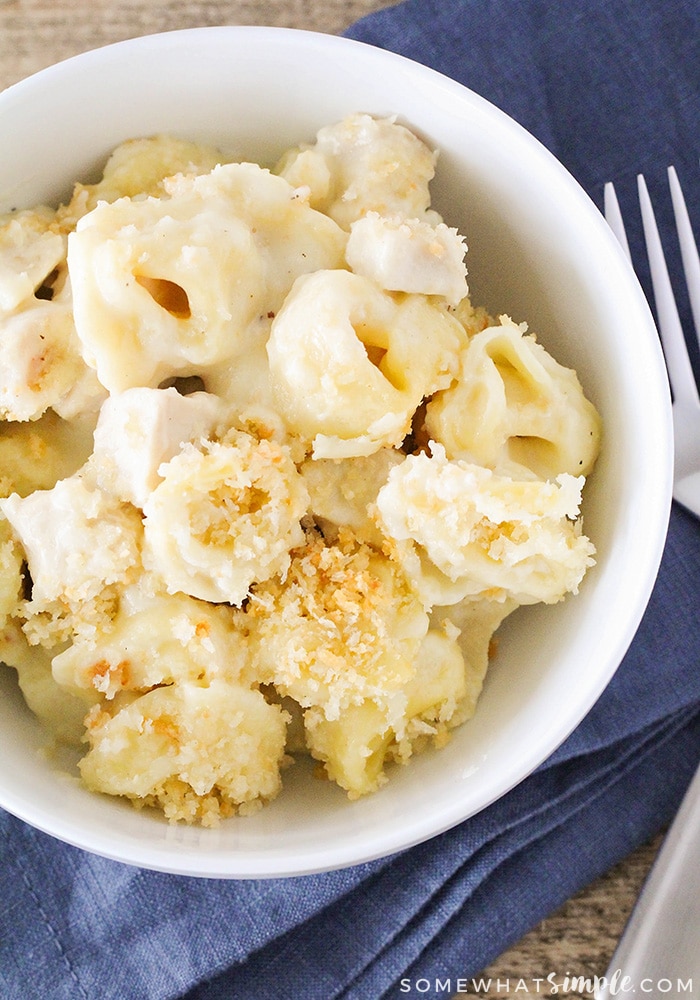 More Easy Baked Pasta Recipes
This cheese baked tortellini really is one of the easiest recipes you'll ever make. Leave us a comment below and let us know how it turned out or tag us on social media while you're making it because we always love seeing you try one of our recipes!
Baked Cheese Tortellini
Cheesy baked tortellini - tender tortellini tossed with homemade cheese sauce and baked to cheesy gooey perfection. A hearty and delicious dinner!
Instructions
Preheat the oven to 350.

Spray a 9 x 9 (or similar size) baking dish with cooking spray and set aside.

In a large skillet, melt the butter.

Whisk in the flour, and cook 2-3 minutes, until golden brown and bubbling.

Slowly whisk in the chicken broth, stirring constantly to prevent lumps.

Let the sauce thicken slightly, then slowly whisk in the milk, a little at a time.

Bring the mixture nearly to a simmer, and let thicken.

Stir in the salt and pepper.

Remove from the heat

Stir in the sharp cheddar cheese and dijon mustard, until melted.

Return to the heat

Stir in the cooked chicken and cooked tortellini, until heated throughout.

Pour into the prepared baking dish.

In a small bowl, combine the melted butter, both kinds of bread crumbs, and the parmesan cheese.

Sprinkle the bread crumb mixture over the tortellini.

Bake 20-25 minutes, or until the bread crumbs are golden brown and the sauce is bubbling.
Nutrition
Serving:
1
serving
·
Calories:
451
kcal
·
Carbohydrates:
36
g
·
Protein:
23
g
·
Fat:
24
g
·
Saturated Fat:
13
g
·
Cholesterol:
84
mg
·
Sodium:
986
mg
·
Potassium:
157
mg
·
Fiber:
3
g
·
Sugar:
5
g
·
Vitamin A:
547
IU
·
Vitamin C:
2
mg
·
Calcium:
396
mg
·
Iron:
2
mg
Other Notes