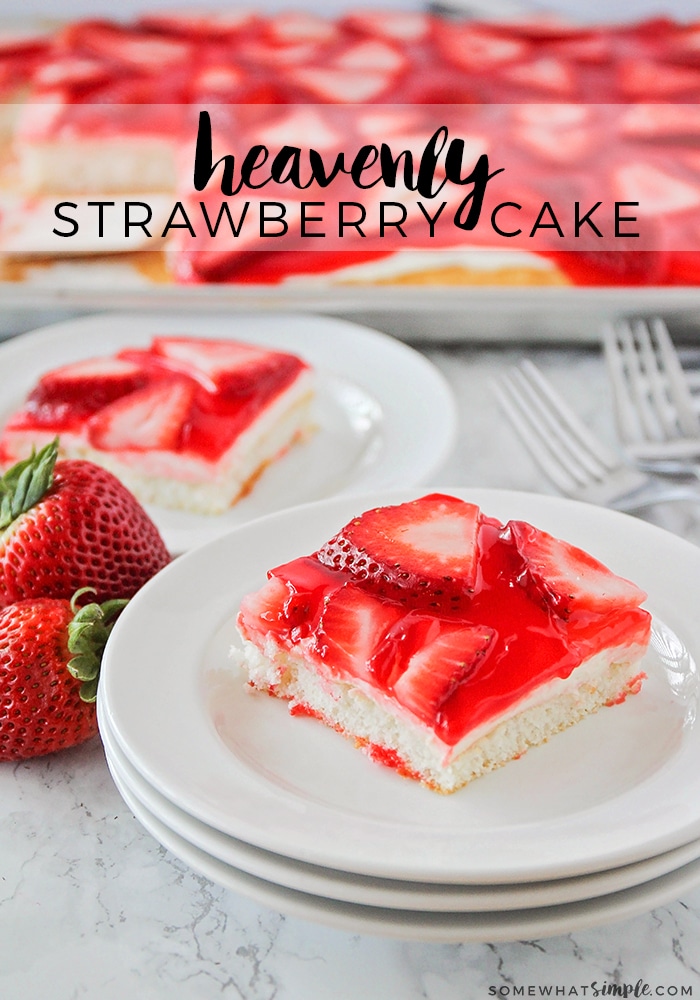 This Easy Strawberry Cake recipe is deliciously creamy and full of sweet strawberry flavor. It is hands-down the best strawberry cake recipe I've ever made. If you're looking for an easy strawberry cake recipe, this is it!
There were very few recipes I knew how to make when I first married my husband. Chicken Enchiladas, Lemon Chicken Primavera and Taco-Stuffed Pasta Shells were among the very few of my kitchen successes! Sometimes I wonder why we didn't wither away and starve, or how my husband could handle all my failed food attempts… but then I am reminded about this Strawberry Cake from back in the day, and suddenly it all makes perfect sense! Fast forward nearly two decades later and we are still indulging on this favorite treat.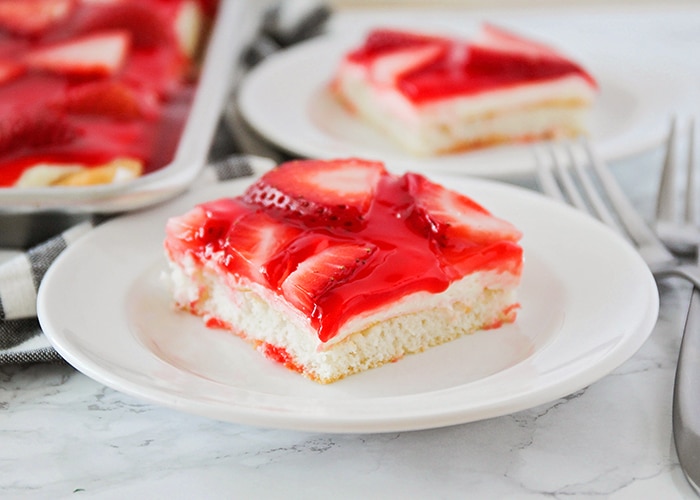 Strawberry Cream Cheese Cake
Simple Shortcut – While many homemade strawberry cake recipes call for a fluffy cake layer that often needs to be practiced for perfection, this recipe comes with a major shortcut! With all the flavors and layers in this delicious strawberry cake, you can shave off some serious prep and baking time by using a box of white cake mix. No really. You'll still make a delicious cream cheese frosting from scratch, and you'll cut up some fresh strawberries by hand, but save your sanity and save some money by using a boxed mix. This Strawberry Cream Cheese Cake is not only the most delicious strawberry cake recipe, it is also the easiest!
My college roommate got this recipe from her mom and we all agreed: it was love at first bite! WARNING: If you've ever had a love affair with a certain baked good, this recipe will be dangerous! My roommates and I made it several times that year of living together. The four of us would sit around with forks in hand and just eat it straight from the pan!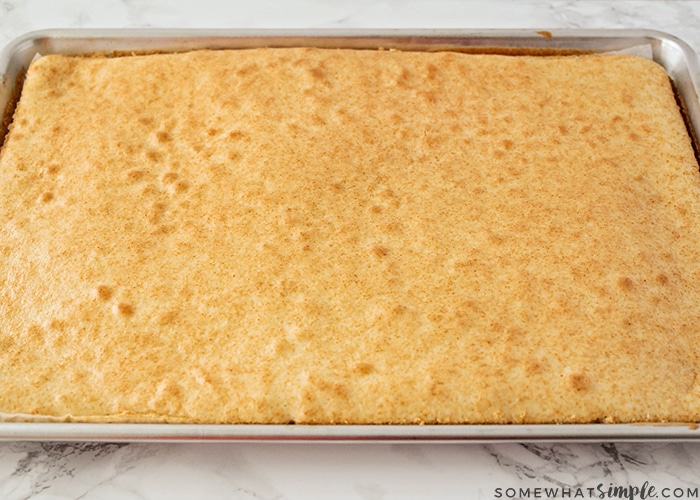 How to Make Strawberry Cake
This homemade strawberry cake begins with a simple white cake mix. Instead of baking it in a 9×13, you'll make it in a sheet pan and bake it for only 20 minutes. While the cake is baking, whip up the delicious cream cheese frosting –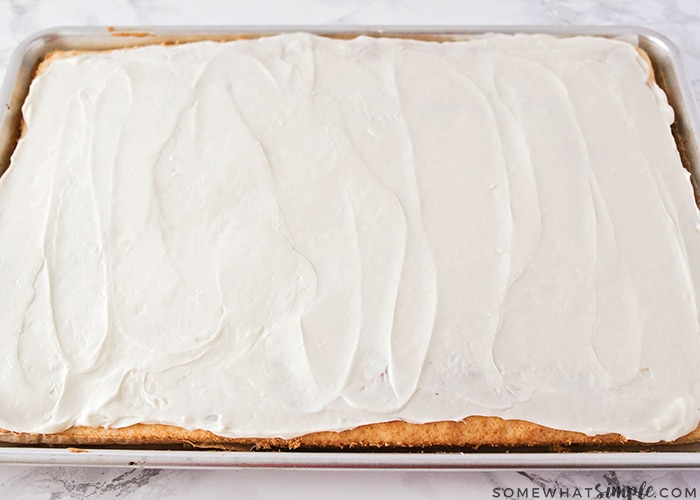 To the cream cheese frosting, you'll add a layer of strawberry glaze. My original strawberry cake recipe used an ingredient called Strawberry Danish Dessert, but I've never been able to find this ingredient outside of Utah. No grocery store in CA or AZ that I have been to sells it! It is basically a gelatin mix (very similar to Jell-O) found in the baking aisle. You can buy it on Amazon, or use strawberry pie filling or a homemade strawberry glaze. (Now a days I use strawberry pie filling.)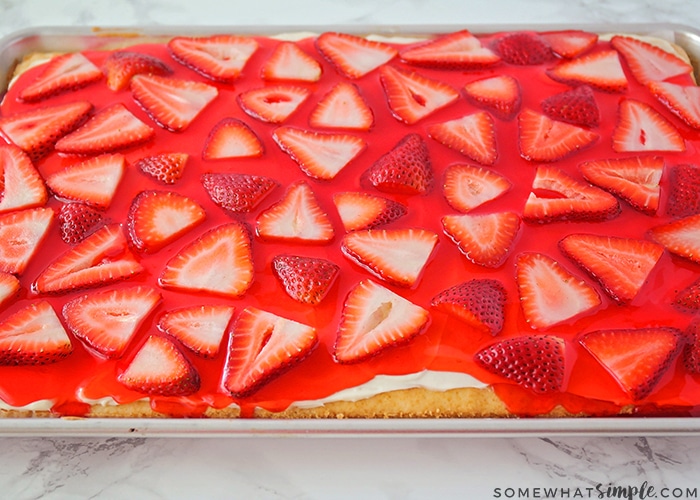 The last layer of this delicious strawberry cake is some fresh strawberries! Not only do these strawberries add a fresh taste to this strawberry cake, but they also make it look so pretty!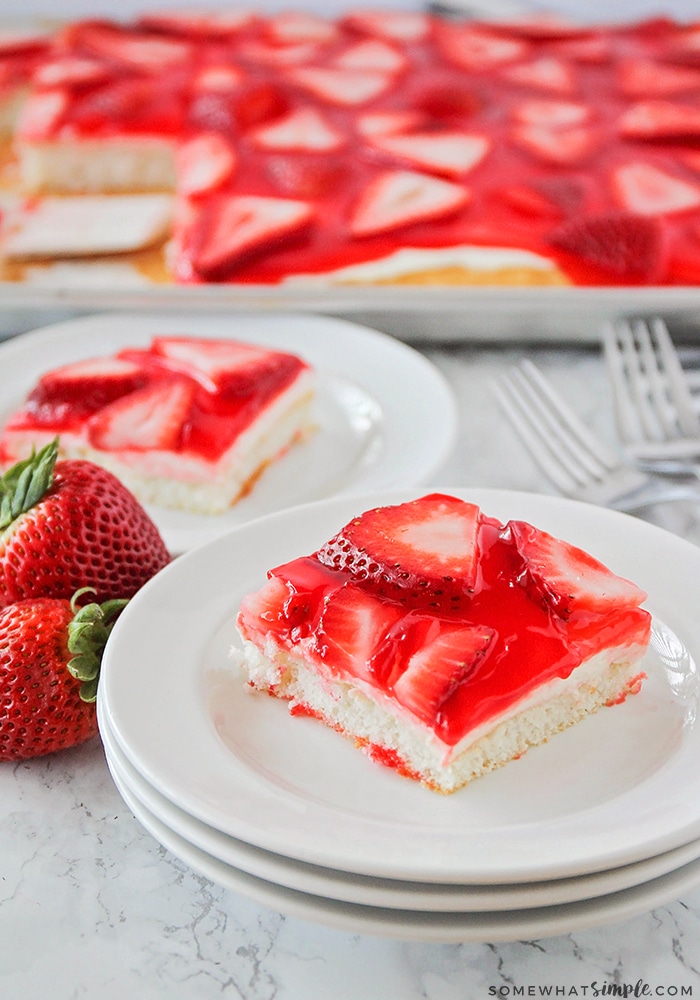 Everything about this homemade strawberry cake is fantastic – it is easy to make, it uses very simple ingredients, and it is perfect for entertaining and can feed a crowd! Every time I have ever made this cake, it has disappeared extremely fast!
Here are a few more strawberry dessert recipes we think you'll love –
Homemade Strawberry Cake
Homemade Strawberry Cake
This Easy Strawberry Cake recipe is deliciously creamy and full of sweet strawberry flavor. It is hands-down the best strawberry cake recipe I've ever made. If you're looking for an easy strawberry cake recipe, this is it!
Ingredients
for the white cake -
1

box of white cake mix + ingredients on back of box
for the strawberry glaze -
1

package of Danish Dessert

,

strawberry pie filling, or strawberry glaze
for the cream cheese frosting -
2

8oz packages of cream cheese

3/4

cups

of powdered sugar

1

tsp

vanilla
for the topping -
2

cups

fresh strawberries
Instructions
Preheat oven to 350. Grease a sheet cake pan/ cookie sheet.

Mix cake mix according to package directions, using the specified number of egg whites instead of whole eggs.

Pour cake mixture into pan and bake for 20 minutes, or until cooked through. Let the cake cool completely.

Meanwhile, prepare the Danish Dessert or strawberry pie filling according to package directions and let it cool completely. (I usually pop mine in the freezer to speed up this process.)

Mix cream cheese, powdered sugar and vanilla with electric mixture until well blended.Set aside.

Wash strawberries and slice them into halves or thirds.

Spread the cream cheese mixture on top of the cooled cake, then layer the strawberry glaze, followed by the slices of strawberry.
Nutrition
Other Notes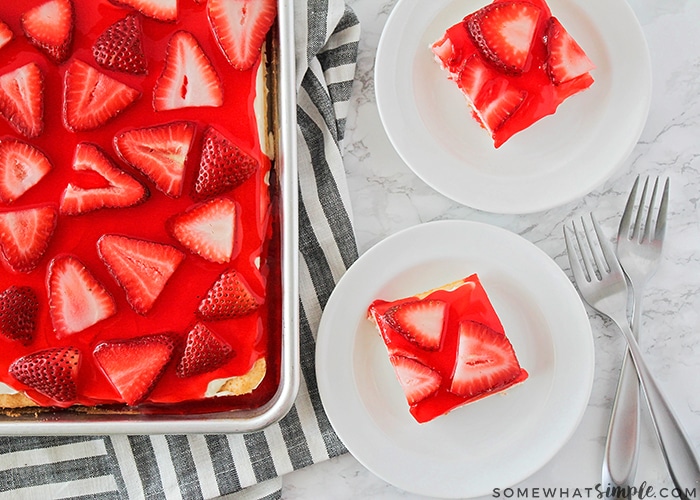 This strawberry cake is both fluffy and creamy. Grab a few of your close friends, give them all a fork, and enjoy a slice right off the pan!
And if you don't like it, it's you- not the cake … just sayin! (wink)