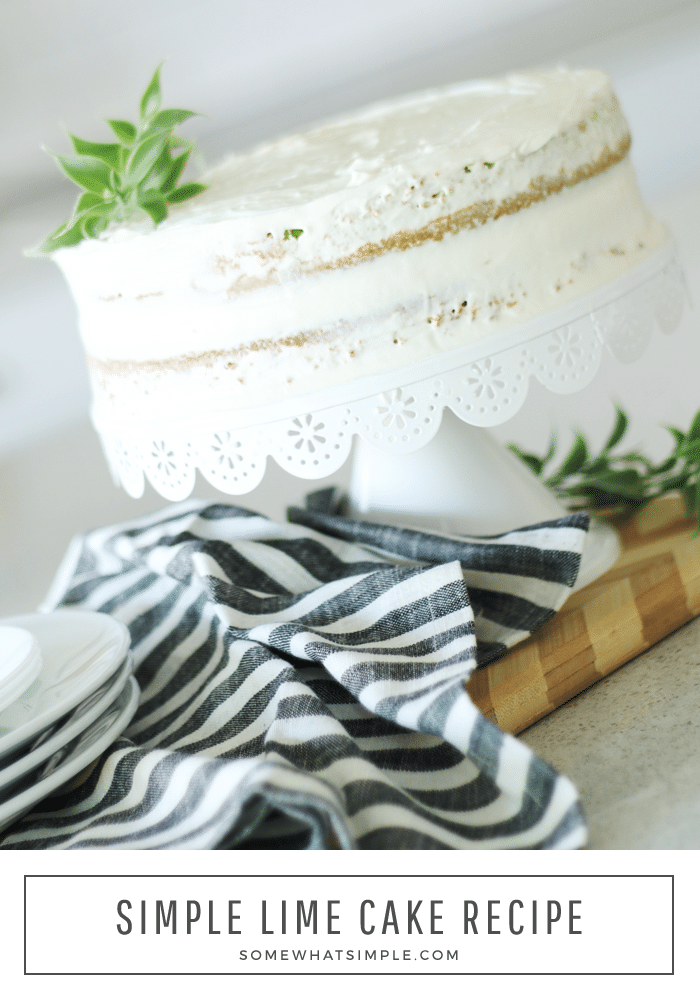 This perfectly flavored lime cake topped with a creamy lime frosting is just the right combo of sweet and tart. Every bite bursts with fresh lime flavor that just feels like summertime!
I love indulging on baked goods year-round, but when the weather starts to get warmer, I crave desserts that are fresh and fruity. Strawberry Cake, Lemon Pound Cake, Cherry Hand Pies etc. Today I'm going to share the most DELICIOUS lime cake recipe that is perfectly moist and so simple to make!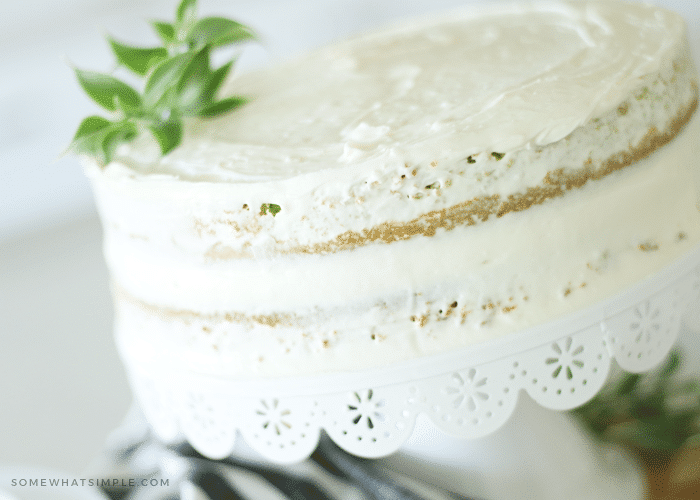 Key Lime Cake
Who says key lime has to be a pie? This easy to make key lime cake is sure to make your taste buds fall in love! If you're looking for an easy dessert that is packed full of fresh lime flavor, this key lime cake is it!
Not only does this cake taste amazing, but it is also super easy to make! You start with a box of lemon cake mix, a package of lime jello mix, and some lime juice. You bake it according to package directions and once cooled, frost it with a creamy frosting that adds even more flavor!
What's The Difference Between Key Limes and Regular Limes
Key limes have a slightly yellow color while regular limes are green in color. Key limes also smaller, have more seeds and have a more tart flavor than traditional limes. Key limes (also called West Indian or Mexican limes) get their name because they were previously only grown in mass quantities in the Florida Keys until 1926 when a hurricane wiped out the majority of the crops and were subsequently replaced with regular limes (also called Tahitian or Persian limes). While they are no longer grown in large quantities in the U.S., key limes are grown in many other places throughout the world.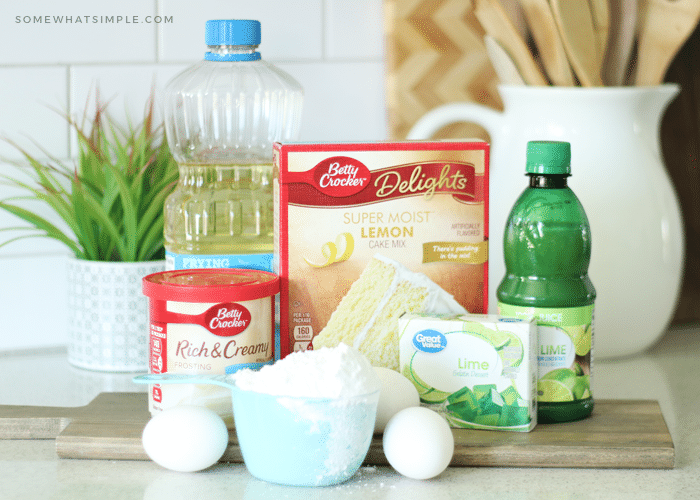 How to Make Key Lime Cake
This semi-homemade lime cake starts from a boxed mix, so you can whip it up in no time at all!
Add the cake mix and lime jello mix to a bowl and mix.
Add the ingredients listed on the back of the cake mix box, but cut the water amount in half and add the rest of the amount in lime juice. (ie. If your cake mix calls for 1 cup of water, use a half cup of water and a half cup of lime juice.)
Mix until combined.
Pour the batter into your prepared pan(s) and bake according to package directions.
Make our amazing lime frosting by mixing together the frosting ingredients, beating until smooth.
Once your cake is cooled completely, spread the frosting on top and dig in!

Key Lime Cake Baking Tips
You can certainly make this lime cake into a sheet cake, or use a 9 x 13 pan, but I love the look of a double-layer round cake. To do this, you use the same amount of batter and divide it equally into 2 round cake pans. Instead of spraying each pan with just non-stick spray, line the bottoms with wax paper.
Trace the bottom of the pan onto the wax paper, then cut out the circle with scissors. Before placing your wax paper on the bottom, spray the edges with cooking spray, then dust it with flour. Then you can place your wax paper circles on the bottom, and pour your ingredients right on top! This lets your cake come out of the pan super easily and in one piece. Once cooled, you can peel off the wax paper and you're ready to start frosting it!
How To Store Key Lime Cake
To store an unfrosted lime cake, first wait until the cake has completely cooled. Then cover the entire cake (sides and all) in plastic wrap and place the wrapped cake inside a large Ziploc bag. The cake can stay fresh on the counter at room temperature for about a week like this.
If you don't plan on using the cake within a week, then you'll need to store this in the freezer. Follow the same instructions above but be sure to write the date on the outside of the bag so you can remember when you put the cake in the freezer. You can keep the lime cake frozen for about 2 months.
More Easy Lime Recipes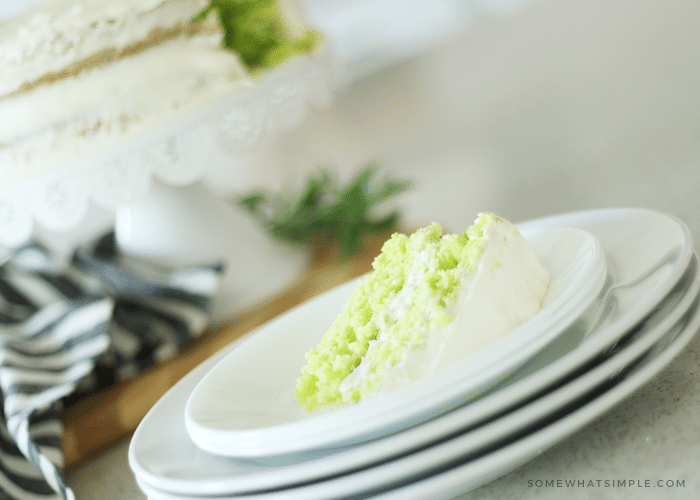 Easy Key Lime Cake Recipe
Let us know how you like this Key Lime Cake by leaving us a comment below and tagging us on social media! We love to see what you're up to in the kitchen!
Key Lime Cake
This perfectly flavored lime cake topped with a creamy lime frosting is just the right combo of sweet and tart. Every bite bursts with fresh lime flavor that just feels like summertime!
Ingredients
Cake Ingredients
1

box

lemon cake mix

1

box

lime jello (3 oz size)

oil

,

amount according to cake mix directions

eggs

,

amount according to cake mix directions

water

,

half of the amount in cake mix directions

lime juice

,

to replace the other half of water amount in cake mix directions
Frosting Ingredients
1

container of vanilla frosting

1 1/2

cup

powder sugar

1/4

c

lime juice
Instructions
Mix the lemon cake mix according to package directions, EXCEPT substitute half of the water with lime juice, (i.e. if you need 1 1/2 cups of water, use 3/4 cup water and 3/4 cup lime juice) and add the box of lime jello.

Prepare your pan(s) with cooking spray, or by using our wax paper technique found above.

Cook according to package directions.

While cake is cooking, prepare the frosting by placing the powder sugar, premade frosting, and lime juice in a bowl. Beat until smooth.

Once the cake has cooled, remove from pans and take off wax paper if used.

Frost your cake, and enjoy!
Nutrition
Other Notes
ENJOY!