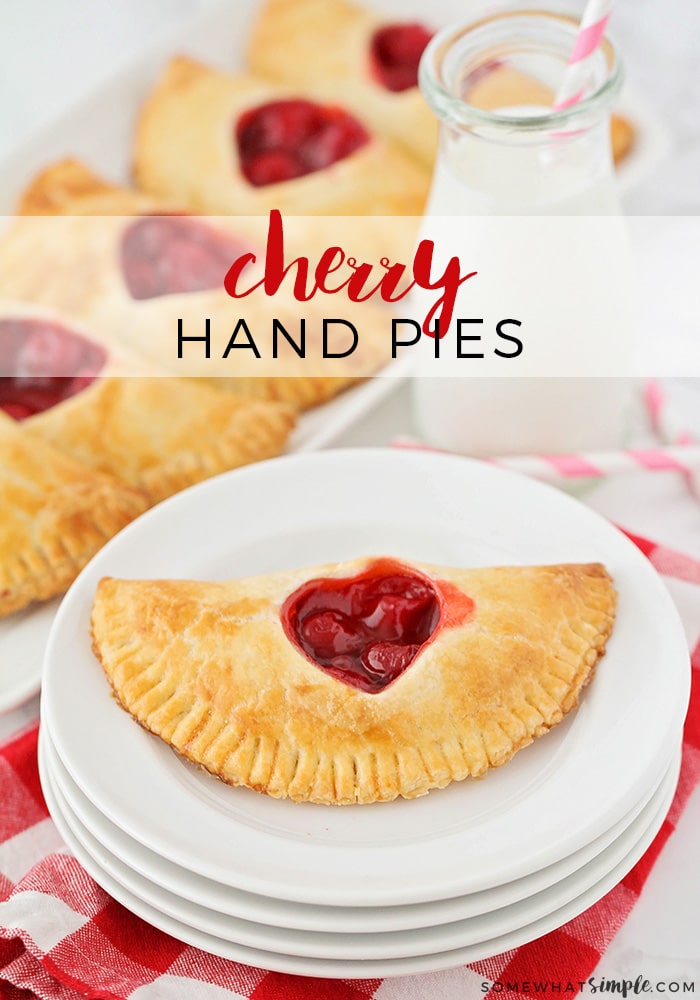 These sweet and adorable cherry hand pies are the perfect treat to share with someone you love. They're easy to make and so delicious!
Next to Christmas, Valentine's treats are my favorite types of baked goods! Easy Strawberry Shortcake, Chocolate Lava Cake, and Pink Velvet Waffles are all festive and delicious, and they are fun to serve to those you love. These Cherry Hand Pies also top our list of Valentine's Day favorites… and they are super easy to make! (BONUS!)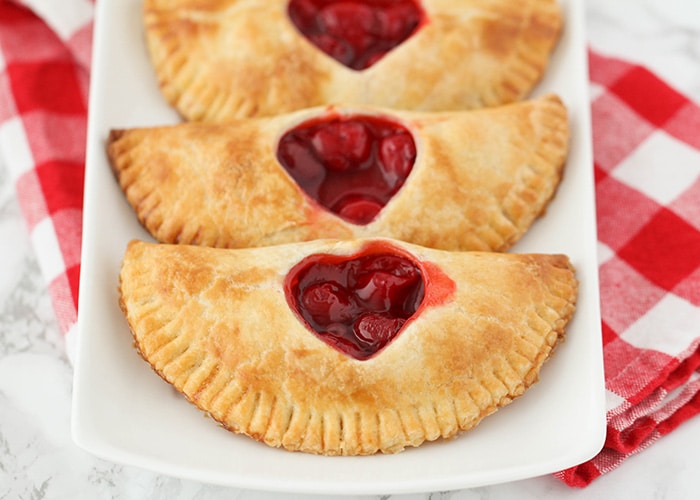 Easy Valentines Day Treats
If I had to choose a favorite holiday, it would have to be Valentine's Day! I love Christmas, of course, and Halloween is always a favorite for my family, but Valentine's Day makes my heart happy. I love the pinks and reds, the heart-shaped everything, and all of the expressions of love. At my house, we decorate for Valentine's Day as soon as we take the Christmas tree down, then bask in a month and a half of cozy loveliness. It's the perfect way to brighten up the dreary winter days!
Of course, my favorite part of any holiday is always the food, and these cherry hand pies are perfect for celebrating Valentine's Day. They're incredibly delicious, easy to make, and so adorable! I love the little heart cut-out on the top, with the sweet cherries peeking through. What better way to show someone you care than with a warm pie, fresh out of the oven?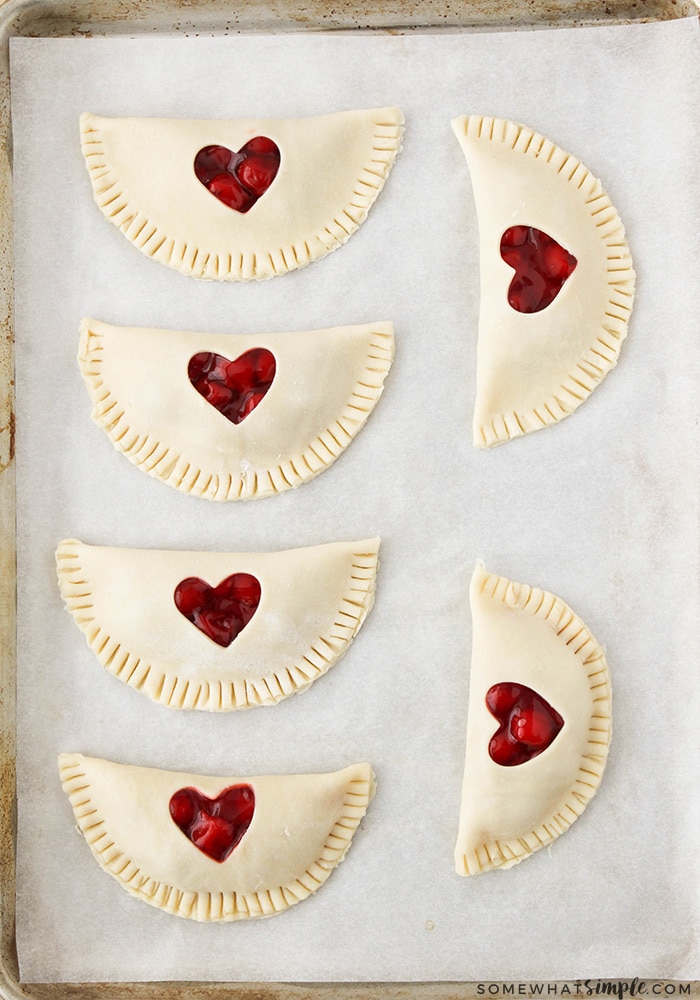 How to Make Hand Pies
As with any delicious pie recipe, to make hand pies, you'll start with the perfect pie crust.
The Best Pie Crust
If you haven't made your own pie crust before, my simple no-fail recipe below is the one to try! I've made it dozens of times, and it always comes out perfectly! It's easy to work with, not overly sticky, and tastes great too! It's also pretty flexible and pliable, so it won't crack when you fold it over to crimp the pies closed. This recipe is pie crust perfection!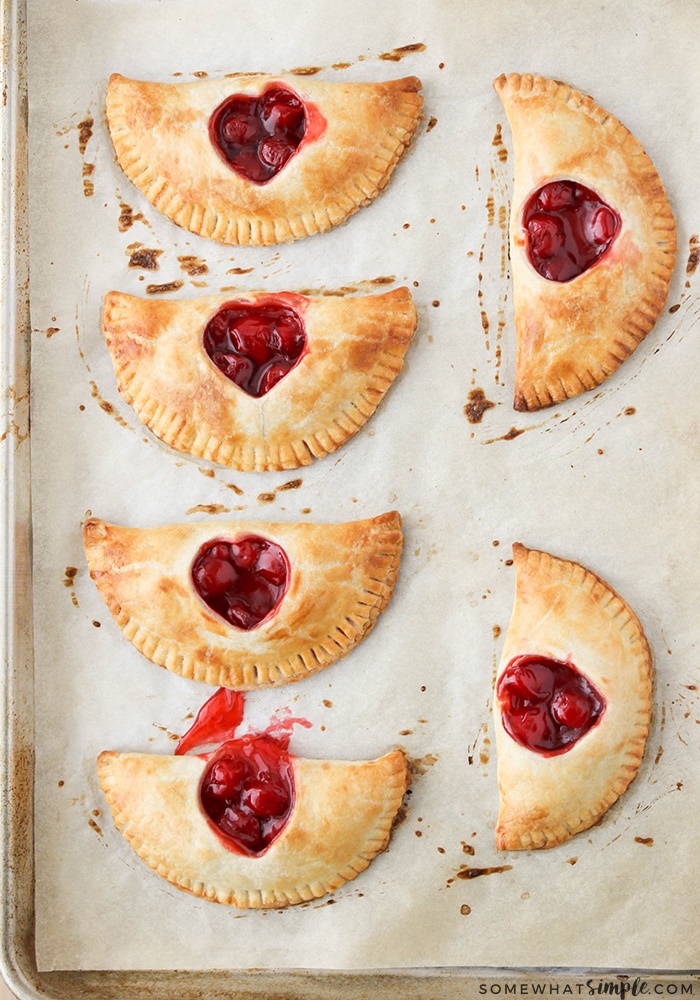 Easy Pie Filling
Once you have your crust ready, it is time to add the filling. I love the bright color and flavor of the cherries in these pies, but you could easily substitute another flavor of pie filling if you wish.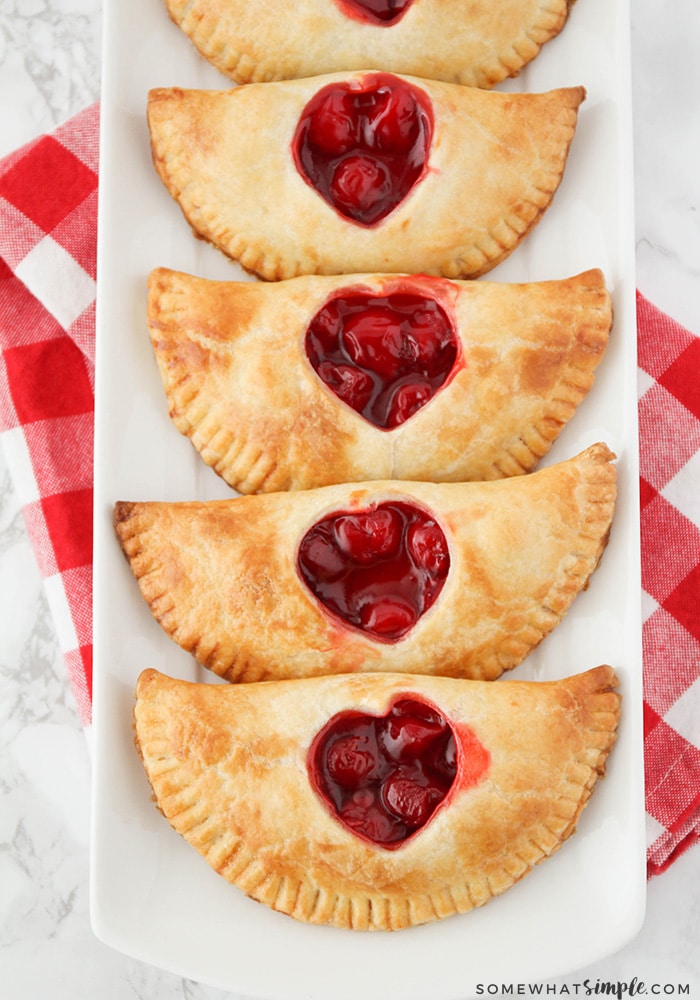 As much as I love full sized pies, there's something so fun and adorable about a pie that can fit in the palm of your hand. My kids also love that they get to have a whole pie to themselves!
These pies are best the day they're made, although they will keep in an airtight container for a day or two. They never last long at our house, though. 🙂 They're the perfect treat to show someone you care!
More delicious treats that are perfect for sharing with your sweetheart –
Cherry Hand Pies
Cherry Hand Pies
These sweet and adorable cherry hand pies are the perfect treat to share with someone you love. They're easy to make and so delicious!

Ingredients
1

can cherry pie filling

2

cups

flour

1

teaspoon

salt

1

cup

cold butter

1/2

cup

buttermilk

1

egg

1

tablespoon

water
Instructions
In a medium bowl or the bowl of a stand mixer, mix together the flour and salt. Grate the cold butter into the flour mixture, then cut it in using a pastry blender or the paddle attachment, until the pieces of butter are no larger than pea sized. Add the buttermilk, and mix until the dough just starts to come together.

Turn the dough out onto a floured surface and gently work it into a ball, handling it as little as possible. Divide the dough in half and shape into discs. Wrap the dough in plastic wrap, and refrigerate at least twenty minutes.

Roll each piece of dough out to a thin and even layer on a lightly floured surface, and cut into six inch circles (I used a bowl for mine). Cut a heart shaped piece of dough out of one side of the circle, or use a knife to make slashes in order to allow steam to escape.

Spoon two tablespoons of pie filling onto half of the circle, then fold the other half over to close. Next, crimp the edges with a fork to seal.

In a small bowl, whisk together the egg and water, and brush the egg mixture over the top of each pie. Bake at 425 for 15-17 minutes, or until golden brown. Cool before serving.
Nutrition
Other Notes