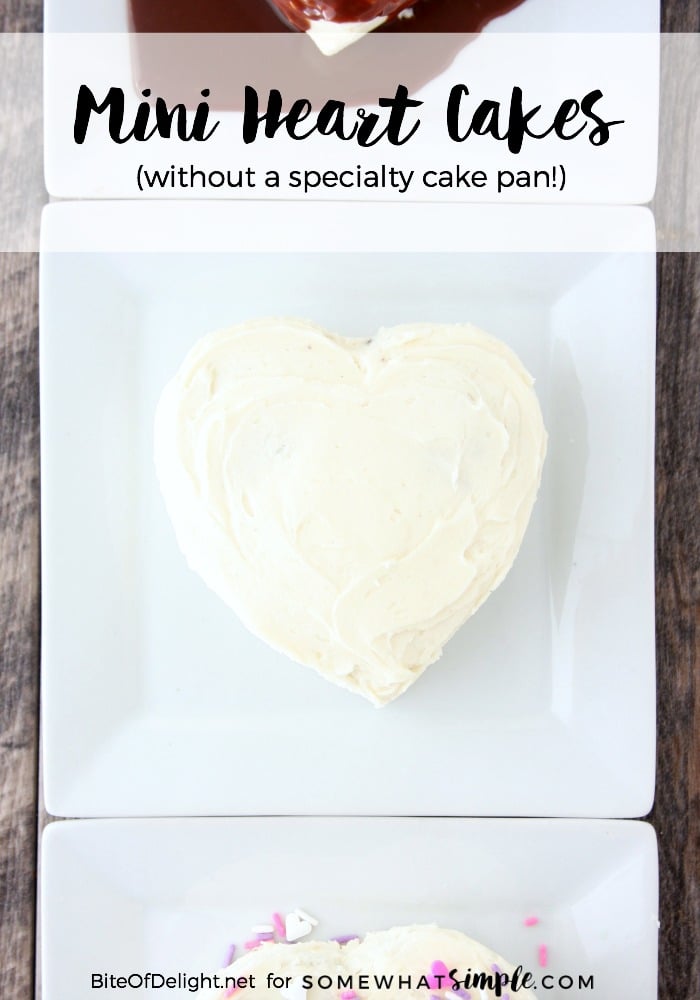 Mini Heart Cakes are the perfect way to celebrate Valentine's Day…or any other day you want someone to feel extra loved! They're simple to make and don't require a specialty cake pan…which will save you money and cupboard space!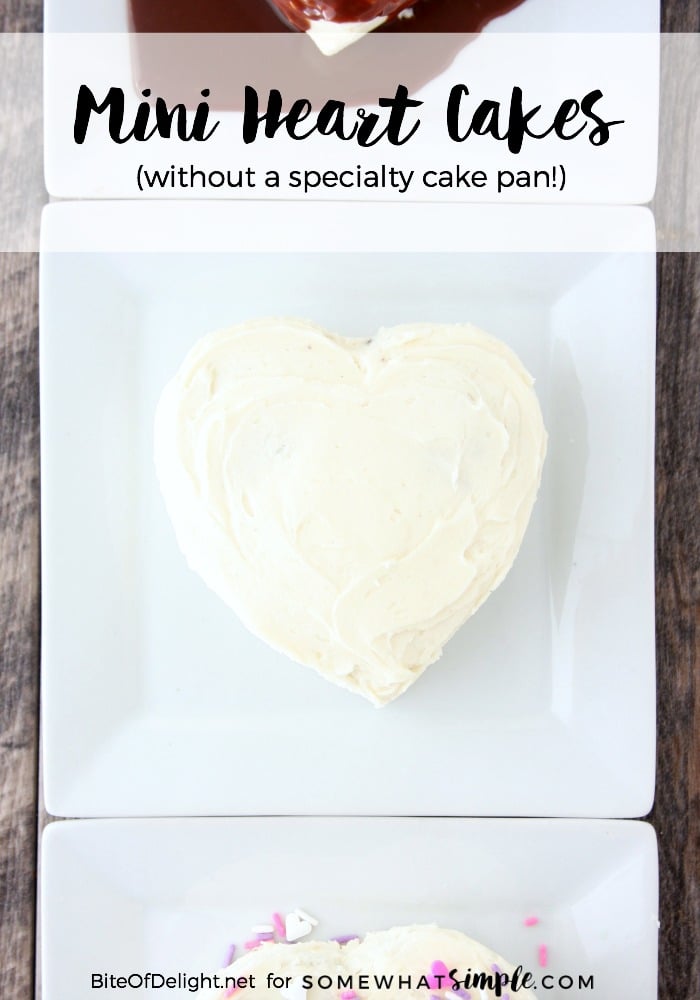 All you need for these cute mini heart cakes is a square 8×8 pan and a cupcake pan. How easy is that?! And to make this dessert even easier, I like to start with a Devil's Food cake mix. I doctor it up just a little and then pour and bake!
Mini Heart Cakes (without a specialty cake pan!)
Ingredients:
1 box devil's food cake mix
3 eggs
1/2 cup oil
1/2 cup water
1 cup sour cream
Directions:
Preheat oven to 400º. Grease or line 9 cavities of a cupcake pan. Grease a square 8×8 pan. Set aside.
Add all cake ingredients to a mixing bowl and beat for 2 minutes.
Fill NINE greased or lined cupcake cavities 3/4 full. Place in oven for 12-14 minutes, or until a toothpick inserted in the center of a cupcakes comes out clean.
As the cupcakes bake, pour remaining batter into greased 8×8 square pan. Once the cupcakes are removed from the oven, reduce heat to 350º and bake the cake for 30-35 minutes, or until a toothpick inserted in the center comes out clean.
Cool cake and cupcakes completely.
Once cool, cut each cupcake in half, and cut the square cake into nine equal pieces (cut it into thirds horizontally and vertically).
Using store-bought frosting or Simple Buttercream Frosting, "glue" 2 cupcake halves next to each other on one cut square (using adjacent sides). If your cupcakes don't match up evenly with the lines of the square cakes, use a sharp knife to carve as necessary to achieve desired heart shape.
Repeat with all cupcakes and cake squares. If the cake is very soft, cover and freeze to make frosting it easier. Otherwise, you will be dealing with a lot of crumbs when you spread your frosting.
Place Mini Heart Cake on a sheet of parchment to make transferring and cleanup easier. Spread a thin layer of frosting over entire cake (a crumb coat). Refrigerate until crumb coat is set. (If your cake didn't produce crumbs while frosting, feel free to omit the crumb coat and start decorating!)
Frost and decorate as desired.
Yield: 9 mini heart cakes
Notes:
If your cupcakes tend to sink or spread over the edges, try heating your oven to 400º and bake for 12-14 minutes. This higher heat will force your cupcakes up more quickly as they bake, preventing the batter from spilling over the sides or sinking in the middle. If your cupcakes turn out well at 350º, then stick with that! This higher heat method helps my cupcakes bake to just the right height for these cakes.
Sometimes I add a cup of chocolate chips to the batter (which I did the day I photographed these cakes). They can stick to the bottom of the cake pan, so consider using parchment paper to remove it more easily from the pan.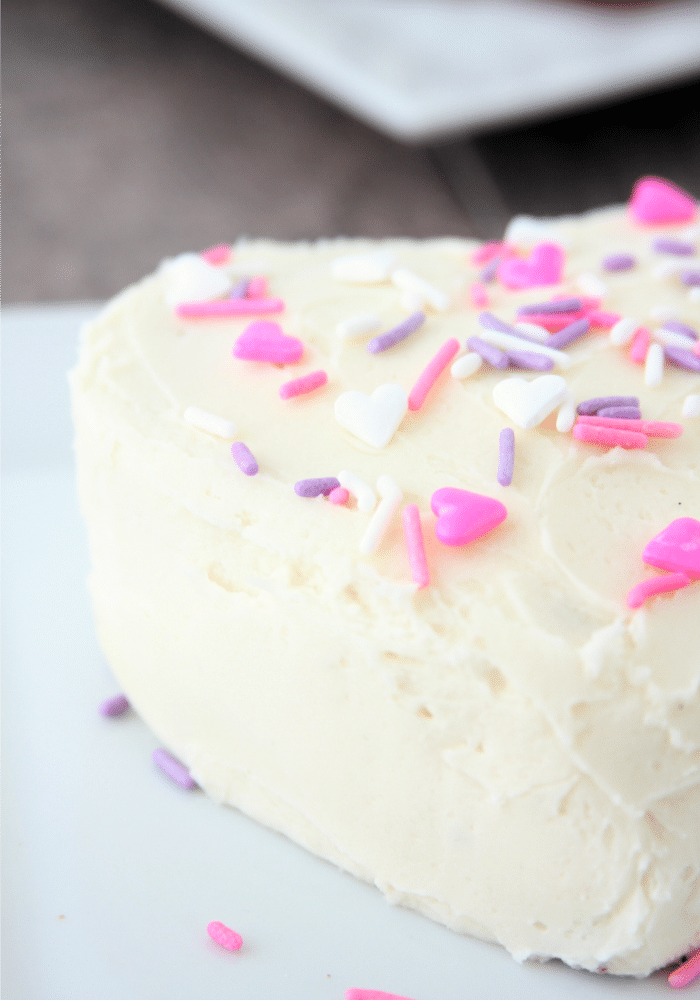 For more "love"ly Valentine inspiration, don't miss these recipes: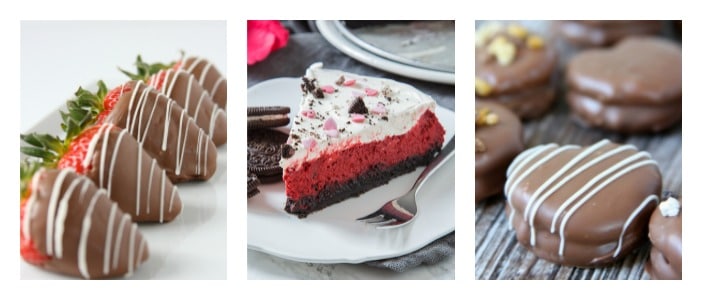 Chocolate Covered Strawberries // Red Velvet Cheesecake // Chocolate Covered Caramel Stuffed Pretzels