This velvety smooth red velvet cheesecake sits on a base of Oreo cookies and is topped with whipped cream. A glorious Valentine's dessert for your loved ones!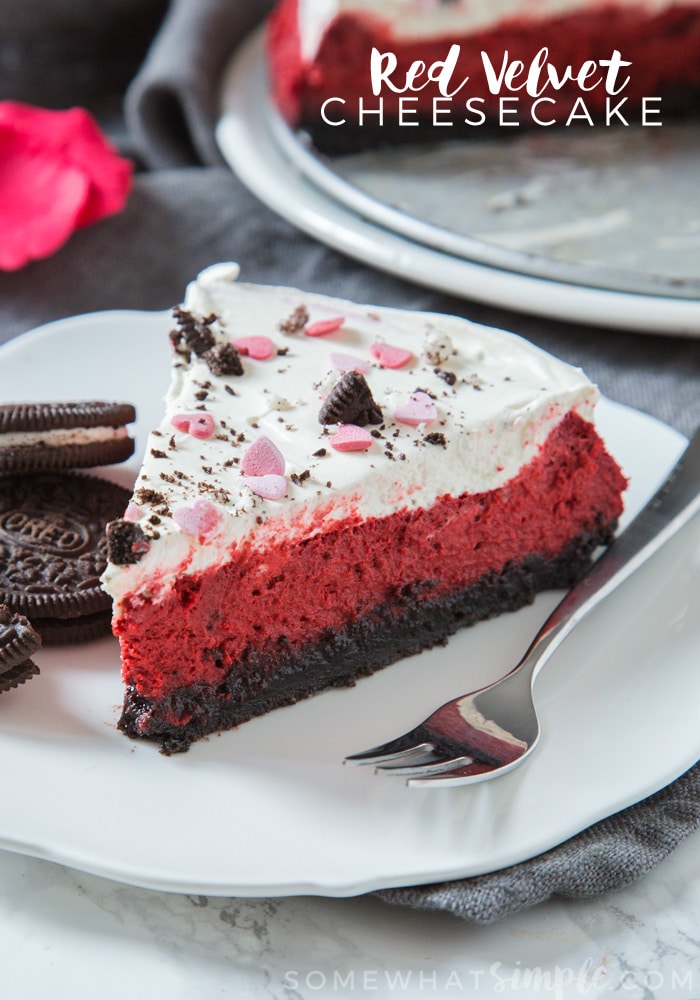 Somehow, this is the first time I've ever made red velvet in cheesecake form! I have a feeling it won't be the last though because this cheesecake is something else! It's creamy, smooth and has that not quite chocolate, not quite vanilla flavor that we all love!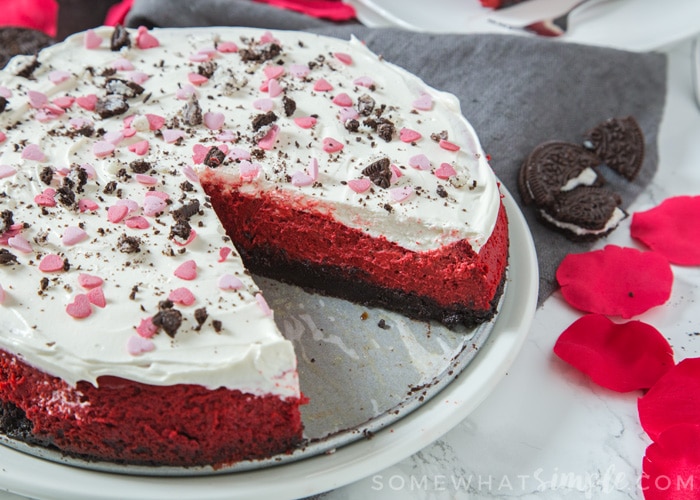 I didn't add any sugar to the base, so it would be the perfect juxtaposition to the sweet cheesecake and it totally works. I just love how the base cuts through the sweetness a little.Of course, if you prefer to have a sweet base and cheesecake, then add 2tbsp of sugar to the cookie crumbs when making the base.
RED VELVET CHEESECAKE
Makes One 9 inch cheesecake | Serves 10-12
INGREDIENTS – 
for the base:
2 and ½ cups (300g) crushed Oreos, measured after crushing
1 stick (113g) unsalted butter, melted and slightly cooled
2tbsp white sugar (optional; I didn't add it)
for the cheesecake: 
16oz/450g full fat cream cheese, at room temperature
¾ cup (150g) white sugar
1 cup (240g) sour cream
2 large eggs
2tsp vanilla extract
1tsp white vinegar
Pinch of salt
2tbsp cocoa powder
1oz bottle of red food colouring, or a small amount of gel colour; I used a Sugarflair gel and only needed a small amount.
Ingredients for the topping:
1 and 1/2 cups (360ml) heavy cream, whipped to soft peak
Heart shaped sprinkles and Oreo crumbs to decorate, optional
DIRECTIONS:
Preheat the oven to 325F/160C and grease and line a 9 inch round spring form cake tin.
Place your crushed Oreos into a medium sized bowl with the sugar (if using) and stir to combine. Pour in the melted butter and stir until all of the cookie crumbs are coated in butter.
Tip the Oreo mixture into your prepared pan and press into a level layer. I use the bottom of a ½ cup measure sprayed with cooking spray to press my crumbs in.
Place in the oven for 10-12 minute until the base feels slightly firm to the touch and is a little puffy. Leave to cool for 5 minutes.
Meanwhile, place cream cheese and sugar into a large bowl and beat with a hand mixer until well combined.
Add in the sour cream, eggs and vanilla extract and beat until smooth and well combined.
Mix in the vinegar, salt and cocoa powder and mix on low until just combined and there are no lumps.
Add in red food coloring, a little at a time, mixing in between each addition until you reach desired color.
Pour the cheesecake mixture onto the base and smooth into a level layer with the back of a spoon/spatula. Tap the tin a few times on the worktop to dissipate any air bubbles.
Place in the oven for 50-60 minutes until a toothpick/skewer inserted into the centre comes out clean. Check after 40 minutes and then keep checking every 10 minutes to make sure it doesn't burn!
Leave to cool in the oven with it off and the door open for around 30 minutes before removing to cool completely at room temperature.
To decorate: Spoon the whipped cream into the centre of the cheesecake and spread with a small angled spatula until the top of the cheesecake is covered in a thin layer of cream.
Sprinkle Oreo crumbs and heart shaped sprinkles over the cheesecake and serve.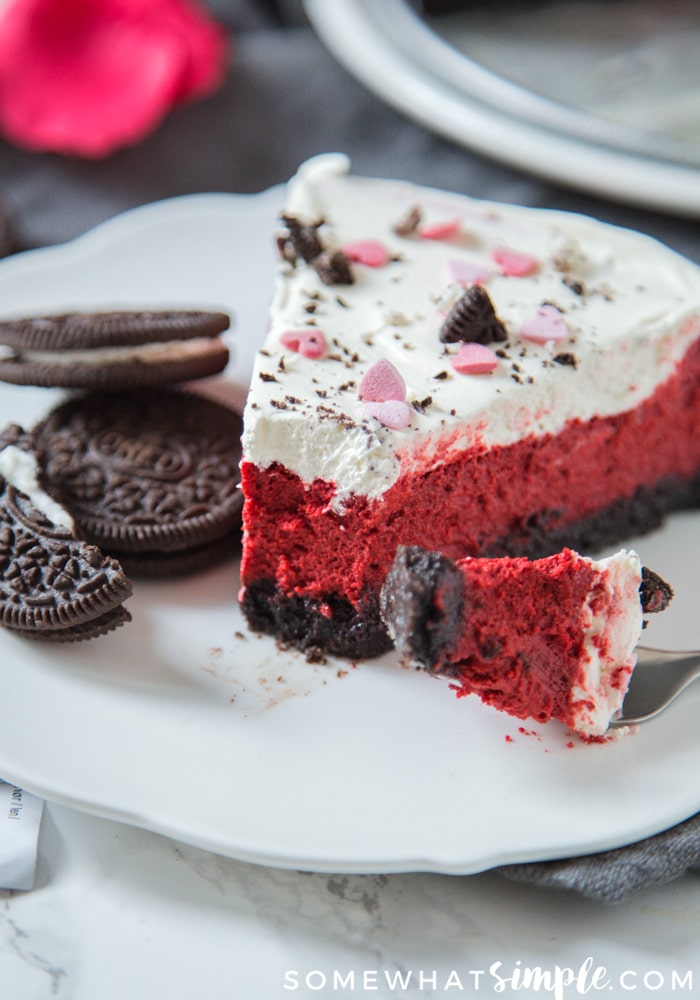 Red Velvet Cheesecake will keep covered, in the fridge for 3 days.
Liked this post? Then take a look at some other Valentine's Day recipes:
Red Velvet Better Than Anything Cake | Cupid Floats | Red Velvet Pancakes