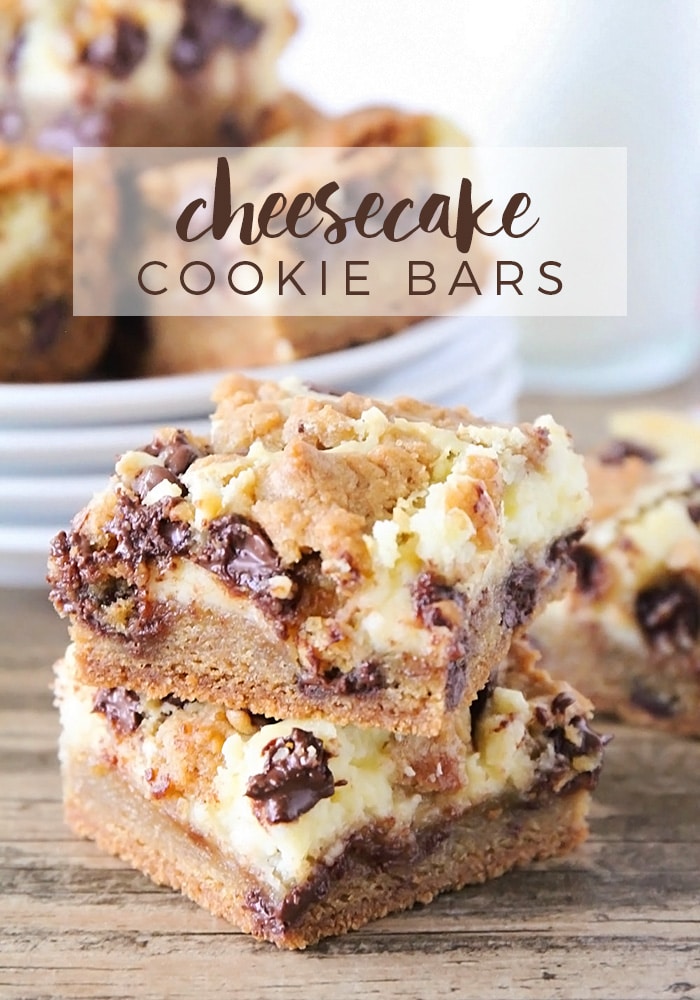 These cheesecake cookie bars will quite possibly be the best thing you have ever tasted! Made with a chewy base of chocolate chip cookies and topped with a delicious cream cheese blend, this easy recipe is simply irresistible.
I love these cookie bars because they are so easy to make just like these Cake Mix Cookies, Homemade Brownies and Strawberry Shortcake recipes.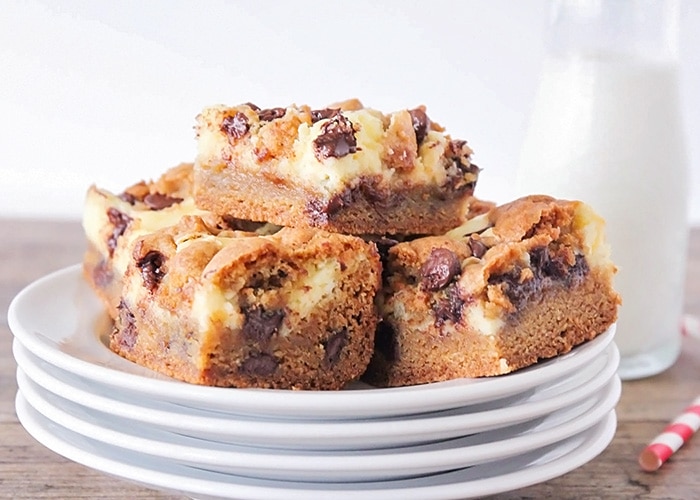 Easy Cheesecake Cookie Bars
I don't know what I enjoy more, chocolate chip cookies or cheesecake. Needless to say, when I made this recipe for the first time, my taste buds just about jumped of my tongue and kissed me! Combining my two favorite desserts into one recipes is probably one of the best things I've done in my life.:)
A couple weeks ago, I shared a recipe for these Easy Chocolate Chip Cookies. (Have you made them yet? What are you waiting for?!?) This recipe uses those same cookies as a base but then kicks it up a notch! Are you ready to make some delicious cheesecake chocolate chip cookie bars? This recipe is super simple and you are going to love them, I promise!
How To Make Chocolate Chip Cookie Cheesecake Bars
Preheat your oven to 350 degrees F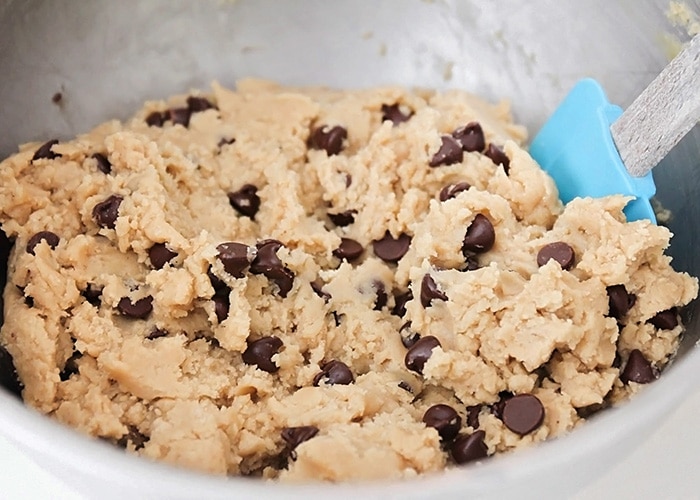 Make 6 cups of your favorite Chocolate Chip Cookie dough recipe
Lightly grease a 9 x 13 baking pan
Hold back about 2 cups of the chocolate chip cookie dough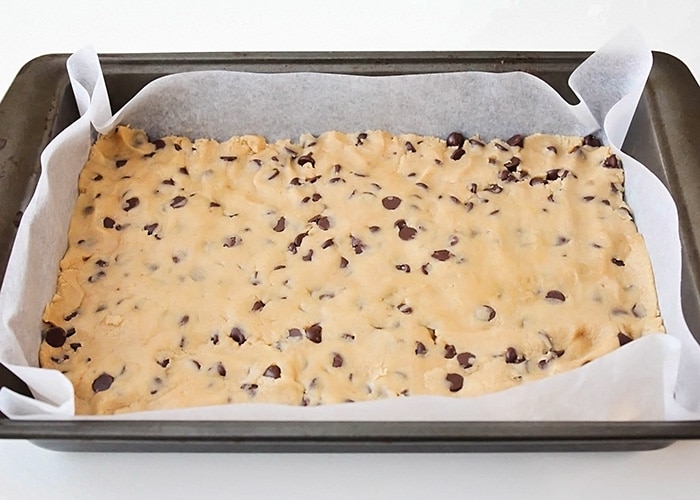 Evenly press the remaining dough into the baking pan
Using a small mixing bowl, combine the cream cheese, eggs and sugar together using an electric hand mixer
On medium speed, beat everything together until the mixture is fully blended and has a smooth texture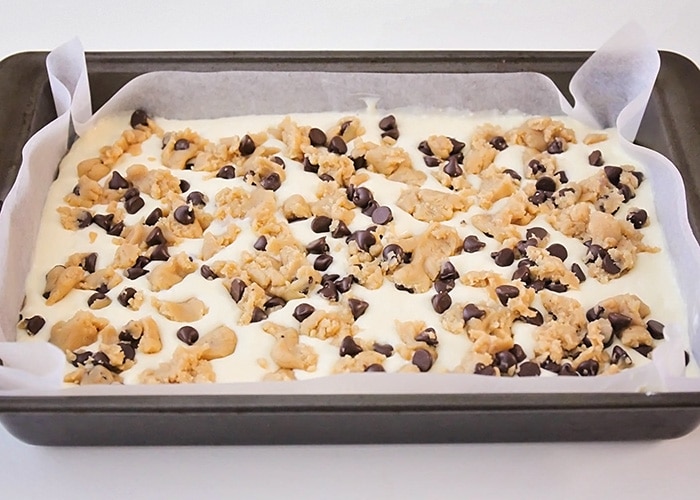 Spread the cream cheese mixture evenly over the cookie dough in the pan
Break the cookie dough you held back into small pieces and then sprinkle them over the cream cheese mixture
Bake in the oven for 35 minutes or until the center has almost set
Remove from the oven and let the pan completely cool before serving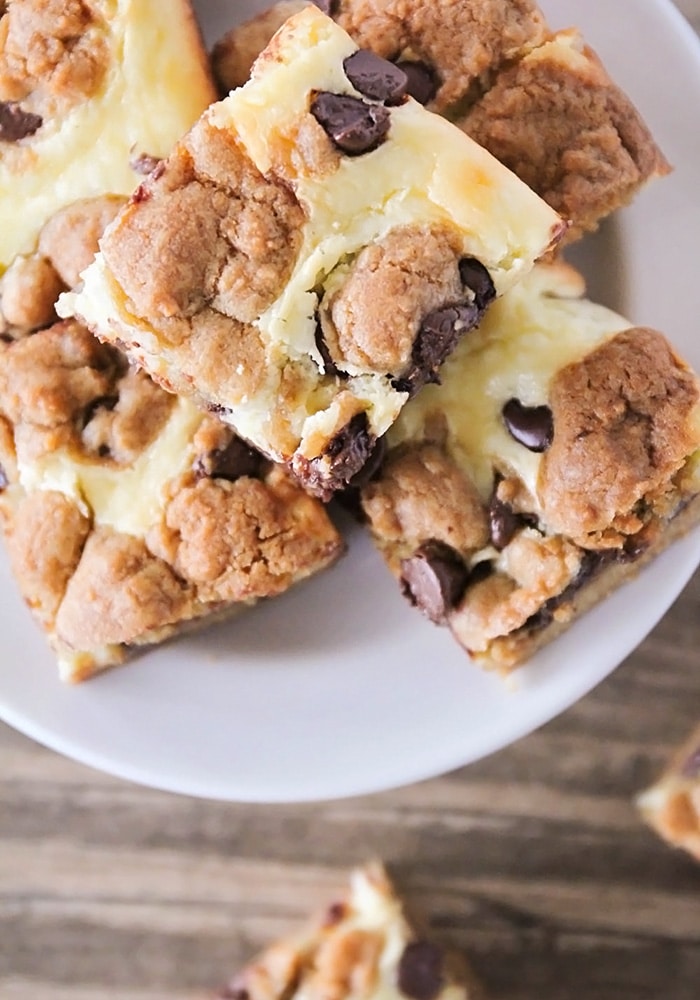 Tips For Making Cheesecake Bars
If you have any cookie bars left over, be sure to store them in an airtight container in the fridge. If you leave them out on the counter, the cream cheese in the bars will go bad.
While you can use store bought cookie dough, I definitely recommend making your own for the best taste
If you want thicker bars, use a smaller pan but you will need to increase the baking time in order for them to cook all the way through
Add nuts or any of your other favorite toppings to add variety to this recipe
More Cookie Bar Recipes
Cheesecake Cookie Bars Recipe
This recipe really is life changing and you have to try it! Leave us a comment below and let us know how much you enjoyed this recipe. Or tag us on social media with a picture of you serving these delicious cookie bars because we always love seeing you enjoying one of our recipes!
Cheesecake Cookie Bars Recipe
These Cheesecake Cookie Bars will quite possibly change the way you make chocolate chip cookies forever!
Ingredients
6

cups

approx. of raw chocolate chip cookie dough

2

pkgs.

,

8 oz each cream cheese

1/2

cup

sugar

2

eggs
Instructions
Preheat oven to 350. Lightly grease a 9x13 baking pan.

Reserve about 2 cups of your cookie dough & press remaining dough evenly into prepared pan.

In a small mixing bowl, combine cream cheese, sugar and eggs. Beat with electric mixer at medium speed until well blended and smooth.

Spread cream cheese mixture over the cookie dough in your pan.

Break reserved dough into small pieces and sprinkle over cream cheese mixture.

Bake 35 minutes or until center is almost set, then let cool completely in pan on wire rack.

Store leftovers covered in refrigerator.
Nutrition
Other Notes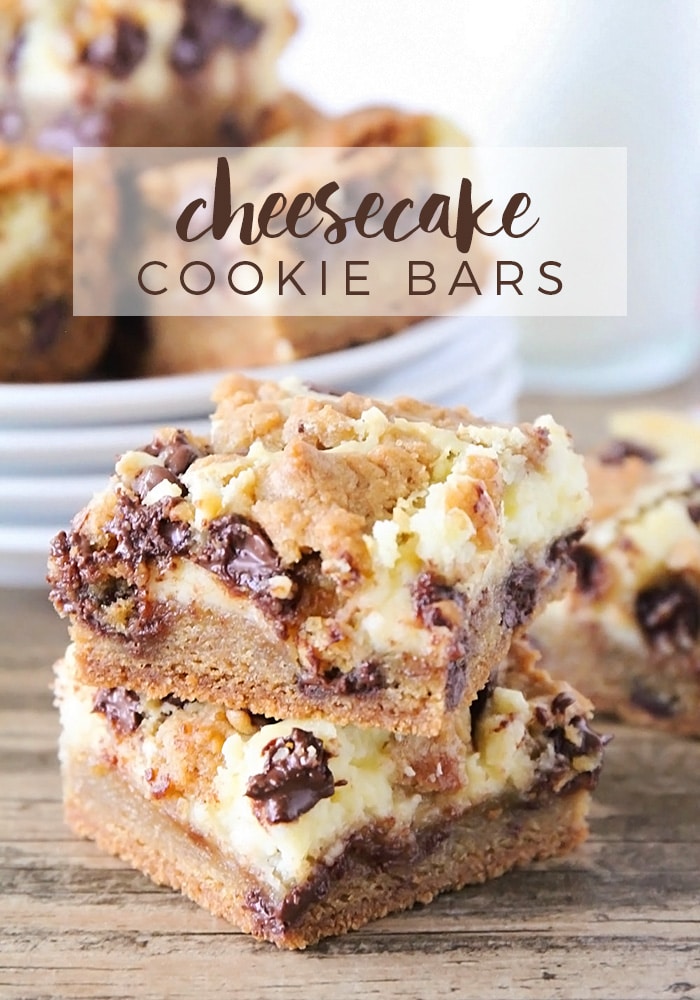 This post originally published on Somewhat Simple in November 2013 and was updated with prettier pictures in December 2016.