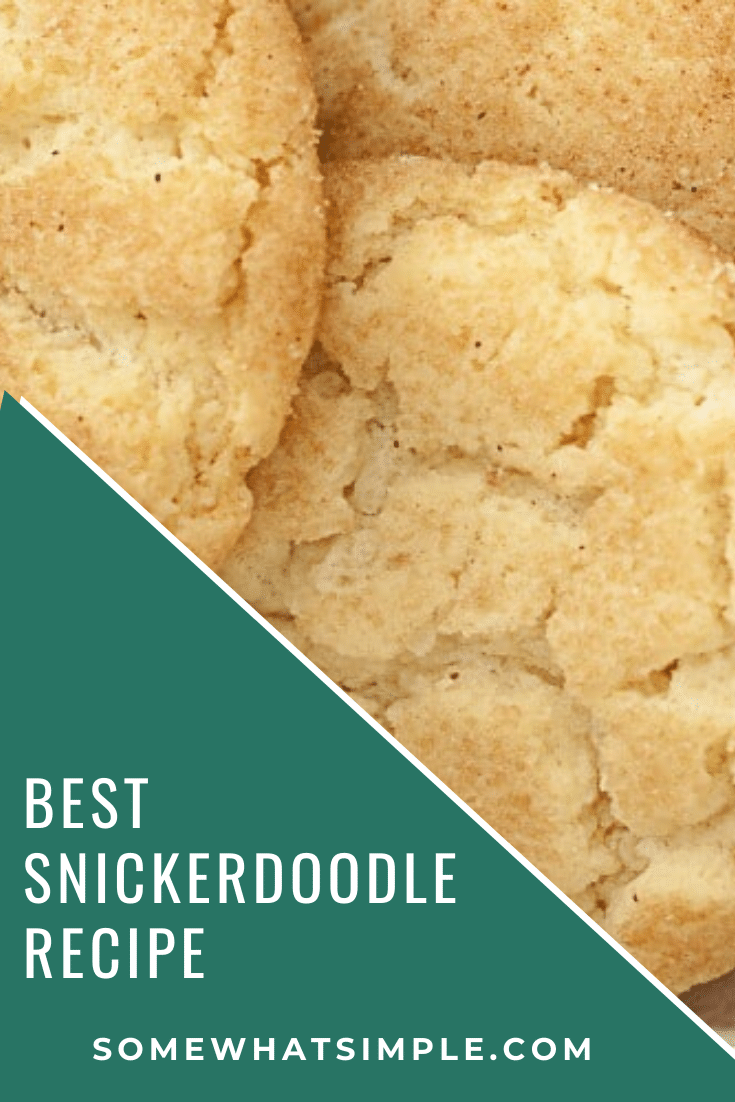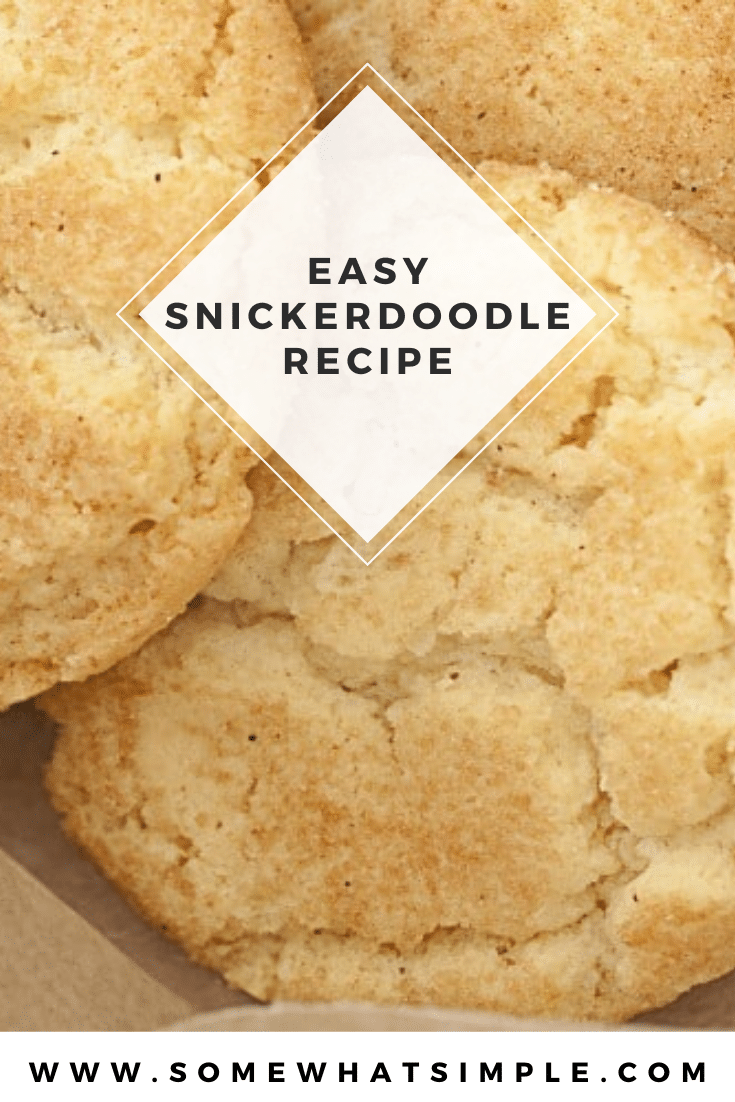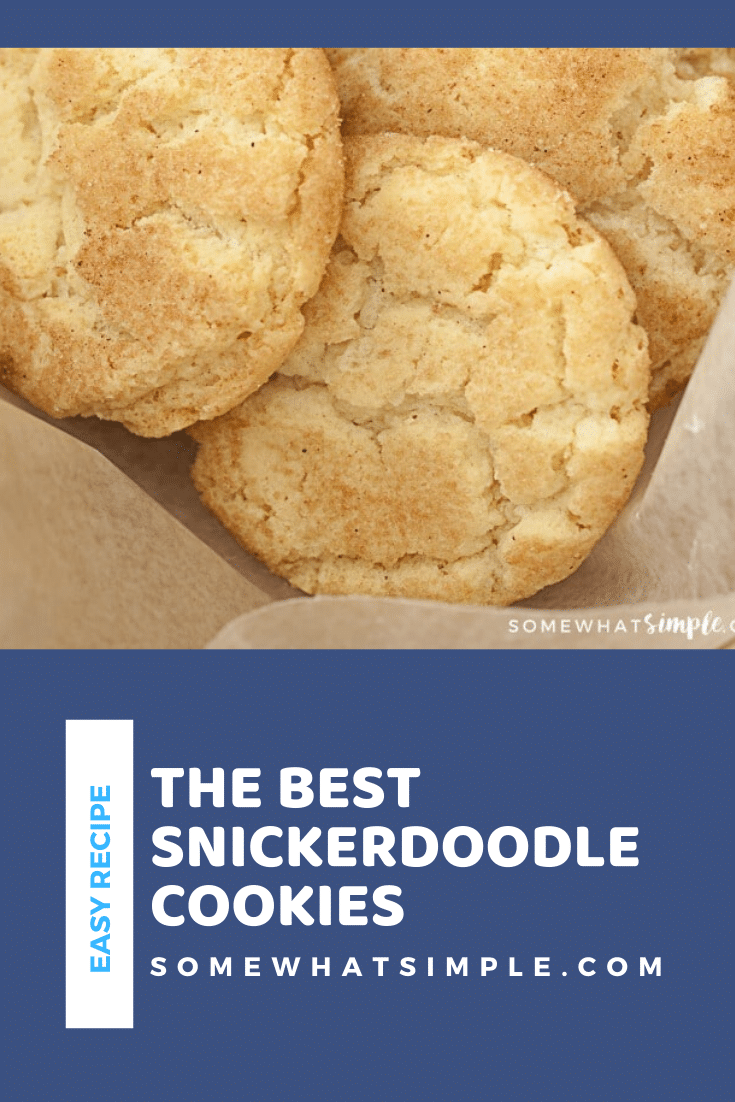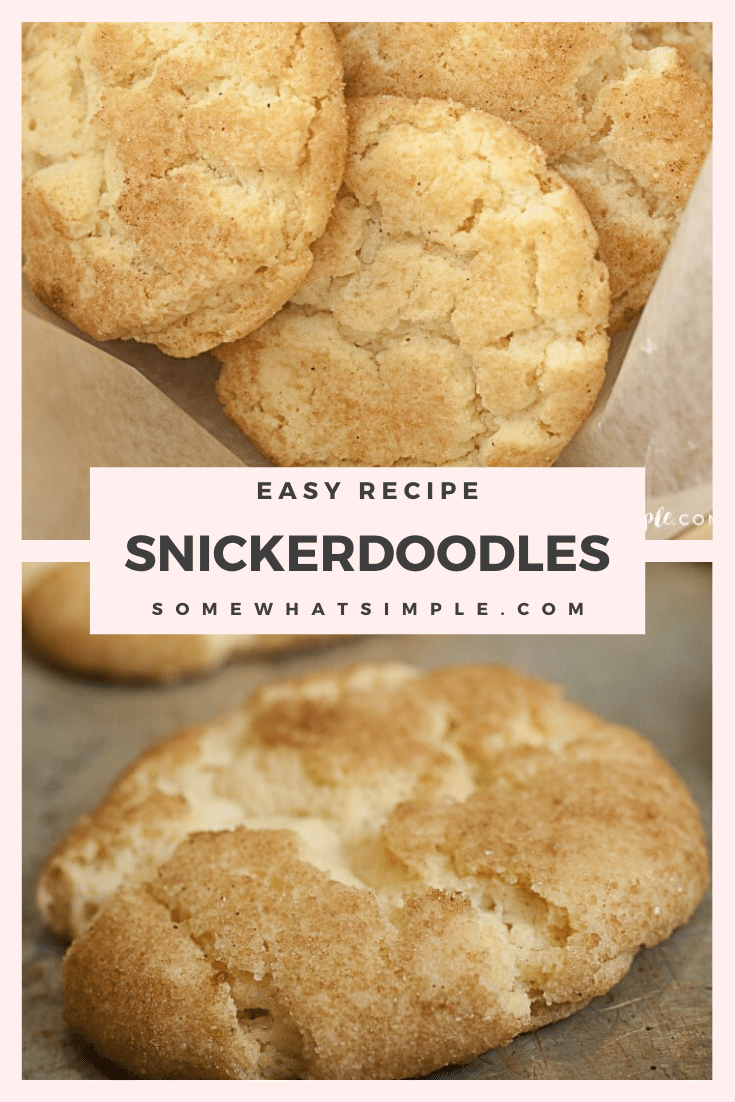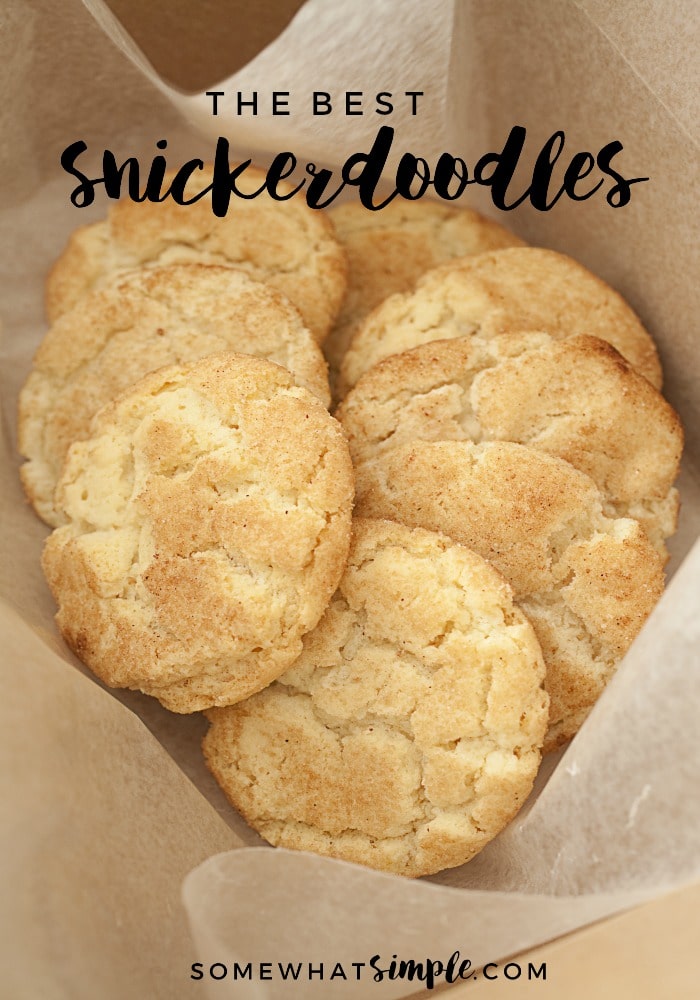 Snickerdoodles are the ultimate comfort cookie, and this easy snickerdoodle recipe is the best one I have EVER tried! These snickerdoodles are super easy to make, and the result is a soft, delicious cookie you will want to make over and over again!
These cookies are some of my favorite treats to bake because they are so easy to make and turn out great every time. Some of my other favorite desserts to make are these delicious Homemade Brownies, Strawberry Cake and Chocolate Fudge Cupcake recipes.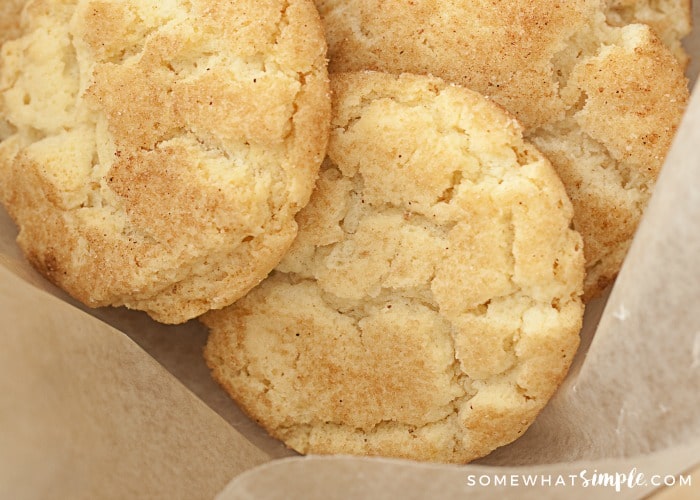 Easy Snickerdoodles
Raise your hand if you'd like a crowd-pleasing, taste bud-tempting cookie that will have your house smelling delicious as soon as you pop them in the oven? This Snickerdoodle recipe is soft, sweet, and totally satisfying! I got this recipe years ago from my sister in law, a self-proclaimed cookie connoisseur. She was given a delicious recipe from a friend and made a couple of tweaks to make it better than ever!
Because, if you're like me, you know there is nothing more disappointing than biting into a cookie and having crunchy crumbs fall out of your mouth. (My teeth need to sink into the cookie, not chip away at it!) This easy snickerdoodle recipe will give you the softest cookies and will not disappoint. It is my absolute favorite recipe!
What The Difference Between Sugar Cookies & Snickerdoodles
While both cookies look similar and use a lot of the same ingredients, there are some key differences between the two. One main difference is that snickerdoodles use the unique ingredient of cream of tartar. The cream of tartar gives the cookie a unique tangy taste that sugar cookies don't have.
Also, snickerdoodles are always covered in a blend of cinnamon and sugar and have a signature "cracked" appearance, while sugar cookies have a smooth textured and can be enjoyed with numerous toppings.
How To Make Snickerdoodles
Preheat the oven to 400 degrees F
In a large mixing bowl, mix 1 1/2 cups of sugar, margarine, shortening and eggs together until they have been fully blended
Using a different bowl, mix the flour, baking soda, cream of tartar together
Add the dry ingredients to the blended ingredients in the large mixing bowl and mix everything together until blended
Combine 1/2 cup of sugar and 4 teaspoons of cinnamon in a small bowl
Make small balls of dough that are approximately 1 1/2 inches in diameter
Roll the balls of dough in the cinnamon and sugar mixture and then place them onto a baking sheet
Bake for approximately 8 – 10 minutes
Let your cookies cool until they are warm to the tough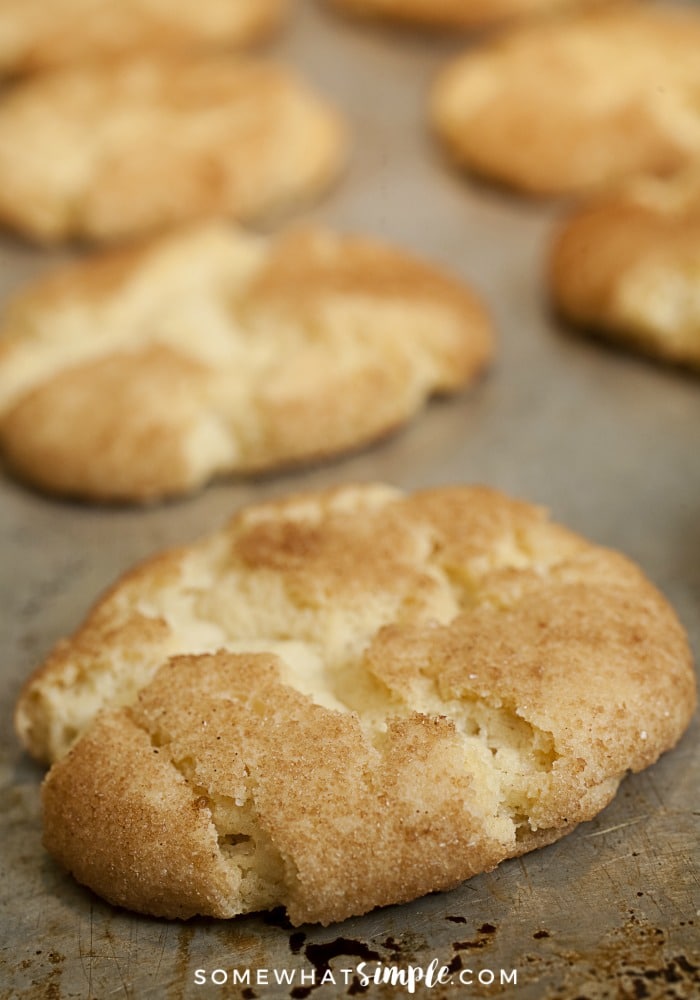 How To Get Soft Cookies Every Time
The key to this snickerdoodle recipe is to not over bake them. Each oven is a little different but you don't want to cook them longer than the max recommended time of 10 minutes or they will become crispy. Once they begin to turn a golden brown on top, they're ready to take out.
Softened the margarine by leaving it out on the counter about 30 minutes before you start making the cookies. Don't warm it up in the microwave or it'll be too hot and it will cause the cookies to flatten out in the oven and they will cook faster and won't be as soft.
Make sure the balls of dough are uniform in size so they will cook evenly. You can always use a small ice cream scoop to measure if that's easier.
Store your cookies in an airtight container if you're not going to eat them right away so they stay soft and fresh.
Can You Freeze Snickerdoodles
Yes, you can easily freeze this recipe before or after it has been cooked. If you want to freeze the dough; first, roll it into a log shape and then tightly wrap it in plastic wrap before freezing it. When you're ready to use it, let the dough thaw until you are able to roll the dough into balls.
If you want to freeze cookies that have been cooked, just put them into a freezer-safe Ziploc bag and place them in the freezer. In either case, both the dough and the cookies will stay fresh for at least 2 months. Just be sure to write the date on the outside so you don't forget when you made them.
More Easy Cookie Recipes
Snickerdoodle Cookie Recipe
These cookies are some of my all-time favorites! Leave us a comment below and let us know how they turned out or tag us on social media the next time you make these because we always love to see you enjoying one of our recipes!
Snickerdoodle Recipe
Servings:
3
dozen cookies
Snickerdoodles are the ultimate comfort cookie, and this snickerdoodle recipe is the best one I have EVER tried! These snickerdoodles are super easy to make, and the result is a soft, delicious cookie you will want to make over and over again!

Ingredients
1/2

Cup

Margarine - softened

1/2

cup

shortening

2

eggs

2

cups

sugar

2 3/4

cups

flour

2

teaspoons

cream of tartar

1

teaspoon

baking soda

4

teaspoons

cinnamon
Instructions
Preheat oven to 400°.

In a large mixing bowl, mix margarine, shortening, 1 1/2 cups sugar and eggs until well blended.

In a separate bowl, mix together flour, cream of tartar and baking soda. Add dry ingredients to sugar mixture and mix until just blended.

In a small bowl combine 1/2 cup sugar and 4 tsp. cinnamon.

Shape dough into 1 1/2" balls and roll into sugar and cinnamon mixture.

Place on ungreased cookie sheet and bake for 8-10 minutes.

Let your cookies cool for several minutes on the cookie sheet before putting them on a baking rack.

Serve and share your snickerdoodles with your family and friends... or consume them all yourself with a tall glass of milk!
Nutrition
Other Notes