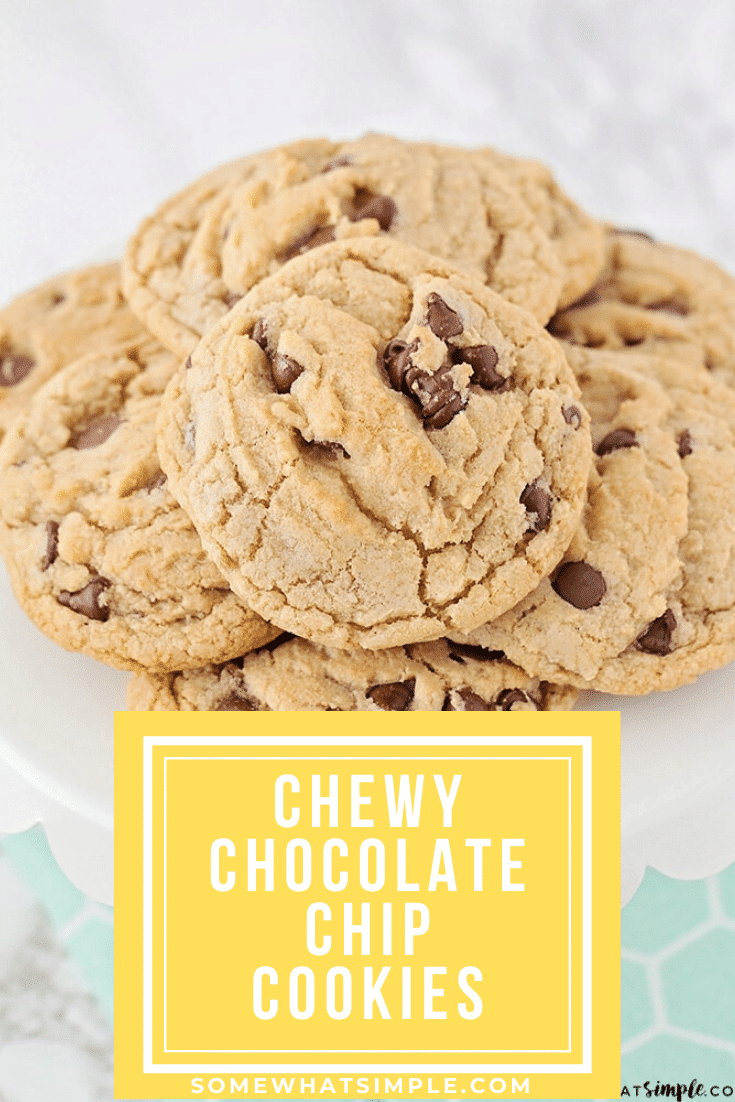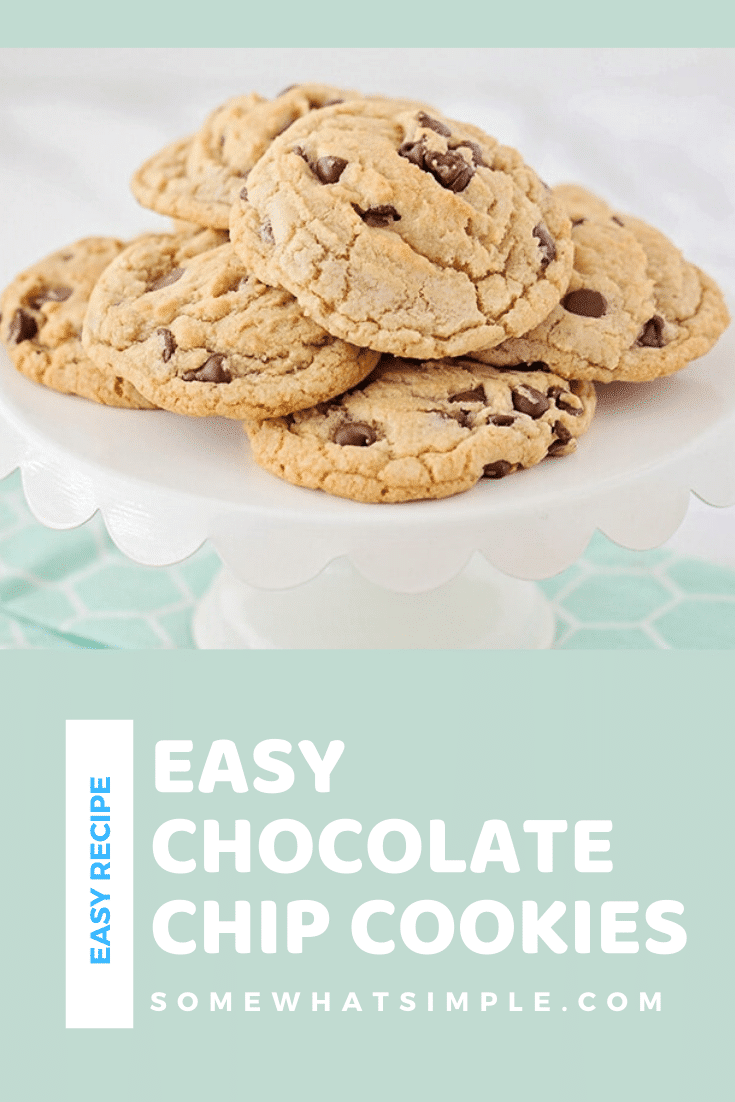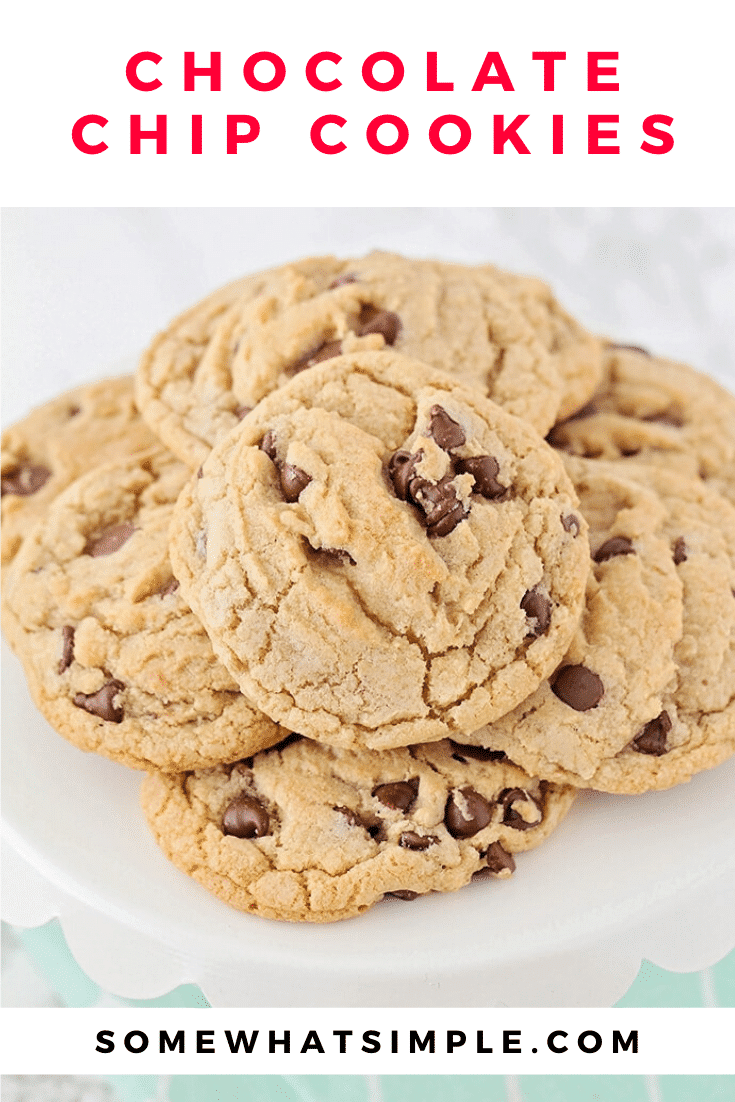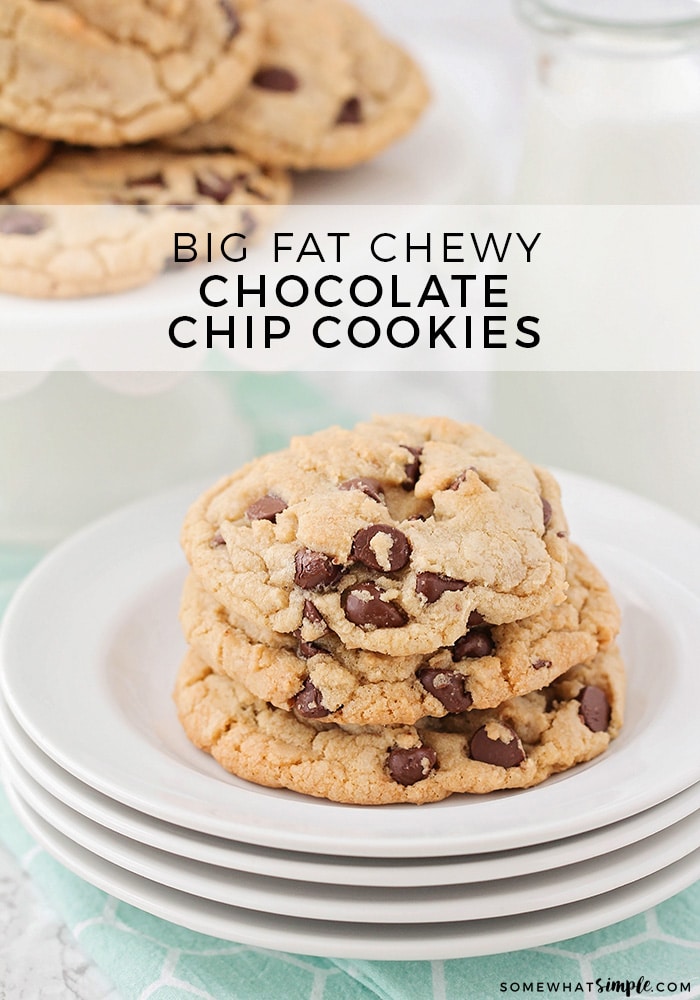 These chewy chocolate chip cookies are thick, soft and jam packed with chocolate chips! They are big and delicious and super simple to make!
If you love chocolate chip cookies, you'll also love these Pumpkin Chocolate Chip, Peanut Butter Chocolate Chip and Oatmeal Turtle Chocolate Chip cookie recipes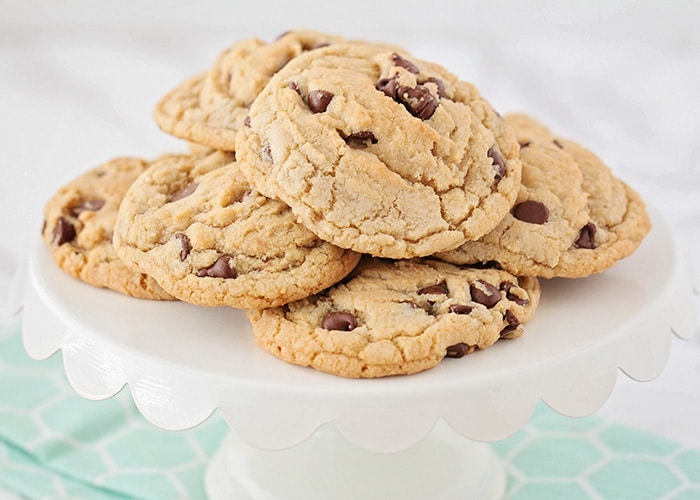 A Family Chocolate Chip Cookie Recipe
This recipe comes courtesy of my sister-in-law who, unlike me, is an excellent baker! She said this recipe totally replaced her go-to chocolate chip cookie recipe, and after one bite of this deliciousness, I can totally see why!!! I'll be honest, I don't do well with recipes that require precise measurements, so a lot of baking attempts end in messy failures for me. But these cookies? I've never messed them up. Never. Which means if I can make them, you can too!
Did I mention these cookies are also huge? Like, the size of your hand. (Do I have your attention yet?). If you, or anyone you know, loves chewy chocolate chip cookies made in under 30 minutes, then this recipe is a must make!
How To Make Big, Fat Chocolate Chip Cookies
Prep – Before you get started, preheat your oven to a toasty 325 degrees F. I also like to line my cookie sheet with a baking mat or some parchment paper.
Dry Then Wet – First, you'll want to mix the dry ingredients together in a large mixing bowl. Then, in a separate bowl, you'll mix the wet ingredients together until fully blended. Next, pour the wet ingredients into the bowl of dry ingredients and then give it a good stir until everything has fully mixed together. Next, you'll gently fold in the chocolate chips until they're evenly distributed.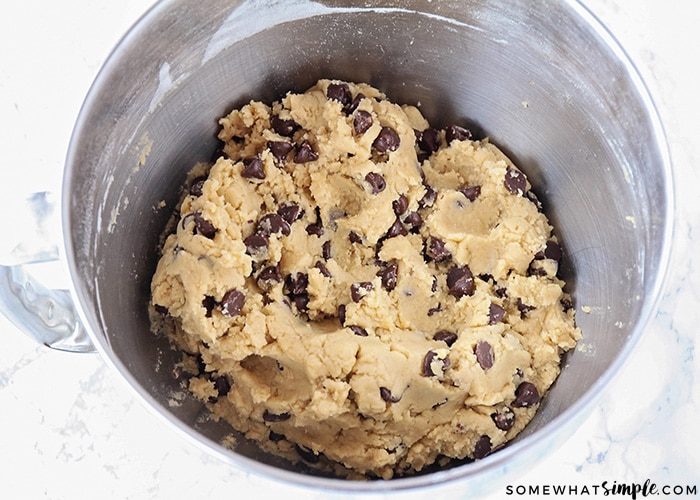 Ball'em Up – To get your chocolate chip cookies big and fat, you'll need to use more dough for each cookie. You'll want to use about 1/4 cup of cookie dough for each ball. Space them about 2-3 inches apart to get them room to spread while they're baking.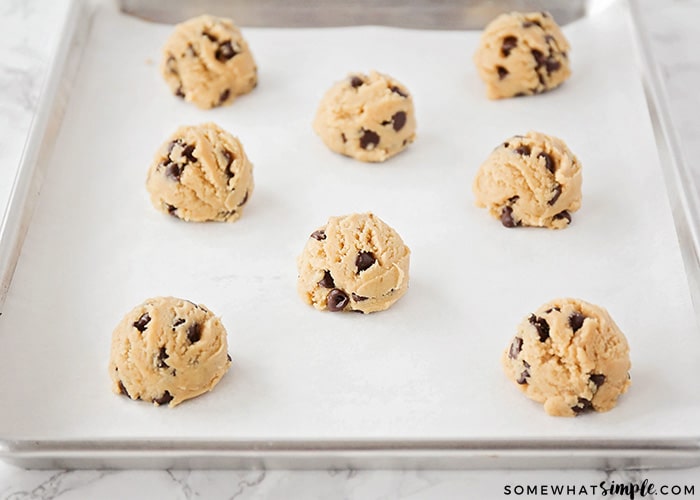 Cook – Bake the chocolate chip cookies for about 15-17 minutes or until the edges of the cookies turn golden brown.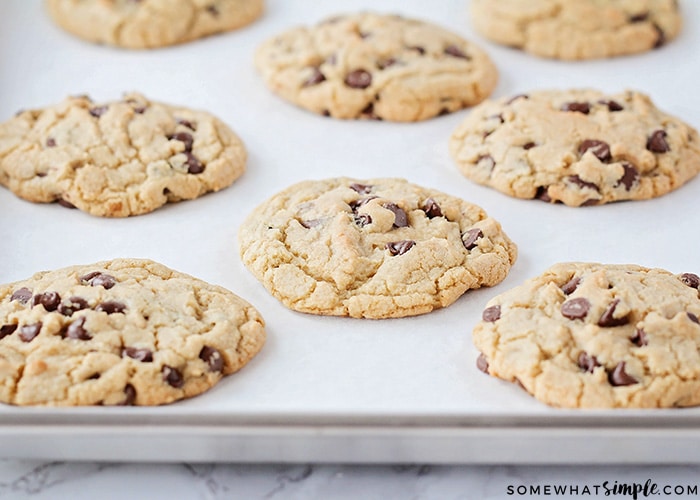 Cool – Once you remove the cookies from the oven, let them sit on the baking sheet for a few minutes to continue baking. Then, transfer them to a cooling rack to completely cool before serving.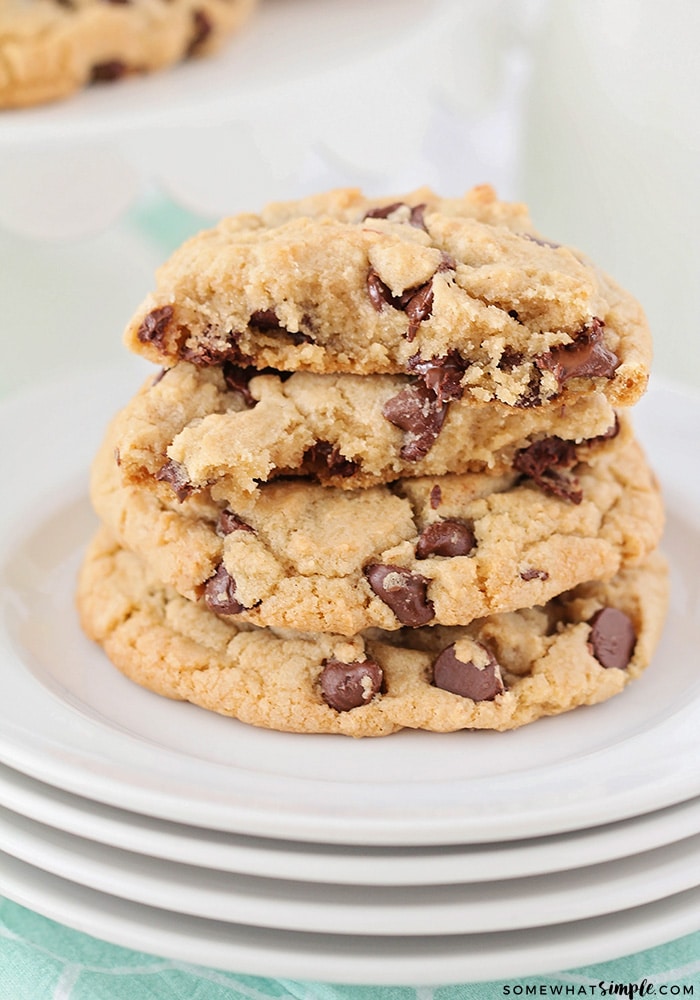 Recipe Tips & Storage
Softer Cookies – To get your cookies extra soft, you'll want your ingredients to be room temperature before mixing them together. Leave them out for about 30 minutes before starting. You may need to leave the butter out a little longer just to be on the safe side.
Storage – Be sure to store these in a Ziploc bag to keep them from going stale. You can also freeze these chocolate chip cookies for up to 3 months if you want.
More Easy Cookie Recipes
Big, Fat, Chewy Chocolate Chip Cookies Recipe
These chewy chocolate chip cookies are thick, soft and jam packed with delicious chocolate chips! Makes: 8-12 large cookies
Ingredients
2

cups

flour

1/2

teaspoon

baking soda

1/2

teaspoon

salt

3/4

cup

unsalted butter

,

melted

1

cup

packed brown sugar

1

tablespoon

vanilla extract

1/2

cup

white sugar

1

egg

1

egg yolk

2

cups

semisweet chocolate chips
Instructions
Preheat the oven to 325 degrees and line a cookie sheet with a non-stick baking mat.

In a large bowl, mix the flour, baking soda and salt.

In a medium bowl, mix together the melted butter, brown sugar and white sugar until well combined. Add the vanilla, egg, and egg yolk and mix well.

Add the wet ingredients to the dry ingredients and stir until blended.

Fold in the chocolate chips and stir lightly with a spoon.

Form the cookie dough into individual balls that are about 1/4 cup and place them on the cookie sheet 2- 3 inches apart.

Bake for 15 to 17 minutes, or until the edges are light brown.

Let them cool on the baking sheets for a few minutes to bake just a bit more before transferring to wire racks to cool completely.
Nutrition
Other Notes