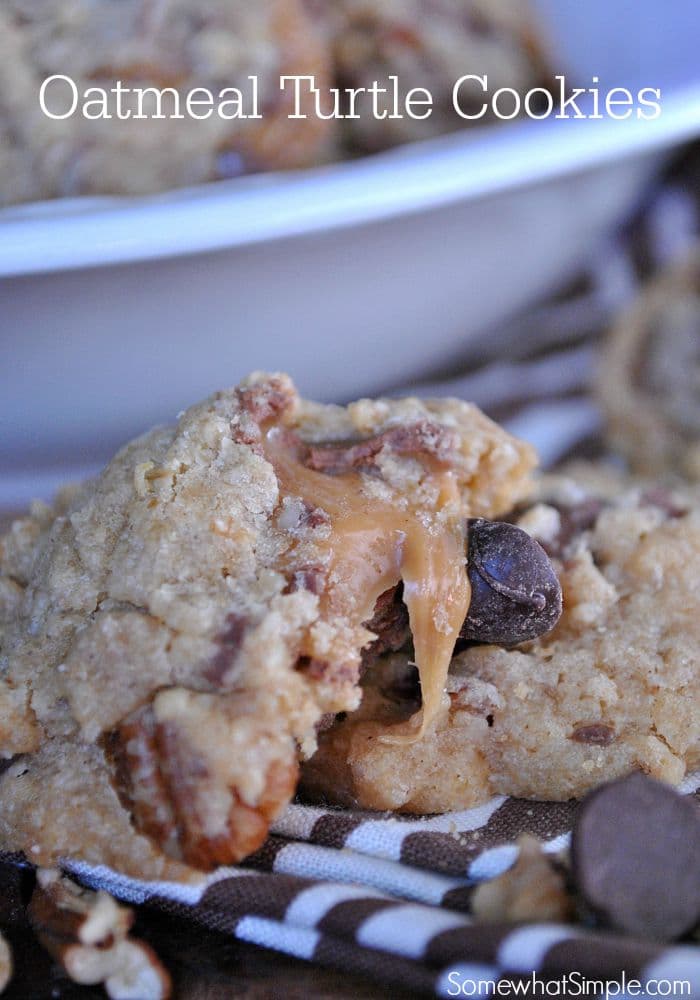 I love all desserts, and if I'm being totally honest, I really don't discriminate much. Chocolate or white chocolate, frosting or no frosting, sprinkles or plain– it really doesn't matter to me– I love it all! However, there are two things you will never catch me putting in my mouth: carrot cake and/or raisins.
I've always found oatmeal raisin cookies to be the most irritating raisin-containing dessert. Mostly because they're so deceiving! Even up close, sometimes you can't tell if it's oatmeal raisin or oatmeal chocolate chip. And since I'm always looking for a cookie to put in my mouth, I've been duped too many times into believing I've got a chocolate chipper, when it's really a raisin cookie instead.
Let me assure you, there are no raisins to be found in these oatmeal turtle cookies! Instead, you'll find them chock full of chocolate, caramel, and pecans. Just right for an anti-raisin, oatmeal cookie lover like myself.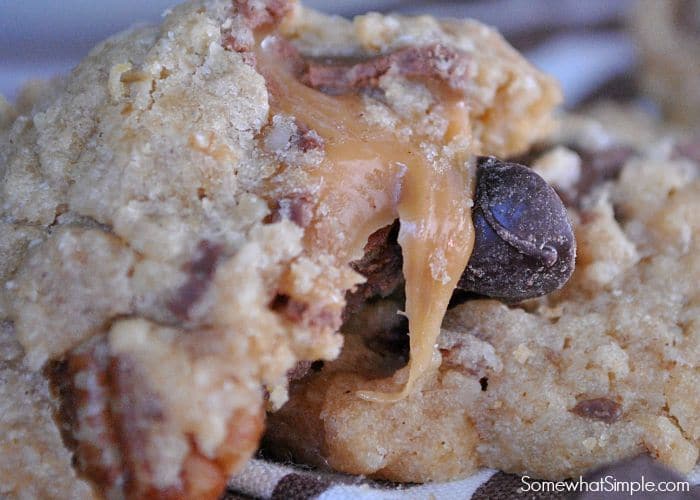 Oatmeal Turtle Cookies
INGREDIENTS:
3/4 c. butter
1 c. packed brown sugar
1/2 c. granulated sugar
1 tsp. baking powder
1/4 tsp. baking soda
1/2 tsp. ground cinnamon
2 eggs
1 tsp. vanilla
1 3/4 c. all purpose flour
2 c. rolled oats
1 c. rolos, unwrapped and halved
1/2 c. semi-sweet chocolate chips
1/2 c. chopped pecans
DIRECTIONS:

In a stand mixer, beat together the butter, the brown sugar, and the granulated sugar for about 30 seconds. Add baking powder, baking soda, and cinnamon. Beat until combined.
Add eggs and vanilla, beating until combined and scraping down the sides.
Beat in as much flour as you can with the mixer, using a wooden spoon to mix in the rest.
Stir in the oats, rolos, chocolate chips, and pecans.
Drop by rounded tablespoons onto a parchment lined baking sheet. Bake at 375° for 8-10 minutes, until edges are golden. Let cool on baking sheet for a few minutes before transferring to wire rack.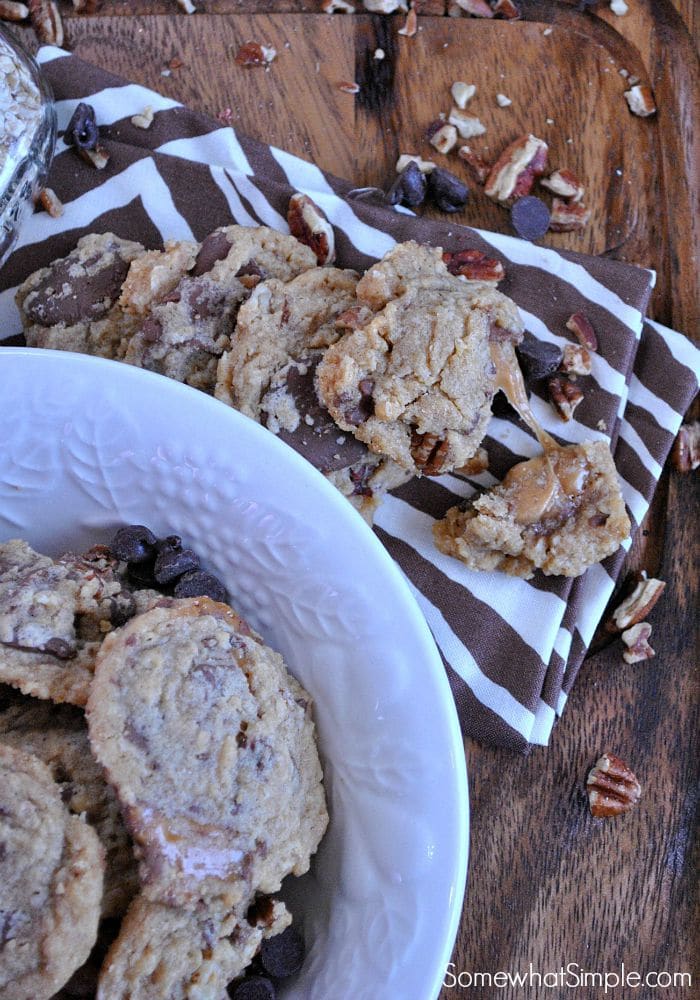 ENJOY!
ABOUT THE AUTHOR: Ashton is a stay-at-home mom, amateur baker, and full time blogger from Something Swanky. She was a Somewhat Simple Creative Team member in 2012.
This post originally published on Somewhat Simple in August 2012.
DON'T MISS A THING!
Sign up for our newsletter to receive our FREE Home Organization Binder Printables + weekly updates filled with creative inspiration and exclusive freebies!
---