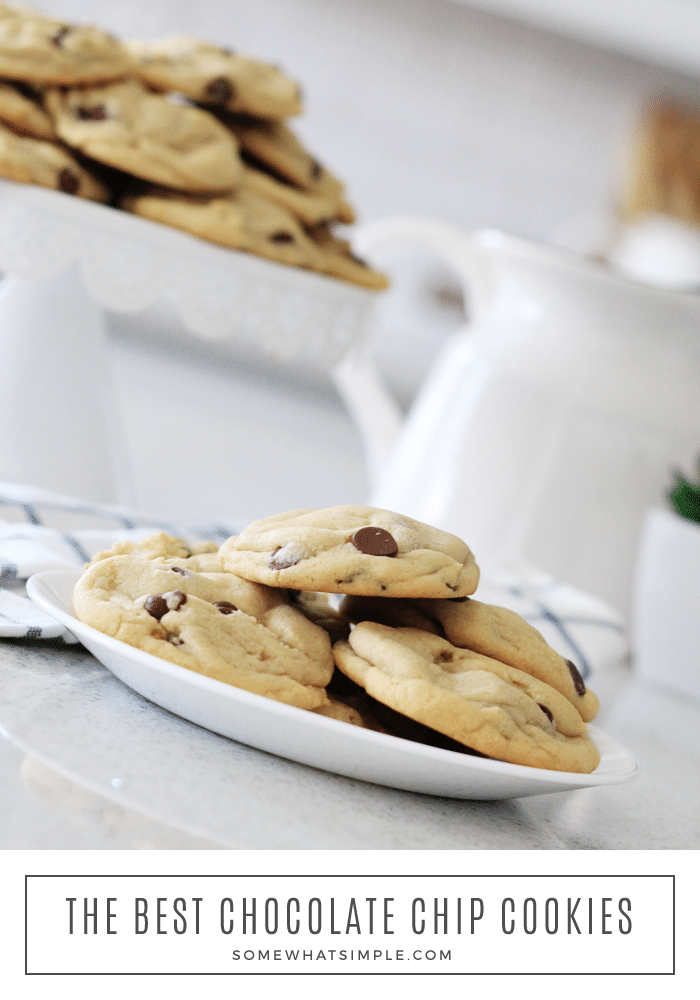 Chocolate chip cookies are a classic indulgence that everyone loves. This recipe is super simple to make that they will turn out soft and chewy every time. Throw out every other recipe you have, these homemade cookies really are the best!
We are all about keeping our baking endeavors very simple around here. Homemade Brownies, 30 Minute Dinner Rolls, Shortcut Apple Turnovers and MORE! These chocolate chip cookies rank right up there with EASY baking recipes… and they taste AMAZING!!!!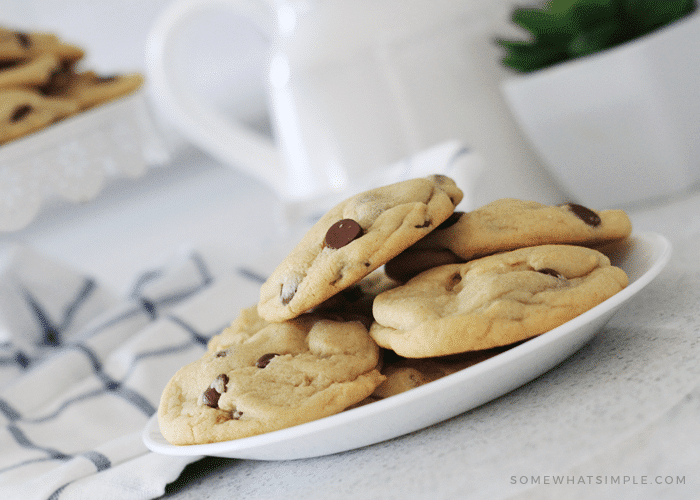 Best Chocolate Chip Cookies
I can cook a mean dinner, but give me some flour and measuring spoons and I get suuuuper nervous! In all honesty, not too many things that I bake turn out decent, and I've had too many kitchen fails have made me lose some baking confidence. So you'll have to believe me when I say these chocolate chip cookies are seriously the BEST.
Like you, I've tried dozens of recipes and this one is by far my favorite. Not only is it a simple recipe but these cookies turn out soft and chewy every time I make a batch. And you know they're good because almost every time make these for other people, they will ask me for the recipe. So if I can make these and have family and friends ooh and ahh over them, you can too, I promise.
I got the recipe from my cousin who has been perfecting it over the last 20 years and she has made so many times over the years she could make these in her sleep. Anyone who bakes cookies in their sleep is welcome to stay the night at my house any day of the week! Just sayin'……
How To Make Homemade Chocolate Chip Cookies
In a large mixing bowl, cream together the eggs, sugars, butter and vanilla
Using a separate bowl, mix together the flour, baking soda, salt and baking powder
Combine the wet and dry ingredients together
Stir in the chocolate chips to the mixture
Place golf ball sized balls of dough onto a cookie sheet about 2 inches apart
Bake at 350 degrees F for 9-10 minutes until the edges become a light brown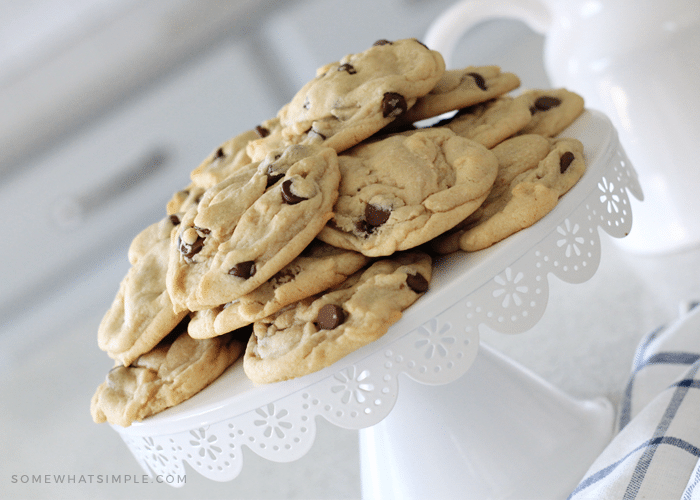 How To Get Soft Cookies
Be sure you don't cook these chocolate chip cookies for longer than the recommended 10 minutes or they'll become crispy
Leave your ingredients out for about 30 minutes before you start mixing the ingredients so they are at room temperature
Be sure to cream the wet ingredients together. Don't warm the butter in the microwave or it will be too hot and liquefied. This will cause your cookies to become flat when you bake them.
Make sure your balls of dough are uniform and properly spaced so they will bake evenly
Can You Freeze Chocolate Chip Cookies
Yes, you can freeze these chocolate chip cookies by placing them in a freezer safe container for up to 3 months. Let's be honest though, if you're like me, you won't have the will power to set aside a fresh batch of these when they're soft, chewy and warm from the oven. However, if you want to make a bigger batch of dough and freeze the extra to bake later at a moment's notice, then I think you're brilliant!
Be sure to wrap the dough tightly with plastic wrap before placing it in the freezer. I've found that rolling it into a log shape before wrapping it is the easiest way to wrap and store it. When you're ready to use it, let it thaw long enough to be able to mold the dough into the appropriate sized ball and then bake according to the directions.
More Simple Cookie Recipes
Simple Chocolate Chip Cookie Recipe
Now that you've seen just how easy this recipe is, you have to give it a try. I promise, you'll love these cookies! Leave us a comment below and let me know if you agree with me or not. Or tag us on social media so we can be jealous watching you eat these amazing chocolate chip cookies!
Easy Chocolate Chip Cookies
Everyone has their favorite chocolate chip cookie recipe. Here is mine. Not only are they soft and delicious, they are also SUPER easy to make!
Ingredients
1

cup

softened butter

1/2

cup

granulated sugar

1 1/2 

cups

firmly packed brown sugar

2

large eggs

2 1/2

tsp.

vanilla

2 1/2

cups

all-purpose flour

3/4

tsp.

salt

1

tsp.

baking powder

1

tsp.

baking soda

18

ounces

semi-sweet chocolate chips
Instructions
Preheat oven to 350.

In a large mixing bowl, cream together the butter, sugars, eggs and vanilla.

In another bowl , mix together the flour, salt, baking powder and baking soda .

Combine the wet and dry ingredients.

Stir in chocolate chips  .

With your fingers, place golf ball sized portions 2 inches apart on an ungreased cookie sheet.

Bake 9-10 minutes or just until edges are light brown.
Notes
The key to these cookies is not to bake them past the recommended 10 minutes. That way, after cooking they are nice and chewy.
Nutrition
Other Notes