These easy 3 ingredient pumpkin chocolate chip cookies are so easy to make and they taste DELICIOUS!!!  This pumpkin cookie recipe is a perfect way to welcome in the cool fall weather.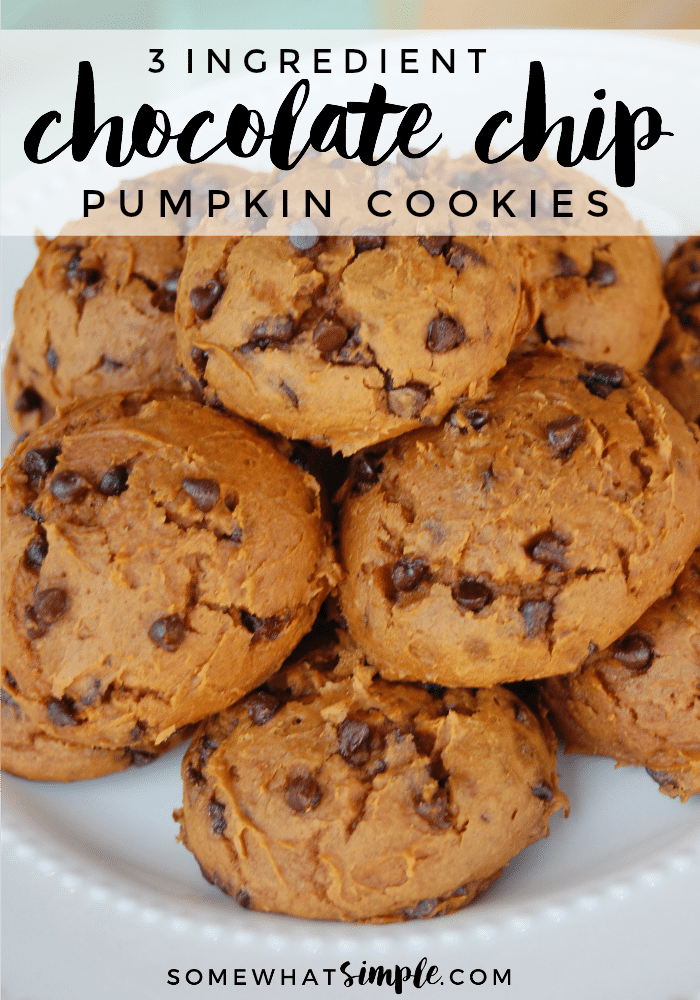 At the risk of hurting the feelings of all the other cookies I consume during the holiday season, I'm going to go on the record and say that Pumpkin Chocolate Chip Cookies are my favorite. I mean, I typically will eat any sweet treat placed in front of me, but I'm just saying that if I had to pick only one at a cookie buffet, a pumpkin cookie would be the one. (And I don't even like pumpkin pie or too many other pumpkin flavored recipes!)
If I don't have all the time and ingredients to make the lengthier version of this Pumpkin Chocolate Chip Cookies recipe, I will pick some up at the grocery store, or make these – 3 Ingredient Pumpkin Chocolate Chip Cookies.
(Have you tried these before? You are definitely in for a special treat!)
Here is the easy recipe.
How To Make 3 Ingredient Pumpkin Chocolate Chip Cookies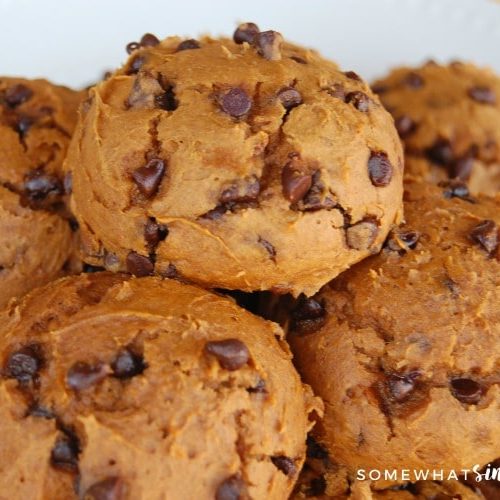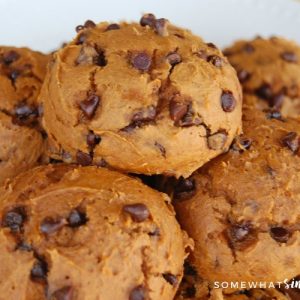 3 Ingredient Pumpkin Chocolate Chip Cookies Recipe
These Easy 3 Ingredient Pumpkin Chocolate Chip Cookies Are So Easy To Make And They Taste DELICIOUS!!!
Ingredients
1 18.25

oz.

Box Spice Cake Mix

1 15

oz.

Can of Pure Pumpkin Puree

3/4

cup

Mini Chocolate Chips
Instructions
Preheat oven to 350 degrees and lightly grease a cookie sheet.

In large mixing bowl, combine spice cake mix and pumpkin puree, stir until well blended.

Add chocolate chips and mix until they are all distributed.

Spoon cookie dough by rounded tablespoons about 2 inches apart.

Bake for 10-15 minutes, or until a toothpick inserted in middle of cookie comes out clean.

Let cookies cool on cookie sheet for one minute before transferring to wire rack to cool.
Recipe Notes
BAKING TIP: If you would like larger cookies, try using an ice cream scoop with a trigger instead of tablespoon and increase cooking time by about 5 minutes.
What Toppings Are Delicious On Pumpkin Cookies?
If you want to add a little variety when you make these pumpkin cookies, here are a couple of delicious ingredients you can add.
Add in your favorite type of nuts
Raisins are a perfect compliment to this recipe
Use cream cheese frosting for a more decadent taste!
More Pumpkin Cookie Recipes
What Are Other Pumpkin Recipes?
What Are Other 3 Ingredient Cookie Recipes?
YUM!