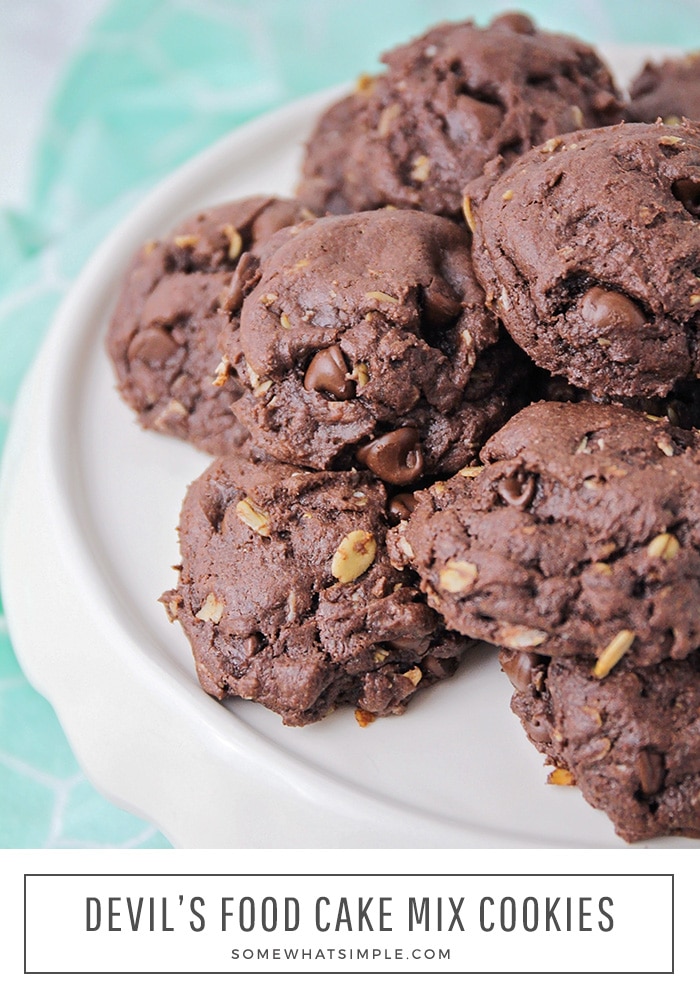 These devil's food cake mix cookies are super easy to make and your family will love them. Using only 5 ingredients, you can spend more time eating these cookies than you will making them!
I love these cake cookies because they are super simple to make. Some of my other favorite easy desserts to make are these amazing Homemade Brownies, Jello Cookies and the soft Chocolate Chip Cookies.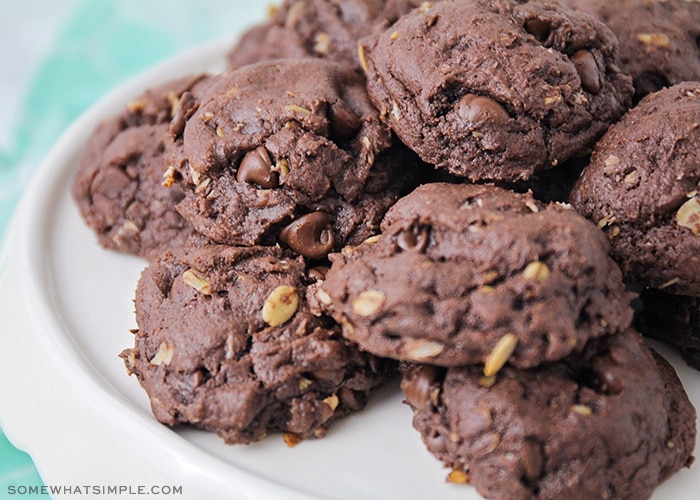 Easy Devil's Food Cake Cookies
One of my favorite baking hacks when I'm in a time crunch is to use a box of cake mix to make some of my favorite desserts. I don't have to worry about having most of the ingredients in my pantry. I just grab it and go! I've always loved a big slice of devil's food cake and now I can enjoy them in cookie form!
These devil's food cake mix cookies only take a few minutes to make and even less time for them to disappear! My kids were begging for dessert first when we made these for our latest family dinner. They really did get gobbled up by kids and adults alike, so I promised to make more. And because of how quick and easy they are to make, it's a promise I can actually keep! (If only all their requests were this easy.)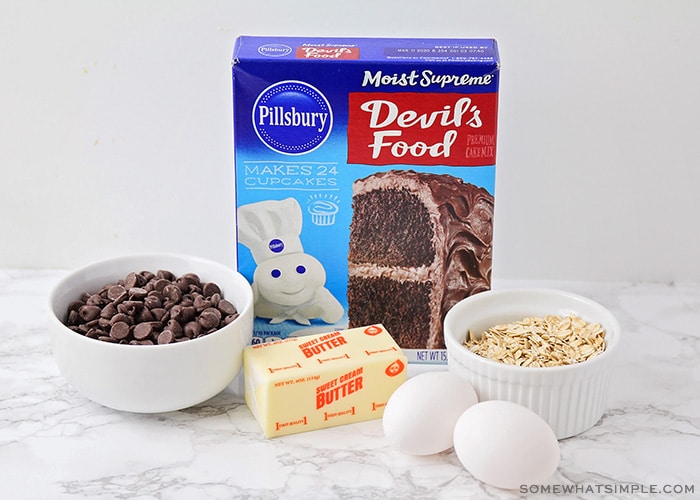 How To Make Devil's Food Cake Mix Cookies
There are three simple options for how your cookies will look…you can scoop it and leave as is, roll the cookie dough in your hands to smooth it out, or you can roll it and stick a few chocolate chips on top (far left picture). They will all be equally delicious, but the rolled cookies will have a smoother, prettier look to them. Unless you're going for something more rustic, in which case, save a minute by not rolling them!
Prep – Choose your favorite box of devil's food cake mix. Next, preheat the oven to 350 degrees F and line your baking sheet with parchment paper or a baking mat.
Cookie Batter – Mix together the required ingredients according to directions on the box.
Balled Up – Scoop the cake mix onto a baking sheet. You'll want to make each ball about 1 inch in diameter so they cook evenly.
Cook – Bake the cookies for about 8-10 minutes at 350 degrees F.
Enjoy – Allow the cookies to cool and then enjoy them!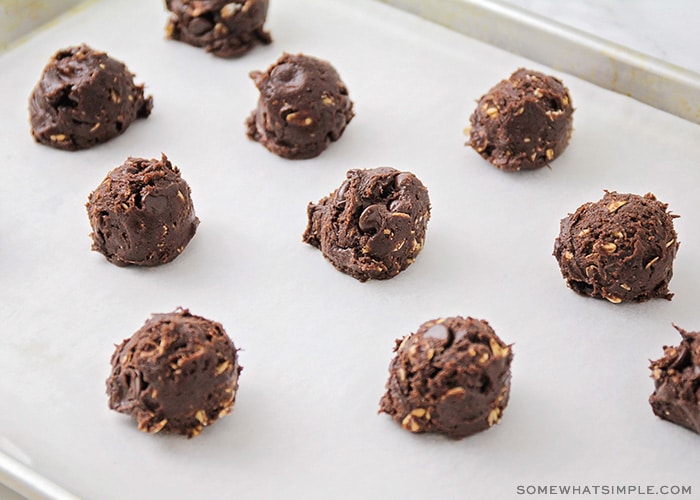 Tip For Making Devil's Food Cake Mix Cookies
Best Texture – To get the best texture with your cookies, it's important to mix the dry ingredients first and then add the wet ingredients to the mixture.
Even Baking – To help your cookies bake evenly, keep the size of the balls of dough uniform. To help with this, I like to use a cookie scoop to when placing the dough on your cookie sheet
Do The Bottoms Burn -If your cookies are burning on the bottom before they are completely cooked, try moving the baking rack up one slot in the oven. If this doesn't solve the problem, you may need to buy a new cookie sheet.
More Easy Recipes Using Cake Mix
Devil's Food Cake Cookie Recipe
Let us know how much you loved these devil's food cookies by leaving us a comment below, or by tagging us on social media so we can see all of the tasty recipes you're making!
Devil's Food Cake Mix Cookies Recipe
These devil's food cake mix cookies are super easy to make and your family will love them. Using only 5 ingredients, you can spend more time eating these cookies than you will making them!

Ingredients
1

15.25 oz Devil's Food Cake Mix

1/2

cup

1 stick butter, melted

2

eggs

,

slightly beaten

1/2

cup

rolled oats

1

cup

semi-sweet chocolate chips
Instructions
Preheat oven to 350.

Combine all ingredients in a medium mixing bowl.  (I just used a wooden spoon...no mixer necessary!)

Using a cookie scoop, drop onto a parchment or silicone-lined cookie sheet, about 2 inches apart.

Bake for 8-10 minutes, or until set.

Cool 1 minute, then remove to a wire rack to finish cooling.
Notes
The last couple of times I made these cookies I made 30...15 per pan.  They were a great size...not too big, not too small.  They baked for 8 minutes and were just a little gooey in the center, which (in our family) is perfect! If you use a small (#60) scoop, you should yield about 3 1/2 dozen cookies.
Nutrition
Other Notes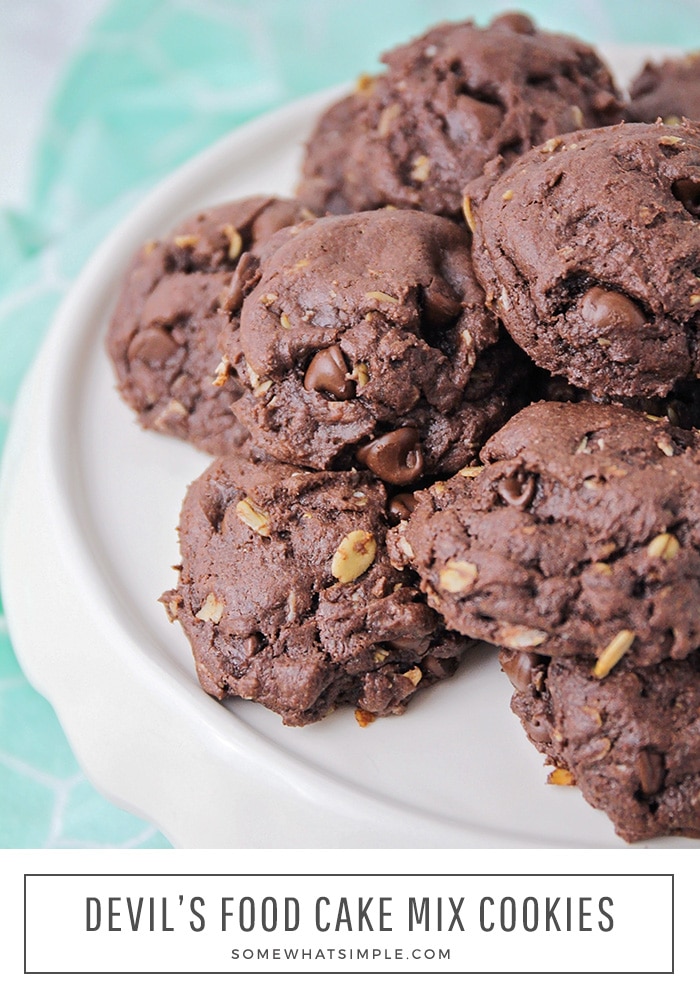 ABOUT THE AUTHOR – Becky is the cook/photographer/writer/eater behind the blog Bite of Delight. Becky was a food contributor on Somewhat Simple in 2017. The pictures in this recipe were updated in 2019.