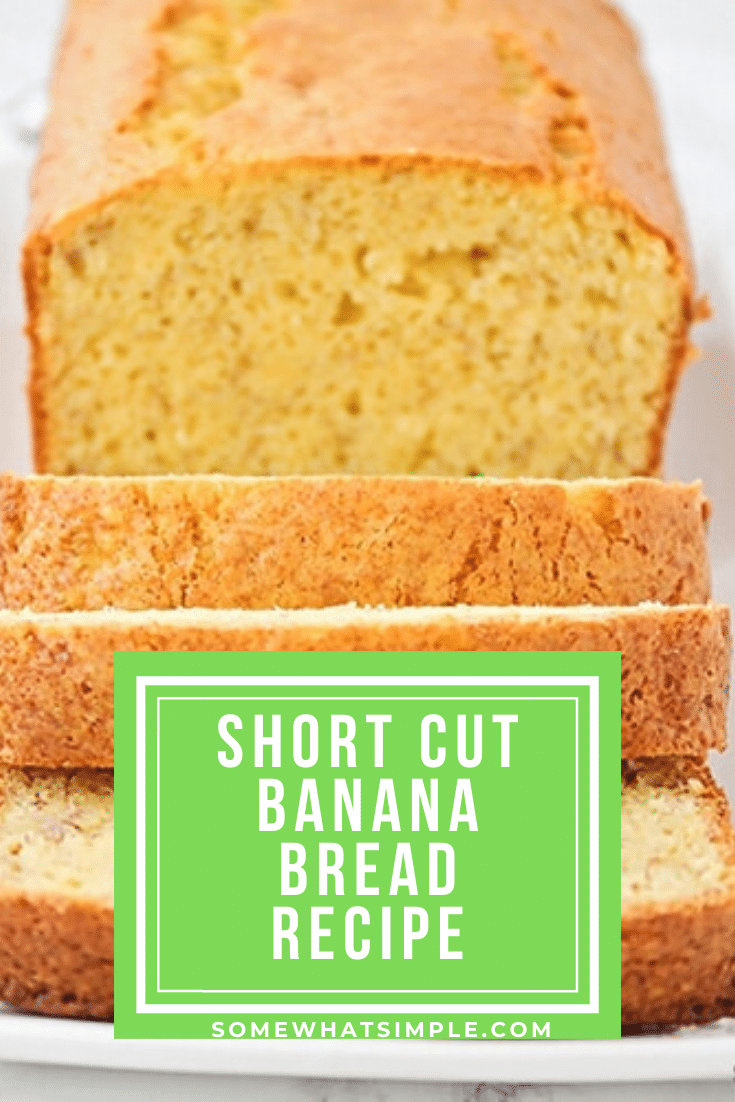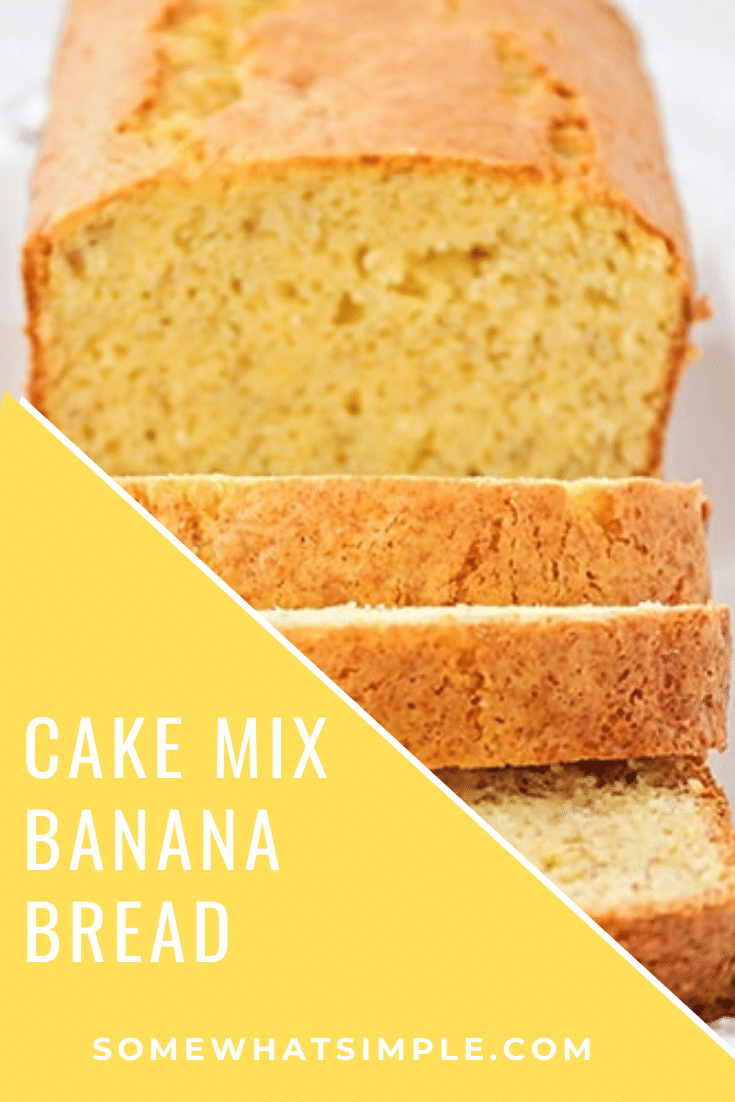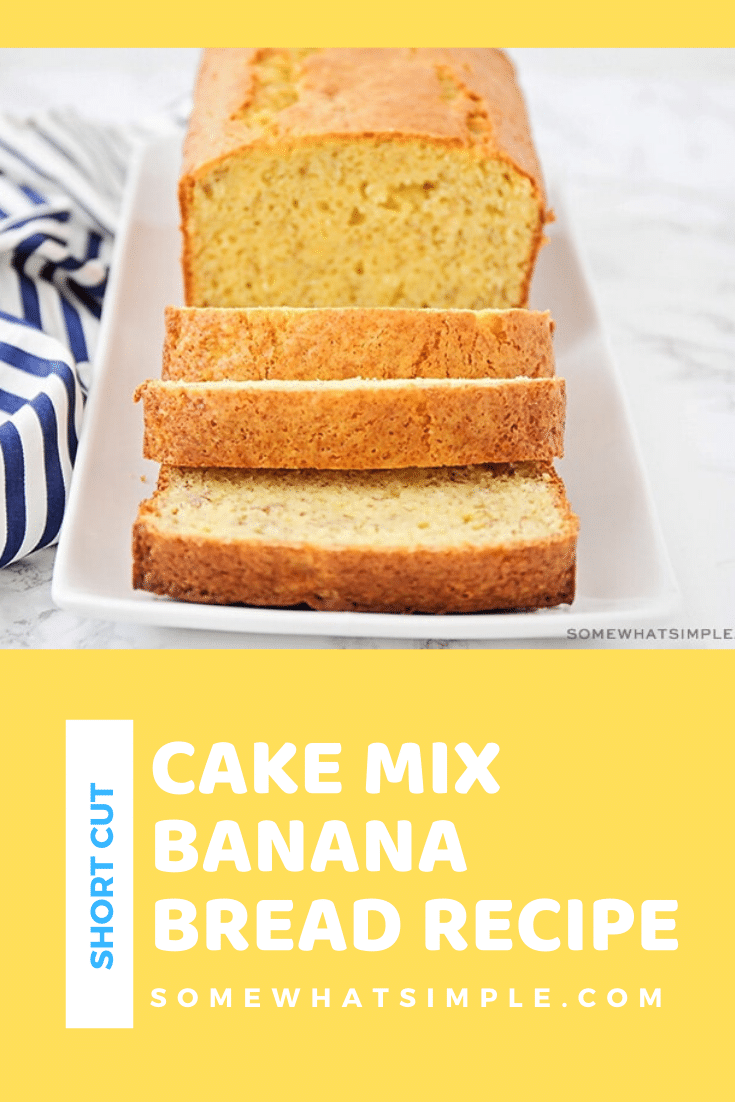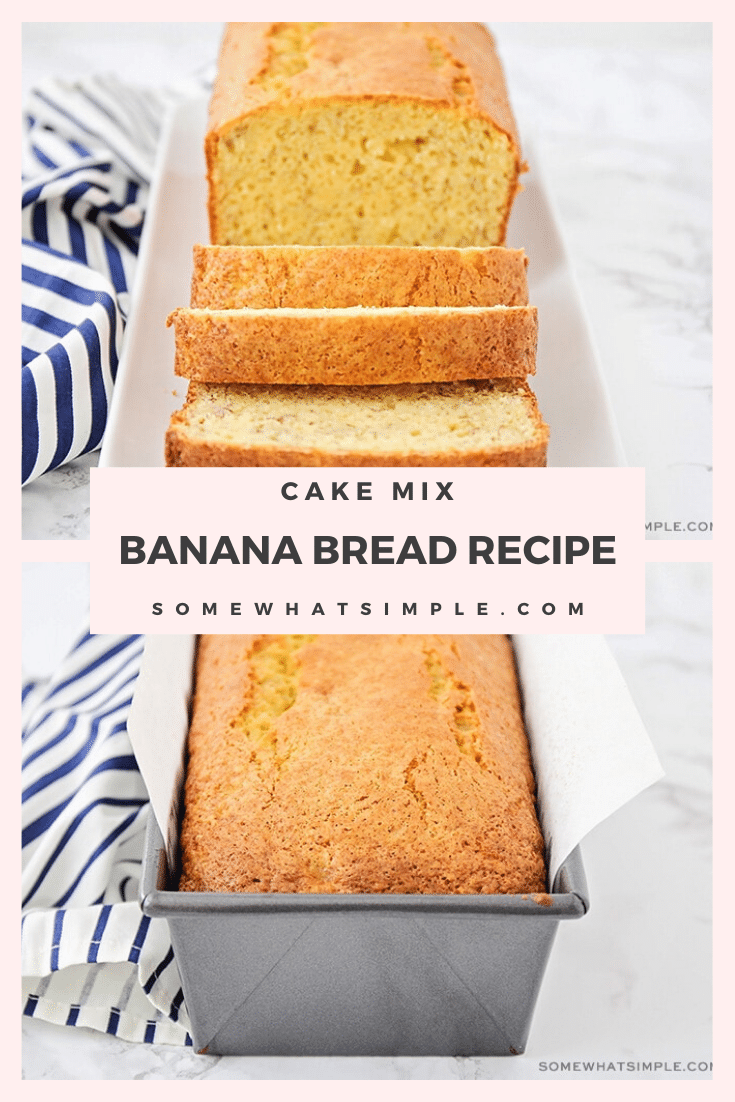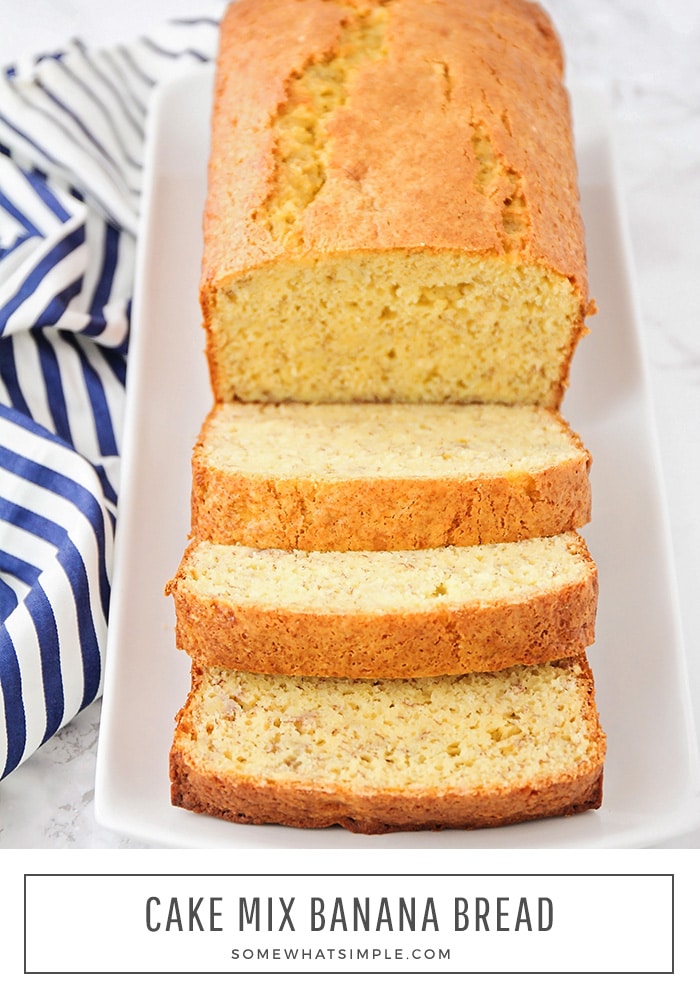 Cake mix banana bread is a quick and easy way to enjoy my favorite bread recipe. Made using just four ingredients, and is simple to make and tastes delicious. It's the easiest banana bread recipe you'll ever make!
Looking for more ways to use those bananas? Here are a few of our favorite banana recipes: Frozen Banana Ice Cream, Chocolate Marble Banana Bread, and The Best Banana Bars.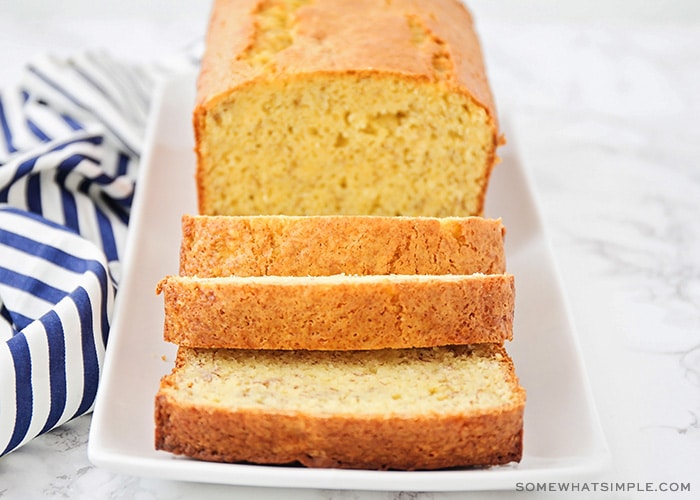 Short Cut Banana Bread
If there's one smell in particular that always smells like home to me, it's the smell of banana bread baking in the oven. It seriously makes the whole house smell heavenly. I make banana bread often, since we never seem to use our bananas up before they turn brown, and I love seeing the smiles on my kids' faces when they come home from school and smell fresh banana bread.
I have a favorite easy banana bread recipe that I use often and love, but when I'm short on time or feeling lazy, this cake mix banana bread is my go-to recipe. It's so quick and easy to make, and it always turns out fantastic!
How To Make Cake Mix Banana Bread
Prep – Preheat your oven to 350 degree F. Line your bread pan with parchment paper and also give it a small shot of baking spray.
Ingredients – Starting with a yellow cake mix for this recipe makes this banana bread so quick and easy! Beyond the cake mix, you'll just need ripe bananas, eggs, and vanilla. It's so simple!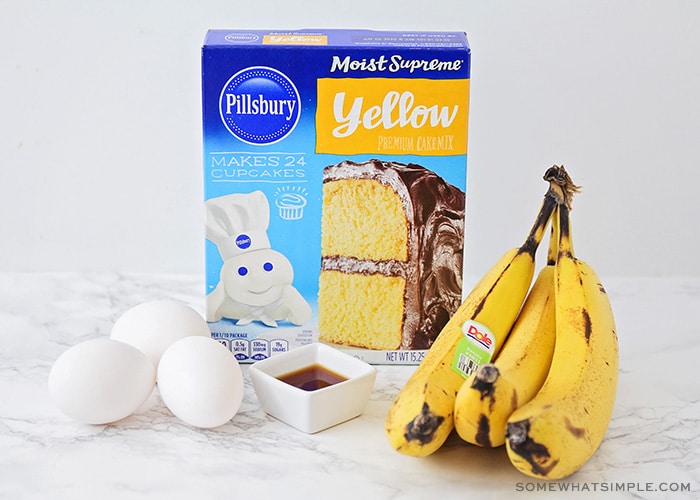 Mash It Real Good – You'll want to mash your bananas well so the banana flavor is evenly distributed in the bread. I like to use a potato masher, but you can use a fork or even a hand mixer instead. This is always my kids' favorite part of the process to help with.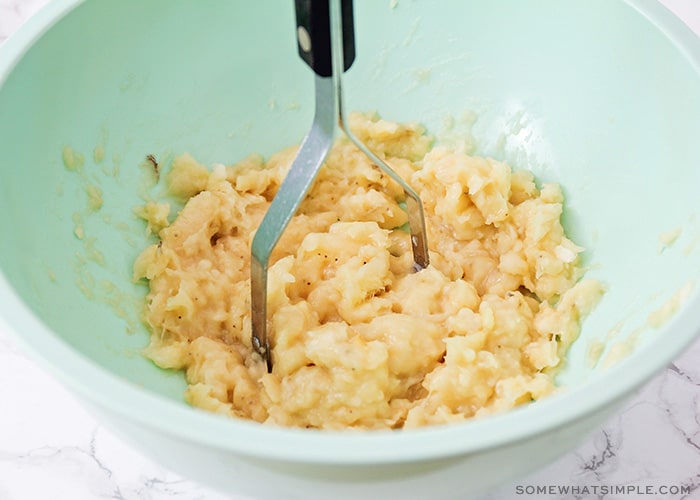 Mix It – After you have mashed your bananas, add in the eggs and vanilla and then mix until it's fully blended. To finish the batter, you'll add in the cake mix and mix it together until it has just combined. Once mixed, pour the batter into a bread pan, and you're ready to bake.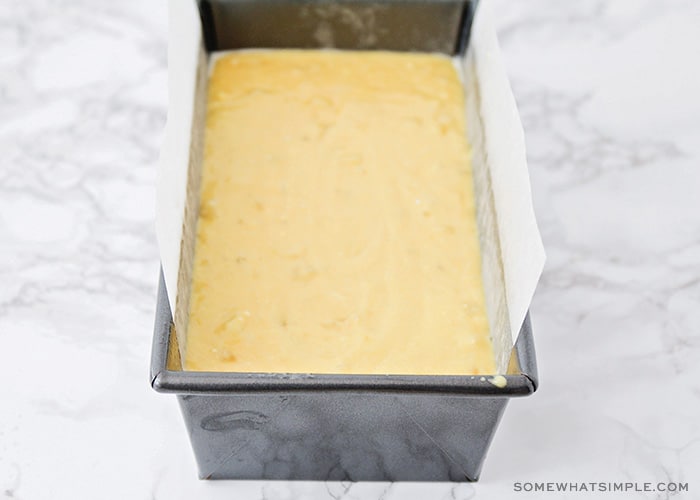 Bake It – Bake the bread until the top is golden brown, and a toothpick inserted in the center comes out clean. This cake mix banana bread has the perfect sweet banana flavor, and it is so delicious!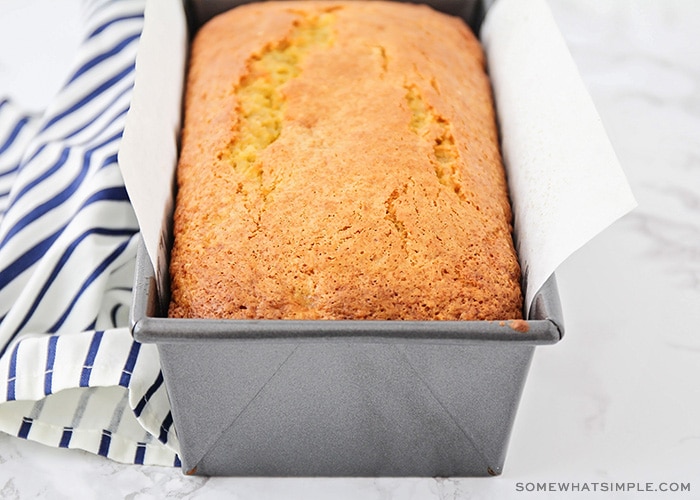 Recipe Tips
Line Your Pan – I always line my bread pans with parchment and grease them with cooking spray so that it's quick and easy to lift the bread out. It also makes it way easier to wash the pan afterwards!
Allow The Banana Bread To Cool – It's a good idea to let it cool most of the way before slicing it, so it will hold together better.
Easy Spreading – The cake mix batter for this banana bread can be a little sticky and tough to spread. Spray your spatula with a little cooking spray so the batter won't stick to the spatula.
Freezing & Storage
Storing – You'll want to make sure your banana bread is completely covered in plastic wrap or place it in a Ziploc bag for storage. Otherwise, it will dry out pretty quick if left uncovered.
Freezing – Before freezing your bread, wrap the loaf in plastic wrap and then cover it with foil. The bread will stay fresh for up to 2 months. When you're ready to enjoy the banana bread, give it a couple of hours to thaw on the counter.
Other Delicious Cake Mix Recipes
Leave us a comment below and let us know if you liked this easy short cut to making banana bread. When you make it, post a picture on social media and tag us in it so we can see trying one of our recipes.
Cake Mix Banana Bread
This simple and tasty cake mix banana bread has just four ingredients, and is so delicious. It's the easiest banana bread you'll ever bake!
Ingredients
3

ripe bananas

3

eggs

1

teaspoon

vanilla

1

box yellow cake mix
Instructions
Preheat the oven to 350. Line a bread pan with parchment or foil, and spray with cooking spray.

In a medium bowl, mash the bananas. Add the eggs and vanilla, and mix until blended. Add the cake mix, and mix until just combined.

Pour the batter into the prepared pan. Bake 40-50 minutes, or until a toothpick inserted in the center comes out clean. Let cool before slicing and serving.
Nutrition
Other Notes