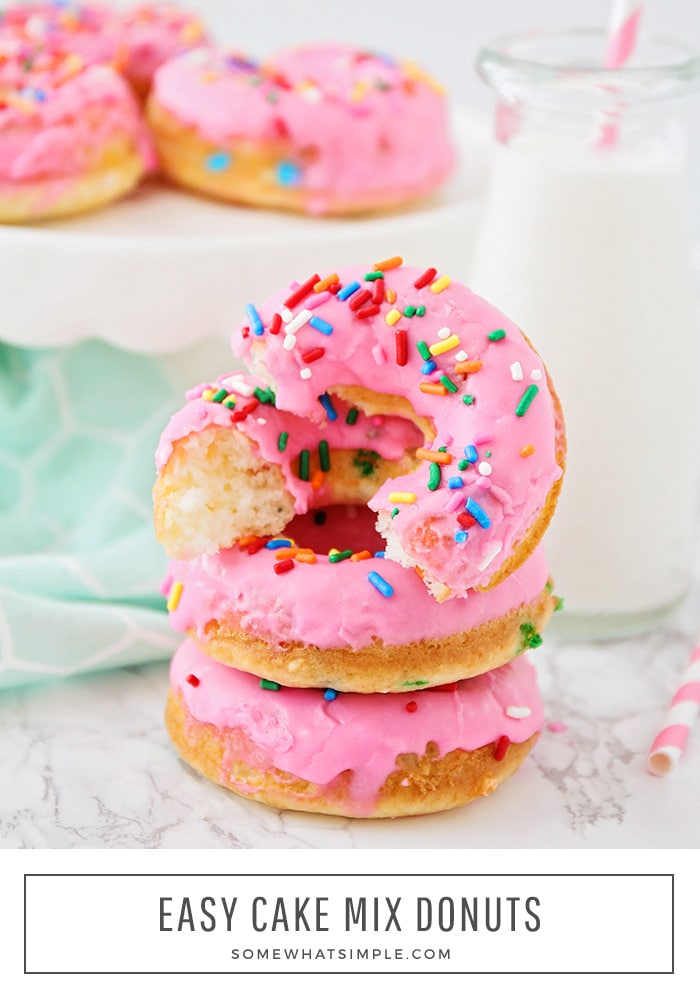 These fun and easy to make cake mix donuts are baked, not fried. You can make these delicious donuts at home in less than 30 minutes!
If you love donuts as much as we do, here are a few more recipes to try – Spudnuts (aka Donuts made with Mashed Potatoes), Biscuit Donuts, and Blueberry Greek Yogurt Donuts.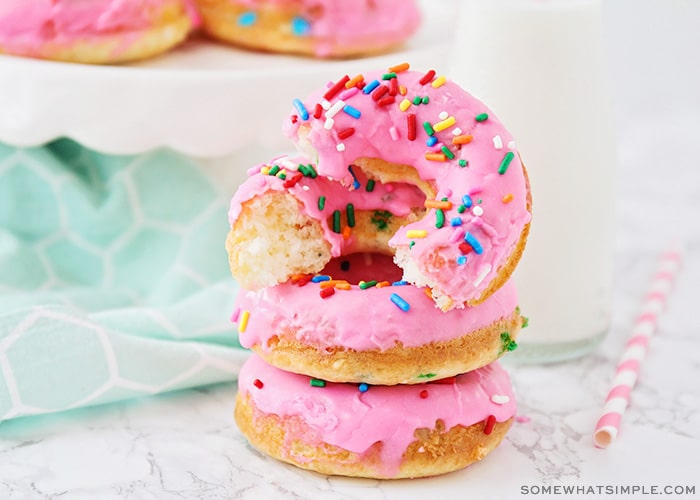 Baked Cake Mix Donuts
I have to admit, I absolutely love donuts, but I always feel a little intimidated making them at home. I don't have a lot of experience with frying foods, and it always just seems so difficult, messy, and complicated.
A few years ago I bought some Wilton donut pans, and it has been so fun to learn to bake donuts at home. The texture of the finished donuts is slightly different than fried donuts, but they are equally delicious, and so much easier to make. When topped with a sweet glaze and a few colorful sprinkles, they are totally irresistible!
You can use any flavor of cake mix with these donuts, but I definitely think the Funfetti cake mix makes them extra special. Who doesn't love sprinkles? In addition to the cake mix, you'll need oil, eggs, and water, plus a few pantry staples to make a simple glaze.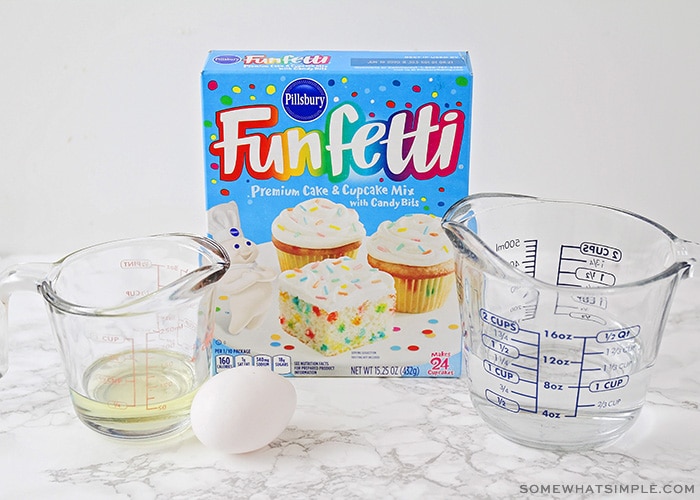 How To Make Donuts With Cake Mix
Mix – First add the eggs, oil and water to a mixing bowl and then blend them together. Next, add the cake mix to the bowl and mix everything together until it has fully combined.
Fill – They will be much easier to get out of the pan if you grease it well before adding the batter. Once greased, fill each spot in the pan until it's about 3/4 full. The recipe should make enough for about 12 donuts (or two pans full).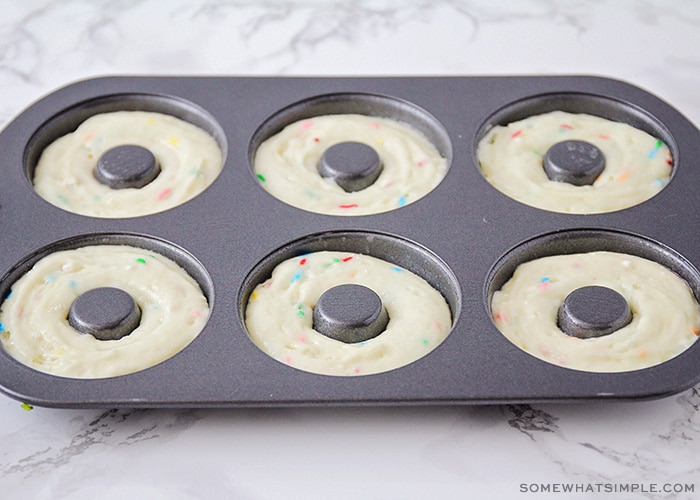 Bake & Cool – Bake the donuts at 350 degrees for about 13-15 minutes. They should be a nice golden-brown color once they're completely cooked. Once the cake mix donuts are baked, let them cool a bit before you add the glaze.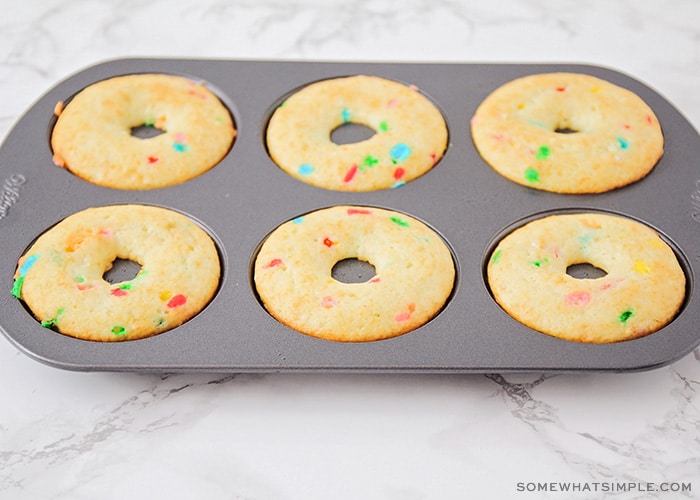 Glaze Them – The glaze for these donuts is simple and quick to mix together. Simply whisk the ingredients together in a bowl. Once the ingredients are blended together, I like stir in a drop of pink food coloring to make it a little more fun. You can add whatever color you like (or no food coloring at all). The glaze should be thin enough that it pours easily, but it shouldn't be runny or watery.
Bedazzle Them – Once you've glazed the tops, you can add sprinkles or other toppings to make them even more festive, or eat them as is. These cake mix donuts are so fun and easy to make, and they're perfect for baking with the kids!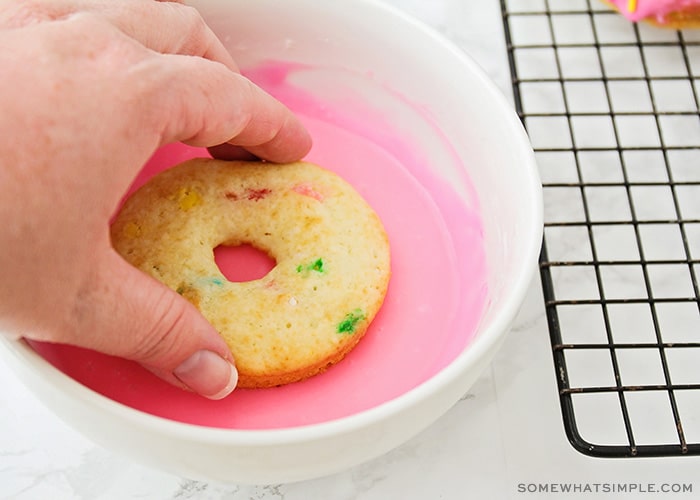 Recipe Tips
Easy Filling – I've found that the simplest and easiest way to fill up the donut pans is to pour the batter into a zipper bag or piping bag, snip off the corner, then pipe the batter into the pan.
Don't Overfill – Be careful not to fill each ramekin in the pan more than about 3/4 full. If you fill the pan too high the donuts will overflow while they're baking and join together.
Don't Glaze Too Soon – If you add the glaze to the cake mix donuts when they're still very warm, it will just run off instead of sticking to the top of the donut.
Glaze Consistency – If the glaze is too thick, add a little extra milk until the icing can be easily poured, without being runny.
Let Them Sit – Letting the donuts sit for a few minutes after you've add the glaze will help the glaze set up so they won't be as messy to eat.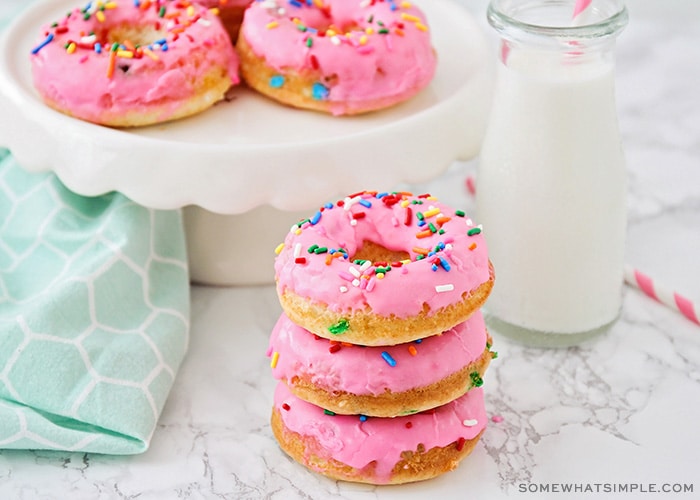 More Easy Cake Mix Recipes
I guarantee you're going to love how delicious these donuts are! Not only are they incredibly tasty but they are so easy to make! Leave us a comment below and let us know how much you liked these donuts that are made from cake mix. Also, tag us on social media the next time you serve these donuts at a party so we can see all the fun you're having!
Cake Mix Donuts
These fun and easy to make cake mix donuts are baked, not fried. You can make these delicious donuts at home in less than 30 minutes!
Ingredients
for the donuts:
1/3

cup

oil

1

egg

1

cup

water

1

box Funfetti cake mix
for the frosting:
1

tablespoon

butter

,

melted

1 1/2

cups

powdered sugar

2

tablespoons

milk

1/2

teaspoon

vanilla

1-2

drops food coloring

sprinkles
Instructions
Preheat the oven to 350 degrees. Lightly grease two donut pans. In a medium bowl, whisk together the oil, egg, and water until blended. Add the cake mix and mix until combined.

Pour the batter into a large zipper bag or piping back. Snip off a corner of the bag and pipe the batter into the wells of the donut pan, filling about 3/4 full.

Bake 13-15 minutes, or until golden brown. Let cool in the pan for 5-10 minutes, then carefully remove the donuts to a cooling rack to cool completely.

After the donuts have cooled, whisk together the melted butter, powdered sugar, milk, and vanilla. Add additional milk as needed to make an icing that is easy pourable but not runny. Stir in the food coloring until blended.

Dip the donuts into the icing and place on a cooling rack to set. Add sprinkles if desired.
Nutrition
Serving:
1
donut
·
Calories:
300
kcal
Other Notes