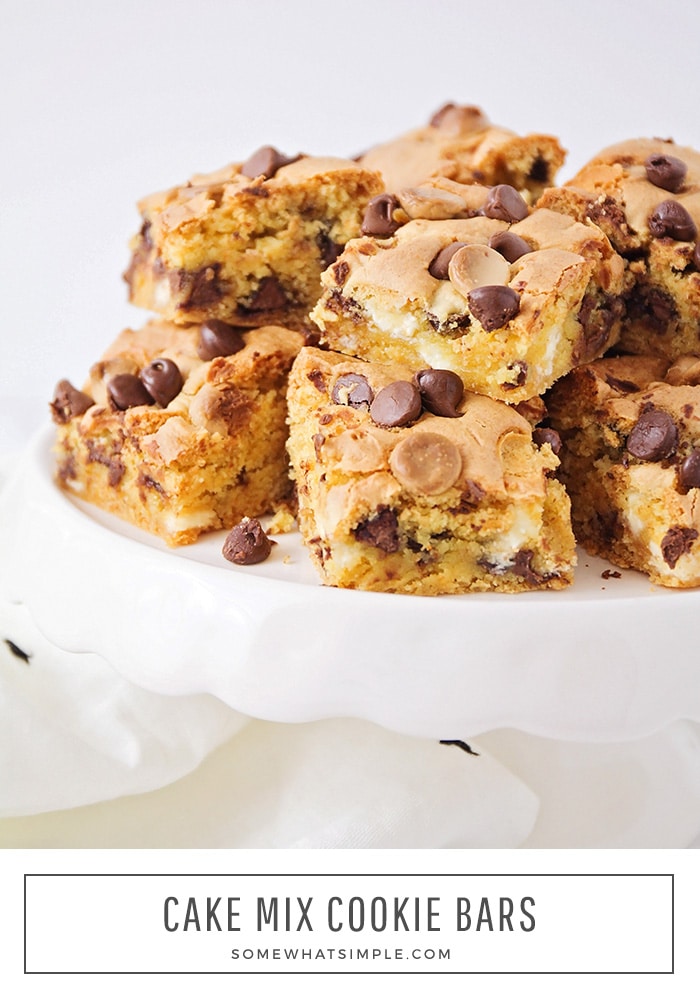 These chocolate chip cake mix cookie bars are chewy and delicious! Made with just a few simple ingredients, this recipe is an fast and easy way to enjoy delicious cookie bars.
If you love cookie bars as much as we do, be sure to try a few of our favorite cookie bar recipes like these Rolo Cookie Bars, Cheesecake Cookie Bars and Sugar Cookie Bars.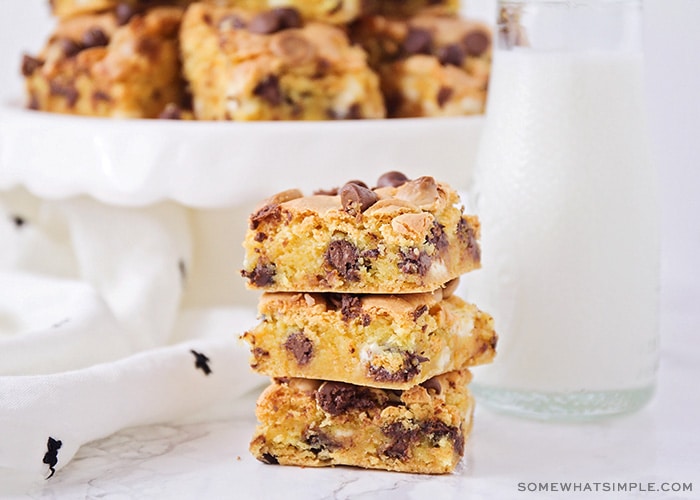 An Easy Dessert Recipe
Are you on team blondie or team brownie? I can never decide which I like more! They're both so delicious that it's hard to choose. These delicious cake mix cookie bars give you the best of both worlds. They've got lots of chocolate flavor from a variety of chocolate chips, they're chewy and tender and delicious, and they're perfect for satisfying your sweet tooth.
Starting with a cake mix for this recipe makes these cookie bars a cinch to make! I love that all the dry ingredients are pre-measured and ready to go, so they're perfect for making on a busy night when you still want a delicious dessert. Besides the cake mix, you'll just need oil, eggs, and the chocolate chips of your choice.
How To Make Cake Mix Cookie Bars
Prep – Preheat your oven to 350 degrees before you start making your cookie bars. You'll also want to grease or line a 9×9 baking sheet with parchment paper.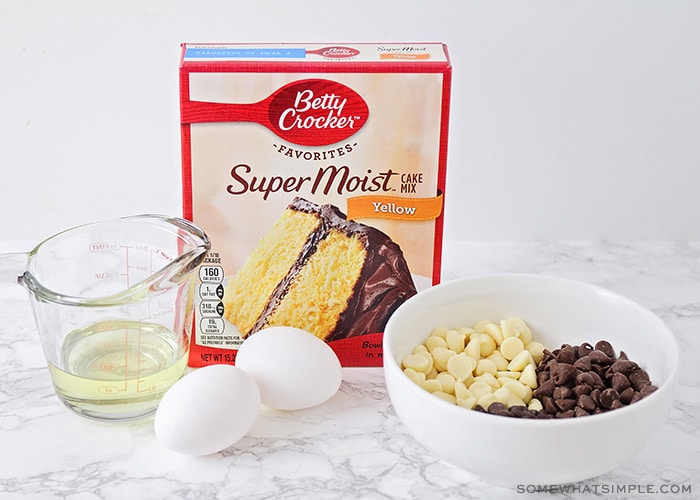 Wet Then Dry – You'll want to first mix together the wet ingredients by stirring together the eggs and oil until everything has been fully blended together. Next, you'll add in the cake mix and mix it with the wet ingredients until the dough comes together and it has been fully mixed. Once you have the dough, you'll mix in the chocolate chips before pouring everything into the baking pan.
Bake – Once your dough is mixed together, spread it in a 9 x 9 baking dish. I always use parchment paper or foil for easy cleanup, and to help the cookie bars come out of the pan cleanly. The dough may be a little hard to spread, because it's so thick. I like to sprinkle on a few extra chocolate chips over the top to make the finished bars prettier.
Bake the bars until they're golden brown on top, and a toothpick inserted two inches from the side of the pan comes out clean. If you let them cool in the pan, they will be much easier to lift out without cracking or breaking.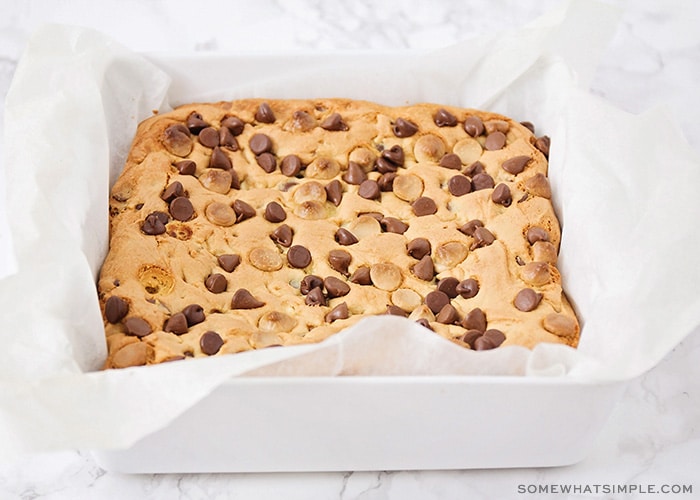 Cut & Serve – Once they've cooled, cut them into squares and enjoy! I love to eat these cake mix cookie bars with a glass of cold milk on the side. They're so rich and delicious, and I totally love the combination of chocolate chips. Each bite is loaded with rich chocolate and tender cookie bar, making them totally irresistible!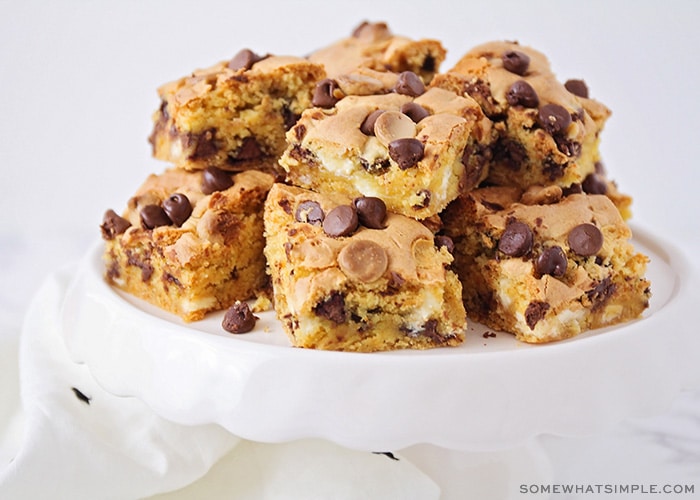 Recipe Tips
Chocolate Chips – I used a combination of semi-sweet, milk chocolate, and white chocolate chips, and they turned out fantastic! I think these cookie bars would also be fabulous with butterscotch or peanut butter chips. Any combination of chips is pretty much guaranteed to be delicious!
Mix It Up – I absolutely love using chocolate chips in my cookie bars but these can be made using any of your favorite candy add-ins. M&Ms, nuts and marshmallows are some of our other favorite ingredients that you can make these with.
Use Parchment Paper – I love to line my baking dishes with parchment paper for two reasons. First, it makes cleaning the dishes when I'm done so much easier. Second, getting the cookie bars out of the pan is super simple.
Easy Spreading – The cake mix cookie dough can sometimes stick to the spatula which makes it harder to spread evenly in the pan. Simply spray the spatula with cooking spray and it will alleviate this problem.
More Treats Made From Cake Mix
Using a box of cake mix is a great shortcut I use to make some of my favorite dessert recipes when I don't have a lot of time. Some of my favorites are:
Leave us a comment below and let us know how your cookie bars turned out. What's your favorite add-in to use when you make them? We'd love to hear all about it!
Cake Mix Cookie Bars
These sweet and chewy cake mix cookie bars are loaded with a variety of chocolate chips. They are super simple to make and totally delicious!
Ingredients
1/3

cup

oil

2

eggs

1

box yellow cake mix

3/4

cup

semi-sweet chocolate chips

1/2

cup

milk chocolate chips

1/2

cup

white chocolate chips
Instructions
Preheat the oven to 350 degrees. In a medium bowl, stir together the oil and eggs until well blended. Add the cake mix and stir until the dough comes together. Add all of the chocolate chips, and stir until they are blended in.

Line a 9 x 9 baking dish with parchment or foil. Spread the batter in an even layer in the baking dish (it will be thick).

Bake 35-40 minutes, or until a toothpick inserted two inches from the side comes out clean. Let cool completely before slicing and serving.
Nutrition
Other Notes