Rolo Cookie Bars are a delicious dessert for any occasion.  This recipe is both delicious and super easy to make!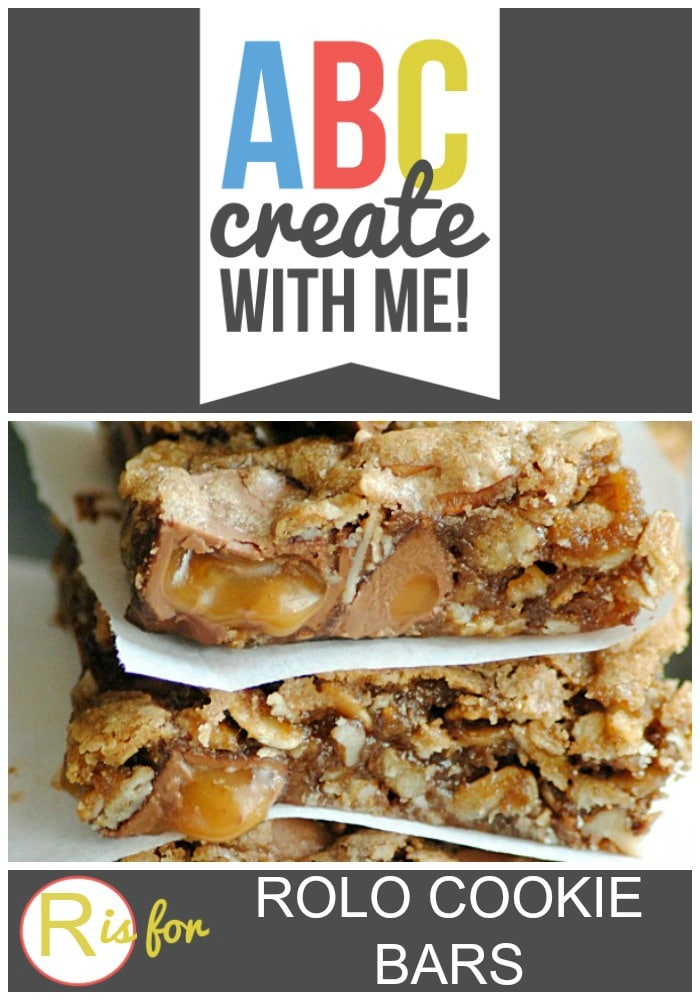 Hey there! I'm Ashton from Something Swanky Desserts, and I'm thrilled to be hanging out with Steph today! Somewhat Simple is one of the very first blogs I ever started reading before I even became a blogger, so it will always have a special place in my blog-ever-lovin' heart.
So. The letter of the day is R! Originally I thought a red velvet recipe would be the direction I'd take with the letter 'R.' But a bag of Rolos has been staring me in the face for weeks, so into the mixing bowl they went! These Rolo Cookie Bars have a classic oatmeal chocolate chip cookie taste with an amazing ooey, gooey twist. In all seriousness, these have been some of my favorite cookies to come out of the oven in quite some time! If you're a cookie person in the slightest, I know you are going to adore these just as much as I have.
Oh– and did I mention? These are SO incredibly easy if you keep a batch of my Oatmeal Cookie Mix on hand. Like, dangerously easy…
A few quick notes before you run to the kitchen:
Don't try and make these into cookies. The caramel melts out everywhere, and it's pretty disastrous.
If you eat these warm, they will be just as ooey and gooey as they look in the pictures. However, if you want to cut them up and plate them, no worries! Once they've cooled to about room temp, they are very easy to cut for serving or even to package.
While I'm not the biggest Rolo candy fan, I have to admit they are the best caramel filled chocolate candies for baking. Don't try to sub with any other caramel filled chocolate candy, because they don't hold up as well. In my experience, the caramel bakes out and incorporates with the cookie dough. Which is yummy, but you would miss out on all the pockets full of caramel!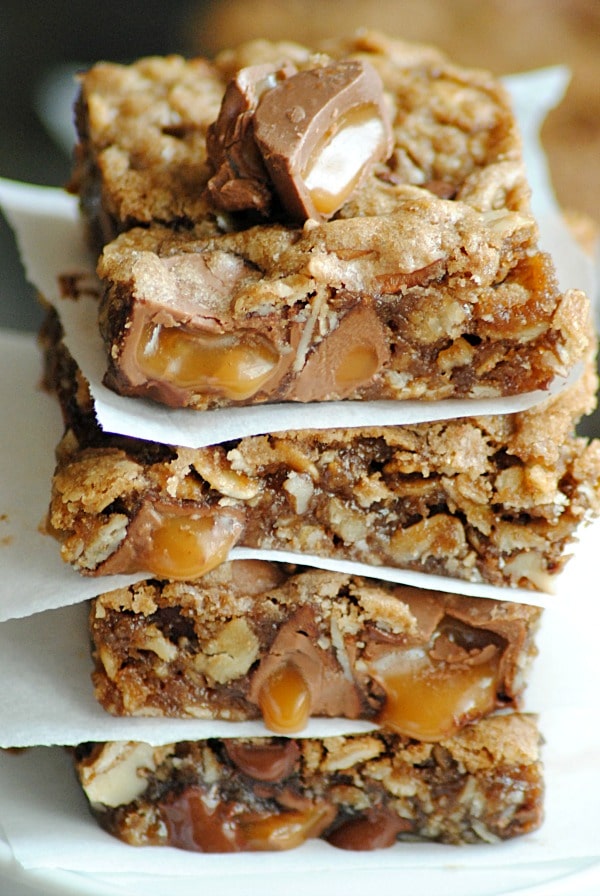 ROLO COOKIE BARS
Ingredients:
1 cup butter, softened
1 1/4 cup packed brown sugar
2 eggs
2 tbsp milk
1 3/4 cup all-purpose flour
2 tsp vanilla
1 tsp baking soda
1/2 tsp salt
2 1/2 cups old fashioned oats
1 cup semi-sweet chocolate chips
1 cup Rolo Bites candy (already unwrapped)
Optional: 1 cup chopped pecans
Directions:
Preheat oven to 375ºF. Prepare a 9×13 baking dish by lining it with parchment paper. If necessary, foil can be used, but it must be sprayed with cooking spray.
Mix together (using a stand mixer or by hand) the butter, brown sugar, and eggs. Mix in the milk, vanilla, flour, baking soda, salt, and oats.
Stir in the chocolate chips, Rolos, and pecans.
Spread the dough in the prepared baking dish. Bake for approximately 20-25 minutes. The edges should be set and golden brown, and the tops of the bars should look mostly "dry."
Allow to cool for at least 10 minutes before cutting.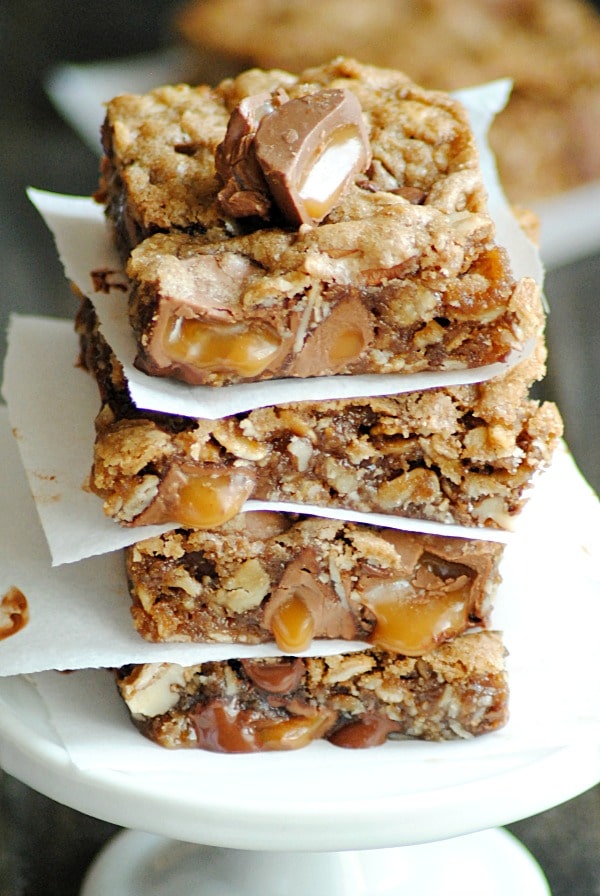 Yields: approximately 20 bars
ABOUT THE AUTHOR: Ashton is the owner and author of  Something Swanky. Although first and foremost a wife and mother, she considers herself an online entrepreneur, freelance writer and photographer, and brand ambassador.  Her focus is in food styling, food photography and recipe development.