These lemon sugar cookie bars have all the deliciousness of sugar cookies, but without the rolling and cutting. Topped with a to-die-for lemon buttercream!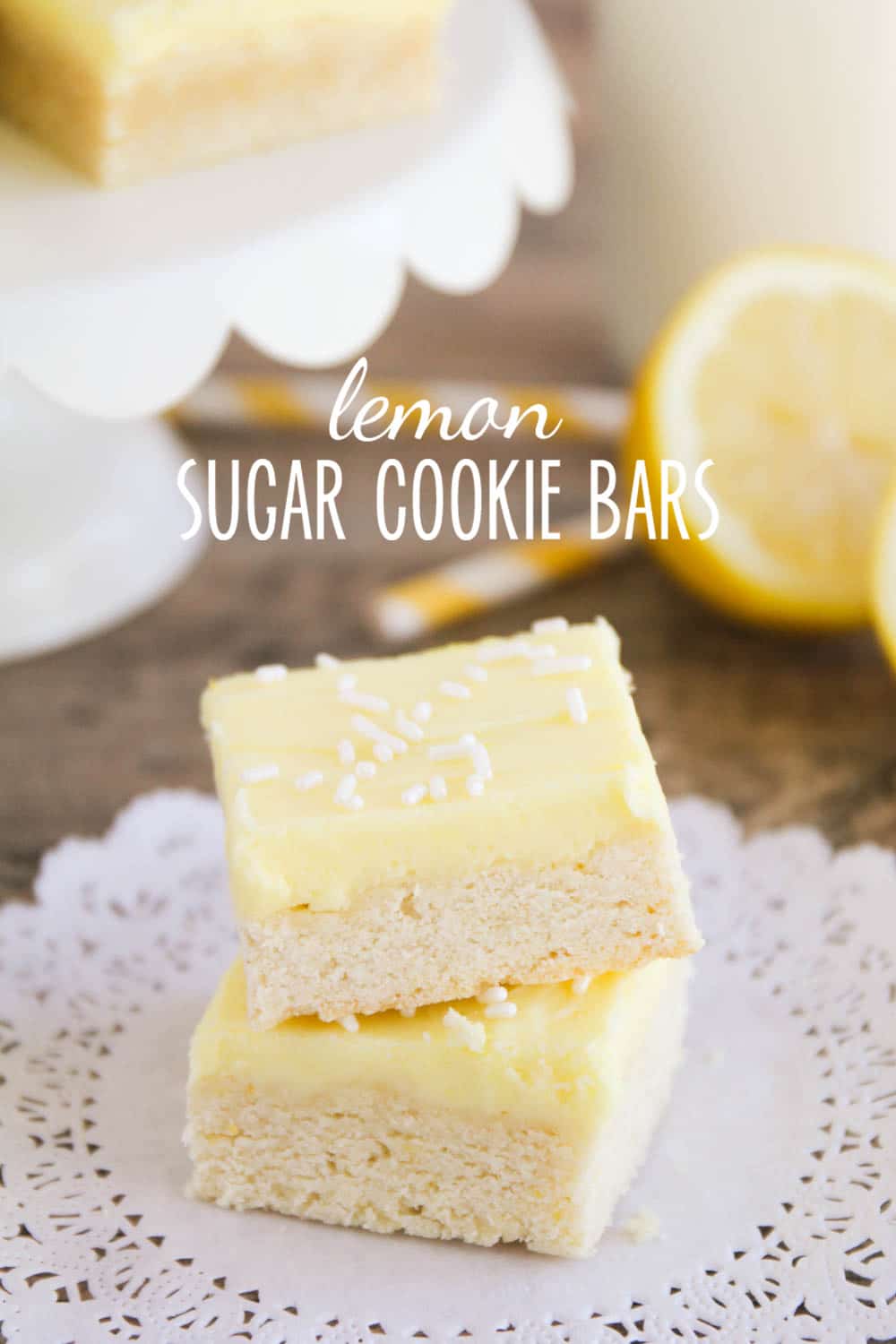 I will never say no to a good sugar cookie! As much as I enjoy rolling them out and cutting them into fun shapes, sometimes I just don't have the energy for it, and that's where sugar cookie bars come in. They're just as delicious as regular sugar cookies, but so much quicker and easier to make. These delicious lemon sugar cookie bars are a twist on my basic sugar cookie bar recipe, and I love their bright, sunny, lemony flavor!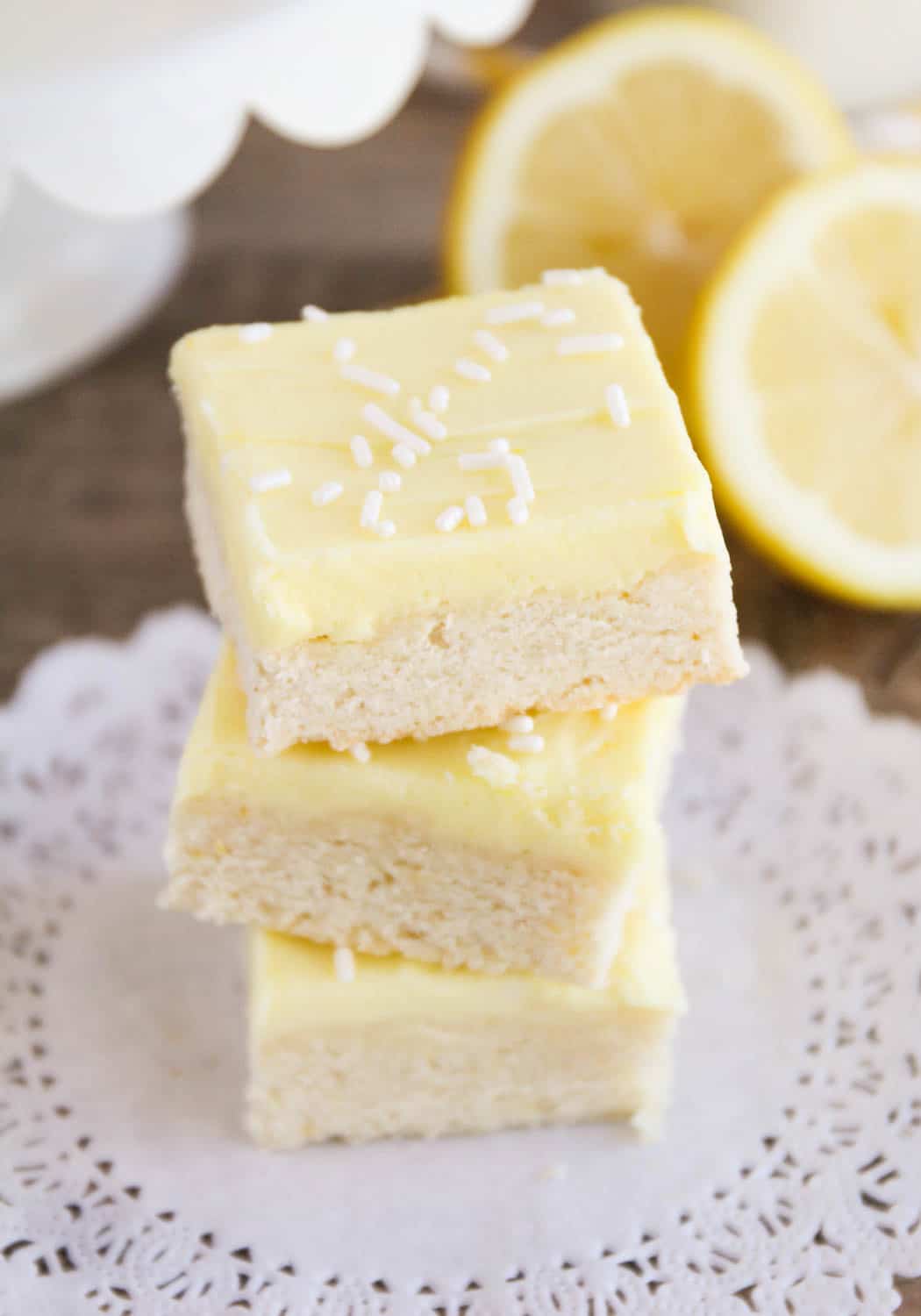 I am in love with all things lemon (seriously, I have a Pinterest board devoted just to lemon recipes) and these cookies are that perfect balance of tart and sweet. The lemon adds great flavor but definitely isn't too sour or overpowering. These cookie bars are creamy and sweet and perfect for satisfying that sweet tooth (and trust me, I have a killer sweet tooth!). This is a must make recipe!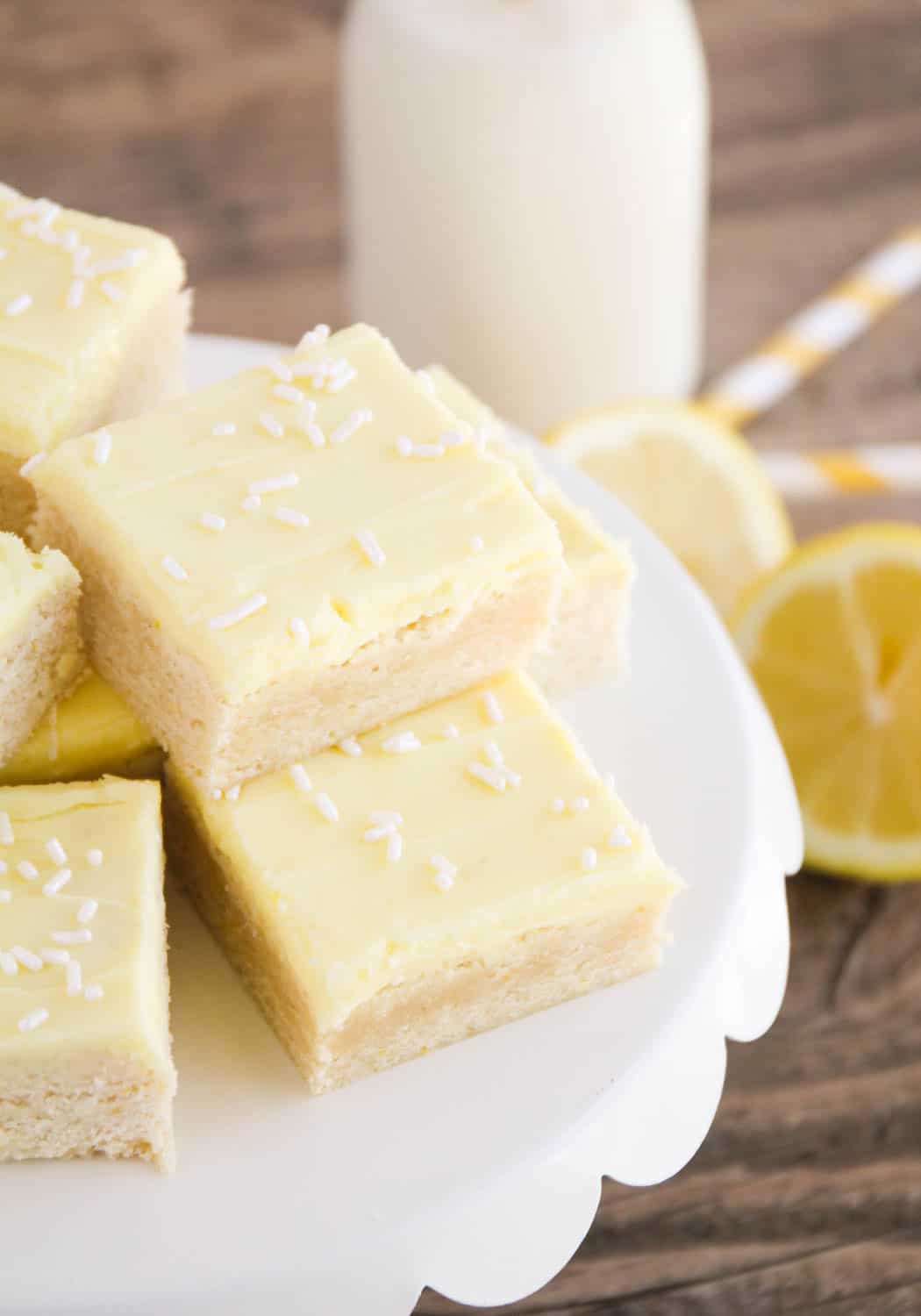 Lemon Sugar Cookie Bars
INGREDIENTS:
for the cookies:
1/2 cup (4 ounces) butter, softened
1 cup sugar
zest of one lemon
1 egg + 1 egg white
1 1/2 tablespoons sour cream
1 teaspoon vanilla
1 teaspoon lemon extract
2 1/2 cups flour
1/2 teaspoon baking powder
1/2 teaspoon salt
for the frosting:
1/2 cup (4 ounces) butter, softened
3 cups powdered sugar
2 tablespoons fresh lemon juice
1 tablespoon milk or half and half
1/2 teaspoon vanilla
5 drops yellow food coloring
DIRECTIONS:
Preheat the oven to 375. Line a 9 x 13 pan with foil or parchment and set aside.
In a large bowl or the bowl of a stand mixer, beat the butter and sugar until light and fluffy. Add the lemon zest and beat until fragrant. Add the egg, egg white, sour cream, vanilla, and lemon extract, and beat until smooth. Add the flour, baking powder, and salt, and mix to form a crumbly dough.
Press the dough into the bottom of the prepared pan in an even layer. Pierce the dough with a fork every few inches to prevent it from bubbling while baking. Bake 17-20 minutes, or until light golden around the edges. Remove from the oven and let cool completely.
When the cookies have cooled, beat together the butter and powdered sugar. Add the lemon juice, milk, and vanilla, and beat until smooth. Add the food coloring and beat on high until light and fluffy. Spread the frosting over the cooled cookie bars in an even layer.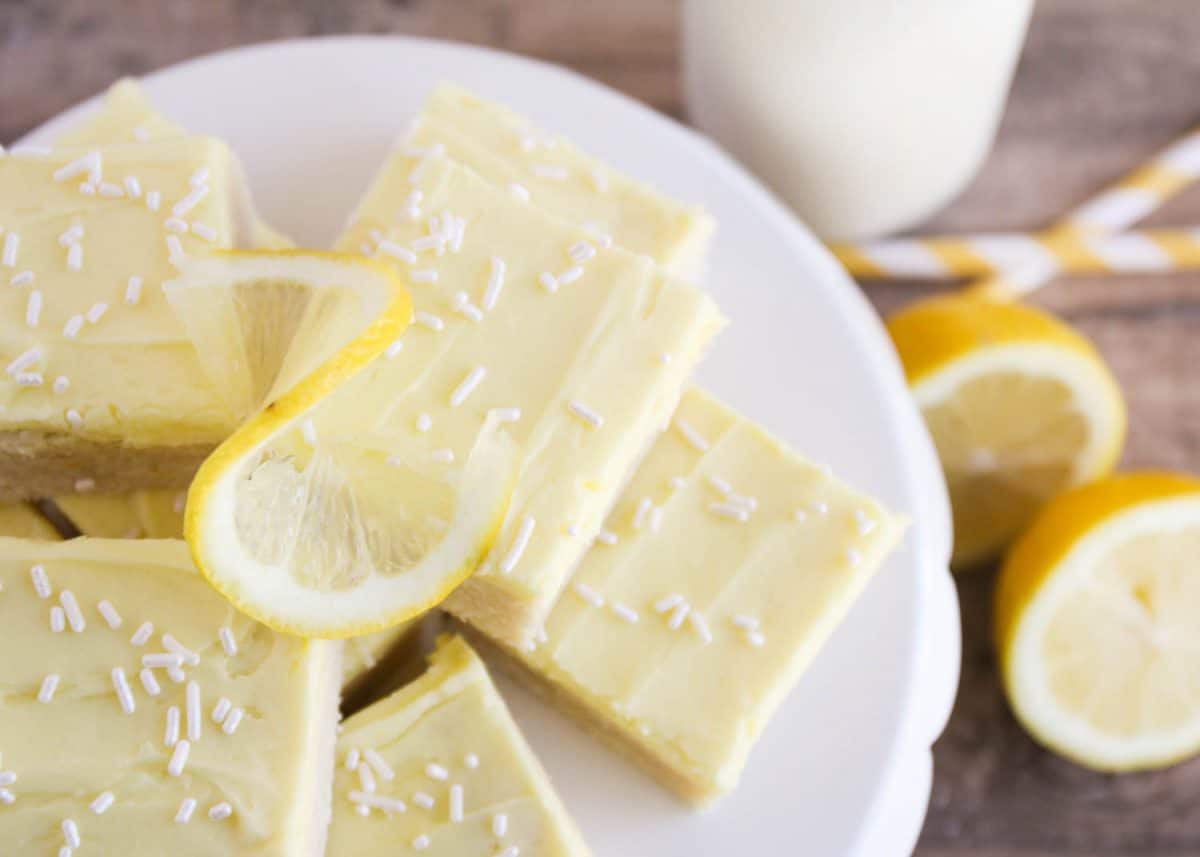 Hack Your Routine!
FREE E-COURSE
5 Time-Saving Tips for Crazy Busy Moms