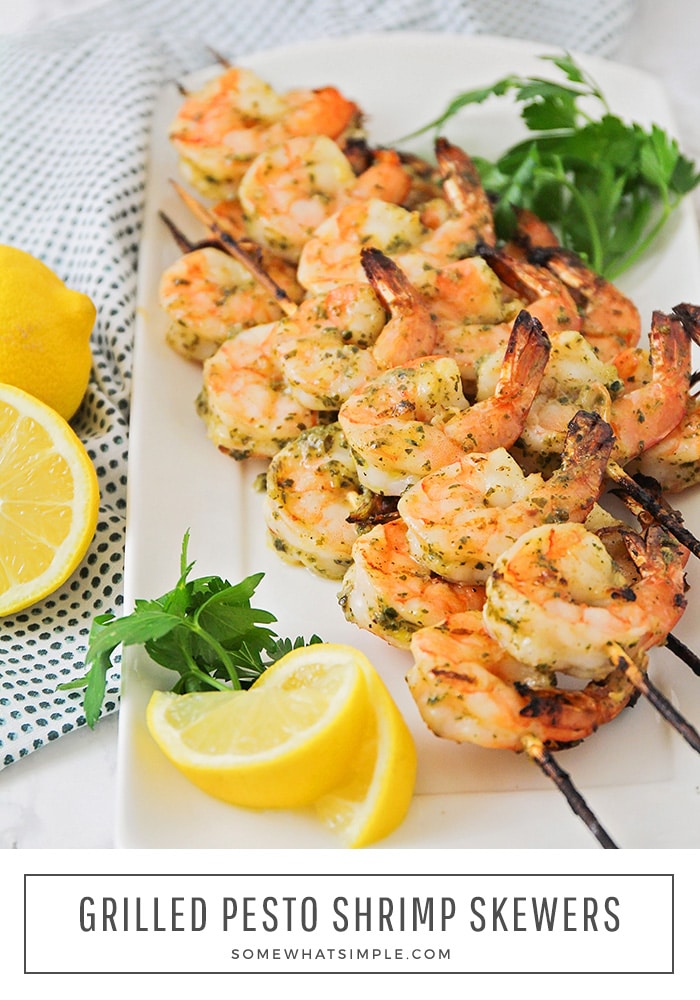 This easy grilled pesto shrimp skewers recipe is light, low carb and gluten-free! It is the perfect summertime meal and you'll fall in love with its amazing flavor!
If you love pesto as much as we do, check out a few more of our favorite pesto recipes – Pesto Chicken Salad and Sausage Pesto Wontons.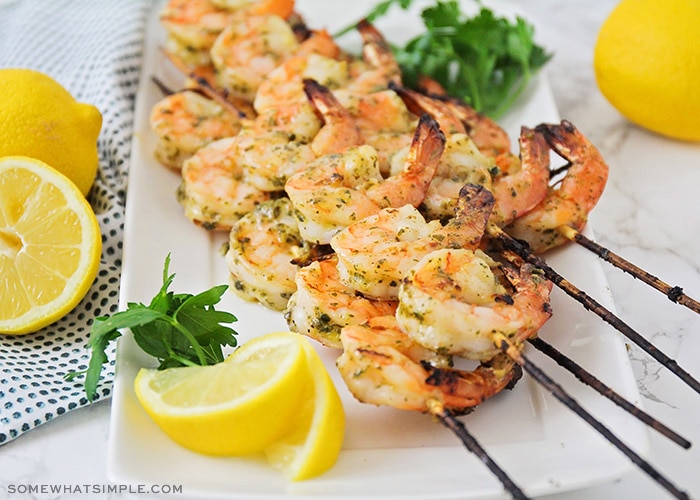 With grilling season in full-swing, you have to try this Grilled Pesto Shrimp recipe! We have it in my home every week or so during summer because everyone (even the kids!) LOVE it! (Maybe now that they're older we can move past the chicken nuggets and macaroni! Yay!) One thing I really like about shrimp is that they're a healthy meal option that tastes incredibly delicious!
Also, The recipe really couldn't be any easier to make. You simply make the pesto marinade or use your favorite store bought variety, marinate the shrimp, skewer it on sticks and grill it!
How To Make Grilled Pesto Shrimp
Pesto Sauce – Add the garlic, Parmesan cheese, basil and salt & pepper a food processor. While slowly using the pulse setting to blend, add in the olive oil a little at a time. Pulse everything until the marinade is smooth.
Let It Marinade – Place the raw shrimp into a mixing bowl with the pesto sauce and mix everything together until all the shrimp is covered. Place the bowl in the fridge and allow the shrimp to marinade for at least at hour.
Skewer The Shrimp – Thread the raw shrimp onto wooden skewers.
Fire Up The Grill – Place the shrimp onto the heated grill and cook the shrimp until they turn pink and opaque. You'll want to flip them halfway through to make sure they cook evenly. I generally try to keep the grill around 400 degrees F.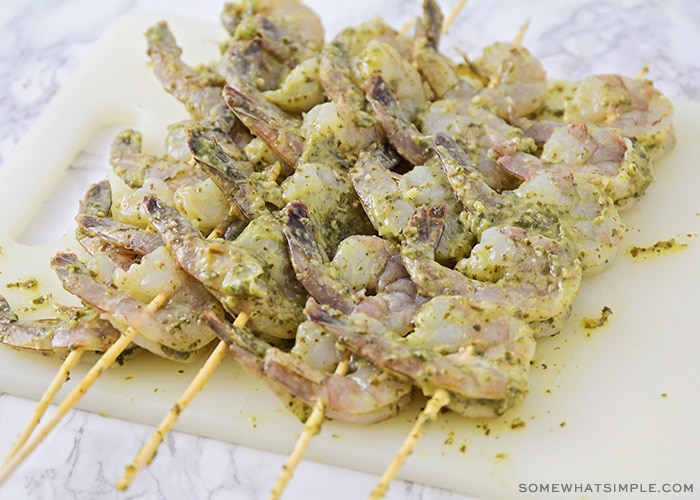 Tips For Grilling Shrimp
How Long Do You Grill Shrimp For – While it can vary a little depending on the size of shrimp you use, they typically take about 2-3 minutes per side. The key to knowing when they're done is when they turn pink and opaque.
What Size Shrimp Is Best For Grilling – I love using the larger sized shrimp for grilling. Typically I'll use the 21/25 sized jumbo shrimp. I think they taste better and they're easier to handle.
Don't Lose Any – While you can place the pesto shrimp directly on the grill, I prefer to place them on skewers so they don't fall through the grates. If you don't have any skewers then I would recommend placing them on a piece of aluminum foil while grilling. These are so delicious, you don't want to lose any!
Don't Get A Splinter – If I'm using wooden skewers, I'll stick them in water and let them soak for at least 20 minutes. This way it'll keep the splinters to a minimum when I'm threading the shrimp on each skewer. It'll also help keep the skewers from burning on the grill.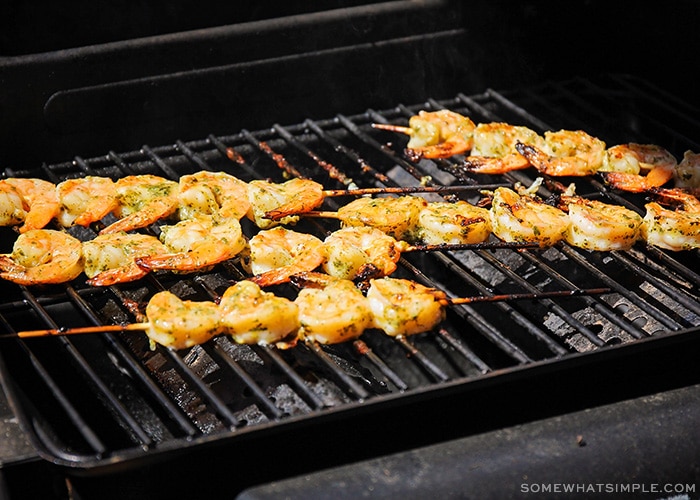 More Easy Recipes For Grilling
Serving these Grilled Pesto Shrimp Skewers to a crowd? Place them on a platter over a bed of greens or right on the stick for a fun handheld appetizer. Either way, they're delicious and nutritious. For a heartier meal, the shrimp are super tasty over pasta too! Enjoy this healthy grilled shrimp recipe as an easy weeknight meal or for your next cookout, but make sure you make more than you think you'll need – they're a family favorite around our house!
Grilled Pesto Shrimp Skewers
This easy Grilled Pesto Shrimp Skewers recipe is light, low carb and gluten-free! It is the perfect summertime meal and you'll fall in love with its amazing flavor!
Ingredients
for the pesto sauce:
1

cup

fresh basil leaves

,

chopped

1

clove

garlic

1/4

cup

grated Parmigiano Reggiano

salt & pepper to taste

3

tbsp

olive oil
for the shrimp skewers
1 1/2

lbs

jumbo

,

21/25 shrimp, peeled and deveined (weight after peeled)

7-10

wooden skewers

,

or metal skewers

lemon wedges
Instructions
Make your pesto sauce. In a food processor (I use my mini prepulse basil, garlic, parmesan cheese, salt and pepper until smooth. Slowly add the olive oil while pulsing.

Combine raw shrimp with pesto in a medium bowl, mix well and marinate for at least 1 hour or place in fridge overnight.

Soak wooden skewers in water at least 20 minutes (or use metal ones to avoid this step - which is what we prefer).

Thread shrimp onto skewers.

Heat grill (outdoor or indoor grill paover medium heat until hot.

Spray lightly with non-stick spray. Place the shrimp on the hot grill and cook until shrimp turns pink on the bottom, about 3-4 minutes.

Turn over and continue cooking until shrimp is opaque and cooked through, about 3-4 minutes more.

Serve with a little fresh lemon wedge for added flavor.
Notes
We find that if we pack the shrimp too tight on the skewers, it takes a bit longer to cook and can easily be overcooked. Better to use more skewers with fewer shrimp on each.
Nutrition
Other Notes
ENJOY!