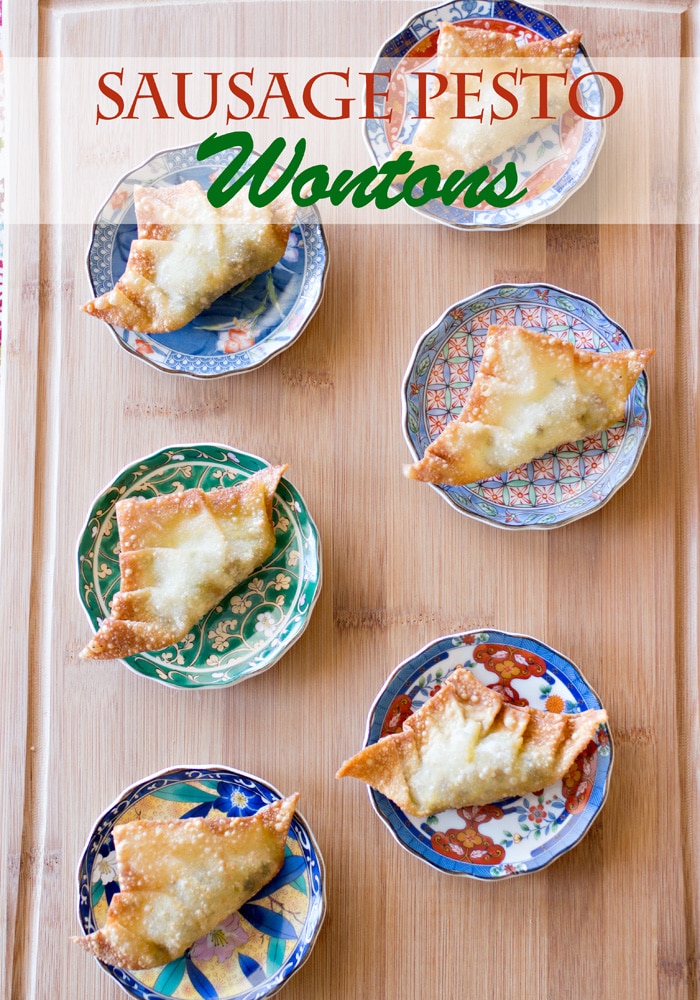 Sausage Pesto Wontons are an Italian spin on the traditional wonton, and they are fantastic!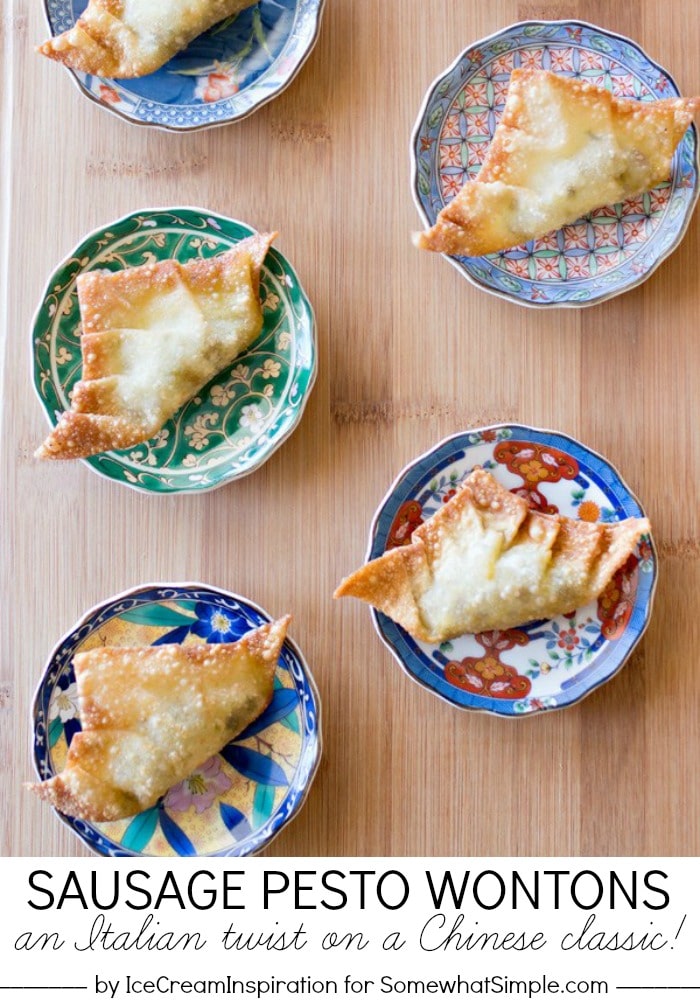 Wontons are like the fun surprise we like to get at Chinese restaurants. Bite-sized and perfectly crispy, they hold savory meat, ginger, and green onions all seasoned with soy sauce. Really, you can put anything in a wonton wrapper and fry it and it will taste good. You simply cannot go wrong.
These sausage pesto wontons have only three ingredients (plus the wrappers) and are so easy to make. You only need pesto, shredded mozzarella cheese, and sweet or spicy Italian sausage. Below is a step-by-step tutorial of how to make wontons. You can apply these steps to any type of wonton you want to make. (I've even heard of people putting chocolate and marshmallows in them!)
First, mix the uncooked sausage, mozzarella cheese and pesto together. Make sure everything is evenly distributed. (You can use store-bought pesto or make your own. There is a great pesto recipe here).
In a clean working space (I used a large cutting board) place several wrappers. Spoon about a teaspoon of the sausage pesto mixture into the middle of each wrapper.
Next, you are going to need a small bowl with a little water in it. Dip your finger in the water, and paint it along two edges of the wrapper. This is going to help seal the wrapper so no filling leaks out.
Fold the wrapper from corner to corner as soon as you have applied the water. Press to seal.
You can either leave them as-is, or do a more traditional "pleating" around the edges. Just pick up the wonton and repeatedly pinch the edges, slightly folding (or pleating) as you go.
Now it's time to fry them. I recommend using a fryer or an electric frying pan, because you can control the temperature. You can do these in a pan on the stove, but you may have to continually adjust the temperature. If you have a fryer or electric frying pan, make sure there is adequate oil (about an inch in an electric frying pan) and set the temperature to 375 degrees. When the oil has reached 375 degrees, fry the wontons in batches for about 30 seconds on each side. Make sure you have long tongs so you can flip them. If using oil in a pan on the stove, I would suggest a large pan with straight sides rather than a frying pan. The sides don't have to be very high (this makes it easier to flip the wontons). You can also use a wok.Pour in about an inch or more of oil and turn onto medium or medium high. Watch carefully. When you think it is ready, drop a small breadcrumb in the oil and see if it sizzles and turns brown. If your oil is smoking, it is too hot. Remember that when you add several wontons to the oil at once, the temperature of the oil will drop. This is why you have to be vigilant when frying these on the stove and may need to adjust the heat on your burner several times. (Alternately, you can just use a little oil and fry these on each side, like you would fry a grilled cheese sandwich. If you do this, I suggest cooking the sausage before mixing it with the pesto and cheese).
These are great eaten as-is, but would also be awesome dipped in marinara sauce! The next time you have an Italian meal, why not add these to the mix?
Sausage Pesto Wontons Recipe
Sausage Pesto Wontons are an Italian spin on the traditional wonton, and they are fantastic!
Ingredients
1/2

pound

Italian sausage

,

sweet or spicy

1/4

cup

pesto

1/2

cup

mozzarella cheese

,

shredded

12

wonton wrappers
Instructions
Mix the sausage, pesto, and mozzarella cheese together.

Place about 1 tsp. of the mixture in the center of each wonton wrapper.

Slide a finger that has been dipped in water along two edges of the wrapper. Fold the wrapper over the filling from corner to corner. Press to seal.

Pleat the edges of the wonton (optional).

Fry in batches at 375 degrees for about 30 seconds on each side.

Serve immediately.
Nutrition
Serving:
1
Wonton
·
Calories:
121
kcal
·
Carbohydrates:
5
g
·
Protein:
5
g
·
Fat:
9
g
·
Saturated Fat:
3
g
·
Cholesterol:
19
mg
·
Sodium:
259
mg
·
Potassium:
58
mg
·
Fiber:
1
g
·
Sugar:
1
g
·
Vitamin A:
136
IU
·
Vitamin C:
1
mg
·
Calcium:
39
mg
·
Iron:
1
mg
Other Notes