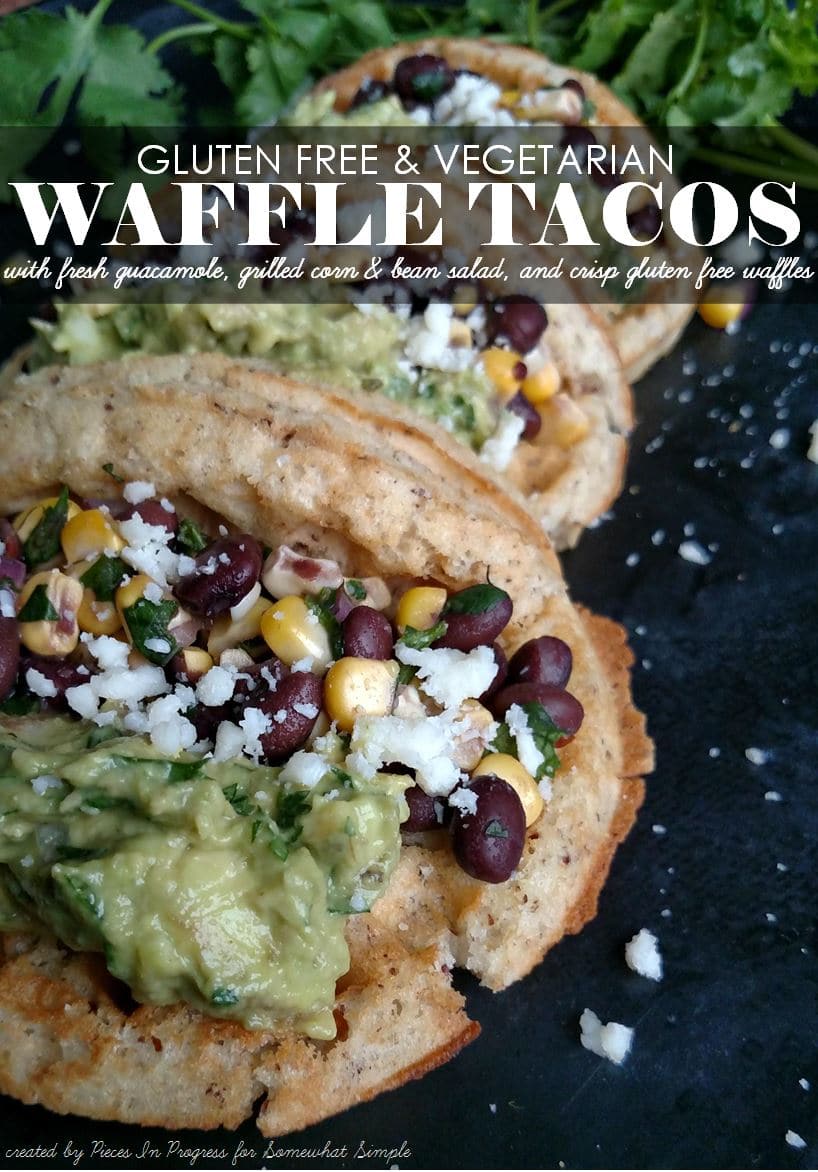 Waffle tacos? You read that right!
This past month my husband and I moved to Philly-our first move since college. And as much as I adore my new kitchen (it's actually big enough for two people!), convenience has been the king of our diets. (What's more convenient than a toaster waffle, right?) So despite our "lack-of-time" and "boxes-everywhere" limitations, I present you with *drumroll please* the WAFFLE TACO!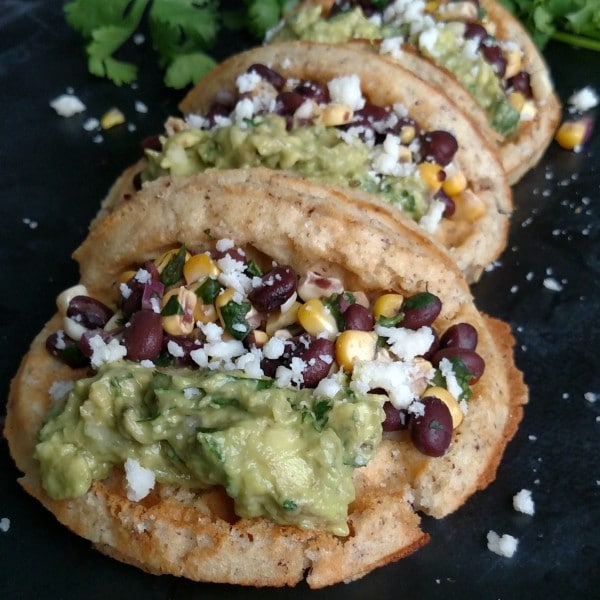 A Waffle Taco is the best of both worlds: the crisp edges give it the crunch of a hard shell taco, but the soft inside gives it the chewiness of a soft taco.
For these Veggie Waffle Tacos, I started with Van's Gluten Free Flax Waffles and toasted them to a warm, crispy perfection. I topped them with chilled corn and black bean salad and some creamy 30 second guacamole. They are topped with a sprinkle of salty cojita cheese and are ready in a flash! Best of all, these are completely gluten free and require nothing more than a toaster and a cutting board.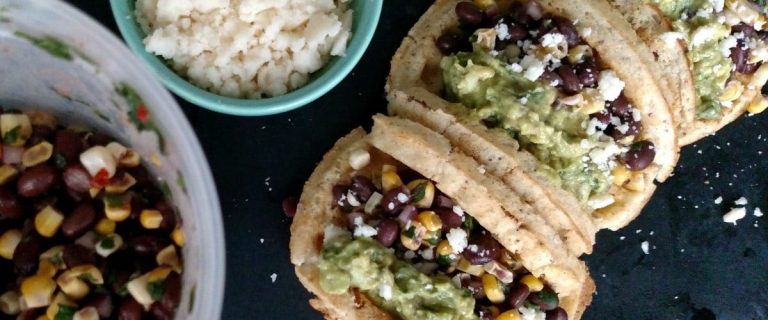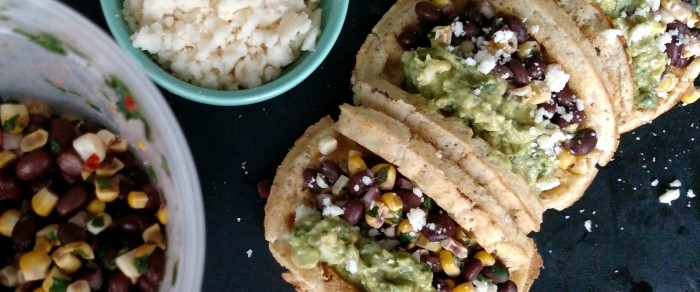 These are served best with piping hot waffles and chilled fillings, so we're going to prep the guac and bean salad first, then toast the waffles in order to preserve that delicious crispy crunch of a hot toaster waffle. Let's dive in!
Veggie Waffle Tacos
Makes 10 waffle tacos
Nutrition per waffle: 236 calories, 12g fat, 33 carbs, 7g protein
INGREDIENTS:
10 Van's Gluten Free Flax Waffles (Or your favorite Van's Gluten-free waffle)
2 RIPE avocados, smashed
1/2 red onion, minced
1 clove garlic, minced
2 limes
1 cup fresh cilantro, chopped
1 can black beans, well rinsed
1 ear of corn, shucked
2 oz cojita cheese, crumbled
DIRECTIONS:
Turn on your grill or heat a grill pan over your stove to medium heat. Spray with nonstick spray and ad shucked corn. (If you're using a pan on the stove, make sure to have your vent fan on- there will be some smoke). Cook for 8 minutes, rotating 2 or 3 times to grill evenly.
Meanwhile, add the smashed avocados, the minced garlic, 1/3 of the cilantro and 1/3 of the onion in a small bowl. Squeeze the juice of 1 lime over the top and blend with a fork until creamy. Cover with plastic wrap and place in the fridge. (Note: The wrap should make contact with the guac to keep it green)
Remove the corn kernels and place in a Tupperware, along with beans, juice of 1 lime, and the remaining onion & cilantro. Coven and store in the fridge.
When you're ready to serve, toast the waffles until hot and crisp. Layer on 1 scoop of guacamole, plenty of bean salad, and sprinkle with cheese.
Enjoy immediately!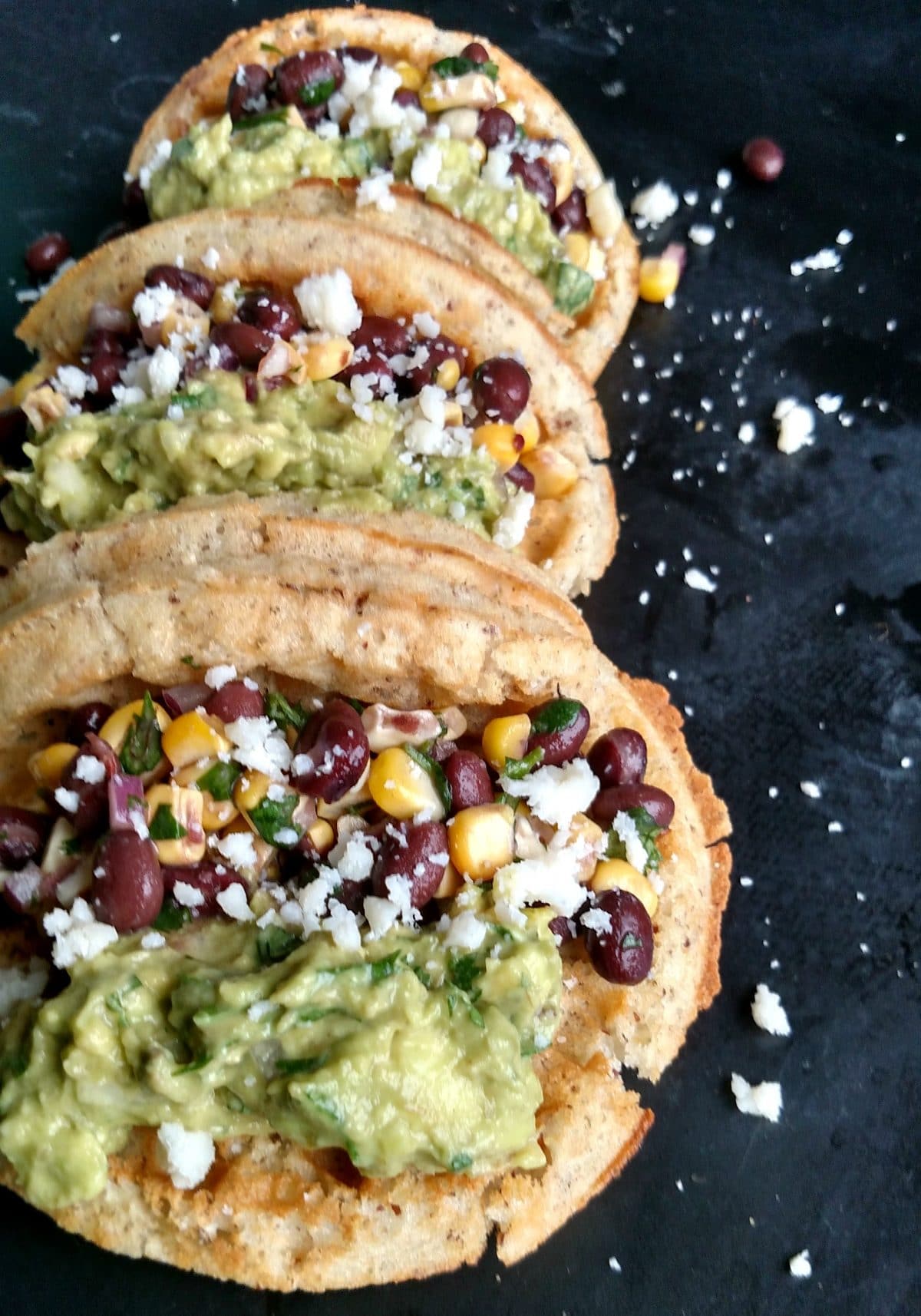 What do you think?
. . . . .
May is Celiac Awareness Month. Here's some tips from Van's on what to look for in gluten-free packaged foods.
Gluten-free certification from the Gluten-Free Certification Organization. This program of the Gluten Intolerance Group requires a higher standard for gluten-free products than the guidelines recently set by the Food and Drug Administration.
Whole Grain Stamp. People following a gluten-free diet can still enjoy the recommended 48 grams or more per day of healthy whole grains such as quinoa, amaranth, teff, millet, brown rice and gluten-free oats. The Whole Grains Council has an official stamp that clearly shows how many grams of whole grains a product contains.
Simple ingredients. Gluten-free foods should be tasty and nutritious in their own right, without artificial flavors or ingredients often used to make up for lack of gluten. Look for simple, wholesome ingredients like flavorful whole grains and fruit juice for sweetness.
Other dietary callouts. Some people with gluten sensitivities may have other special dietary needs as well. Look for symbols that indicate if a product is dairy-free, egg-free or corn-free. Other callouts may include kosher or vegan.
For more healthy living tips and recipes, please visit the Van's Foods website and blog and follow them on social media:
Facebook // Twitter // Pinterest
This recipe was created in support of Van's Foods. We were compensated with product and payment, but all opinions are 100% our own. Thank you for supporting our sponsors so we can continue to provide creative content to Somewhat Simple.