These homemade tostadas are the perfect Cinco de Mayo celebration food! You may be thinking that you don't need a recipe for tostadas, but you do. And this is it.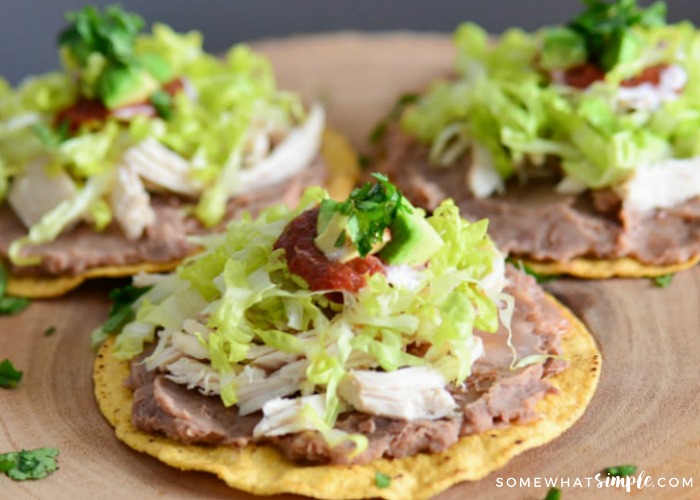 There is nothing tricky or fancy in this tostada recipe, just basic ingredients done right. The two elevating ingredients for this tostada recipe are homemade refried beans with a hint of garlic and bacon, and a delicious red sauce that will knock your socks off!
Refried Beans
These refried beans are super simple to make! They require just a little more work than cranking open a can and a little more of your time, but most of the time is spent waiting, not slaving over a hot stove.
Homemade Red Enchilada Sauce
This lovely red homemade enchilada sauce will become your new best friend when you are crafting tostadas, enchiladas, burritos or tortas. It gives your dish a fancy, gourmet touch that is sure to get five star reviews! (Please refrain from drinking it straight from the food processor!)
I have such confidence in this tostada recipe's ability to please that I even made them for my sister-in-law's family the night before she married my brother. I was cooking for strangers, soon to be family, that I had to impress, so I fell back on one of my absolute favorites!
Here are a few more recipes we think you'll love –
Homemade Tostadas
Easy Homemade Tostadas
These homemade tostadas are the perfect Cinco de Mayo celebration food! You may be thinking that you don't need a recipe for tostadas, but you do. And this is it.
Ingredients
for the refried beans
1

pound

dry pinto beans

2

tablespoons

vegetable oil

1

medium onion

,

cut into large segments

salt

2

tablespoons

bacon drippings or vegetable oil

3

garlic cloves

,

peeled and finely chopped
for the red sauce
2

garlic cloves

,

peeled

1

jalapeño chili

,

stemmed and cut into quarters

1- 28

ounce

can fire roasted tomatoes

1 1/2

tablespoon

vegetable oil
you will also need
one package tostada shells

cooked

,

shredded chicken or shredded pork shoulder

iceberg or romaine lettuce

,

sliced in thin ribbons

sour cream

guacamole

white onion

,

sliced thin

cilantro

,

chopped

cheddar cheese

,

shredded
Instructions
for the refried beans
Lay the beans on a large baking sheet to check for stones and rocks.

Rinse the beans in a colander and then dump into a large pot.

Add two quarts of water, the onion and two tablespoons vegetable oil. Bring the water to a boil.

Transfer the beans and water into your slow cooker and cook on high for 6 hours. When the beans are tender, stir in 1½ tablespoons salt.

At this point you can smash them and just have smashed beans, or you can fry them up in a bit of garlic and bacon grease and have heaven here on earth. (If you need, you can refrigerate the beans after they have cooked in the crock-pot and save the frying and smashing for day two.)

To fry them, heat vegetable oil or bacon drippings over medium heat in a large pan. Add the garlic and stir until the garlic is fragrant, about one minute.

Add the beans and enough water to cover the beans. Bring to a simmer and start to smash the beans with a potato masher. Continue to smash and stir for 5-10 minutes until the beans are the consistency of soft mashed potatoes. Don't over cook or the beans will get dried out. Salt to taste.

Remove from the heat and enjoy.
for the red sauce
Turn on your blender or food processor running. Drop in the garlic, one clove at a time and the jalapeño one quarter at a time, letting each piece get finely chopped before adding the next.

Add the fire roasted tomatoes and juice and continue to process until the mixture is smooth.

Heat the vegetable oil in a pan to medium and then add the sauce.

Cook over medium heat, stirring occasionally until the sauce has thickened just a little.

Keep warm until ready to serve.
building the perfect tostada
Build upon your tostada shell, layer by layer of the ingredients of your choice, starting with the beans + sauce, then the meat, lettuce, guacamole, sour cream and cheese.

Eat and enjoy!
Nutrition
Other Notes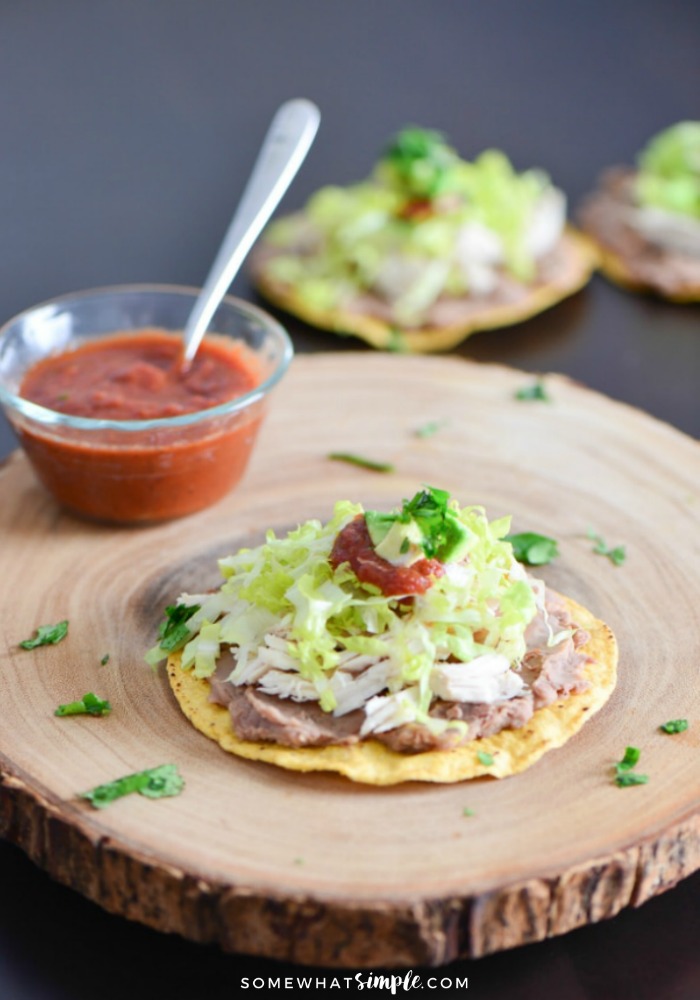 Between just us, while it looks pretty to have a dab of the red sauce, be sure to give it a healthy spread of it across the tostada. Your mouth will thank you.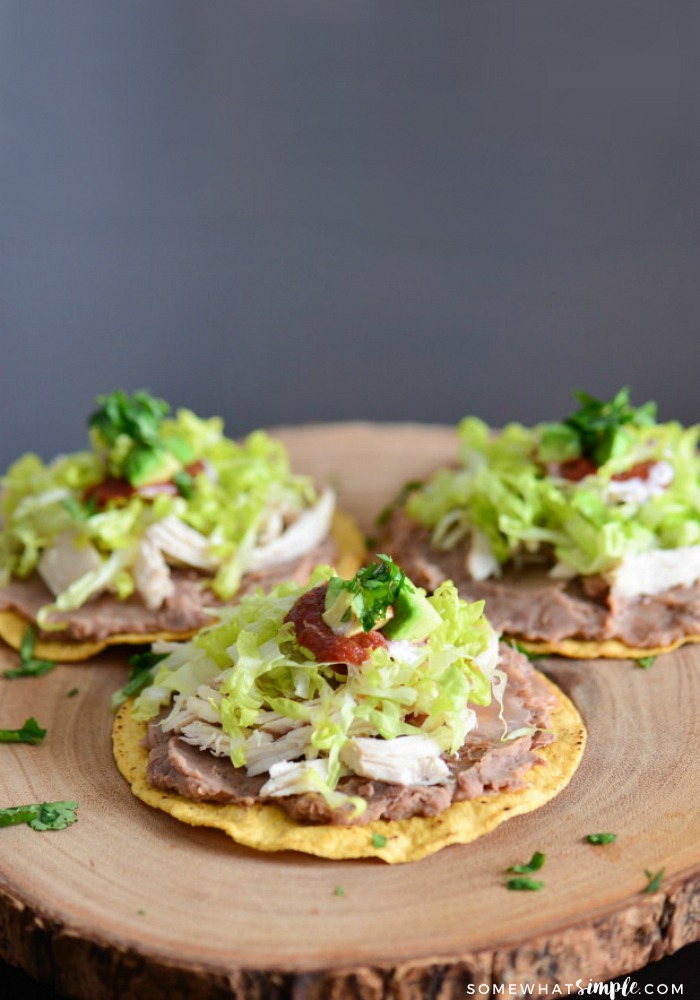 ABOUT THE AUTHORS – Kristen and Camille are the delicious duo from Culinary Mamas. One of their goals is to help families cook up wholesome, healthy dinners that kids actually eat. The Culinary Mamas were contributors to Somewhat Simple in 2014.