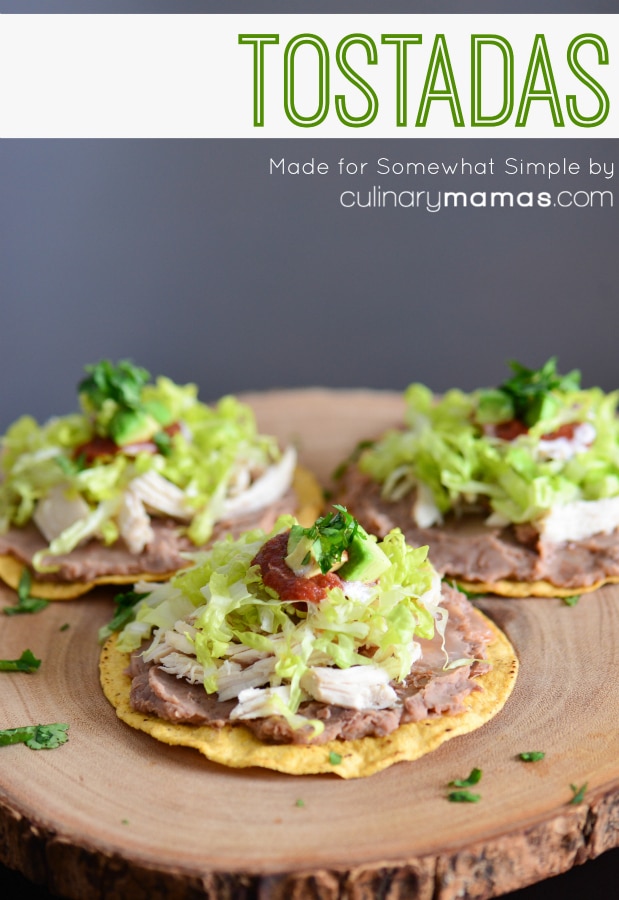 These tostadas are the perfect Cinco de Mayo celebration food. I have such confidence in the tostada's ability to please that I even made them for my sister-in-law's family the night before she married my brother. I was cooking for strangers, soon to be family, that I had to impress, so I fell back on one of my absolute favorites. There is nothing tricky or fancy here, just basic ingredients done right. You may be thinking that you don't need a recipe for tostadas, but you do. And this is it.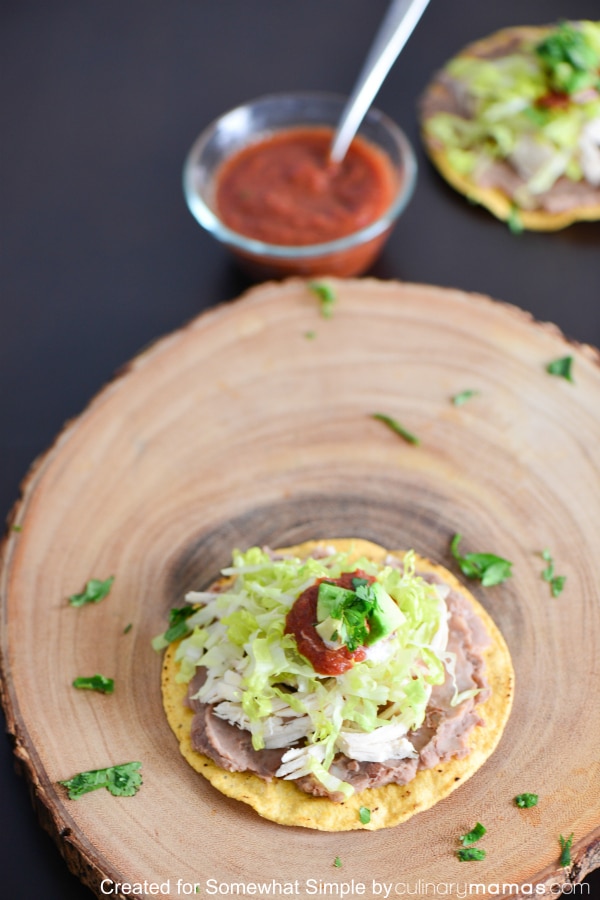 There are basic dishes that when done right revolutionize your life as a cook, because the basics done right elevate the entire meal. The two elevating dishes for this Mexican meal are refried beans and red sauce. When the beans are homemade and have a hint of garlic and bacon the entire tostada is the better for it.  This red sauce is your secret that will make people love eating at your house, even if these people are less than three feet high.
For the beans, it is just a little more work than cranking open a can.  It does take more time, but most of it is just waiting. When you are ready to fry them, if you want to really impress and create a flavor deep and comforting, the secret is bacon. Or, if you want to watch the cholesterol, fry them up in a bit of vegetable oil. Did you know that refried beans aren't beans fried twice, like the name infers, the word is better translated "well-fried" beans? I learned that from Mr. Mexican cooking himself, Rick Bayless.
The other secret when you are crafting tostadas, enchiladas, burritos or tortas is this lovely red sauce. It is your fancy gourmet touch that will start the five star reviews rolling in. After making it, you are going to have to stop yourself from drinking it straight from the food processor.
My favorite way to use beans and red sauce is in tostada form. It is simple to dress up or down depending on the time you have to create in your kitchen. This might be a bit more work, but you will have leftovers. The beans make enough to serve about eight adults. I can feed my family of six people two and a half meals with them. The beans are easy to double if you need this to feed a crowd. If you have the extra time, make this guacamole, if you don't just cut up an avocado.
If you are making the both the pork and beans with the crock-pot and if you only have one crock-pot, you can make the pork or beans the day before and reheat the next day.

To make the tostadas for about eight people, layer:
one package tostada shells
homemade beans from this recipe
cooked and shredded chicken from three large chicken breasts or cooked and shredded pork shoulder (Need help with this? See below.)
lettuce: one head iceberg or romaine, sliced in thin ribbons
red sauce from this recipe
one container sour cream, thin with some milk or use Mexican cream
guacamole, or two avocados that have been diced
one white onion, sliced thin (The white onion tastes better here than yellow.)
cilantro, chopped
queso fresco or queso añejo cheese (This is in the big box grocery stores and it is so delicious.)
How to make the beans:
(I have step by step instructions here.)
1 pound dry pinto beans
2 tablespoons vegetable oil
1 medium onion, cut into large segments
salt
To fry you will need:
2 tablespoons bacon drippings or vegetable oil
3 garlic cloves, peeled and finely chopped
First you need to check and make sure there's no dirt or little rocks in the beans. Rinse the beans in a colander and then dump into a large pot. Add two quarts of water, the onion and two tablespoons vegetable oil. Bring the water to a boil. Transfer the beans and water into your slow cooker and cook on high for 6 hours. When the beans are tender, stir in 1 1/2 tablespoons salt.
Pour the beans into a large bowl and smash them until they are mostly smooth with some chunks. I like mine chunky.
In a large pan, heat the oil or bacon drippings over medium-high heat. Add the garlic and stir until the garlic is fragrant, about thirty seconds. Add the beans and continue to stir for 5-10 minutes until the beans are the consistency of soft mashed potatoes. Don't over cook or the beans will get dried out.
How to make the red sauce:
2 garlic cloves, peeled
1 jalapeño chili, stemmed and cut into quarters
One 28 ounce can fire roasted tomatoes
1 1/2 tablespoon vegetable oil
Start your blender or food processor running. Drop in the garlic, one clove at a time and the jalapeño one quarter at a time, letting each piece get finely chopped before adding the next. Add the fire roasted tomatoes and juice and continue to process until the mixture is smooth. Heat the vegetable oil in a pan to medium and then add the sauce. Cook over medium heat, stirring occasionally until the sauce has thickened just a little. Keep warm until ready to serve.
How to make perfect pork shoulder:
Add one 6-8 pound pork shoulder to a crock pot. Cook on low heat for 8-10 hours. The pork is done when it falls apart very easily. Shred the pork. You will have more pork than you need for eight people. You can freeze any leftovers for later use or double the beans and red sauce and serve more friends!
Now go and layer the tostada and enjoy it! Between just us, while it looks pretty to have a dab of the red sauce, be sure to give it a healthy spread of it across the tostada. Your mouth will thank you.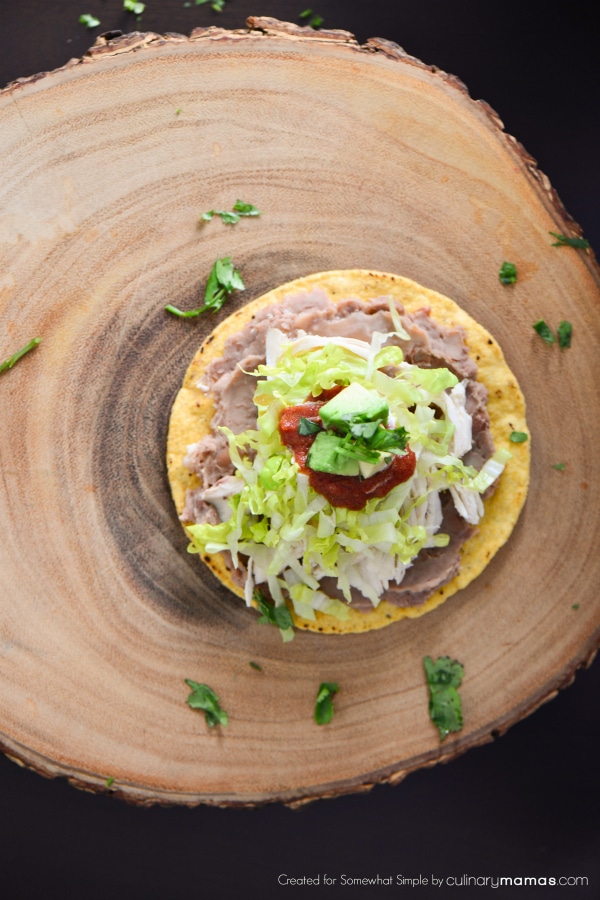 This recipe is adapted from Rick Bayless' book, Mexican Everyday. A must-have cookbook if you love jalapeños and limes.
If you are looking for something healthier and lighter this year try these shrimp tacos or these red-sauced fish tacos.