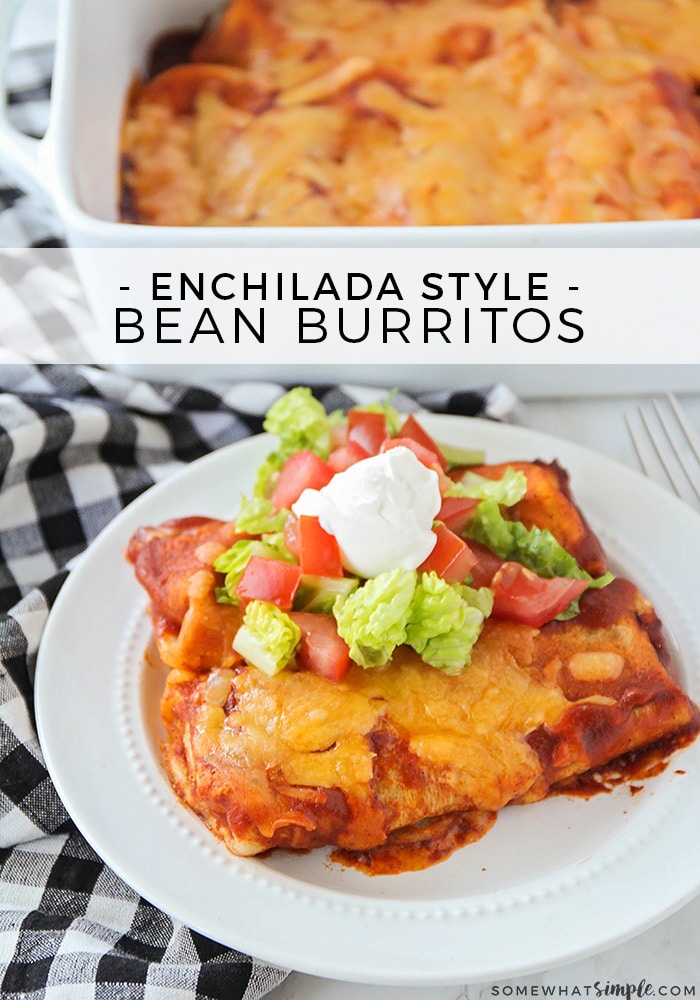 Enchilada style baked bean burritos take my two favorite Mexican foods and combine them into one amazing and easy recipe! These delicious bean burritos are topped with enchilada sauce, cheese and your other favorite toppings that make a meal everyone will love!
Baked Bean Burritos
Lovers of all Mexican foods, raise your hand!!!! Growing up in Southern California I have always had an affinity for Mexican food. When we were first married, we lived across the street from this tiny Mexican restaurant that we would go to all the time for dinner.
One of my favorite things to order were their enchilada style bean burritos. The first time I had them, I thought I had died and gone to heaven! They took my two favorite Mexican foods of all time and combined them to make an incredible dish. How had I never had one of these before?! this delicious combo had been staring me in the face my entire life and I never realized it.
Being a poor newlywed, I decided to make my own by baking them in the oven. These enchilada style bean burritos are probably one of the easiest recipes you'll ever make! And I use the term "recipe" lightly because it is basically just a handful of ingredients thrown together to make something delicious.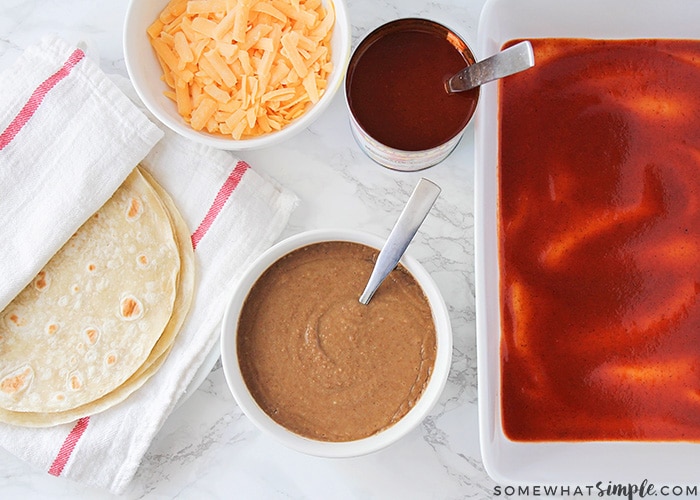 How to Make Baked Burritos
The recipe I found as inspiration for this meal said to buy frozen bean and cheese burritos, but I decided to construct my own instead. Not because I have anything against frozen burritos- it's actually quite the opposite! I figured if I am already in the kitchen planning to add additional steps to the cooking process of a frozen burrito, I might as well save them for a time when I don't feel like cooking at all!
To make these baked burritos, you'll need some tortillas, refried beans, cheddar cheese, and enchilada sauce. You can certainly use all store-bought ingredients, but if you want to make them even more delicious, here are a few helpful recipes –
Enchilada Style Burrito Ingredients –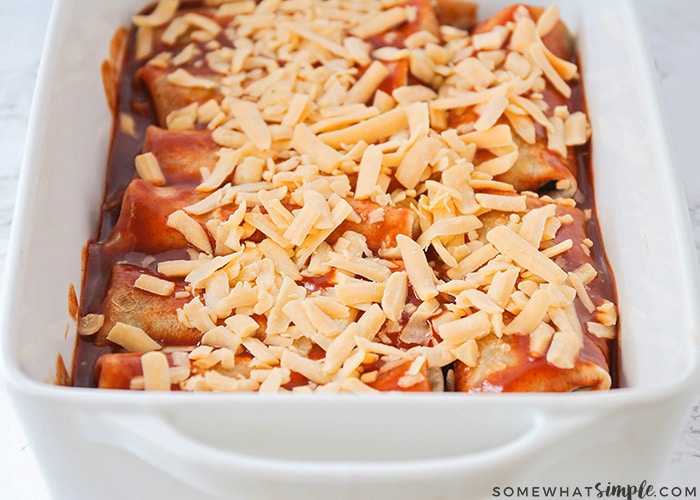 Fill each tortilla with some refried beans and cheese, then roll them up and place them in a baking dish. Pour enchilada sauce on top of the burritos, then sprinkle with some cheese.
Since all of your ingredients are cooked already, you'll just need to bake these in a preheated oven to heat it up and melt the cheese.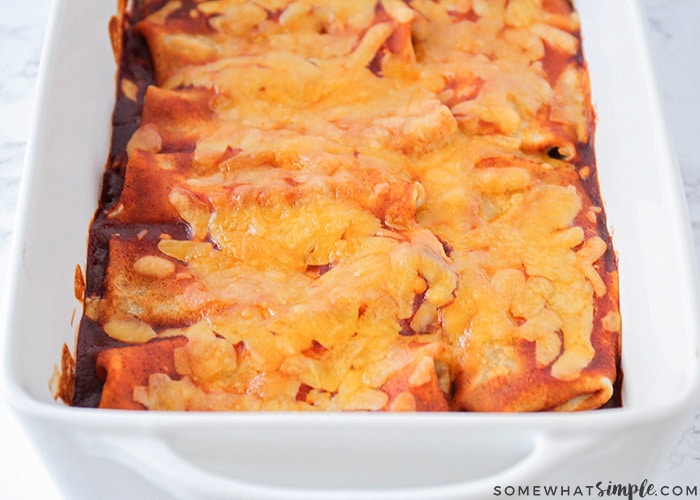 Serve with your favorite Spanish rice or some chips and salsa, and you're good to go!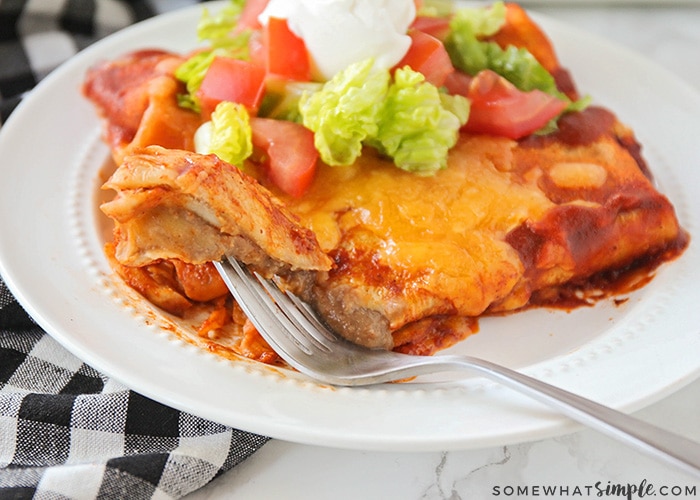 Enchilada Style Bean Burrito Recipe
I promise, once you try these tasty burritos, they'll be on your menu for years to come. Leave us a comment below and let us know how much you loved them. We also love seeing you post on social media when you make one of our recipes so tag us the next time you do!
Enchilada Baked Bean Burritos Recipes
Looking for an easy dinner to feed your family tonight? These baked bean burritos are a favorite of ours! They are deliciously filling, and so simple to make!
Ingredients
10

flour tortillas

2 - 3

cups

refried beans

4

cups

shredded cheddar cheese

2-3

cups

red enchilada sauce

Toppings: guacamole

,

salsa, sour cream, diced tomatoes, sliced olives, etc.
Instructions
Preheat oven to 350 degrees. Spread about 1/2 cup of enchilada sauce in the bottom of a 13 x 9 casserole dish.

Assemble your burritos by filling each tortilla with a couple heaping spoonfuls of beans and a small handful of cheese. Roll up and place seam-side down in the casserole pan. Line them up, side by side.

Pour remaining sauce (as much as you'd like) over the top of the burritos.

Sprinkle with cheese.

Cook for 20-30 minutes or until heated through.
Nutrition
Other Notes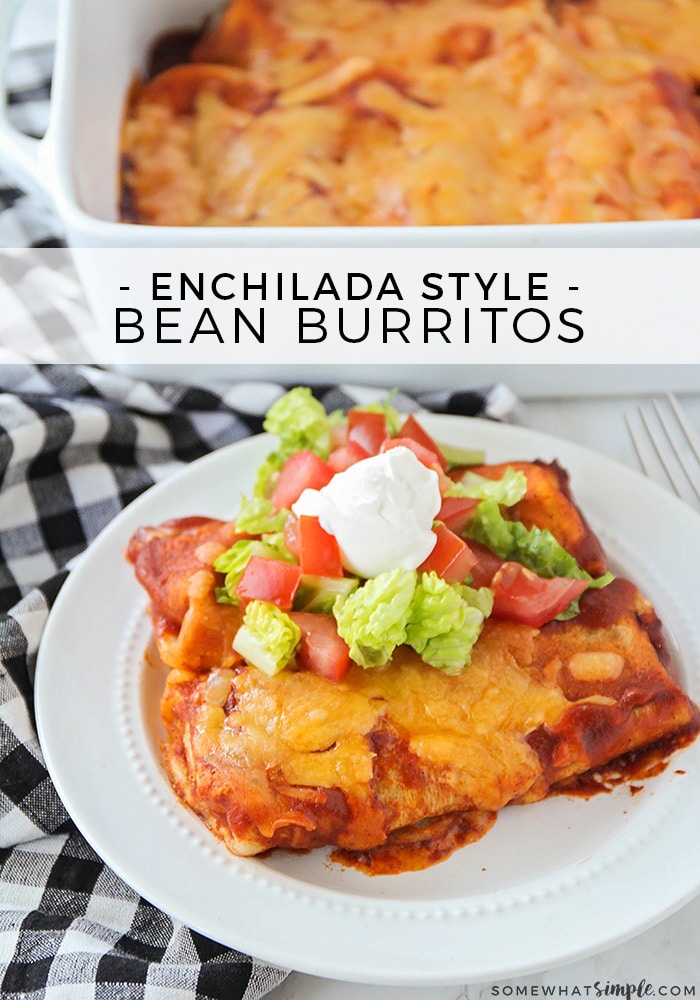 SaveSave
SaveSaveSaveSave
SaveSave
SaveSave