The perfect blend of fresh veggies and savory spices – this mild homemade salsa is easy to make and tastes amazing!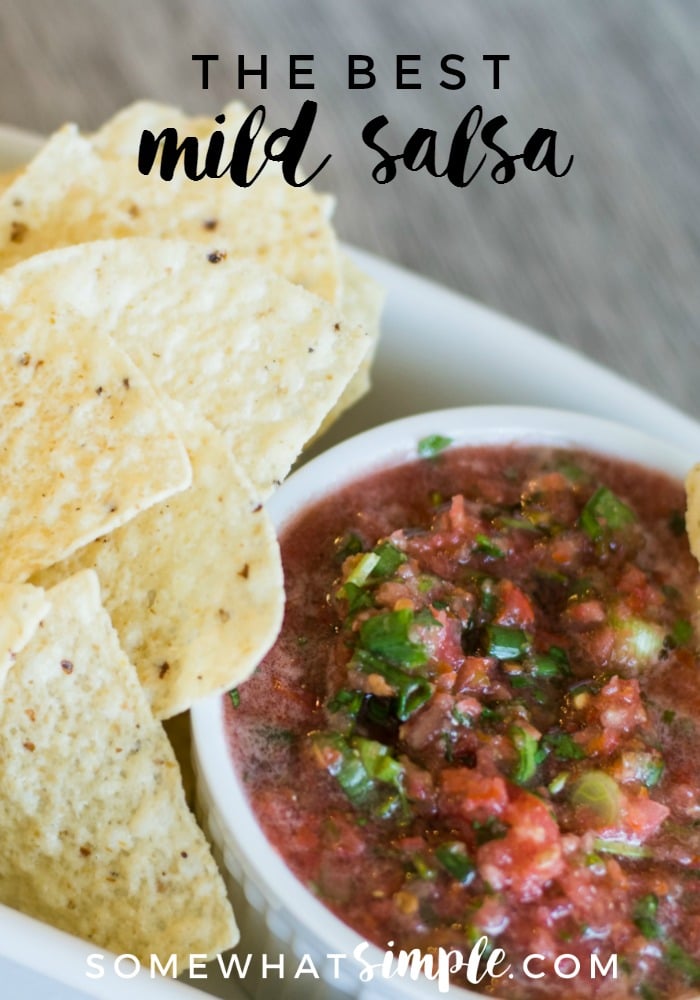 (My mouth is literally watering while I type this!)
First, let me start off by saying I am a HUGE lover of salsa- I can't get enough of it! It has to be fresh and it has to be mild. Call me a wuss, but I like to taste all the flavors of my salsa- too much of a spicy kick and all I taste is the pepper and the snot running down my nose- what fun is that?!
My kids love to help me make this salsa, and even my three year old gives it 2 thumbs up!

I made this salsa for a girls night and 1/2 of the huge batch was gone in 60 seconds. The other half was finished the next day during Sunday dinner. I think people liked the salsa and chips more than my enchiladas!! (GASP!)
Ok, enough gabbing, here is the awesome recipe:
The Best Homemade Salsa
It makes a big batch, but if you like salsa…..it goes fast!
Homemade Salsa Recipe –
5 lbs. Roma tomatoes
4 bunches

green onions

1 bunch cilantro
4 medium pickled jalapenos*
3 limes
1 Tblsp. salt
2 tsp. garlic salt
1 tsp.

ground cumin

2 tsp. sugar
* Pickled jalapenos come in a can on the Mexican Food Aisle. The original salsa recipe calls for 4 medium pickled jalapenos, but sometimes all I need is 1 or 2 because you never know how spicy they will be. So start with less and add more to your liking!
How To Make Homemade Salsa –
Chop

tomatoes very fine by hand or in a

food processor

being careful not to puree. Put tomatoes in a large bowl.
Chop jalapenos very fine or you can add them to the tomatoes as you put them in the food processor.
Thinly slice green onions and finely chop the cilantro leaves. Add them to the bowl of tomatoes and jalapenos and mix well/
Add lime juice, salt, garlic, cumin, and sugar to the bowl and stir until well combined.
Chill several hours before serving to blend flavors (if you can't wait that long!)
EAT & ENJOY!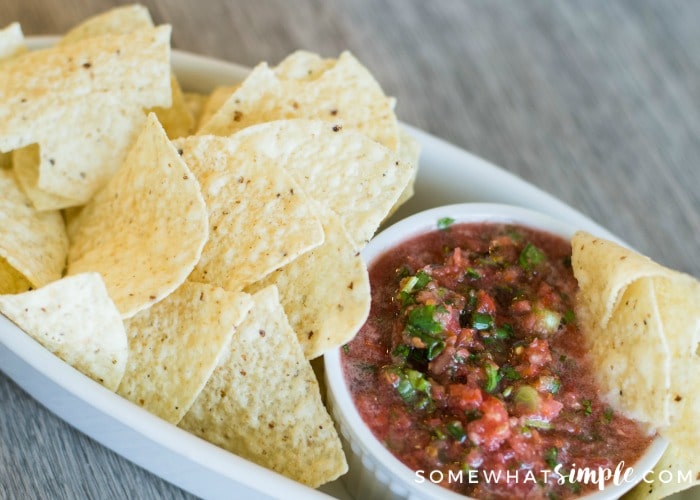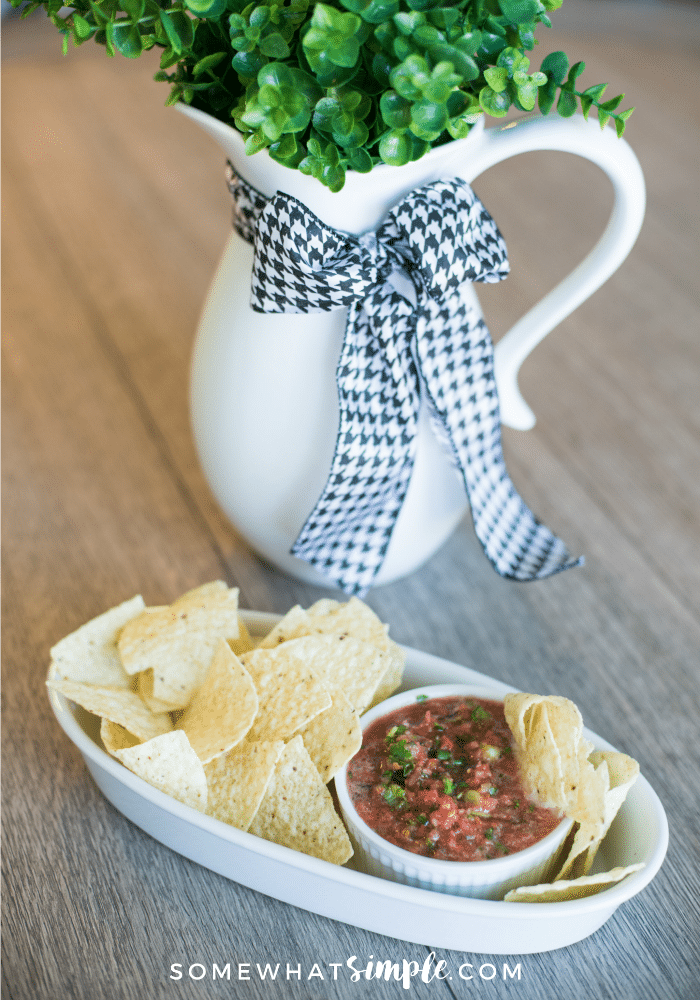 This salsa is amazing with tortilla chips or over some grilled chicken. (YUM!) Addie actually skips the chips and digs in with a spoon!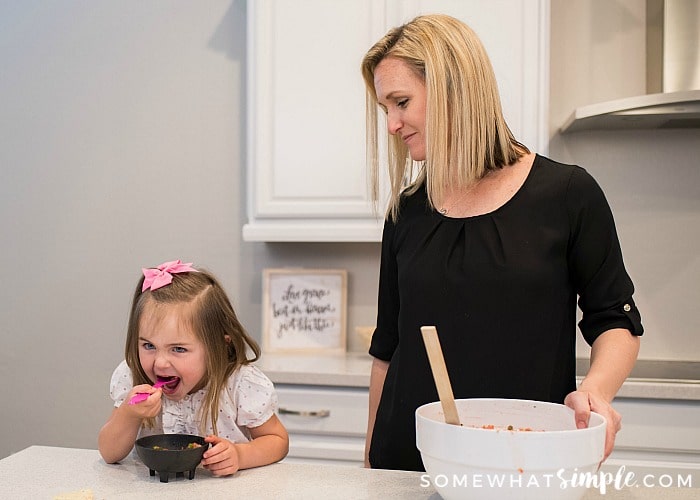 Seriously you all need to make this today. It will not disappoint!
Love this recipe?  Check out some of our other favorite recipes!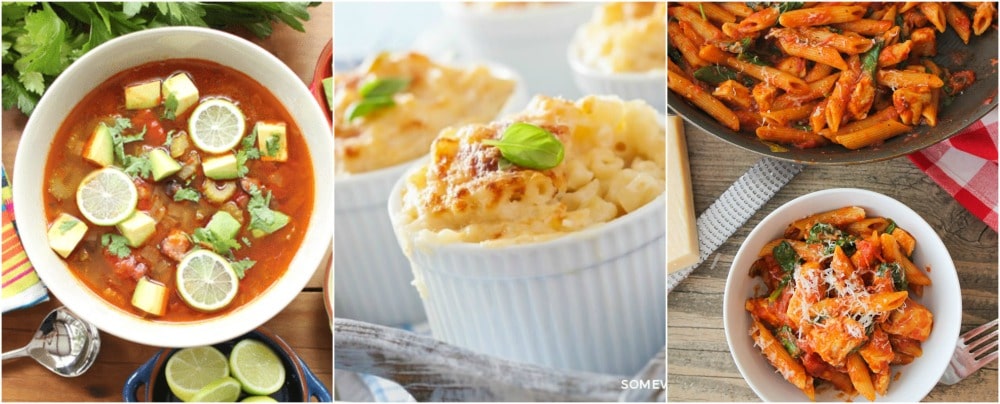 Chorizo and Black Bean Soup // Ranch Macaroni and Cheese // One Pot Chicken Parmesan Skillet
This post originally published on Somewhat Simple in September 2009
Hack Your Routine!
FREE E-COURSE
5 Time-Saving Tips for Crazy Busy Moms