Making enchiladas doesn't have to be something that takes all day and requires a ton of ingredients!!! Here is our easy enchiladas recipe with the BEST homemade AND store-bought enchilada sauces. (And trust me, we've tried them ALL!)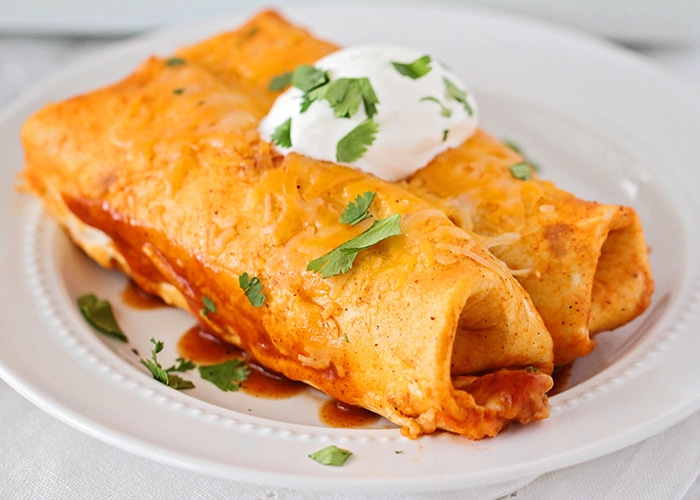 Easy Enchiladas
This is the enchilada recipe that has set the standard in my home for a good meal. If I let Rob choose what's for dinner, this is always his first choice. And I don't mind – these easy enchiladas are delicious and couldn't be easier to prepare!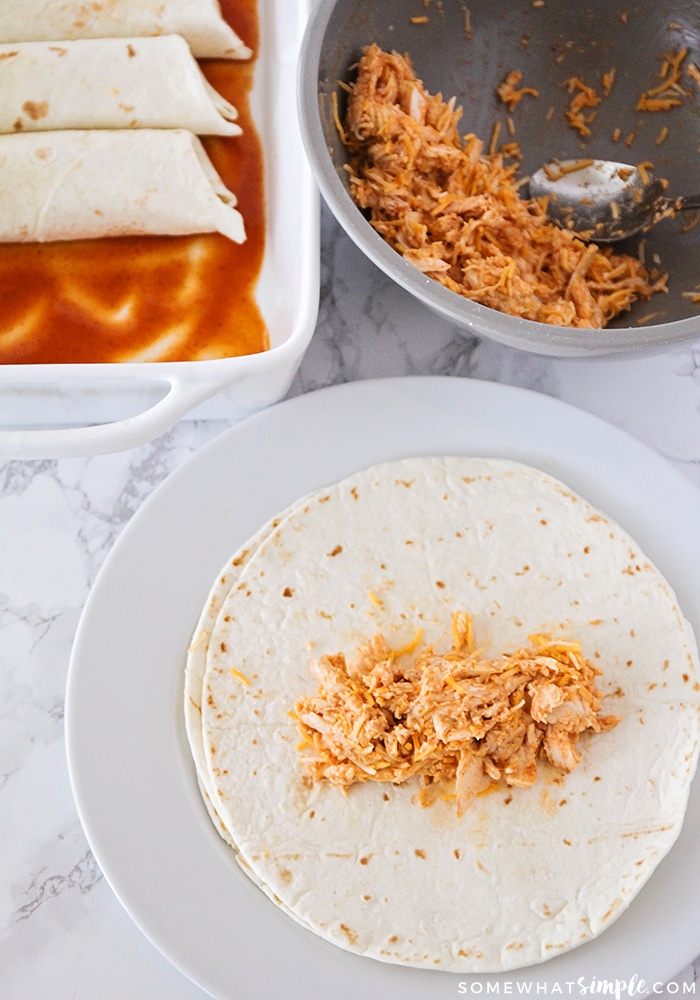 MY LATEST VIDEOS
How to Make Enchiladas –
To make enchiladas, you'll start by shredding some cooked chicken breasts and mixing it with some sauce and some cheese. (Add some sour cream for green enchiladas for a creamy variation that is amazing!) Exact measurements on these ingredients is entirely up to you! Do you like your enchiladas extra cheesy? Go for it! Want to drown your tortillas in the delicious enchilada sauce? No judging here!
Once your chicken mixture is made, you'll put a few heaping spoonfuls of it onto the center of each tortilla, roll it up and place it in your baking dish. I can get 8-10 enchiladas in each 9×13 casserole pan.

Cover the rolled enchiladas with more sauce, sprinkle with some cheese, and you're good to pop them in the oven! And since everything you've used is already cooked, you just need to bake your enchiladas to heat them up and melt the cheese. This usually takes about 20 minutes.
These easy enchiladas are sure to become a family favorite in your home!

The Best Enchilada Sauce
I definitely have my favorite homemade red enchilada sauce recipe, but if you don't have time to try it, store-bought enchilada sauce is a great option.
I will warn you though, NOT ALL SAUCES ARE CREATED EQUAL!
Over the years, I've experimented with plenty of the brands that you see at the grocery store, and so many of the red sauces are thin and bitter, while the green are too bland or too spicy.
The brands I love for each enchilada recipe are pictured below. I've been using them both for years now, and I will NOT try any other brands anymore! (Once you find a favorite – stick to it!)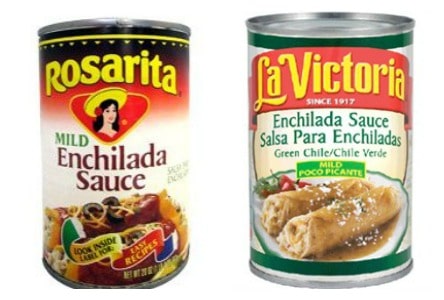 How to Freeze Enchiladas
To make Enchilada Night in your home even easier, you can assemble your enchiladas then freeze them until you're ready to use them up! Here is how to freeze enchiladas –
Spread some sauce over the entire bottom of a 13 x 9 casserole pan. (I use the disposable foil ones.)
Mix the ingredients for the enchilada filling of your choice (red or green).
Fill each tortilla with the filling and roll up like a burrito.
Place each filled tortilla side by side in the pan.
Pour the remaining sauce on the top of the tortillas- covering them completely.
Sprinkle with cheese- as much as you would like!
Cover first with saran wrap, then with foil. Label them and freeze them!
When you're ready to cook them, thaw them as much as you can, remove saran wrap and foil and then bake uncovered at 350 degrees until heated through. (The cook time will depend on how much chicken mixture you stuff your enchiladas with + how defrosted they are. I typically pull mine out of the freezer in the morning and then bake them for 20-30 minutes.
Top with desired toppings, serve & enjoy!
Easy Homemade Enchiladas with Red Sauce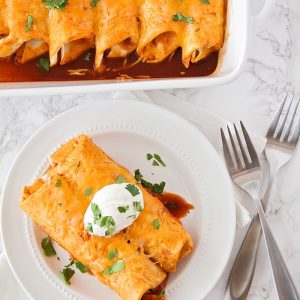 Red Chicken Enchiladas
Making enchiladas doesn't have to be something that takes all day and requires a ton of ingredients!!! Here is our easy enchiladas recipe with the BEST homemade AND store-bought enchilada sauces. (And trust me, we've tried them ALL!)

Ingredients
10

Soft Taco Sized Tortillas

2

Breasts of Chicken

cooked and shredded. (I boil my chicken straight out of the freezer)

Shredded Cheese- Cheddar or Mexican blend

Red Enchilada Sauce

Toppings: Sliced olives

diced tomatoes, sour cream, guacamole, etc.
Instructions
Preheat Oven to 350.

Spread some sauce over the entire bottom of a 13x9 casserole pan.

In a medium bowl, combine the shredded chicken, 2/3 of the can of red sauce, and 2 cups of cheese.

Fill each tortilla with the chicken/cheese mixture and roll up like a burrito.

Place each filled tortilla side by side in the baking dish an pour the remaining sauce on the top of the tortillas- cover them completely.

Sprinkle with cheese- as much as you would like!

Cook uncovered in the oven for 20 minutes or until heated through.

Top with desired toppings & enjoy!
We hope you ENJOY these Easy Enchiladas!
Let us know how you like them in the comments section below!