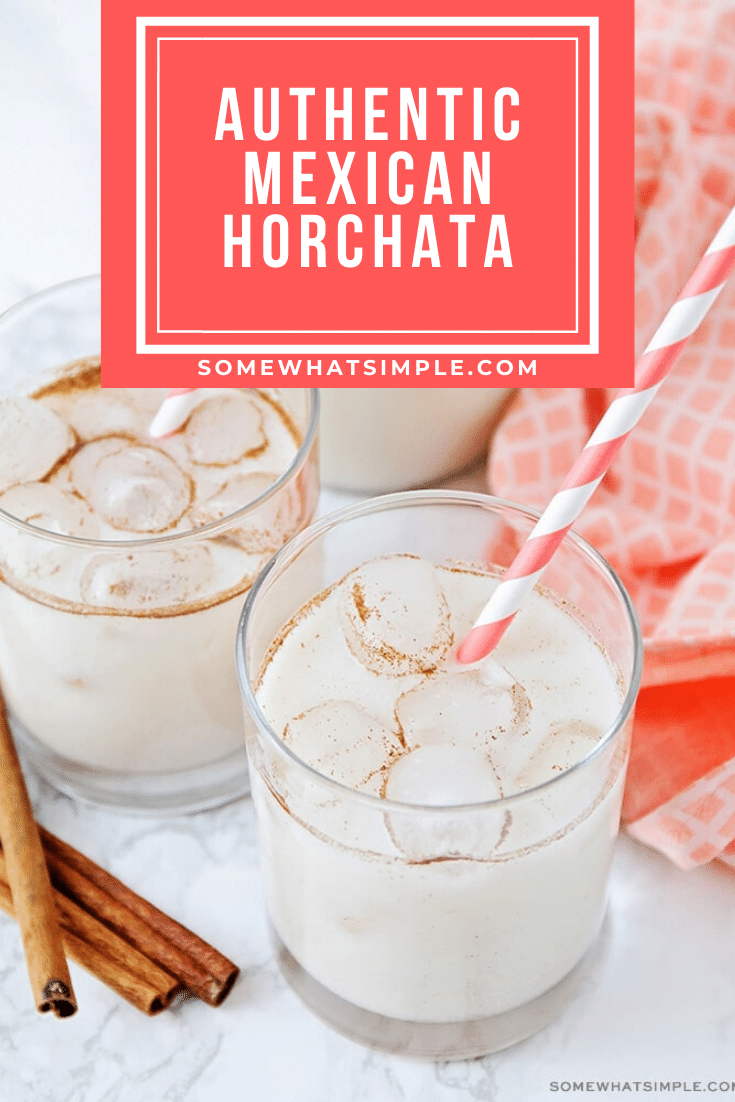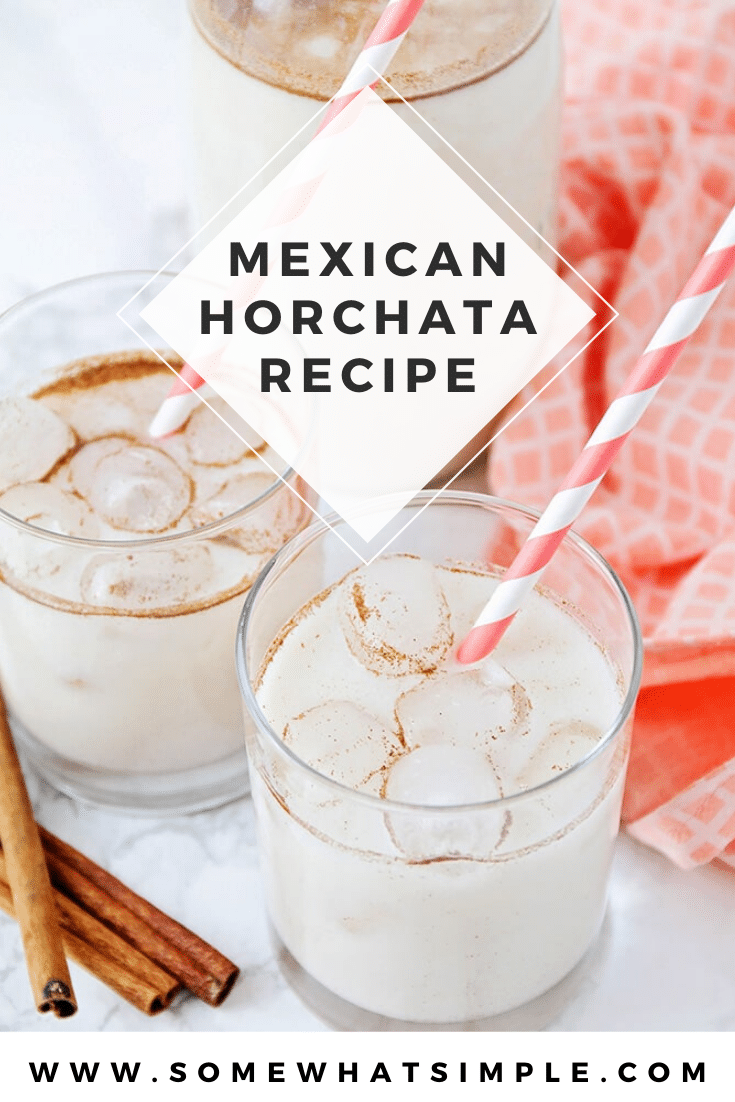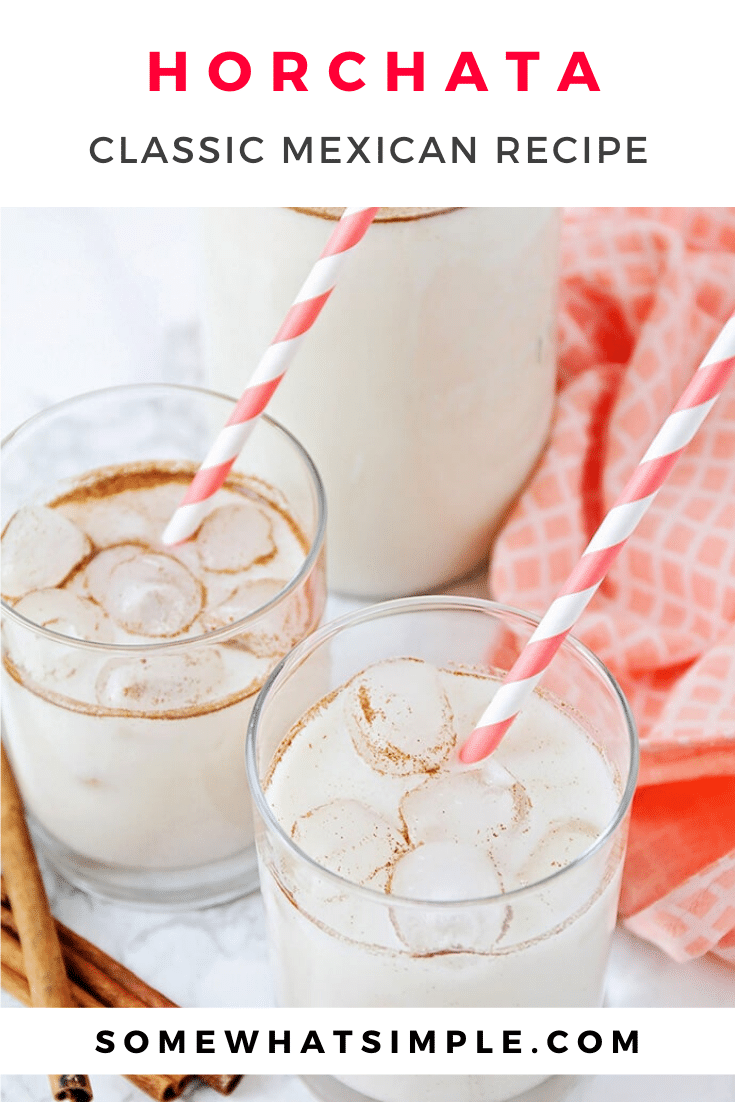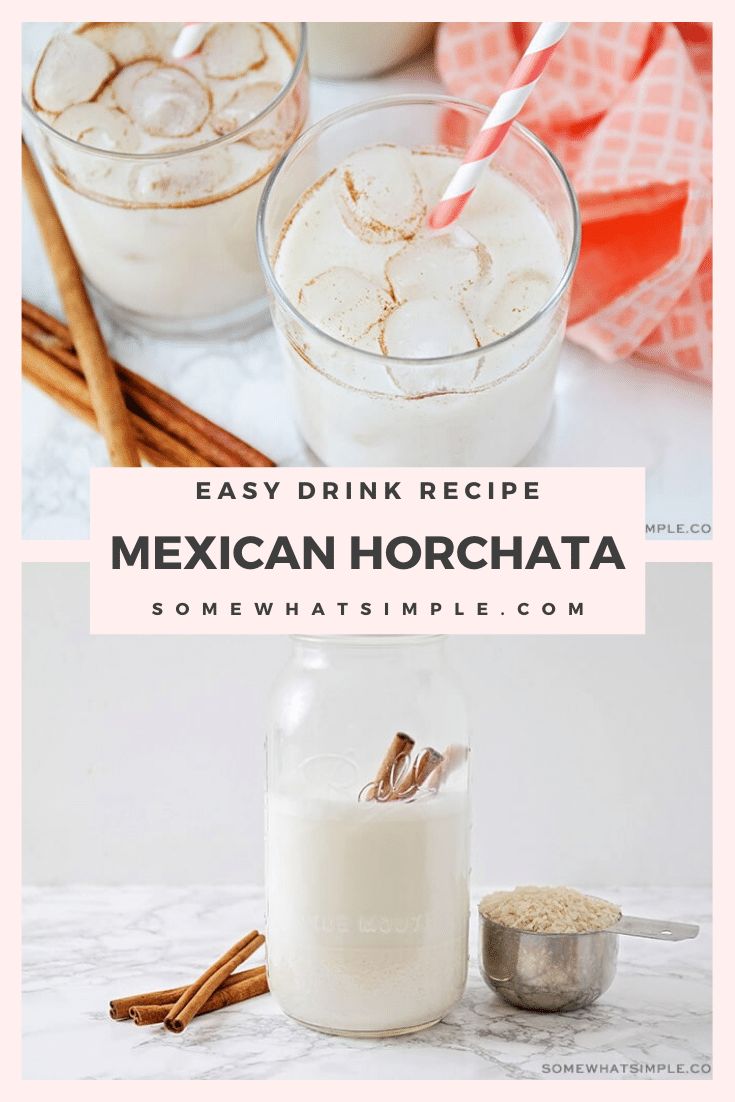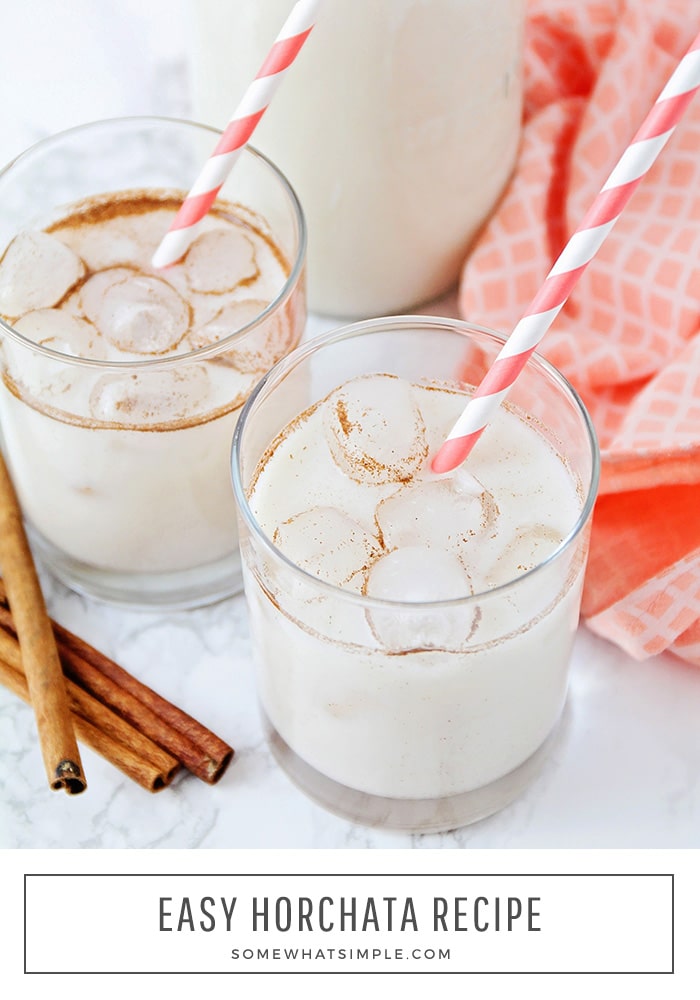 Here is a quick and easy horchata recipe that will show you how to make horchata in no time! Made from the delicious combination of milk, cinnamon and rice, this traditional Mexican drink is both creamy and refreshing.
I love serving this drink recipe whenever we are having Mexican food for dinner. Some of my favorite meals to serve this with are Chicken Enchiladas, Enchilada Style Bean Burritos or Fish Tacos.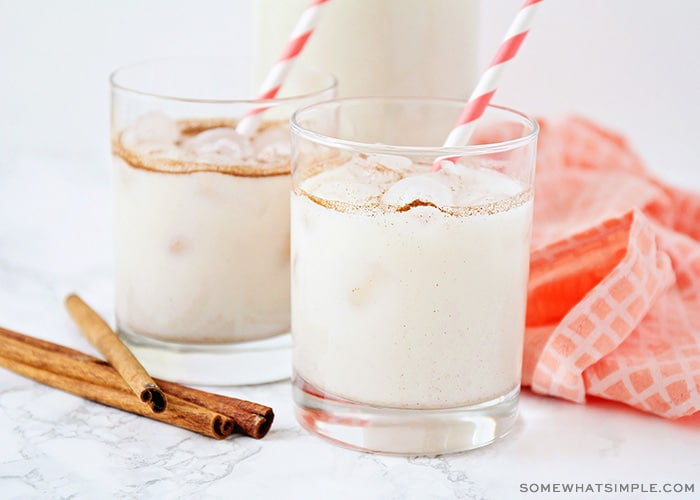 Horchata Mexican Drink
My family likes to celebrate Cinco de Mayo by dining on some our favorite Mexican dishes. We'll usually whip up some Green Enchiladas with Spanish rice and chips with Homemade Salsa. We don't really need a reason to indulge on delicious Mexican food around here, but why not take advantage of the holidays and get a bit more festive?!
To wash down all of this delicious Mexican fare, we make this easy horchata recipe that is cool, creamy and almost dessert-like! This recipe is so easy to make and is the perfect addition to any Mexican-inspired meal.
What Is Horchata
Horchata is a sweet, cinnamon flavored rice milk that is traditionally served in Mexico and throughout Latin America and Spain. What is it made out of, you ask? I like to keep my recipe simple so I just use rice, milk, cinnamon, vanilla and suger. However, it can also made using various types of nuts, cocoa and nutmeg. If you've never tried horchata, you are definitely in for a treat!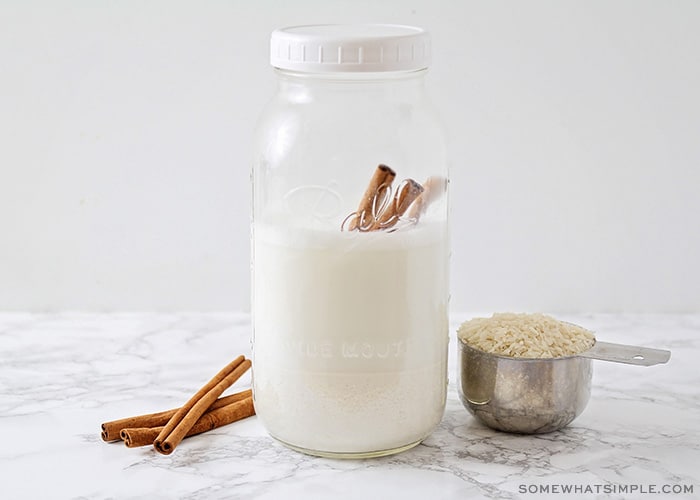 How To Make Horchata
After experimenting with multiple recipes, I like this one the best. This recipe will yield six cups of this refreshing drink. It doesn't take long to make and uses easy-to-find ingredients. In addition to these ingredients, here are a few items you'll need to make horchata.
A blender to mix all of the ingredients into a smooth, creamy blend
A strainer to sift out all of the larger pieces of cinnamon and rice
Tall pitcher to serve your masterpiece with
To make this easy recipe, just following these few easy steps:
Pour the water and white rice into a blender
Blend for approximately one minute, or until the rice begins to break up
Pour the mixture into a picture
Add three cinnamon sticks to the mixture and chill in the fridge for at least 4-6 hours. If you can leave it in overnight that would be the best
Strain the rice from the pitcher and then remove the cinnamon sticks
Add the milk, vanilla, cinnamon and sugar to the rice water and stir well
Serve over ice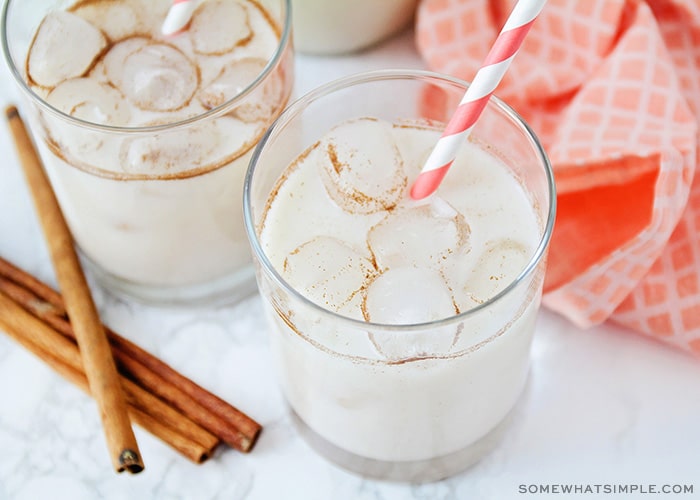 How Long Can You Store Horchata
This recipe will typically be fresh for 7-10 days in the refrigerator. It is completely normal for the rice settle on the bottom of the pitcher while it's being stored. If this happens, grab a wooden spoon and give it a good stir before serving.
More Easy Drink Recipes
If you loved this sweet and creamy treat, here are a few more easy and delicious drink recipes to try.
Easy Horchata Recipe
Let us know how much you liked this recipe or if you added anything when you made it by leaving us a comment below. Or tag on social media at your Cinco de Mayo party or any other time you're serving this tasty drink so we can see all of the fun you're having!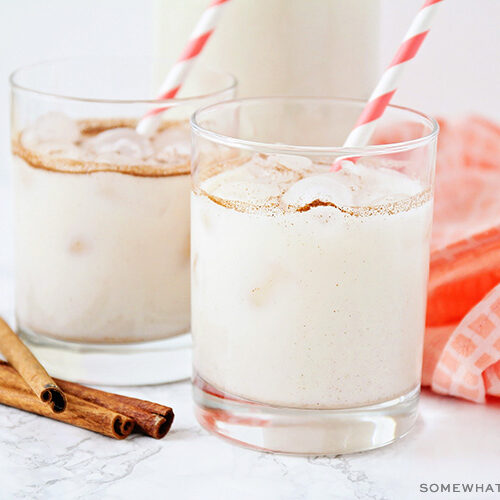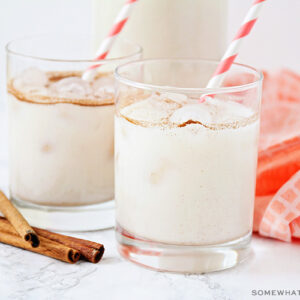 Easy Horchata Recipe
This horchata recipe is quick and easy to make. Made from the delicious combination of milk, cinnamon and rice, this drink is creamy and refreshing.
Ingredients
1 1/3

cups

white rice

3

cinnamon sticks

4

cups

water

1 1/2

cups

milk

1/2

tablespoon

vanilla extract

1/2

tablespoon

cinnamon

2/3

cups

white sugar
Instructions
Pour the water and rice into a blender. Blend for about one minute, or until rice begins to break up.

Add 3 cinnamon sticks and chill in refrigerator for 4-6 hours or overnight.

Strain the rice water into a pitcher then discard rice and cinnamon sticks.

Add the milk, vanilla, cinnamon and sugar to the rice water and stir well.

Chill and serve over ice.
Nutrition Facts
Easy Horchata Recipe
Amount Per Serving (1 serving)
Calories 424
Calories from Fat 27
% Daily Value*
Fat 3g5%
Cholesterol 9mg3%
Sodium 55mg2%
Potassium 203mg6%
Carbohydrates 90g30%
Protein 7g14%
Vitamin A 148IU3%
Calcium 164mg16%
Iron 1mg6%
* Percent Daily Values are based on a 2000 calorie diet.
Grab a straw and drink up my friends!