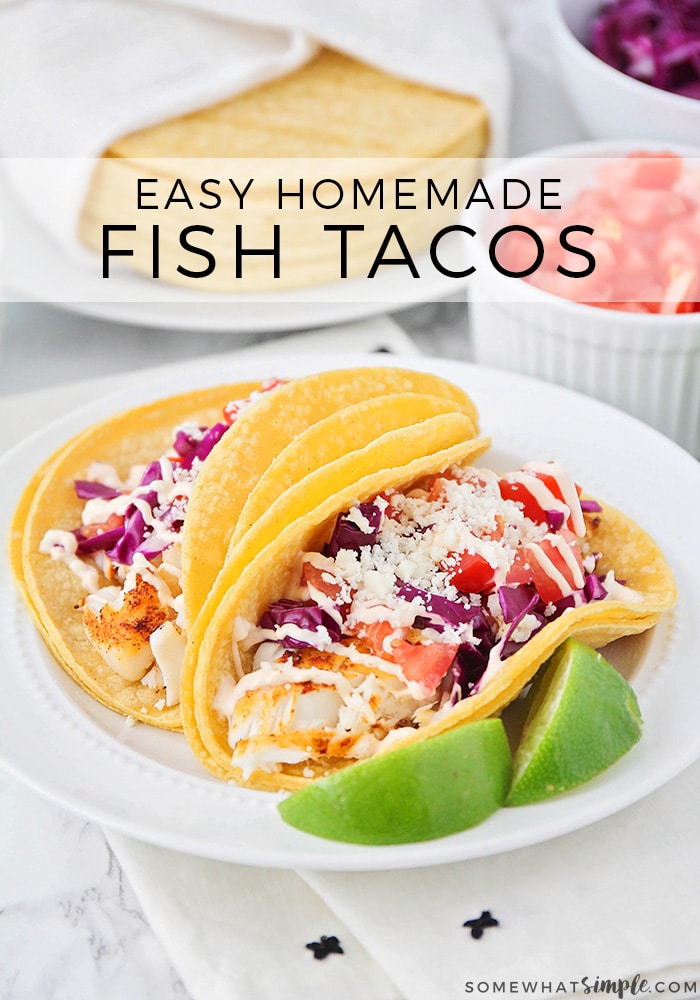 These delicious baked tilapia fish tacos are way better than take out, and it is so easy to make! Wrapped in a warm corn tortilla and loaded with a generous helping of baked tilapia and your favorite toppings, these tacos are amazing! Enjoy one of your favorite restaurant meals at home.
I love serving these easy fish tacos with a warm batch of tortilla chips and my Homemade Salsa and a side of coleslaw. Make yourself a tall pitcher of Horchata to drink and you'll have a delicious Mexican inspired meal.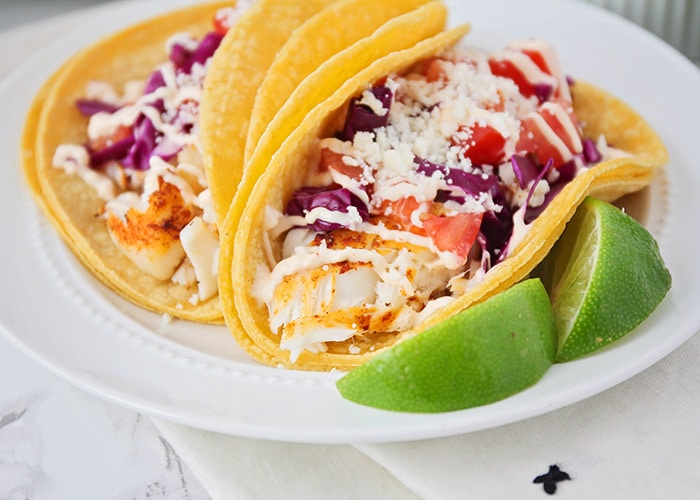 Easy Tilapia Fish Tacos
Is everyone else as obsessed with fish tacos as I am? I seriously can't get enough! A few years ago, my husband and I went on a trip together to San Diego, and we made it our mission to try as many varieties of fish tacos as possible, so we could define a favorite. In a five day period, I think we had fish tacos seven times!
The two take-aways from that little adventure were: 1) I will never get sick of fish tacos, and 2) There was no clear favorite, because we loved all of them! I like pretty much all varieties, battered or grilled, very saucy or limited sauce, spicy or mild.
The version of fish tacos that I'm sharing today is my favorite, though! It has a lot going for it… these are reasonably healthy tilapia fish tacos, packed with flavor, and (best of all) I can make it at home without even having to change out of my pajama pants! Learning to make homemade fish tacos has certainly made my wallet happy, but it also makes my tummy happy!
Is Tilapia Healthy?
Like most fish, tilapia is a great source of protein, low in fat and a good source of essential vitamins and minerals like niacin, vitamin B12 and potassium. While it isn't as high in Omega-3 as other fish, it still has about 240mg of Omega-3 fatty acids in each serving.
How To Bake Tilapia
I like to bake my tilapia fillets, because it's easy to do a bunch at once, but you could grill it or cook it in a skillet instead. What's most important is making sure you add the spice rub on top! It gives it some great flavor and makes the tacos extra tasty.
Once you've prepared the spice rub, place your slices of tilapia on a baking sheet and drizzle olive oil on top of them. Sprinkle your rub over the top and then place them in the oven and bake them at 400 degrees for 20-25 minutes or until the fish is opaque and flakes easily.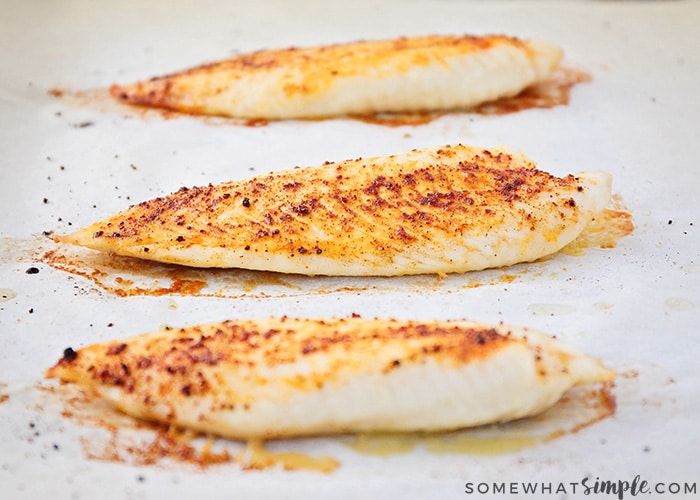 Tilapia Fish Taco Ingredients
I always serve my tilapia fish tacos with corn tortillas (flour tortillas for fish tacos are sacrilege in my mind!) and my favorite toppings are red cabbage, tomatoes, cotija cheese, and homemade taco sauce. A little lime juice on top adds a great boost of flavor!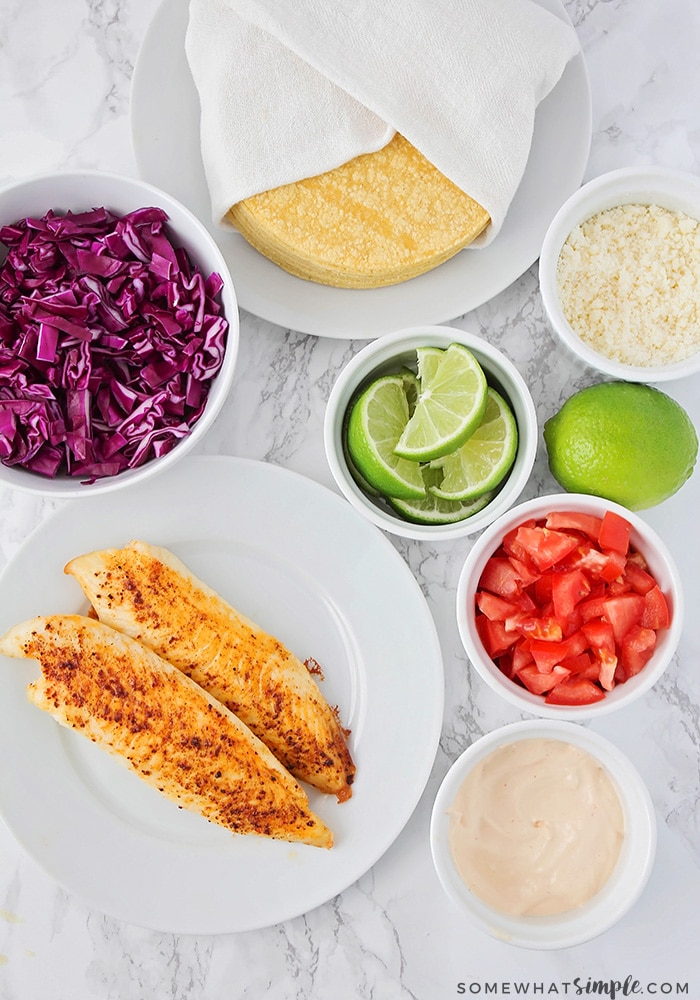 How To Wrap Fish Tacos
We like to do a double stack of tortillas, street taco style, because we love them, but one tortilla would probably be sufficient. They're delicious either way!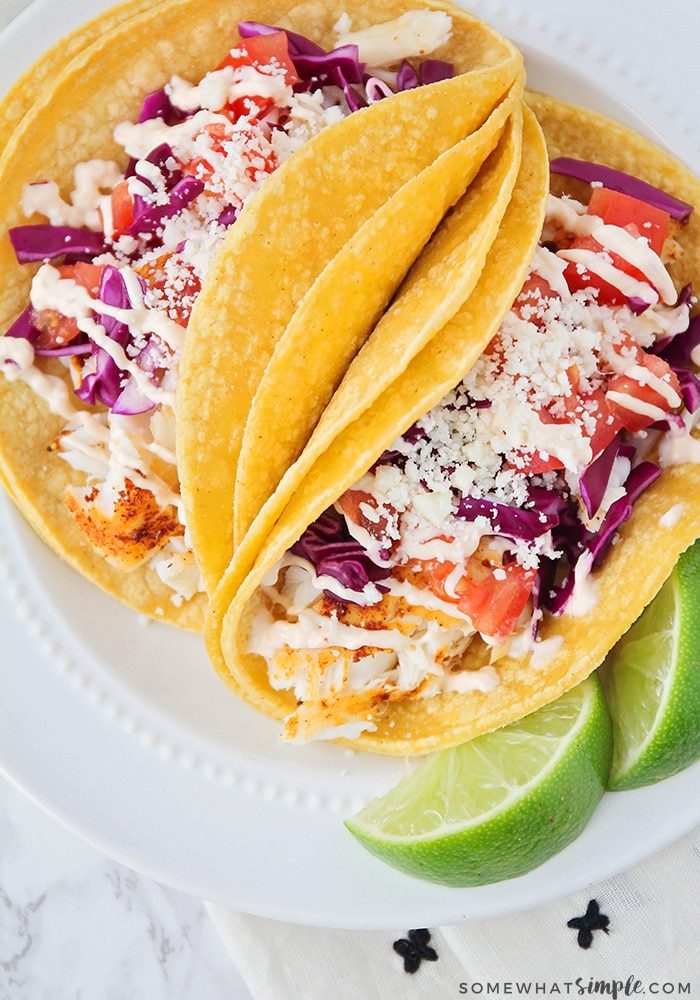 More Delicious Taco Recipes
Tilapia Fish Tacos Recipe
This recipe is so delicious, you'll never make fish tacos any other way. For a delicious twist on this amazing recipe, try adding a scoop of Homemade Coleslaw on top. You'll thank me later.
Easy Tilapia Fish Tacos Recipe
This Delicious Homemade Fish Taco Recipe Is Way Better Than Take Out, And It Is So Easy To Make!
Ingredients
for serving:
16

small corn tortillas

,

warmed

1

cup

red cabbage

,

chopped small

1

medium tomato

,

chopped small

1/4

cup

crumbled cotija cheese
Instructions
Preheat the oven to 400. Line a baking sheet with foil or parchment. Place the fish fillets on the baking sheet and drizzle with the olive oil.

In a small bowl, whisk together the garlic powder, cumin, chili powder, salt, and pepper. Sprinkle the spice mixture over the fish and rub to coat.

Bake 20-25 minutes, or until the fish is opaque and flakes easily.

While the fish is baking, whisk together the sour cream, mayonnaise, sriracha, and lime juice. Refrigerate until ready to serve.

To assemble the tacos, break the fish into smaller pieces using a fork. Stack two tortillas together, and place 1/2 of a fish fillet onto each stack. Top with cabbage, tomato, and cotija, and drizzle with the taco sauce. Squeeze fresh lime over the top, and enjoy.
Nutrition
Other Notes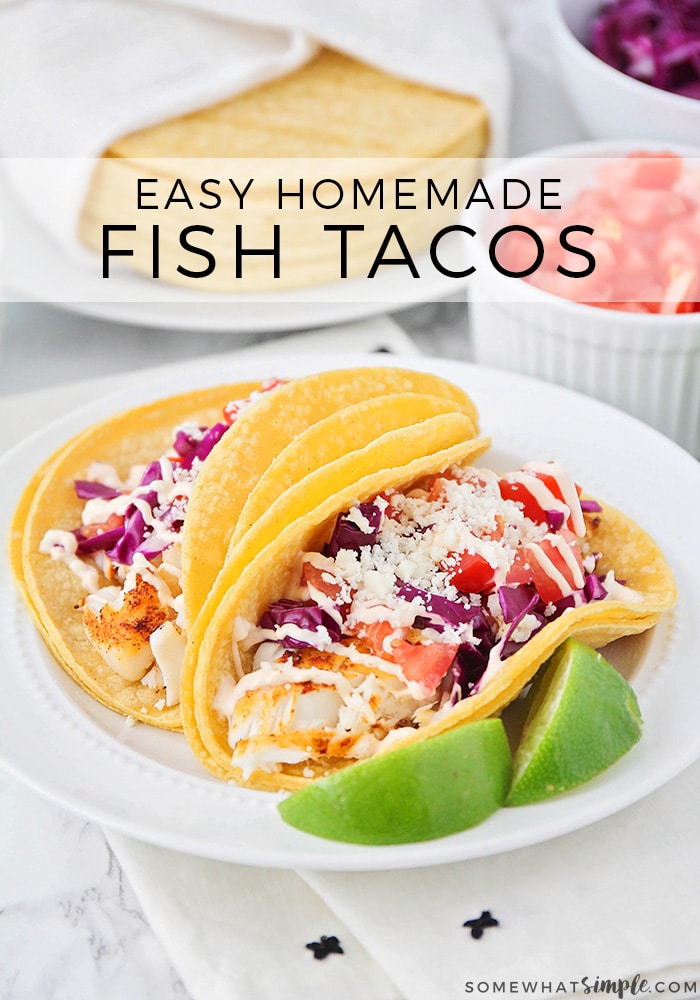 We hope you love this easy fish taco recipe! Let us know if you try it!