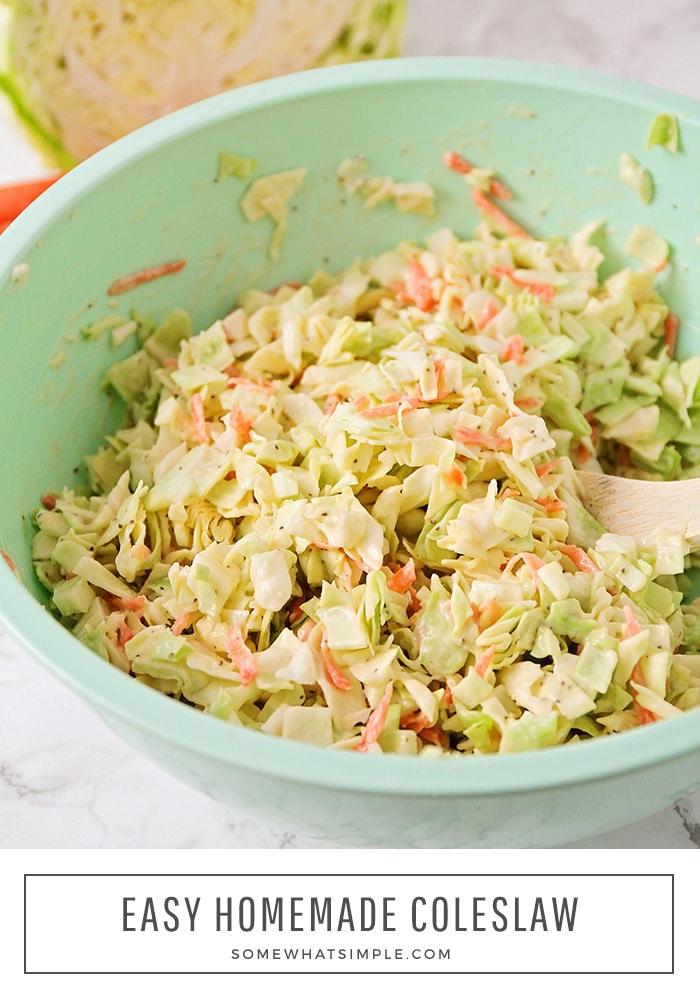 This flavorful homemade coleslaw is a delicious side dish or condiment! Made with cabbage, carrots and a homemade dressing, it's a perfect side dish for barbecues and potlucks, or enjoy it as an afternoon snack! Ready in just 5 minutes, this is the easiest coleslaw recipe you'll find.
Asian Chicken Salad, Classic Cobb Salad, Caprese Pasta Salad… I don't think I've ever met a salad I didn't like! This homemade coleslaw ranks right up there with my very favorites. (It is SO GOOD!)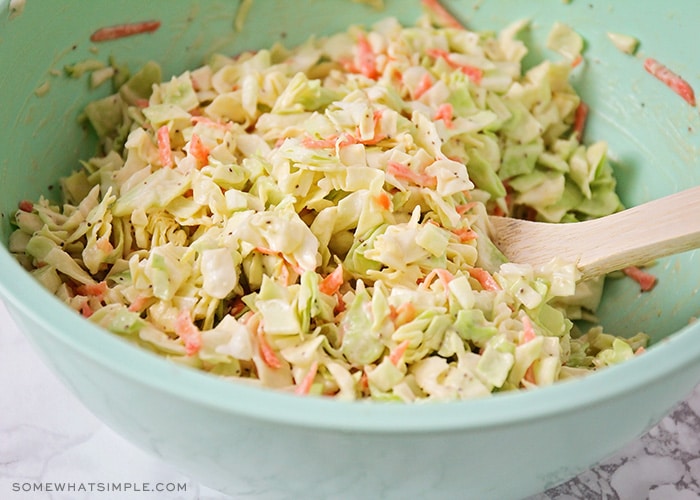 Coleslaw Recipe
Who else loves homemade coleslaw? I didn't grow up eating cabbage very often as a child, so I was a little skeptical about anything cabbage-related as an adult. My husband is a total coleslaw addict, and after a few years together, he finally won me over.
It is now one of my favorite salads to make, because it's so easy, and it goes well with so many things! We love it on top of barbecue sandwiches, as a side dish for grilled chicken, or as a delicious accompaniment to fried chicken. Making your own coleslaw at home is both easy and delicious!
How to Make Coleslaw
Making this classic homemade coleslaw recipe is as easy as it gets! It's literally as easy as 1-2-3.
Simply chop some cabbage and grate some carrots, then mix them together in a bowl until they are well blended. I chopped up my cabbage with a knife, but you can use a food processor to make the process quicker and easier.
You can buy coleslaw dressing, or step up your coleslaw game and make your own! This is our favorite Homemade Coleslaw Dressing. Add your dressing to the cabbage mixture and coat it well. This literally takes 5 minutes to make!!!
Refrigerate the coleslaw for at least two hours before serving. This is an important step because it will allow the dressing to soak into the cabbage for the perfect texture. Since this recipe is so easy to make, you can quickly put it together the night before and leave it in the refrigerator over night.
How Long Will Coleslaw Stay Fresh
Coleslaw will keep in the fridge for about three or four days before you'll want to toss it. I actually think it tastes better the day after I make it! My family loves coleslaw so I'll usually store the leftovers in these small deli containers so they can take some to school or work the next day.
What to Serve With Coleslaw
Coleslaw is a classic summer BBQ side dish and is perfect for some of our favorite recipes. Try serving it with one of these easy meals.
Homemade coleslaw can also be a used as a delicious topping on some sandwiches and tacos. Try adding it on top of one of this simple recipes.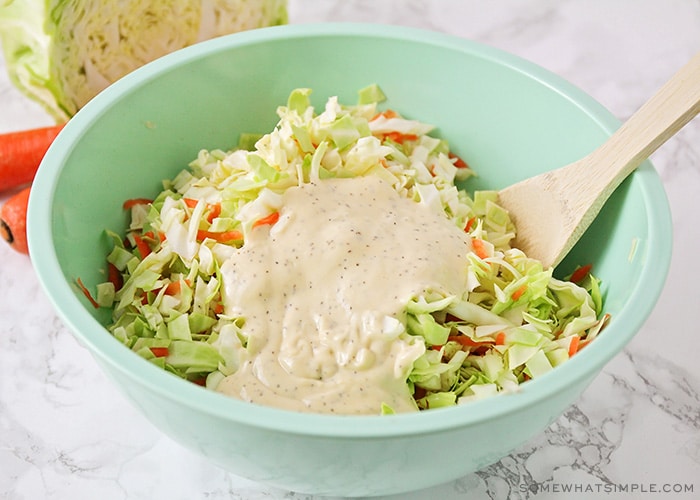 Best Homemade Coleslaw Recipe
This homemade coleslaw is definitely one of my favorite side dishes! Give is a try today and let us know in the comments below how you liked it. Is there anything else you love to add when you make coleslaw?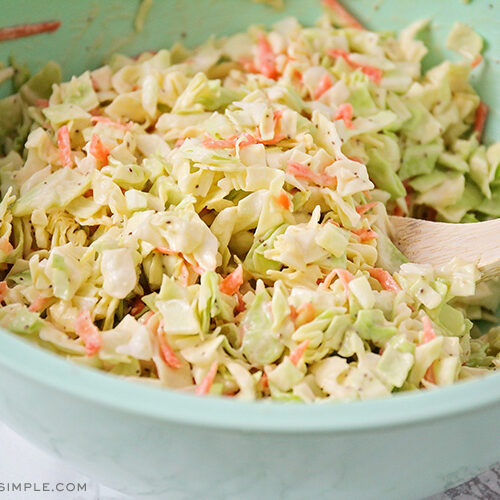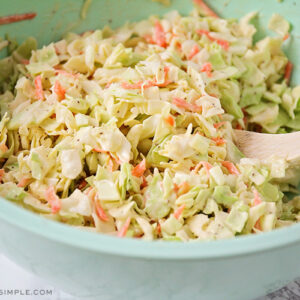 Easy Homemade Coleslaw
This flavorful homemade coleslaw is a delicious side dish or condiment! It's perfect for barbecues and potlucks, and adds great flavor!
Servings
8
people, dressing not included in calorie count
Ingredients
1/2

head green cabbage

shredded (about 6 cups)

1

large carrot

grated

coleslaw dressing

store-bought or homemade
Instructions
Add the cabbage and carrot to a large bowl and toss to combine.

Pour the dressing dressing over the cabbage and toss until fully coated.

Refrigerate at least 2 hours before serving.
Recipe Video
Recipe Notes
Will keep for up to 2 days in the refrigerator.
Nutrition Facts
Easy Homemade Coleslaw
Amount Per Serving
Calories 15
* Percent Daily Values are based on a 2000 calorie diet.