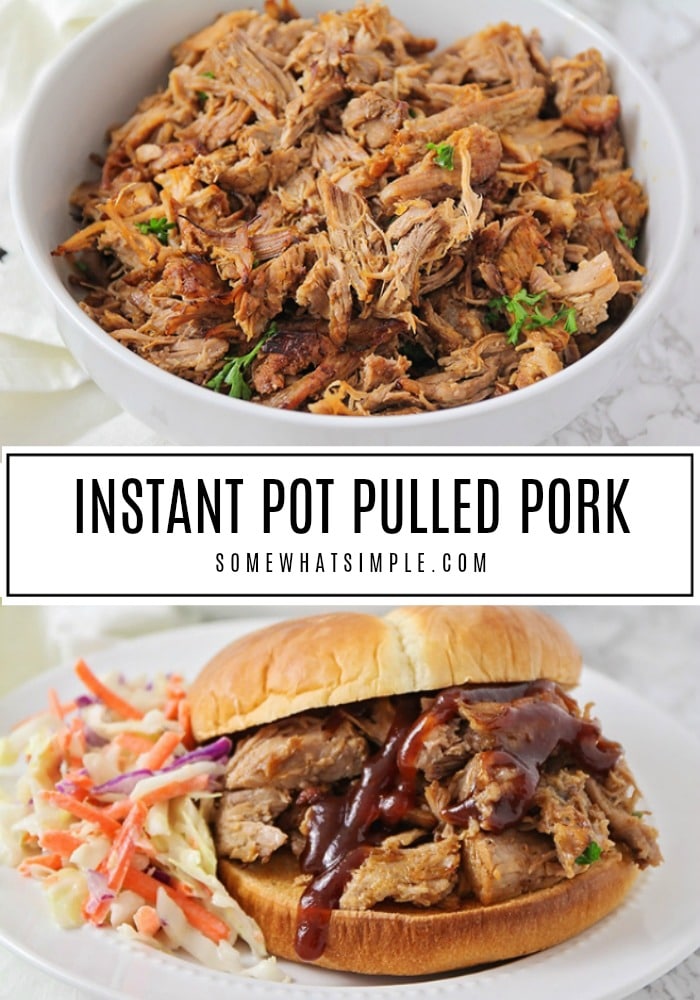 This flavorful instant pot pulled pork is so easy to make! It's so tender and juicy, and completely delicious! Made using a pressure cooker, this tasty pork will be ready to eat in no time!
If you like tender and savory dinner recipes as much as we do, try a few more of our favorites – Pepperoncini Pot Roast, Balsamic Roast Beef Sandwiches, and a delicious French Dip.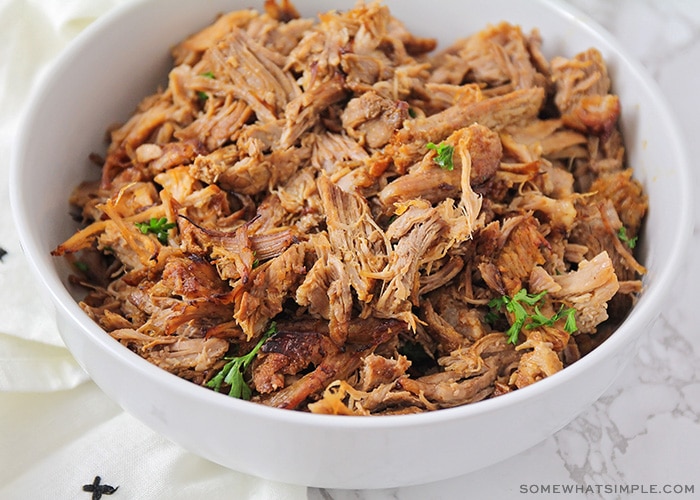 The Best BBQ Meal
One of my family's favorite traditions every summer is to make a trip to a small town about 60 miles away from us. It's in an agricultural area that produces a lot of fruit, so we like to hit up the farm stands and country store, and come home laden with fresh produce and home-baked pies. We always stop for lunch at a tiny local barbecue restaurant, and every year, without fail, we each order one of their divine pulled pork sandwiches. The pork is absolutely to die for, and we dream about it all year long!
Since I always love to recreate my favorite restaurant meals at home, I have been looking for a good pulled pork recipe that we can enjoy regularly (without the 60 mile drive), and this one is it! It's surprisingly easy to make, tastes amazing, and works perfectly for those sandwiches we all love. We'll definitely continue to make the trip every year, but it's nice to know that we can enjoy delicious pulled pork any time we want!
How to Make Instant Pot Pulled Pork
My favorite method for making this pulled pork recipe is in my Instant Pot. It's one of my favorite kitchen tools, and I use it almost daily. It shortens the cooking time for this pork to only 30 minutes, but it still comes out so tender and juicy. However if you prefer making it in a slow cooker, you can read how to do it here.
What's The Rub – You'll start by making this delicious rub to coat the pork with. Simply whisk together the ingredients for the rub in a small mixing bowl until it's fully blended.
Prep The Pork – Next, cut the pork into 6 or 8 smaller pieces. Coat the surface of each one with the spice rub to add an amazing flavor.
Make It Saucy – To make the sauce for the pork, whisk together the BBQ sauce, apple cider vinegar and beef broth until it's completely mixed together.
Brown The Meat – Next, add 2 tablespoons of oil to the Instant Pot and heat it using the sauté function. Place 2-3 pieces of pork in the pressure cooker at a time and cook it for a few minutes on each side, until it's lightly browned. Repeat this until all of the pieces of pork have been browned.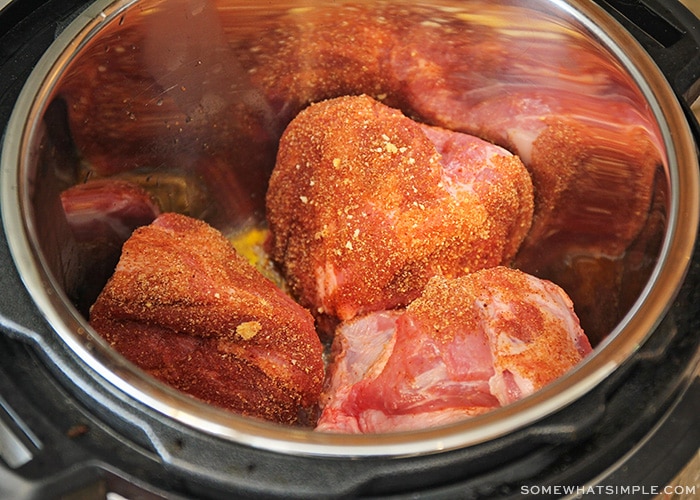 Cook It – Once all of the pork has been browned, return everything back into the Instant Pot to cook. Pour your sauce over the pork, then cook it for 30 minutes at high pressure. The pork gets so flavorful and tender as it cooks, and comes out of the Instant Pot ready to be shredded. Once it's done cooking, be very careful when you release the pressure and then open to pot to avoid getting burned.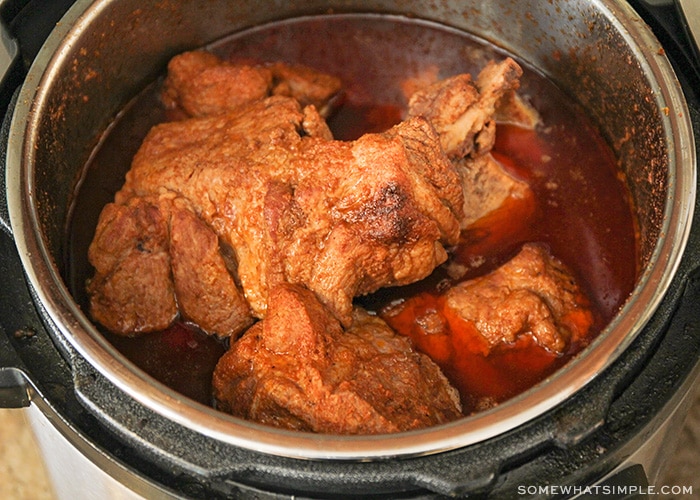 Recipe Tip
Best Texture – Once the pork is cooked, I like to crisp it up in the oven a little bit. This step isn't strictly necessary, but I feel like it adds some great flavor, and I love the slightly crispy ends of the shredded pork. I always pour some of the sauce over the top to boost the flavor a little bit, then broil it in the oven for a few minutes until it's starting to brown. It looks so gorgeous!
Easy Shredding – I love to use a pair of kitchen claws to quickly shred the meat. You'll be enjoying your pulled pork in no time flat!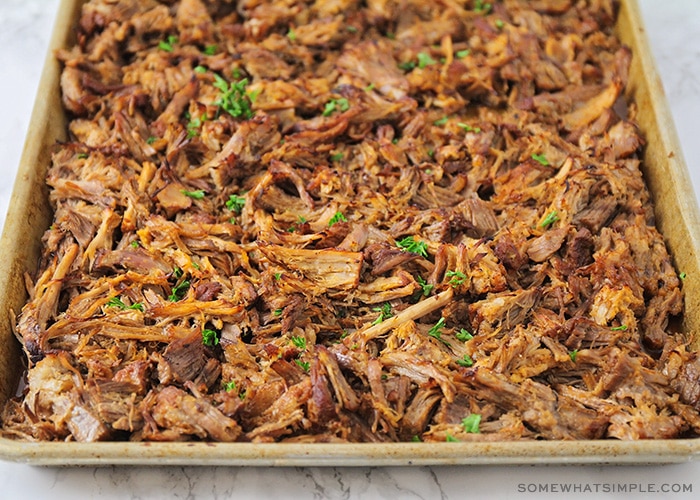 More Delicious Pork Recipe
Leave us a comment below and let us know how your pulled pork turned out and if you love making it in the instant pot as much as we do. Snap a picture of the delicious meals you make with this amazing pork and tag us on social media.
Instant Pot Pulled Pork Recipe
This flavorful instant pot pulled pork is so easy to make! It's so tender and juicy, and completely delicious!
Ingredients
1

6-8 pound bone-in pork shoulder
for the rub:
1

tablespoon

brown sugar

1

teaspoon

paprika

1

teaspoon

garlic powder

3/4

teaspoon

cumin

1

teaspoon

chili powder

1

teaspoon

salt

1/4

teaspoon

pepper
for the sauce:
3/4

cup

barbecue sauce

1

cup

beef broth

1/4

cup

apple cider vinegar
Instructions
In a small bowl, whisk together the brown sugar, paprika, garlic powder, cumin, chili powder, salt, and pepper. Cut the pork into 6-8 smaller pieces, and rub the spice mixture over all surfaces of the meat.

To make the sauce, whisk together the barbecue sauce, beef broth, and apple cider vinegar in a small bowl or measuring cup.

Heat 2 tablespoons of oil in the Instant Pot using the sauté function. Add the pieces of pork to the pot in batches, and cook 2-3 minutes per side, until lightly browned. Repeat with the remaining pieces of pork.

When all of the pieces have been browned, return the pork to the pot, and pour the sauce over the top. Place the lid on the pot, turn the knob to seal, and cook at high pressure on the manual setting for 30 minutes.

Let the pork manually release for 10-15 minutes, then turn the knob to quick release. Open the lid carefully to prevent burns.

Shred the pork pieces, discarding any chunks of fat, and place on a rimmed baking sheet. Drizzle 1 cup of the sauce over the top of the pork. Broil 5-10 minutes, or until the pork is just slightly crispy and browned. Serve hot.
Nutrition
Other Notes