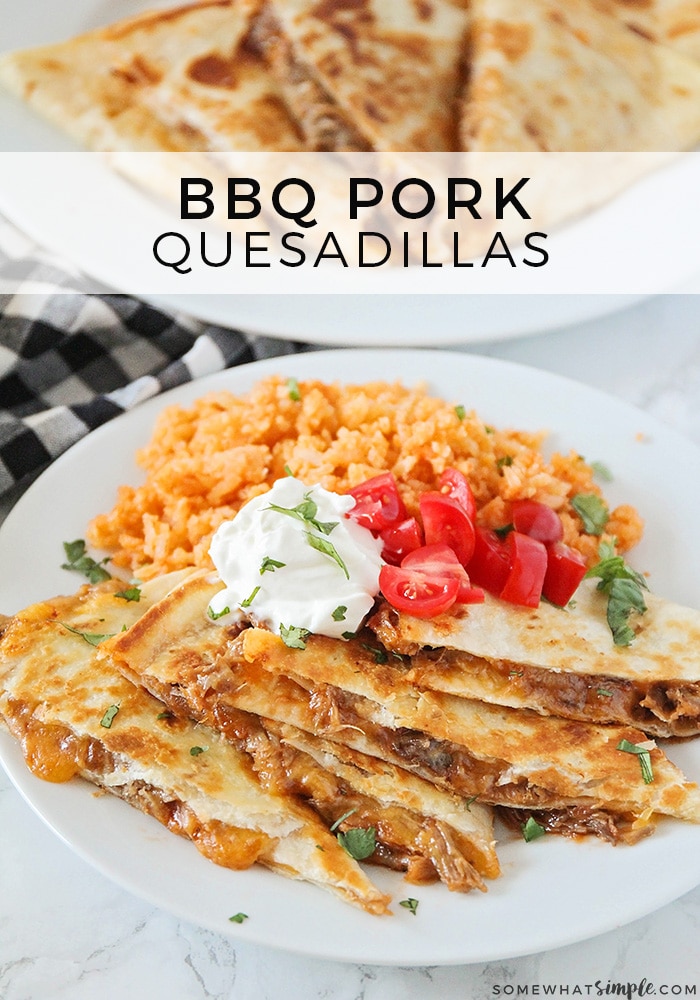 BBQ pulled pork quesadillas are a quick and easy time-saving meal your whole family is going to love!
If your family loves quesadillas as much as mine does, you should also try these Shrimp Quesadilla, Fajita Quesadilla and Chicken Quesadilla recipes.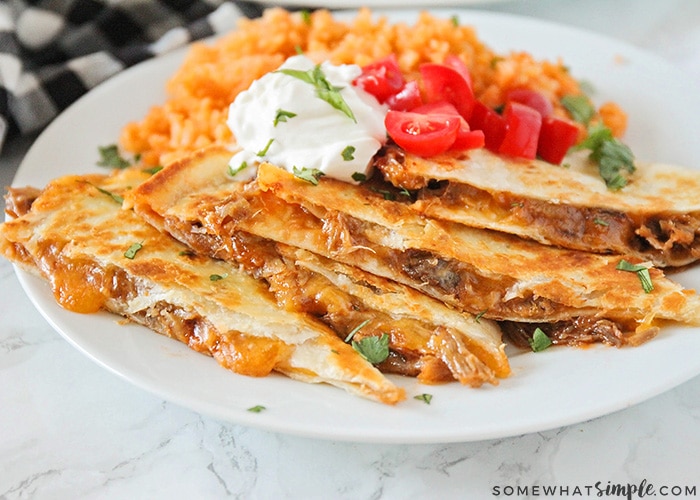 Easy BBQ Quesadilla Recipe
BBQ pulled pork quesadillas are one of my new favorite Mexican dishes! They have a sweet and savory kick to the classic tastes you're use to and they taste AMAZING!
My kids are always asking for quesadillas and would eat them for every meal if I made them. I love that they can be made quickly so they're perfect for dinner when things get busy. They're also super versatile and make a great appetizer or party food!
Ingredients You'll Need
Pulled Pork – You can buy some from the store that can be heated in the microwave but I prefer to make my pulled pork in the Instant Pot or cook the pork in the slow cooker.
Cheese – Do yourself a favor and grate a block of your favorite cheese. Both the flavor and texture is just better.
Tortillas – If you have the time, this Homemade Tortilla recipe is amazing! If not, I recommend buying a package of raw tortillas and cooking those. Prepackaged tortillas are just too thick, so all you'll taste is tortilla.
BBQ Sauce – If I don't have any Homemade BBQ Sauce on hand, my go-to is Sweet Baby Ray's…yum!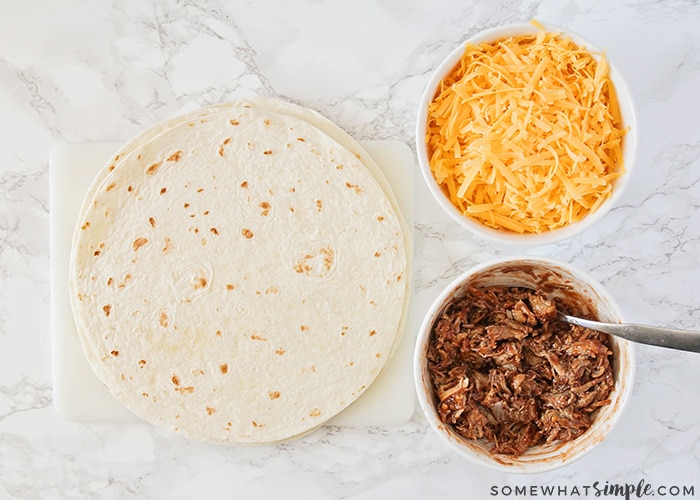 How to Make Pulled Pork Quesadillas
Pork – You'll want to start by cooking, or heating, your pulled pork depending on the method you're using.
Butter – Be sure to butter one side of each tortilla. This makes the tortillas nice and crispy as they cook!
BBQ Sauce – If you cooked your own pulled pork, mix in your desired amount of BBQ sauce until it's evenly coated.
Compile – With the butter side down, add some warmed meat to a tortilla, then sprinkle with cheese. Top with another buttered tortilla, butter side facing up.
Cook – Put your quesadillas on a griddle or frying pan on medium heat for about 3-4 minutes or until golden brown. You don't want to go above medium heat or the tortillas will burn before the inside is ready.
Flip – Carefully flip to the other side and cook for another couple of minutes until the cheese is melted.
Serve – Sprinkle your pulled pork quesadillas with fresh cilantro, chopped tomatoes or any other favorite toppings and you're good to go! I also love to top them with sour cream, Fresh Salsa or Guacamole.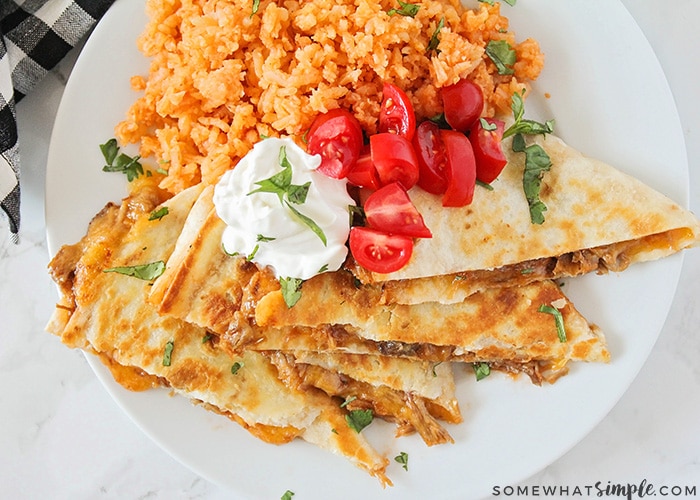 Recipe Tips & Storage
Spicy – If you like a little kick to your pork quesadillas, go ahead and add sliced jalapeños inside.
Best Tortillas – Only use flour tortillas. I think they taste better but they're so much easier to flip than corn tortillas.
Storing – Pulled pork quesadillas can be stored in the fridge for a few days if kept in a zipper bag. I usually make a larger batch and save the extra for the kids to eat for lunch the next day.
Reheating – The easiest way is to warm them is in the microwave. I don't like the flimsy texture from the microwave so I warm them in the toaster oven to get them crispy again.
More Easy Mexican Recipes
BBQ Pulled Pork Quesadilla Recipe
BBQ Pulled Pork Quesadillas are a quick and easy time-saving meal your whole Family is going to love!
Ingredients
1

lb

BBQ pork

,

shredded

8

flour tortillas

2

tbsp

Butter

,

to grease the tortillas

4

cups

cheddar cheese

,

Mexican cheese blend

Toppings: fresh cilantro

,

sour cream, diced avocado or guacamole, salsa, sliced green onions, diced tomatoes, olives etc.
Instructions
Preheat your electric skillet or frying pan over the stove.

Microwave your BBQ Pork according to package directions.

Spread butter on one side of each tortilla. Place a tortilla on the skillet and top with a layer of pot and then a layer of cheese. Cook 2 to 3 minutes on each side or until the tortillas are golden brown and the cheese is nice and melted.

Cut into triangular wedges and serve with desired toppings.
Nutrition
Serving:
1
serving
·
Calories:
493
kcal
·
Carbohydrates:
16
g
·
Protein:
26
g
·
Fat:
36
g
·
Saturated Fat:
19
g
·
Cholesterol:
108
mg
·
Sodium:
614
mg
·
Potassium:
264
mg
·
Fiber:
1
g
·
Sugar:
2
g
·
Vitamin A:
655
IU
·
Vitamin C:
1
mg
·
Calcium:
447
mg
·
Iron:
2
mg
Other Notes
ENJOY!