This easy taquitos recipe has all the flavors of your favorite Mexican dish, all rolled up into one tasty,crispy tortilla roll!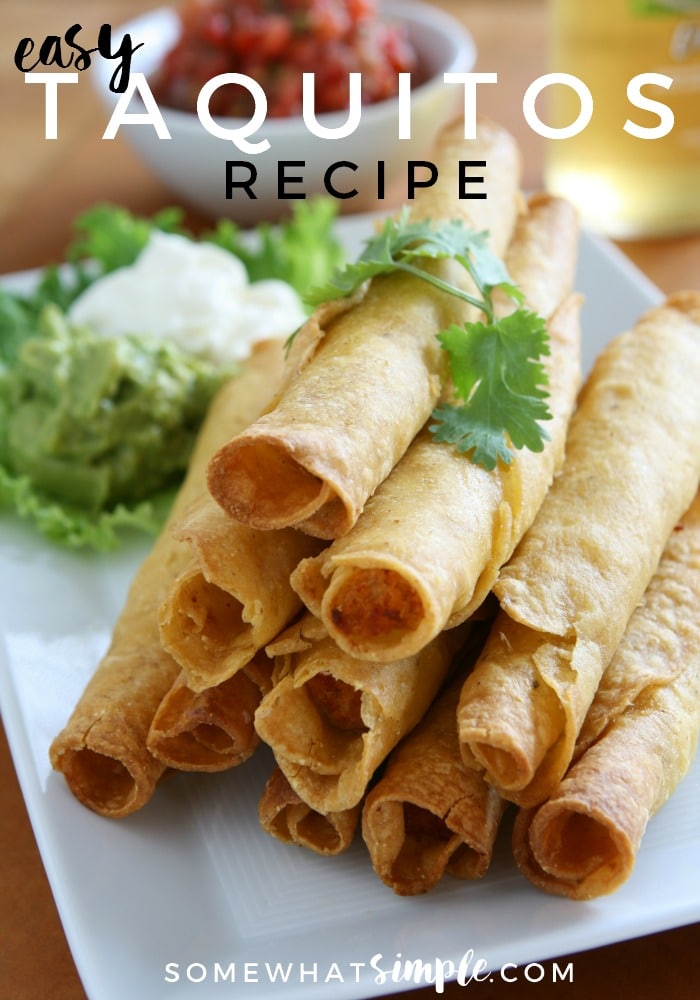 The original recipe I found years ago calls these delicious taquitos "Crispy Tortilla Rolls", so call it what you will- they are YUMMY and couldn't be any easier to make! It is pretty much your standard Mexican meal- tortillas, cheese, salsa and whatever else sounds good! Here is the delicious recipe:
Easy Taquitos Recipe – Crispy Tortilla Rolls
INGREDIENTS: 
16 corn tortillas or 10 flour tortillas

1 jar of Salsa- you won't use the whole thing, unless you want to!

2 chicken breasts, cooked and shredded (about 4 cups)

2 cups shredded Monterrey Jack cheese

Vegetable oil

Toppings: Sour Cream, Avocados, Tomatoes, Olives, Lettuce etc.
DIRECTIONS: 
Warm the tortillas by placing the entire stack on a plate in the microwave and heating them for about a minute. (This just makes them easier to fold since they aren't as stiff.)
Spread each tortilla with 1 tablespoon salsa, 2 tablespoons of chicken and 2 tablespoons cheese. (Those are approximate measurements- if you want more of any ingredient, adjust to your liking!)
Roll up the tortillas and secure with toothpicks.
Heat oil in a skillet over medium-high heat.
Add about 3 tortilla rolls at a time (depending on what fits best in your pan) and cook until they're golden brown on all sides.
Serve with Sour Cream, Avocados, Tomatoes & Lettuce, or your favorite taco toppings.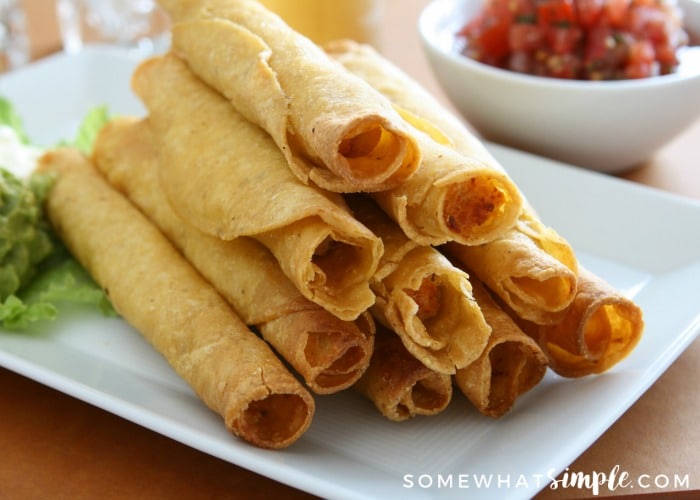 ENJOY!
This post originally published in January 2013.