This Mexican corn salad is bursting with fresh juicy corn, cotija cheese, lime, and cilantro. The perfect easy side dish for a summer meal!
I have to say, I am so happy about the weather getting warmer! We've been spending so much time outside lately, and I am loving it! I'm getting in the mood for all my favorite things about summer… trips to the pool, popsicles on a hot day, lazy nights playing on the grass, and simple, easy dinners. I've been making this Mexican street corn for a few years now, and it is a favorite with my family all summer long. Our grocery store usually sells corn for 5-6 ears for a dollar, so it's an economical side dish that's still delicious and flavorful. When I found corn on sale again this week, 5 for a dollar, I was excited to try a new variation on one of my favorite dishes – this Mexican corn salad! It has all the delicious taste of our favorite street corn, but in an easy to eat dip. I served it with some corn chips on the side, and it was a big hit with the whole family!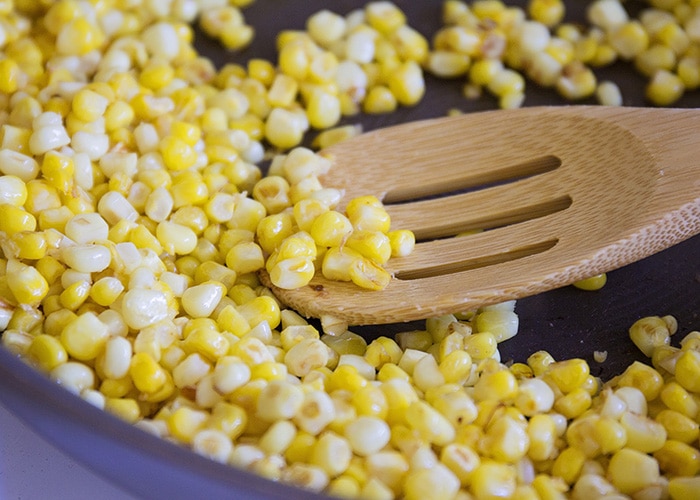 This corn salad is ready in less than 15 minutes, and goes perfectly with any Mexican or southwestern dish. If you're not sure where to find the cotija cheese, I usually find it in the refrigerated dairy section, next to the cream cheese and sliced cheese. It's super delicious and flavorful with the cotija, but if you can't find it, you could substitute queso fresco or even grated parmesan cheese for it in this recipe. It will still be delicious! I'm not usually a huge fan of cilantro, but I really like the way it works with the other flavors in this dish. It's pretty subtle and just contributes to the great flavor. This is definitely one I'll be making all summer long!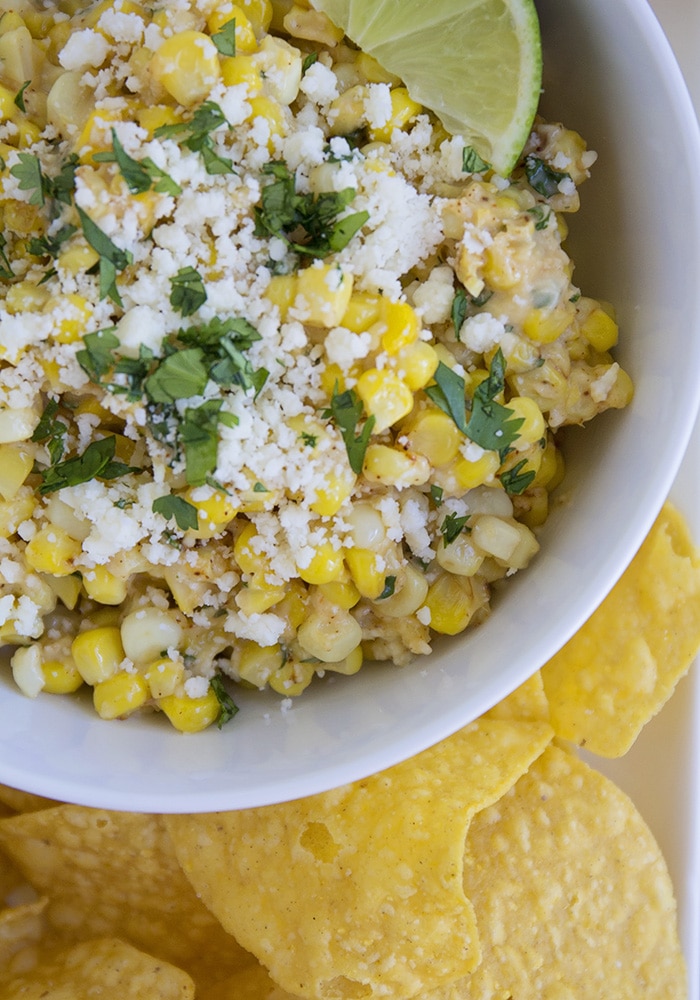 Mexican Corn Salad
INGREDIENTS:
3 ears of corn, shucked and cut from the cob
1 tablespoon butter
2 tablespoons mayonnaise
1/2 teaspoon chili powder
1/2 teaspoon garlic
juice from 1/2 lime
1/3 cup cotija cheese, crumbled
1/4 cup chopped cilantro
DIRECTIONS:
Heat the butter in a large skillet over medium heat. Add the corn kernels to the skillet. Cook, stirring frequently, until soft and lightly golden, about 5-10 minutes. Remove from heat and allow to cool slightly.
In a medium bowl, mix together the mayonnaise, chili powder, garlic, and lime juice. Add the corn to the bowl and toss to coat. Add the cotija and cilantro and toss to combine. Serve warm with chips on the side.