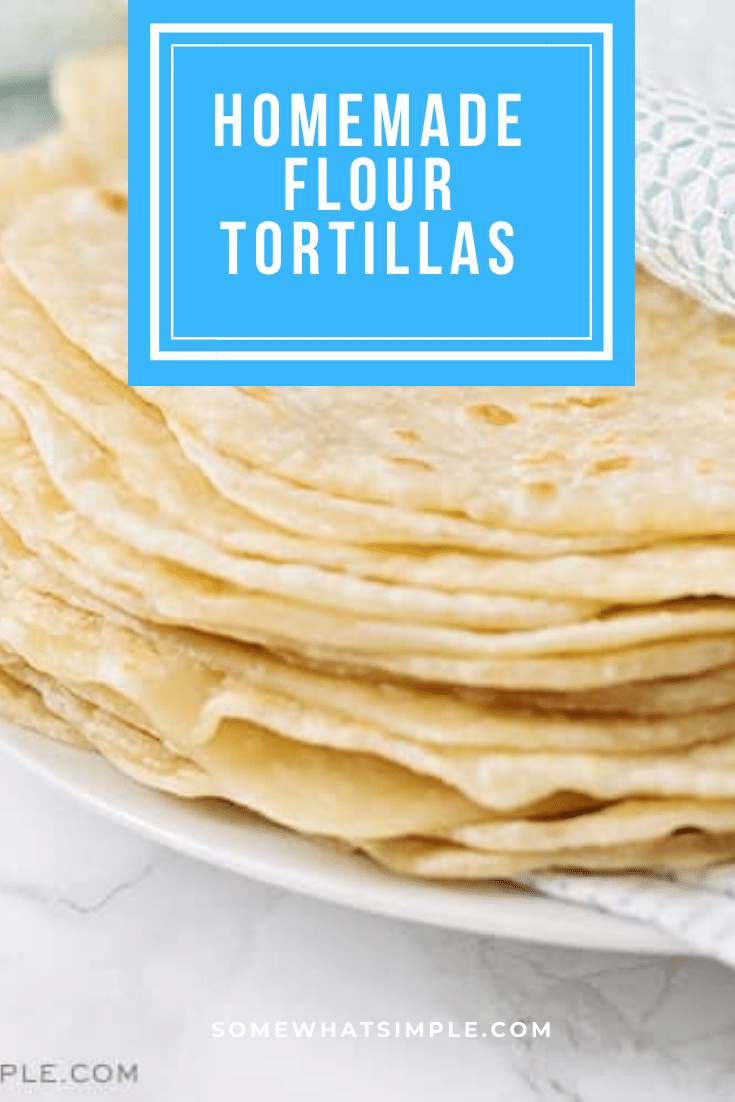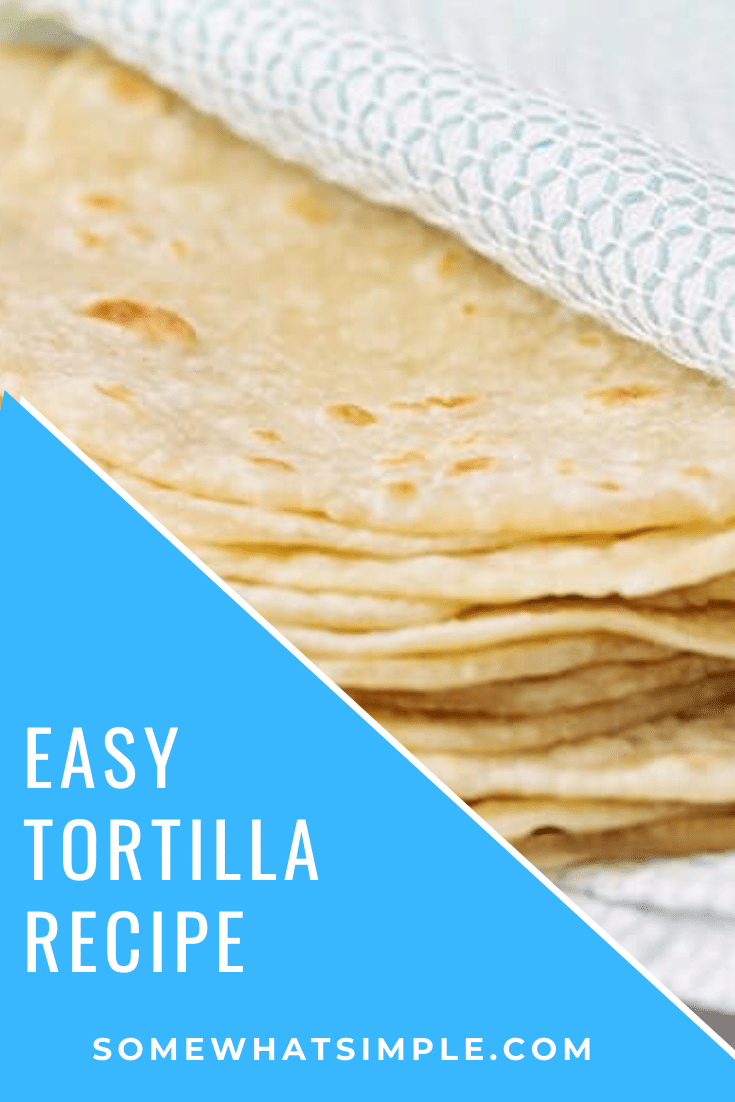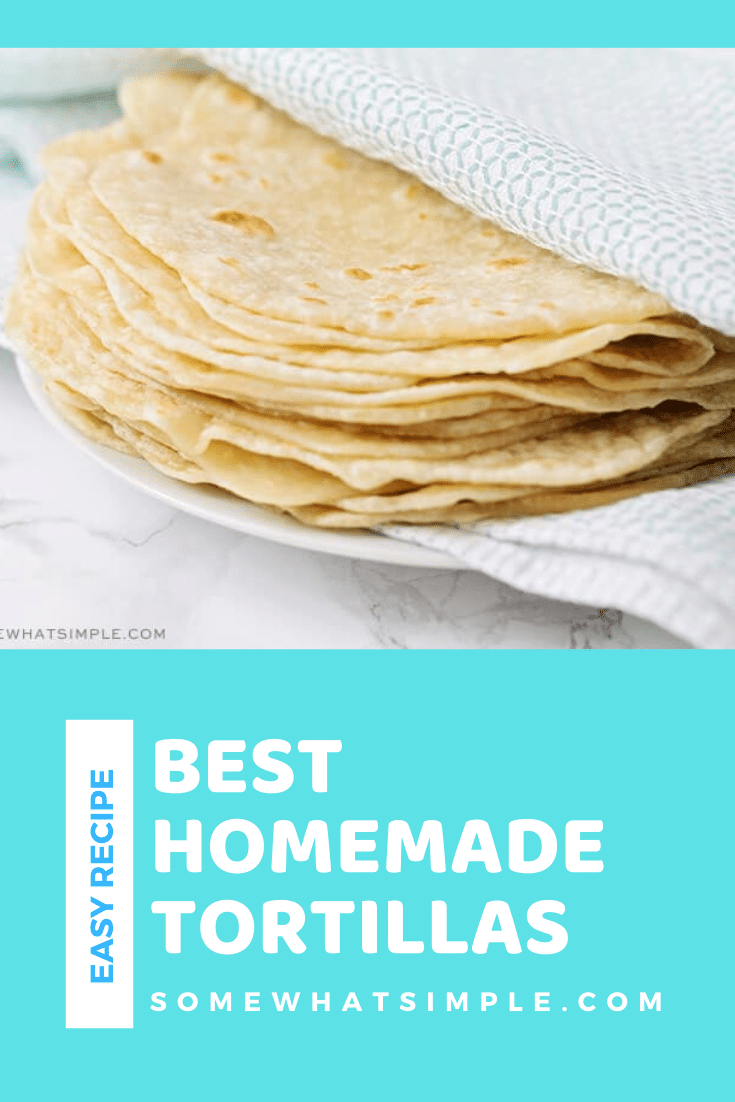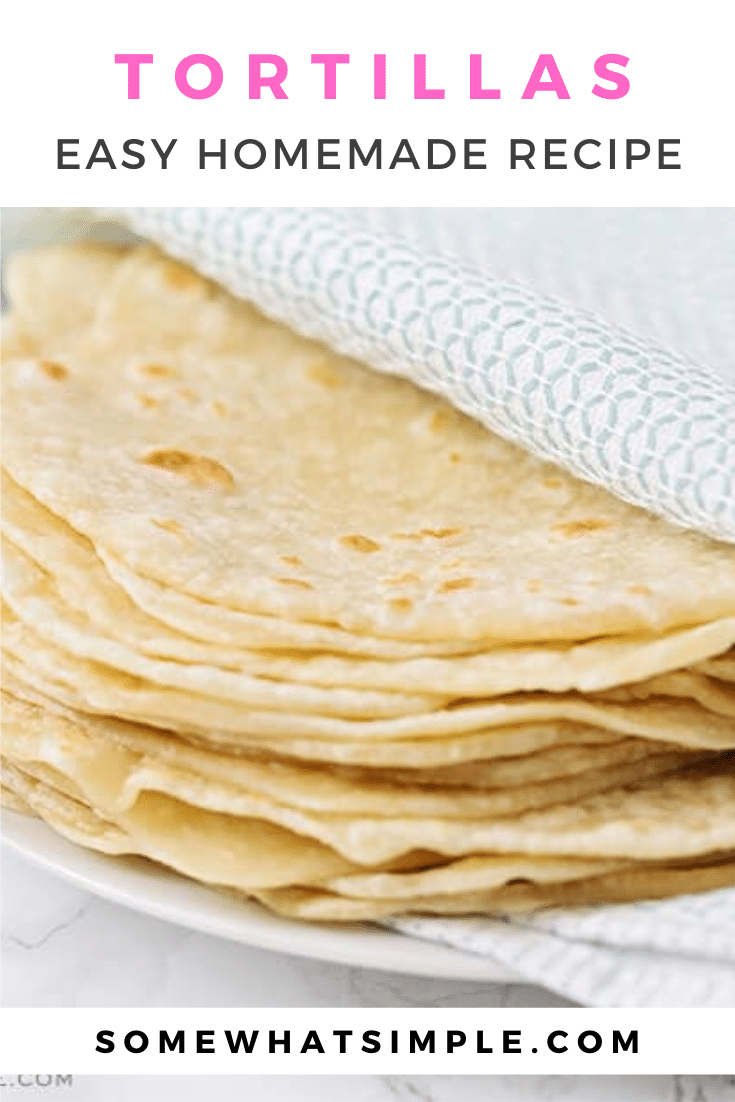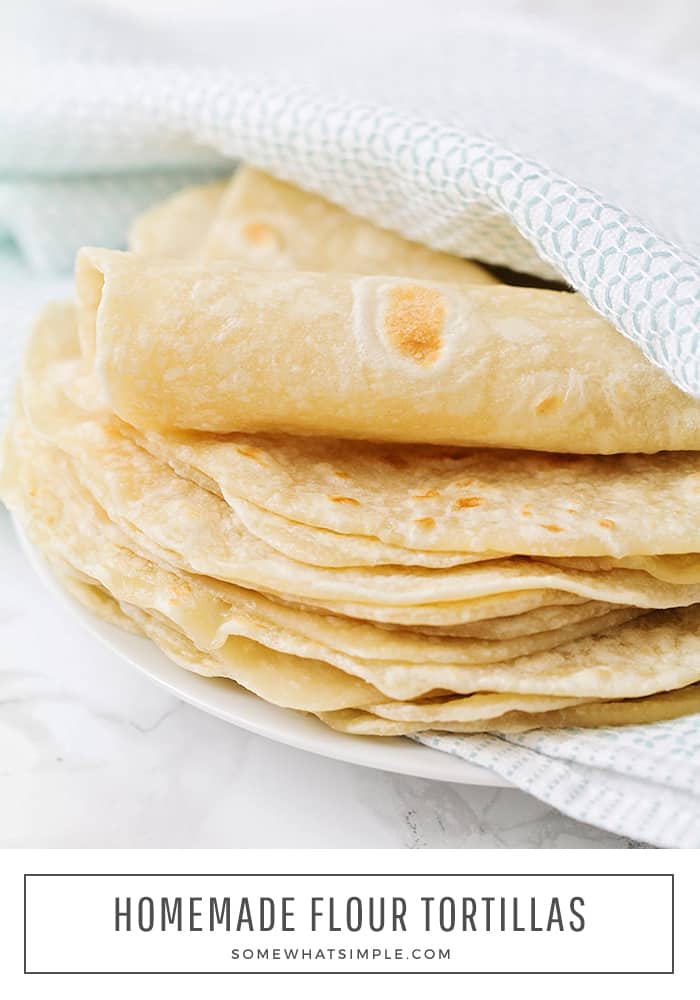 These homemade flour tortillas are soft, delicious and incredibly easy to make! I love them because they can be used in so many of my favorite Mexican food recipes to add a little extra homemade touch.
I love using these homemade tortillas in several of my favorite Mexican dinner recipes. Whenever I'm serving a delicious Mexican dish, I love to round out the meal with a side of Spanish Rice, warm tortilla chips and Homemade Salsa and a tall pitcher of Horchata. They're also pretty awesome for dessert with a little melted butter and cinnamon sugar sprinkled on top!

Easy Homemade Flour Tortillas
So… true story. My mom named me after a woman who taught her how to make flour tortillas. I assume there were some other aspects to their friendship, but the homemade tortilla one is what stuck in my mind. And really, if you haven't made them before, you should know that homemade tortillas are life changing!
Store-bought tortillas are great, but there's really nothing that can beat a fresh, soft homemade flour tortilla. Every time I use these in a recipe, they just seem to make it better because of their fresh texture and taste. Not only do they go great in a lot of dinner recipes but they also make a delicious snack. There's nothing quit like a homemade tortillas hot off the griddle with a little melted butter on top. Yum!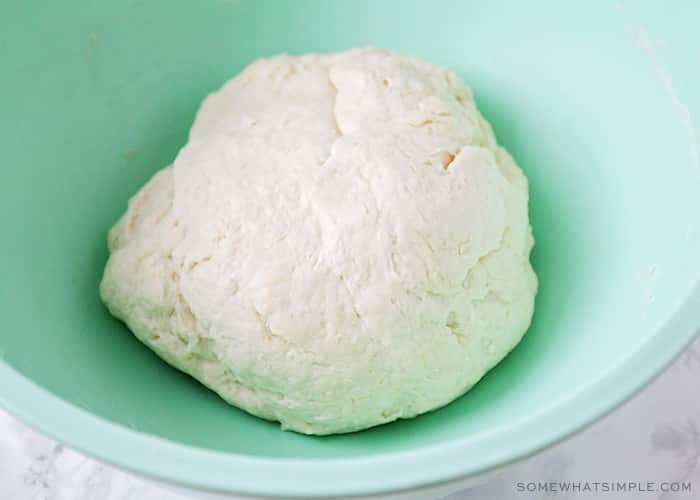 Can You Make Tortillas Without Lard
There are lots of tortilla recipes out there, but I love that this one uses olive oil instead of lard or shortening. It makes them so much easier to make, without the frustration of cutting in the fat and adding just the right amount of water. Also, it makes me feel a little better that they're made with heart-healthy olive oil when I'm stuffing my face with my third tortilla. 🙂
How To Make Homemade Tortillas
I think this is by far the least intimidating tortilla recipe I've ever found, so if tortillas have made you a little wary in the past, have no fear! These are so simple to make!
You start by mixing all the ingredients together to form a soft, moist dough.
Let it sit for about ten minutes.
After it sits, divide the dough into 8-12 equal sized pieces. I like to smush each piece with my hand a little bit before rolling, because I find it makes it easier to roll it out evenly.
Roll it out using a rolling pin, trying to make it as round as possible. As you can see, I can't roll a perfect circle to save my life… but guess what? It doesn't matter at all. They will still taste just as delicious!
While I'm rolling, I like to preheat a big griddle on medium-high heat. You could also use a frying pan if you don't have a griddle.
I just like the griddle because I can cook 3-4 tortillas at a time, so it makes the process much faster. Throw the tortillas on, and flip them when they start to bubble (as seen below).
Once you flip them, they usually only need about 30-60 seconds more until they're done.
Stack them in a towel to keep them warm, and serve them still warm.
I can't wait for you to try them!
Tips For Making Tortillas From Scratch
You'll want to cook these tortillas until they start to bubble and begin to turn golden brown. If you don't flip them/remove them from the griddle once they begin to bubble, the tortillas will get hard and stiff because you have over cooked them.
Make sure you let the dough rest for at least the recommended 10 minutes. This will make the dough easier to roll out.
I used olive oil in this recipe because it's easier to make and is a healthier option than lard or shortening but you can substitute the olive oil for one of the others if you prefer.
Make sure you preheat your griddle or skillet before cooking the tortillas or the first ones won't cook properly
Can You Freeze Homemade Tortillas
Yes, you can definitely freeze these homemade flour tortillas to use later. I like to store them in Ziploc freezer bags because they work the best for tortillas.
If you don't plan to use all of the tortillas at once, place some parchment paper between each tortilla or they'll all be stuck together and it'll be super difficult to take out only what you need. When you're ready to use them, leave them in the fridge overnight to thaw.
Easy Mexican Recipes That Use Tortillas
Homemade Flour Tortillas Recipe
These homemade flour tortillas are a Spanish food game-changer! They are soft and delicious and can not be any easier to make! Leave us a comment below and let us know how much you enjoyed these tortillas. We also love seeing you make one of our recipe, so take a picture of yourself after you've made a stack of these delicious tortillas and tag us on social media.
Easy Homemade Flour Tortilla Recipe
These homemade flour tortillas are a Spanish food game-changer! They are soft and delicious and can not be any easier to make!
Instructions
In a large bowl, combine flour and salt. Stir in water and olive oil to form a soft dough. Let rest 10 minutes.

Divide the dough into 8-12 pieces (depending on the size of tortilla you want) and roll each piece into a circle.

Heat a large skillet or griddle over medium-high heat, and cook tortillas, turning when bubbles start to appear. The whole cooking process should take between 2 and 3 minutes per tortilla.

Wrap tortillas in a towel to keep warm, and serve immediately.
Nutrition
Other Notes
ENJOY!